Have you discovered a fantastic way to dehydrate fruit and make fruit powders? But are you confused about how to use it? Here are ways to use fruit powder to give your dehydrated fruit a second life!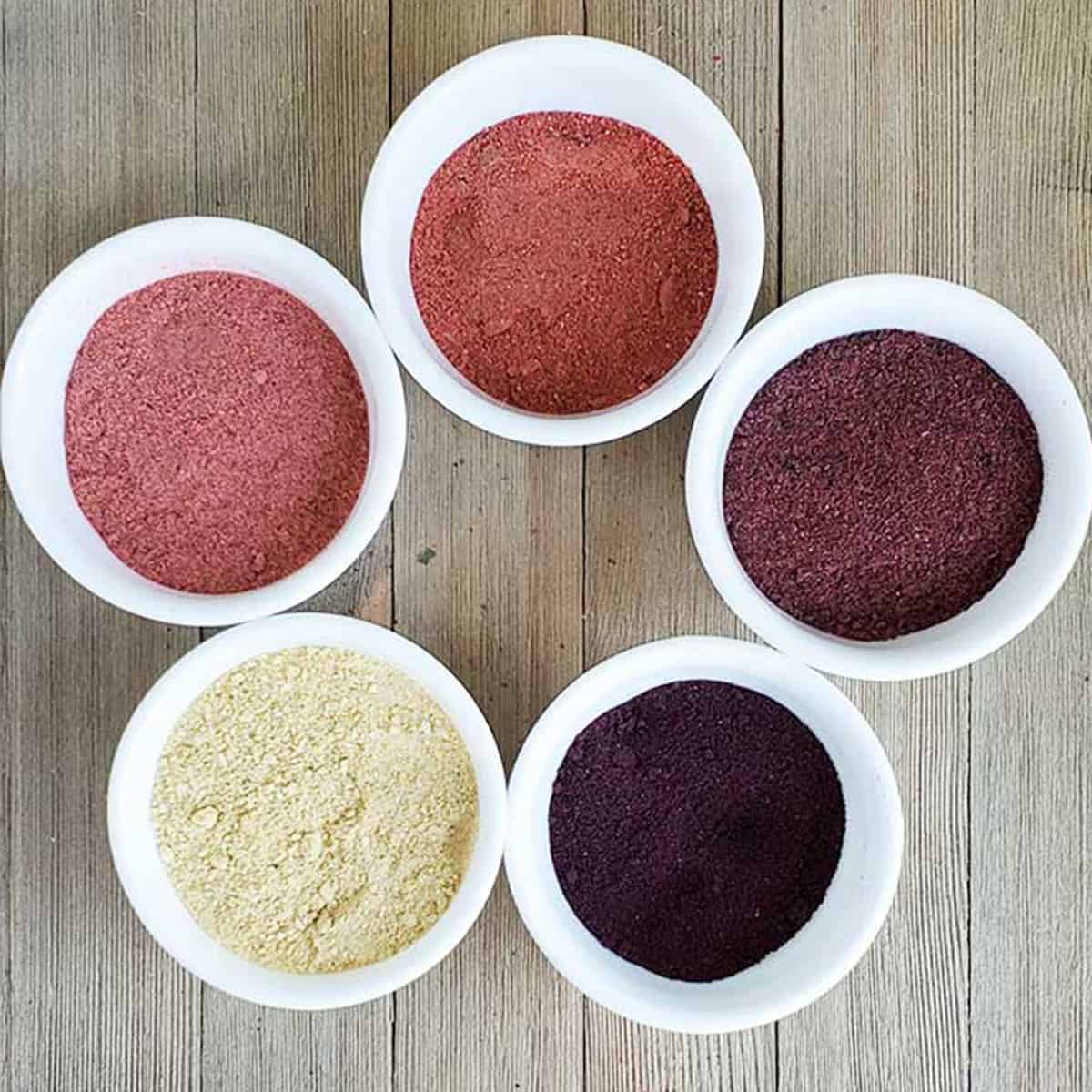 Have you ever had a dehydrating project not go quite the way you'd hoped or found that you might not have liked the texture? Or maybe you've created fruit chips instead of fruit leather, and you don't want just to throw them away?
I'm that way about blackberries. I'm not a fan of dehydrated blackberries (but don't let me anywhere near freeze-dried ones, or I'll wipe them out!).
After discovering how easy it is to make and use dehydrated fruit powders, I threw those dried blackberries into my blender and fell in love. Blackberry yogurt made with blackberry powder is now a staple in our breakfast menu.
So don't waste a dehydrating project simply because you didn't like the outcome. Give the dehydrated fruit a new life by making it a versatile fruit powder!
How to Make Fruit Powders
Just in case you've never experienced the magic of creating fruit powder from dehydrated fruit or fruit leathers, here's how to do it:
Dry your fruit completely - usually at 135°F / 52°C using your dehydrator. You can use an oven to dry fruit with these tips if you don't own one. And remember, drier is always better, especially when making powders, no matter what drying method you choose.
Use a high-powered blender, a bullet-type blender, or even a coffee grinder to blend into a powder. I'm really fond of the NutriNinja and the Cosori Coffee Grinder that I have switched to.
Sift powder with a fine mesh strainer if you have lumps and seeds.
Repeat if necessary.
Condition powder in the oven. Place powder on a cookie sheet in a warmed (but off) oven for 15 minutes. This helps remove any residual moisture coming from the grinding process and being out in the open air. You can learn more from this instructional post on how to stop powders from clumping.
Store in an airtight container, use desiccant packs if desired.
Here's a trick!
If you want to skip the dehydrating fruit step - just make a puree of your fruit, dry the puree until it breaks apart (not fruit leather, but fruit chips!) and then powder those chips. For some fruits, it will save you hours of dehydrating time!
LEARN MORE: How to Keep Powders from Clumping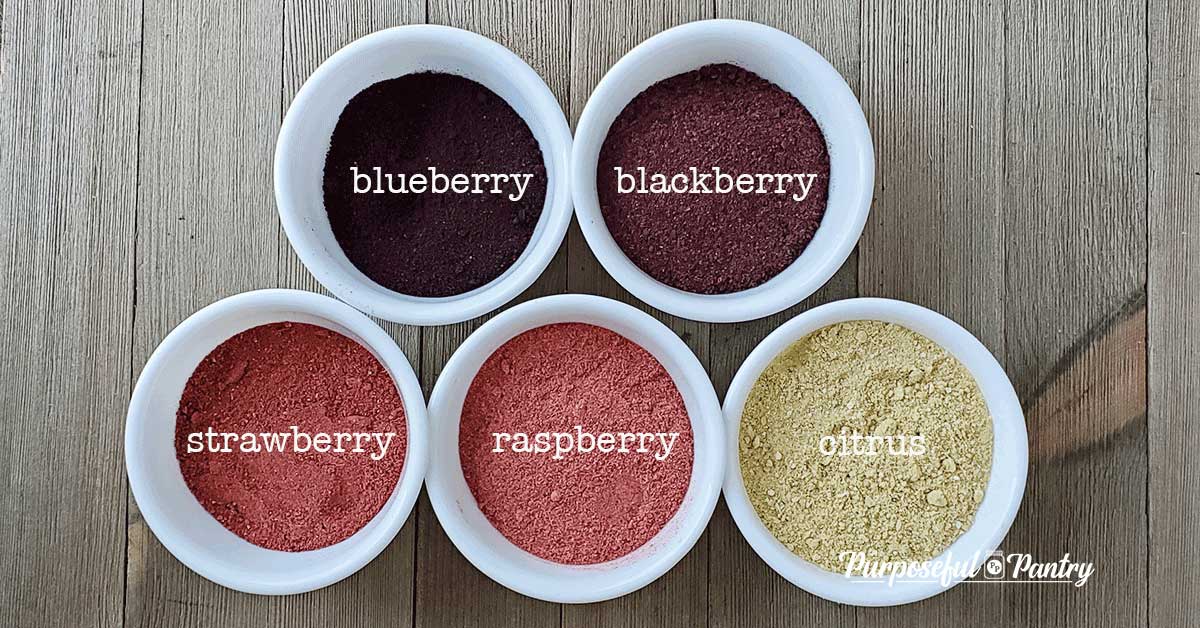 Additional Tips:
If using fruit leather to make a powder, tear it into small pieces before starting the process
Remember that fruit powder does have all the sugar that is in fruit. If you have a diet that requires restricted sugar intake, keep that in mind. The sugar (carbs) in 1 Cup of fresh fruit equals the sugar in 1 TB of fruit powder.
Don't have fruits in season to powder? Try powdering freeze-dried fruits, instead!
How to Use Fruit Powders
Fruit powders can be used in so many ways to extend flavor and nutrition to everyday foods. You can also elevate the look and style of things like cocktails, breads, etc..
Breakfast Meals
You can add the intensifying flavor of fruit powder to:
Oatmeal: sprinkle on top of oatmeal. One of my favorites is apple powder. Added sweetness plus apple flavor with a dash of cinnamon!
Yogurt: mix with plain yogurt for color change and added flavor.
Flavored Milk: add to milk to change color and flavor. This doesn't make super sweet milk your kids may be used to, but simply add a tiny dash of sugar to help out.
Cereal: adding a little extra fruit powder to cereal can give a new flavor profile to your bland cereals.
Granola - add fruit powder to create a new flavor profile. Apple cinnamon granola with added apple powder gives you a nice sweetness and an intense flavor. Add some coconut powder and dried mango to a granola mix for a tropical flavor.
Condiments
Salad Dressing - mix into homemade salad dressings for a fruity twist on salads of all kinds.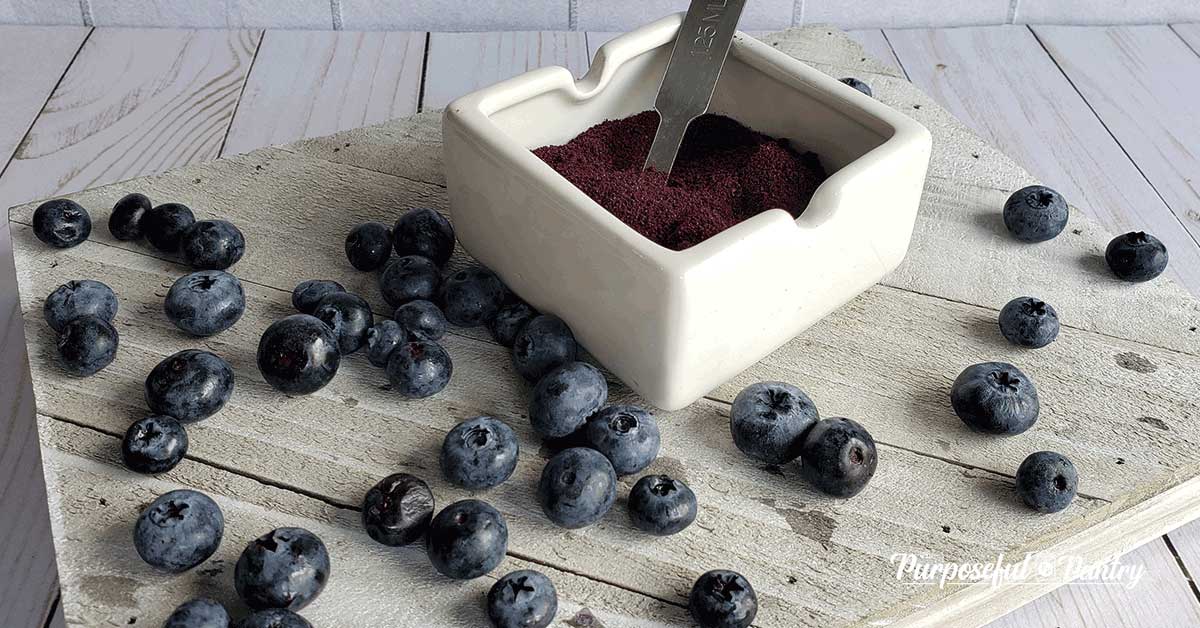 Breads and Batters
Make sure to experiment with the addition of powder to a baked item. You may need to add extra moisture as the powder will use some to hydrate itself.
Quick Bread: add an extra burst of flavor to quick breads by including fruit powders instead of more bulk. Imagine the flavor intensity in banana bread by adding another tablespoon or two of banana powder!
Pancakes: Not just for breakfast! Extend the nutrition of your favorite pancake recipe like dessert pancakes, crepes, waffles, etc. Add some extra fruit powder to flavor to your favorite taste!
Muffins & Scones: As with quick breads, you can add an extra burst of flavor by adding to your favorite mixes to bring extra flavor without creating extra bulk. Imagine creating little blueberry muffins that were actually blue for a fun afternoon tea treat!
Helpful Tip: Do you want to know a secret? You can also add vegetable powder to your breads and batters; no one will know that there are veggies in their muffins or pancakes! You can experiment with quantities by adding just a tablespoon to a recipe (which equals about 1 cup of fresh vegetables) and increase as you wish.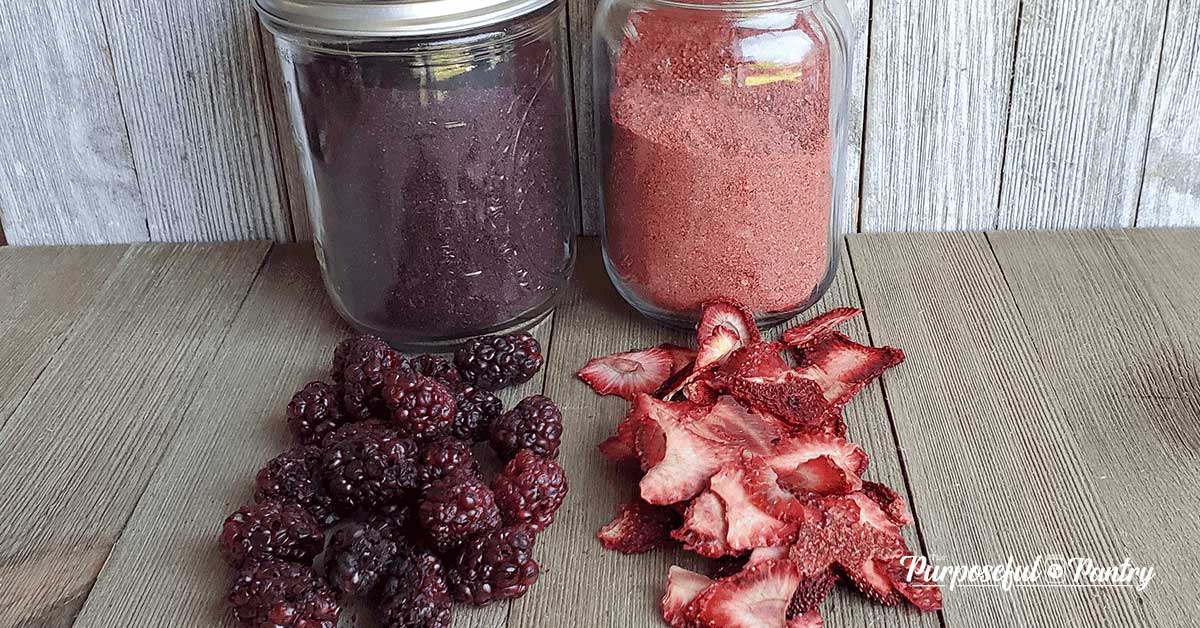 Snacks
Granola Bars - when making granola bars or energy bites, add a little fruit powder to the mix, or sprinkle on top for some added flavor.
Marshmallows - if you love making homemade marshmallows, use fruit powders to color and add flavor without adding extra fruit bulk. If you want to take a huge step up - dehydrate marshmallows, powder, and mix with a little fruit powder of your choice to add to hot chocolate or sprinkle on cupcakes.
Crispy Rice treats - those marshmallowy, gooey treats can be elevated with the addition of fruit flavor to make YUMMY treats!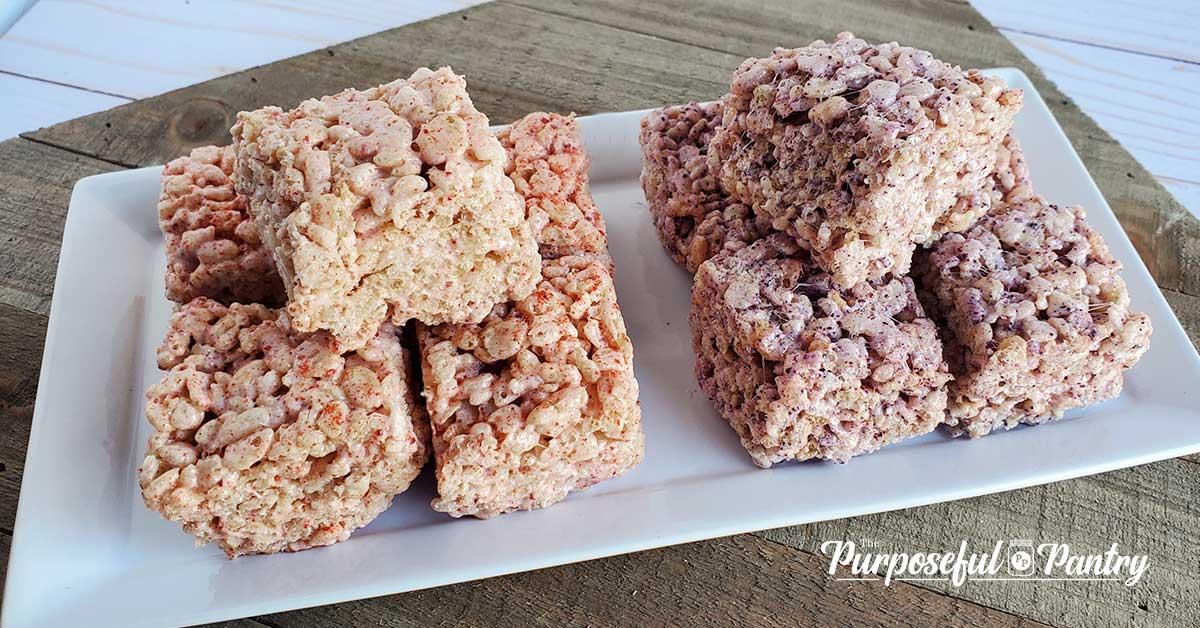 Dehydrated Fruit Chips - sprinkle a companion flavor onto your favorite fruit chips to create new flavor profiles. What about a little blueberry powder sprinkled onto banana chips.
Yogurt Drops - you can make your own flavored yogurt drops

Add 1 tablespoon of fruit powder to 1 cup of favorite plain yogurt (you can adjust to your taste).
Line dehydrator trays with reusable silicone sheets or parchment paper (baking paper)
Pipe 'dots' onto dehydrator tray using parchment paper (baking paper) or reusable silicone sheets. You can use a zip-top bag if you don't have piping sleeves.
Dry at 135F / 57C for 8-12 hours until crispy. Time may vary due to the size of dots, the wattage of your machine, and relative humidity in your home.
Store in an airtight container in the fridge for 2-3 weeks.

Whipped Flavored Cream Cheese - Whip your own cream cheese by placing a block of softened cream cheese into a bowl and use your hand mixer or a stand mixer to whip air into it. Add fruit powder to taste and create a wonderful bagel topping or dolloped onto strawberry halves or as a spread on thinly sliced pound cake and topped with fruit for a dessert!
Dipped pretzel rods -- mix a little of your favorite fruit powder into some melted dipping chocolate. Dip pretzel rods, garnish, and place on wax paper to dry.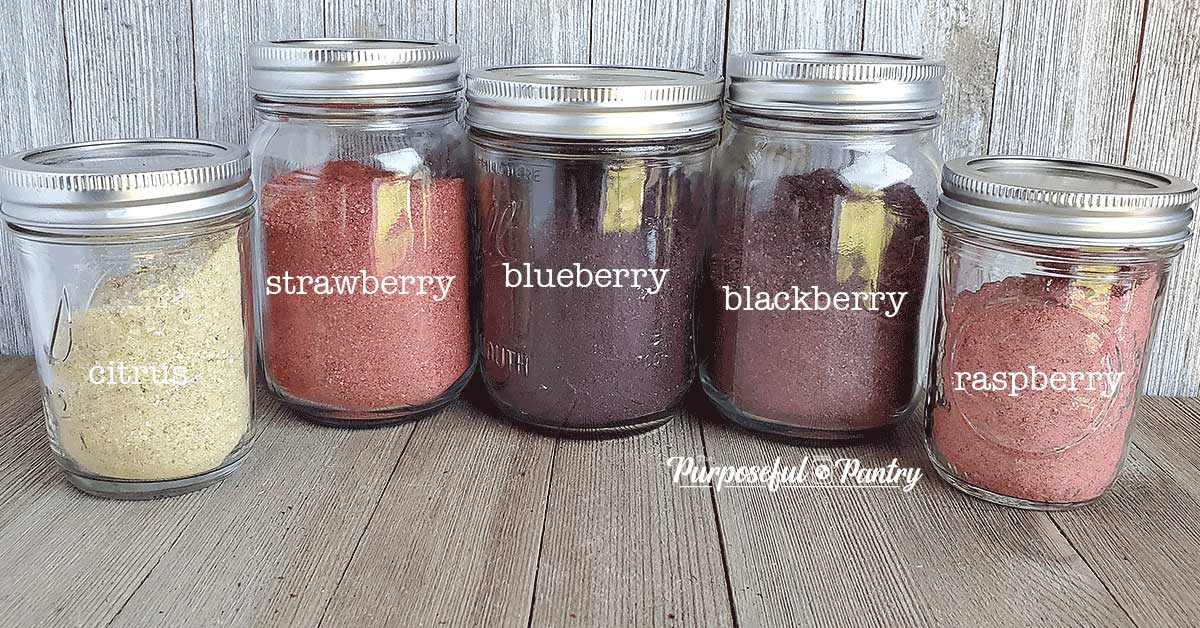 Desserts
Use fruit powders in these dessert items to not only change colors, but also give an intensity of flavor to them, as well.
Ice Cream: top vanilla ice cream with any flavor of fruit powder to bring an extra kick
Snow Cream - the perfect snow day activity with your kids!
Fruit Sugars - you can blend fruit powder and sugar together to create a great dusting for the tops of muffins and cupcakes. This is similar to icing sugars, but a finder texture. Sweet + fruity + sparkly = YUM!
Ice Cream - mix in with your favorite ice cream recipe to intensify the flavor
Frosting/Icing - mix with frosting or icing to change both the flavor and the color
Cake Batter - mix with cake batters to change color OR give an extra burst of flavor.
Cookies - Adding a little strawberry fruit powder to a snickerdoodle will bring a surprise flavor!
Fruit Pops - You can change the flavor while making fruit pops even if you don't have the particular fruit available. So imagine making strawberry banana pops with strawberry fruit and some added banana powder!
Pie - of course, making pumpkin pie with pumpkin powder is super easy when you have pumpkin already ready to go! It easily reconstitutes into a pumpkin puree with the addition of hot water. Simply mix:

2 C warm water
½ C pumpkin powder
Allow to sit for 30 minutes. You can mix more or less to create your desired consistency

Pie - Yes, there are more pies than just pumpkin. Use fruit powder to help thicken a pie or add more intense flavor if your fruit is not quite 'fruity' enough.
Whipped cream - if you make homemade whipped cream - imagine what it would taste like with just a little bit of strawberry powder mixed in and then put in between strawberry shortcake layers.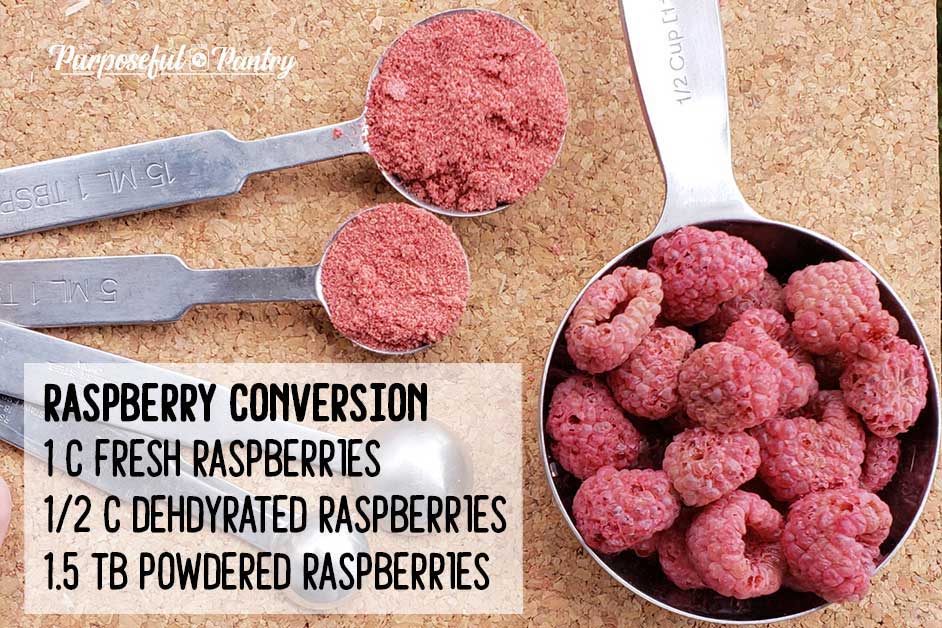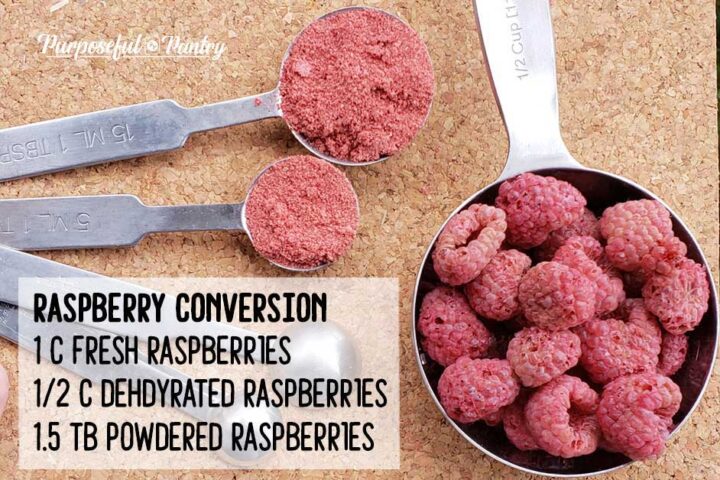 The above photo is a sample conversion of fruit to dehydrated fruit to fruit powder - using dehydrated raspberries as an example.
Dry Rubs & Seasonings
Dry rubs and seasoning blends can elevate the flavor of your favorite meats or dishes. Consider a few of these for your next meal prep:
Cherry or blackberry - make an excellent flavor for BBQ sauces for red meat
Chile/Lime seasoning makes EVERYTHING taste better when done on the grill or added to zucchini or cucumber slices in the dehydrator for chips.

2 teaspoons chili powder
1 teaspoon garlic powder
1 teaspoon onion powder
1 teaspoon salt
¼ teaspoon black pepper
2 tablespoons fresh lime powder

Pineapple 5 Spice Dry Rub

¼ cup brown sugar (learn how to make your own!)
2 tablespoon pineapple skin powder
2 tbsp sesame seeds
1 tablespoon ground ginger
1 tbsp salt
1 tbsp garlic powder
1 tsp Chinese Five Spice Powder
pinch red pepper flakes
1 tsp ground white pepper
Teas and Drinks
Remember that fruit powders don't dissolve the way drink mixes do, so you will want to keep that in mind as you do drink mixes. They powder will certainly infuse your beverage, but it will leave fiber in your drink.
Tea blends - make your own homemade tea blends with fruit powders for that hint of flavor and sweetness. You can even add it to your regular tea for an extra bit of fruit flavor. Using lemon powder can be a great way to have lemon-flavored tea even if you're out of fresh lemons! If you want the flavor, but not the possible grit, use a tea infuser!
Smoothies - use fruit powder in your morning smoothies instead of whole fruit if you're not a fan of the textures (seeds, etc.) or want to intensify the flavor.
Flavored Water - Just like using real fruits, you can put fruit powder into a tea bag or tea infuser and steep in your water for a flavor enhancer.
Cocktails - Mix with a little sugar and use on the rim of a fruity adult drink. Do it with mocktails to make them feel a little extra special.
TIP: to get dissolvable fruit powder, you need to start with fruit juice.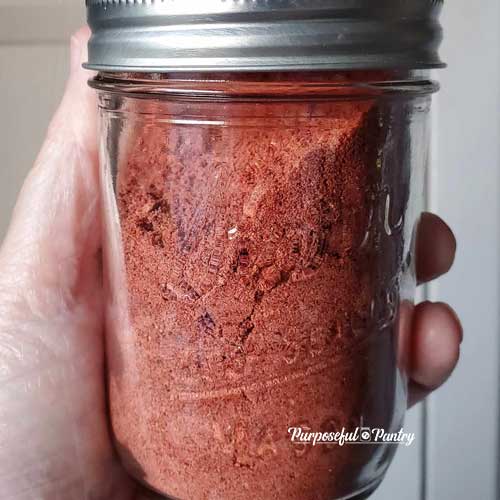 How to Store Fruit Powders
Fruit powders are best kept in airtight containers. Because of the sugar content of fruit powders compared to vegetable powders, you may find clumping or caking an issue. You can use a desiccant pack to help remove any moisture and various methods such as arrowroot powder, reblending, or these other methods to help with the clumping issue. Apple and banana powders are especially susceptible, and these tips may help you.
Fruit powders last about 6-9 months in most cases. You should consider storing the whole dried fruit for a longer shelf-life and powdering on demand (1-2 month supply) for the short term.
Watch me make Blueberry Fruit Powder
This process translates to just about every fruit powder that you want to use.
Subscribe to my Youtube channel for even more great videos on dehydrating, canning, and food storage.
How Long Does Fruit Powder Last?
Fruit powders, like ground spices and herbs, don't have as long of a shelf life as their whole counterparts. Six to nine months is the time given by the National Center for Home Food Preservation for powders.

Properly dried, conditioned, and stored fruit powder has a shelf life of up to a year. You might find that it lasts longer, but you can see a reduction in quality, color, and perhaps even texture (clumping) over time. It is always best to keep dried fruit whole and grind for shorter-term use if possible.
Best Ways to Powder Fruit
The best machine to powder fruits is tall and narrow, like a blender, versus wide, like a food processor.
Coffee Grinders - these are best for small amounts. I prefer one that has a removable cup because it makes clean up so much easier, especially because fruit powders can cake the blades because of the sugar content. It's so much easier to throw a cup into a soapy sink of water or into the dishwasher than to try to clean an all-in-one grinder.
Bullet blenders - perfect for mid-range capacities (1-3 cups of dried fruit, depending on the size of your blender cup. I also get a better powder because the shape and size of the cup force the fruit down into the blades better than a larger carafe.
Blenders - great for large quantities, though you may find it necessary to strain and re-powder. Blenders are best done if full (not small quantities), and once the powder forms, you have a lot of extra space where the powder can just float around the top and not get down into the blades.
Pulsing is the best way to help this issue, instead of a continual mode. High speed, cyclonic blenders will work better than smaller motor machines, but aren't necessary. I used a Ninja blender for years before switching to my Nutri-Ninja earlier this year.
Final Thoughts
Dehydrating fruit is a wonderful way to preserve fruit for your pantry. It encourages less waste, gives you healthy afterschool snacks, and allows you to build a long-term storage pantry full of nutritional options.

But don't settle just for dehydrated fruit. Experiment with some of the 25+ uses listed above and see how far you can take your next steps in making full use of your dehydrator and the food you preserve with it!
What are some of your favorite ways if you already use fruit powders? We'd love to learn more uses!
Want to learn more about dehydrating? Here's The Ultimate Do Not Dehydrate List.