Dehydrate Frozen Vegetables
Is your freezer getting full of packages of frozen veggies? Makes some space by learning to dehydrate frozen vegetables for your short and long-term food storage.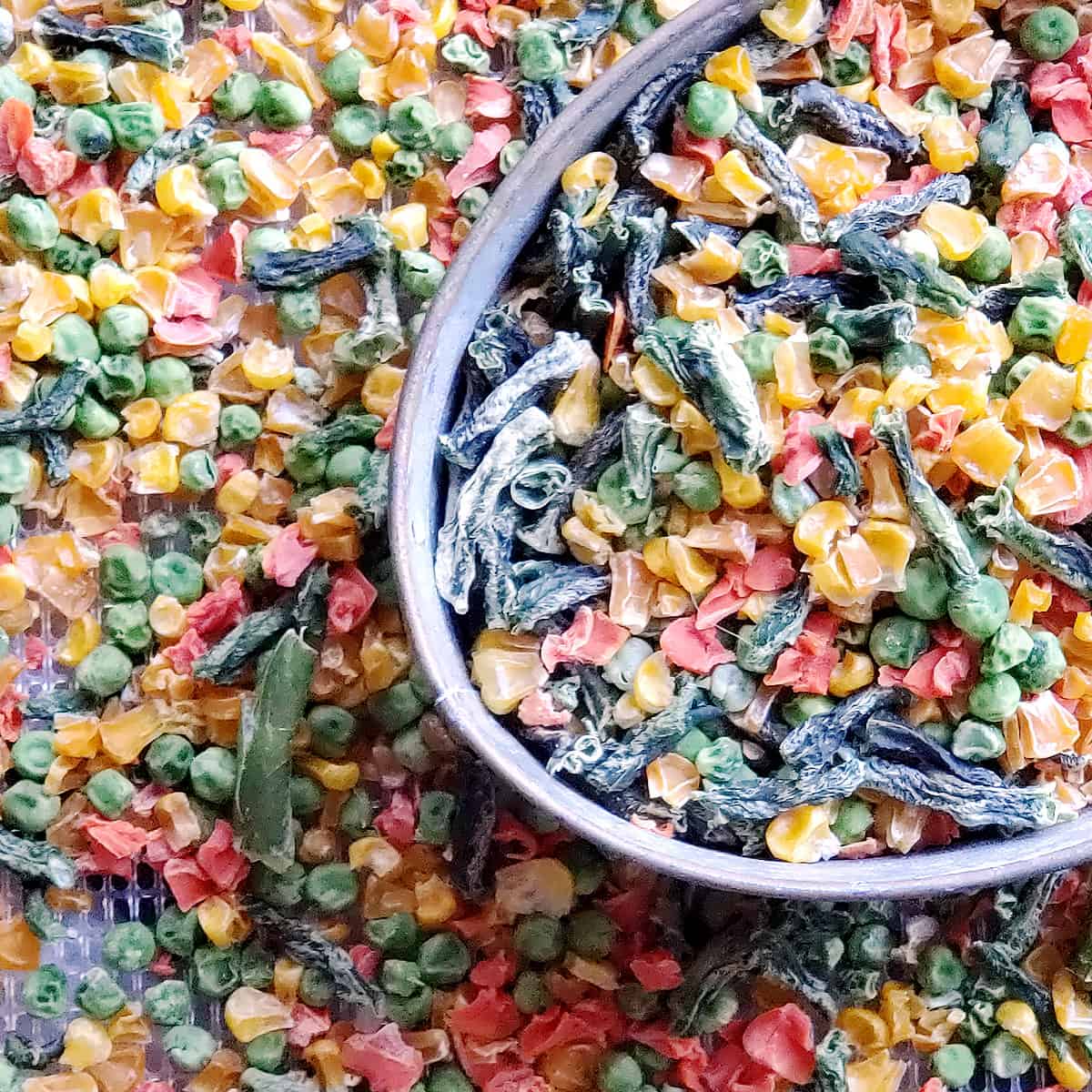 This post may contain affiliate links. As an Amazon Associate, I earn from qualifying purchases. Please read our disclosure policy.
If you've recently gotten a dehydrator and just are too confused about what to start with, or are unsure about what is easy to do – try this. Dehydrate the frozen veggies you have in your freezer. It's just about the easiest project to do that is practically no-fail.
Why Frozen Vegetables are a great beginning dehydrator project:
They do not have to be thawed!
The vegetables have already been blanched.
They've already been cut to the perfect dehydrating size.
They are ready to open and pop on a tray.
Helps make food shelf-stable for emergencies.
Often better nutritionally than fresh produce shipped from around the world
Can be less expensive than purchasing out-of-season fresh vegetables.
Vegetables in your grocer's frozen food aisle are usually picked and flash-frozen immediately after the blanching process. They are often fresher than what you might purchase in the produce section.
You also want to maintain a good rotating inventory of freezer stock. Sure, packaged veggies are already frozen, but they aren't great insulators for an upcoming power outage due to a hurricane or city shut-off.
So let's make use of those veggies, and get them rotating with this easy dehydrating project!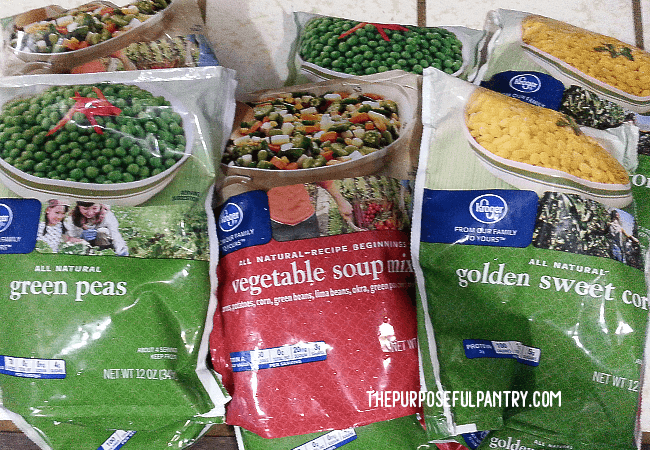 Really. This is super easy to do. Just don't do any of the heavy cream-based 'sides' or your own vegetables that may be heavy with butter or oil since dehydrating + oil isn't food storage-friendly.
Quick Tip #1 for Dehydrating Frozen Vegetables – if your package has been in your freezer a bit, you'll likely have some ice crystals. Simply whack your package on the counter a few times to loosen up those nuggets. The ice will quickly evaporate in the dehydrating process. I usually have a nonstick dehydrator sheet on the bottom of my machine just in case of any dripping.
Should I Thaw Before Dehydrating?
There is no need to defrost your vegetables.
Go ahead and get your dehydrator preheating to 145°F. We'll dry them high for a couple of hours before settling into their normal temperature.
We're trying to keep the dehydrator a proper temperature since it is full of frozen food, and help with the condensation that happens in the beginning.
However, if you'd like let your dehydrator run a little less, allow your veggies to thaw safely, THEN place them in a regular 125°F dehydrator, then follow the rest of the steps below.
How to Dehydrate Frozen Veggies
1. Set dehydrator to 125°F | 52°C
You can choose any temperature you want for this. Some prefer to go higher to help them defrost a little faster. The only issue with a too high temperature is case hardening with the peas. You don't want them to dry so fast on the outside that the inside doesn't dry.
2. Place on trays
No defrosting is necessary! Place your vegetables on your dehydrator trays.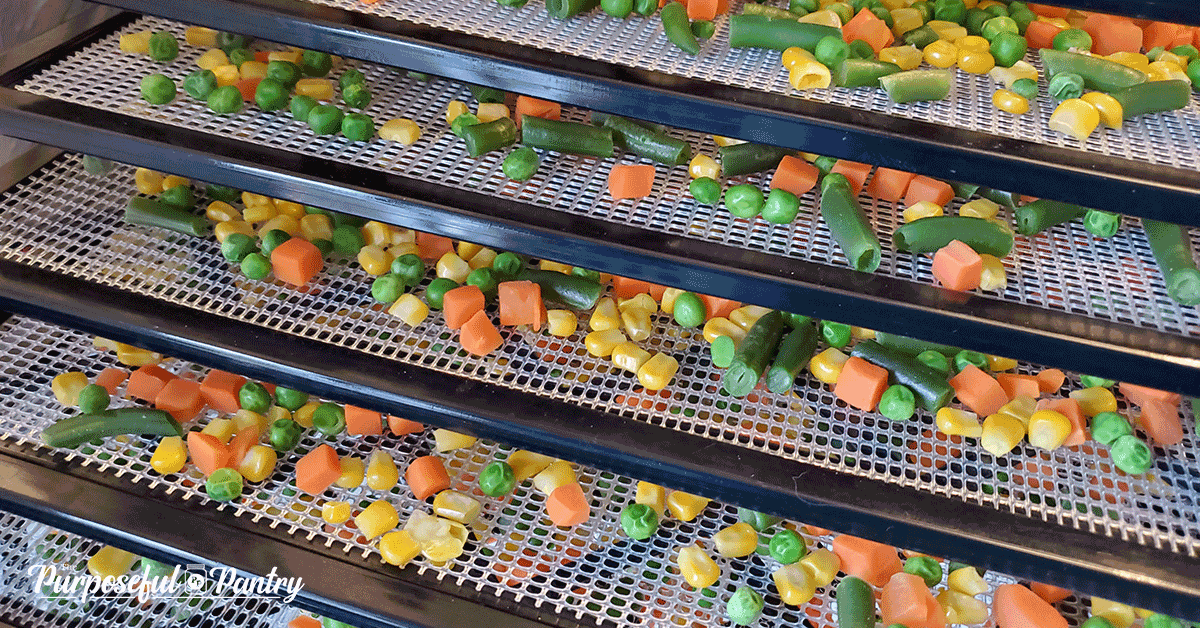 3. Begin to check for dryness.
Some frozen vegetables dehydrate more quickly than others. If you are using a bulky mix of vegetables, you might want to pull out the fully dehydrated vegetables to let the bulky ones keep going.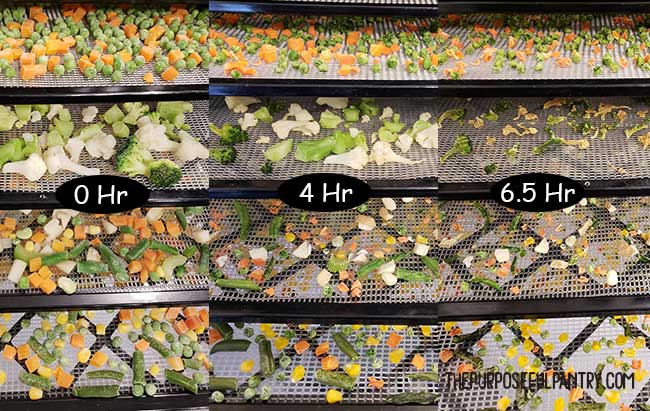 4. Condition
After you're assured that your vegetables are dry, it's important to condition them before storage to ensure they are equally dry throughout.
To condition: Place in a jar with an airtight lid. Shake it once a day for 5-7 days. Look for signs of moisture build-up, pieces sticking to the jar that won't easily shake off, or clumping together that don't break apart easily. Then store!
If you see signs of those things, throw them back into the dehydrator to dry more. If you see mold form, then toss it all.
5. Store.
Store in an airtight container for up two years, optimally. You may get longer, but the peak of freshness is about two years.
What do Dried Frozen Vegetables look like when Dry?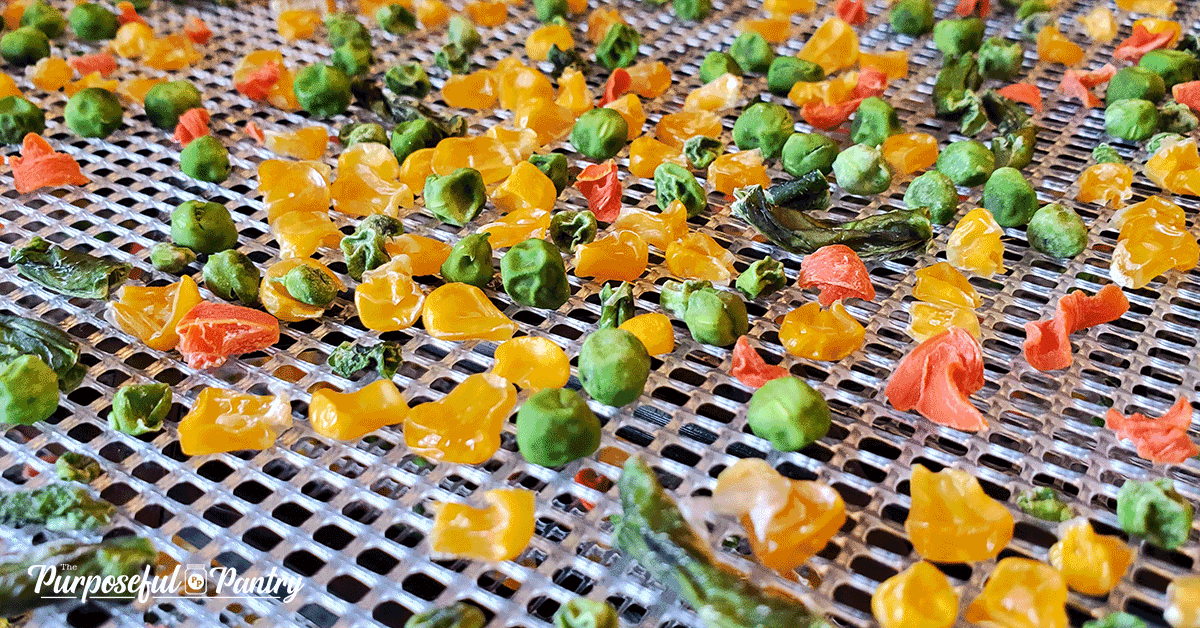 Green beans and other larger pieces will easily snap.
Corn will turn color
Peas will be completely shriveled.
You may see a white film on carrots and corn. Generally, this is starch from the vegetables and will not wipe off. If it does wipe off, that is mold and you need to toss the batch, clean your dehydrator and start again.
Dehydrate Frozen Peppers and Onions
One of the benefits of dehydrating frozen peppers and/or onions is that the smell is lessened significantly. Watch how to dry frozen peppers and how to create a pepper-onion spice blend from it.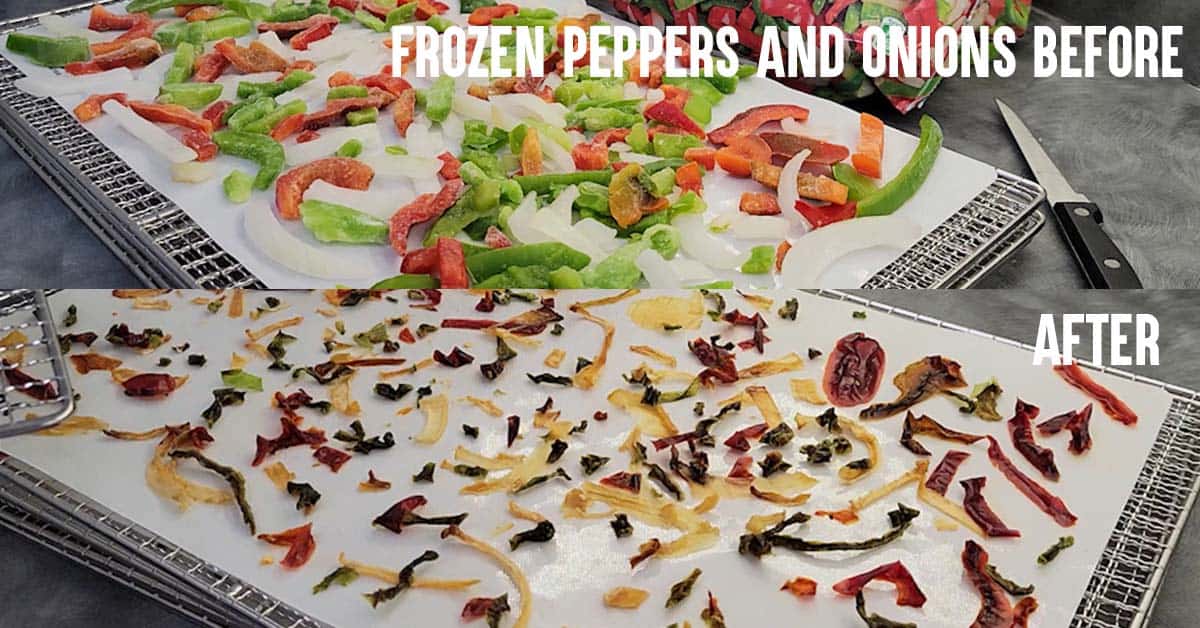 Dehydrate Frozen Corn
Drying frozen corn is so quick and easy, and you can amass quite a jar full in one easy go! I did an entire half-gallon jar from 9 12oz bags in about a day.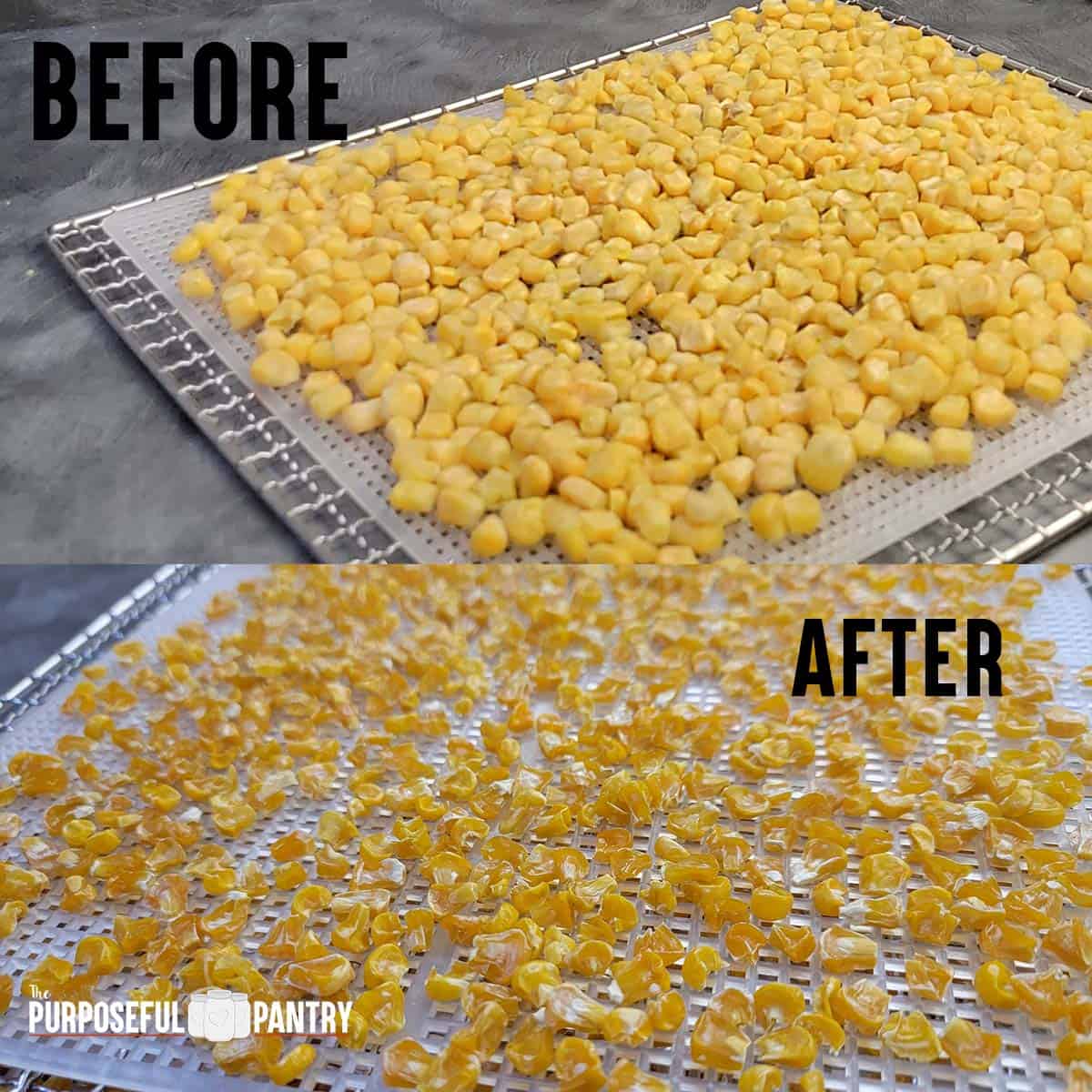 How to Store
Allow produce to fully cool;
Place in an airtight container
Package for storage in an airtight container. That is all that is needed. However, you may want to vacuum seal them in your canning jar, or vacuum seal in bags, or use oxygen absorbers with mylar bags. Whichever way you decide, you can learn more about storing dehydrated foods here to make your choice. Do not use zipper top bags as storage solutions for more than a few days as they are not airtight.
TIP: See how I use my vacuum sealer to put my dehydrated products up for storage.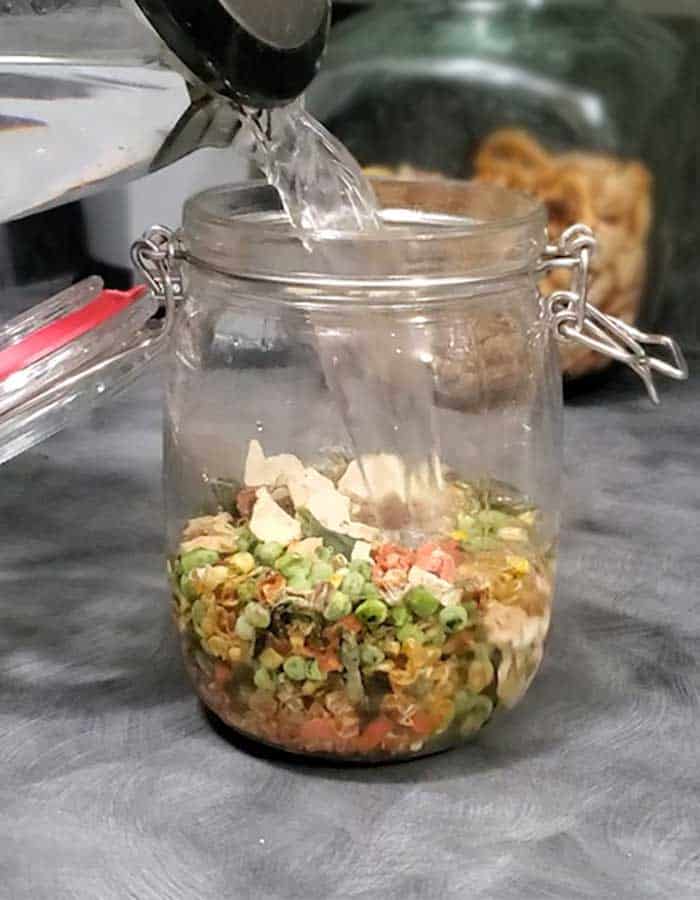 How to Rehydrate
To rehydrate dehydrated vegetables (also known as reconstitution) for a reason other than adding to a soup or stew:
Place dehydrated vegetables in a bowl of boiling water with enough volume to cover. It takes approximately 15-30 minutes.
Place in a bowl of water and leave in the refrigerator overnight.
How to Use Dehydrated Frozen Vegetables
Throw a few handfuls in a soup or stew. This will bulk up your vegetable quotient and you don't have to prepare anything ahead of time. Make sure you add a little extra liquid to your stew for the dehydrated vegetables.
Throw some into ramen, rice dishes, meatloaf, and other savory dishes, just as with soups and stews. Make sure to rehydrate from the directions above, or add enough extra liquid into your dish to allow the produce to rehydrate during cooking;
Create Just Add Water gift jars with soups or stews to give to friends or keep in your pantry.
Grind it to make a vegetable powder that you can toss into meatloaf, casseroles, curries, burgers, smoothies, etc., to bulk up your vegetable intake. Much like making a green powder that I do here. You can even add the vegetable powder to sour cream or soft tofu, or yogurt to create a dipping sauce for
Use dehydrated corn to grind and make cornmeal.
Yield of Dehydrated Frozen Vegetables
Yield: 1 Cup frozen = 1/2 cup dried = 1/4 cup powdered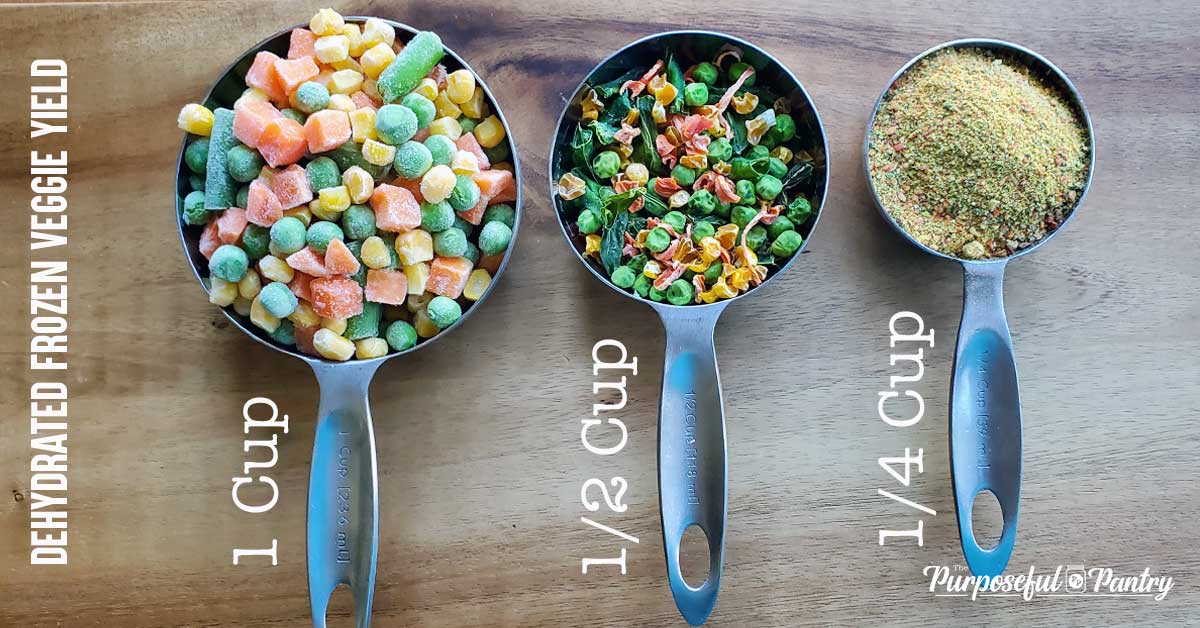 Darcy's Tips
If you have larger chunks of vegetables (like okra or lima beans), you can separate them ahead of time and give them their own tray. This will facilitate more even drying across the board.
It's also a great idea to let your food dry for awhile and thaw, then cut larger pieces down (broccoli, cauliflower) to better sizes for drying faster and more efficiently.
Remember that vegetables' yields are relative to their size, how they are prepared, etc. Cooking recipes usually don't need exact measurements, so you can adjust as your taste prefers.
What Equipment Do I Need?
Here is the dehydrator that I use, though I've also used this one for years and loved it. I have this Food Saver for vacuum-sealing my jars and use wide-mouth and regular-mouth attachments. If you're a book person and would love to have a book in your kitchen full of awesome ways to dehydrate all kinds of foods and make meals from them, check out the Ultimate Dehydrator Cookbook. You can find a list of other budget-friendly tools for your dehydrator here.
Frequently Asked Questions
Do I have to defrost frozen vegetables before dehydrating them?
No. They are ready to dry just as they are!
Can you put frozen vegetables in a dehydrator?
Yes, simply pour onto your dehydrator trays lined with mesh sheets (to prevent them falling through larger holes), and dry.
Can you dehydrate any frozen vegetable?
Yes! Larger pieces like broccoli or cauliflower may need to be cut down once or twice to ensure better drying. But you can dry anything from carrots to cauliflower rice to beans!
Give it a try
Go ahead. Give it a try. Go to your freezer, pull out those old, lumpy frozen vegetable bags, and do something with them! Are vegetables a little freezer burned? It's okay. Fresh is always best, but in this instance, no one is ever going to know! And it's SOOOOO easy!
More Easy Dehydrating Projects
While dehydrating is generally a very easy method, sometimes we need those fool-proof projects to help us with confidence! So I've created a list of 10 Easy Dehydrating Projects for you!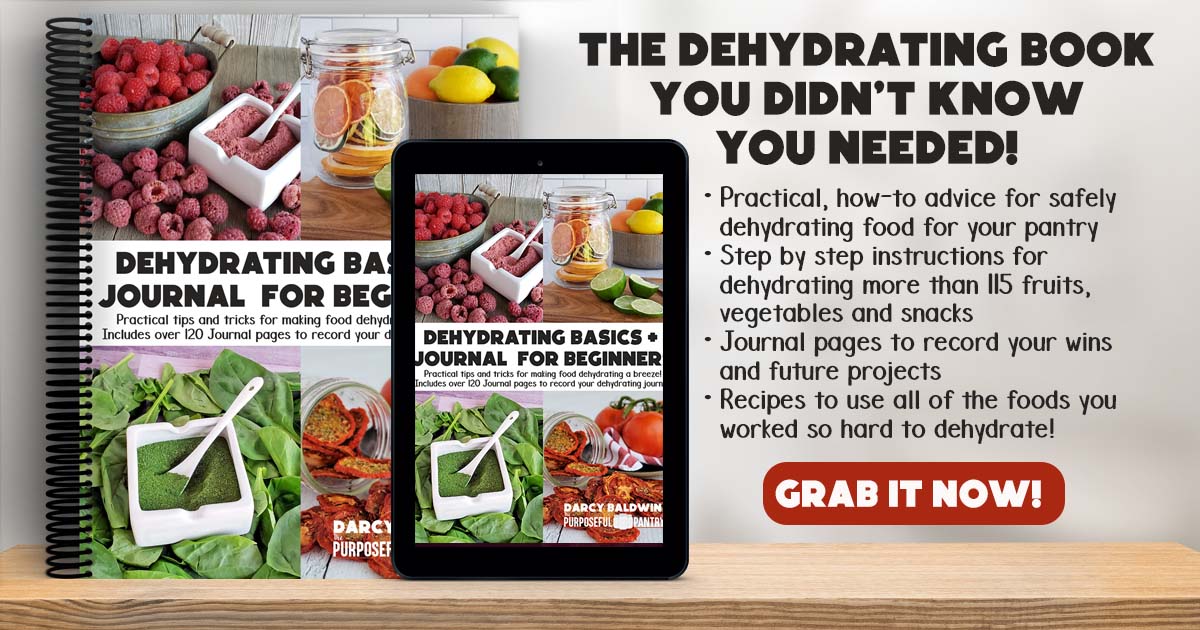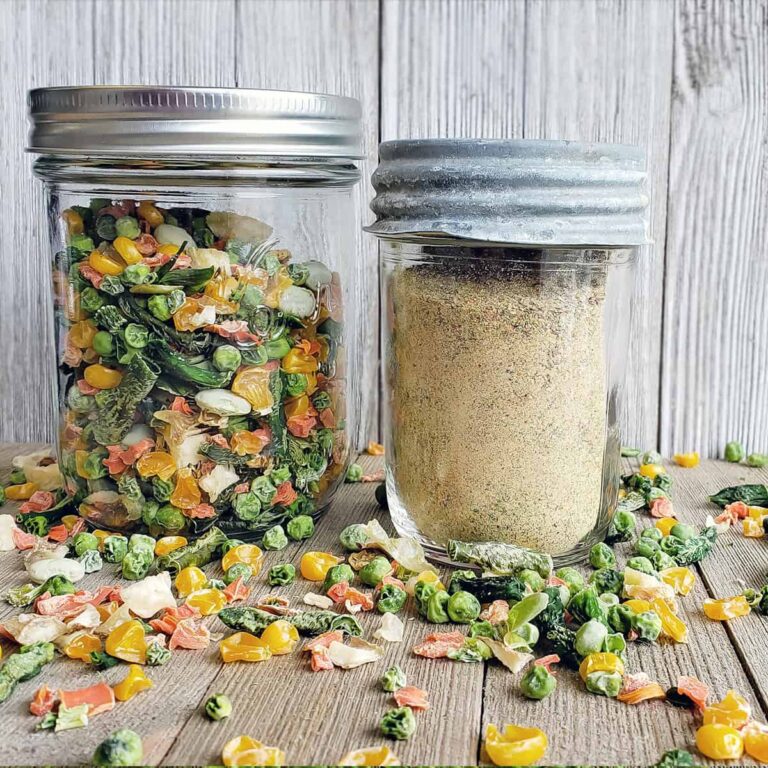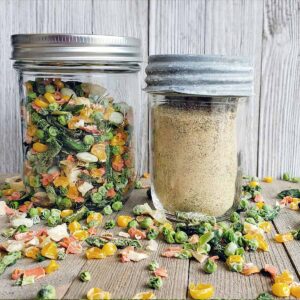 Dehydrate Frozen Vegetables
Make dehydrating easy by dehydrating frozen vegetables to make them shelf-stable, and get more room in your freezer!
Print
PIN THIS!
Rate
Instructions
Pour onto dehydrator trays (no defrosting necessary)

Dry at 125°F / 52°C until dry – approximately 6-10 hours until dry and plink when dropped

Store in airtight container
Video
Darcy's Tips
Rehydrate by soaking in water or placing in a simmering pot of stew, broth, or soup. They will need some time to rehydrate and cook, so let them simmer.
Vegetable Powder
Pour vegetables into a blender or coffee grinder
Pulse until a powder forms
Store in an airtight container for about six months
Use to supplement any meal with a little extra nutrition! Start with 1 Tablespoons (= 1 cup of fresh) and use as much a you'd like.
Nutrient information for dehydrated foods is based on fresh. Use 1/4 of the servicing size for the same nutrient information. Thus 1 Cup of fresh fruit has the same sugars as 1/4 dried.
Nutrition
Serving:
1
Cup
|
Calories:
181
kcal
|
Carbohydrates:
38
g
|
Protein:
9
g
|
Fat:
1
g
|
Saturated Fat:
0.3
g
|
Polyunsaturated Fat:
1
g
|
Monounsaturated Fat:
0.1
g
|
Sodium:
133
mg
|
Potassium:
600
mg
|
Fiber:
11
g
|
Vitamin A:
14371
IU
|
Vitamin C:
29
mg
|
Calcium:
71
mg
|
Iron:
3
mg
Nutritional information is an estimation only. Nutrient information for dehydrated foods is based on fresh. Use 1/4 of the servicing size for the same nutrient information. Thus 1 Cup of fresh fruit has the same sugars as 1/4 dried.
©ThePurposefulPantry. Photographs and content are copyright protected. Sharing of this recipe's link is both encouraged and appreciated. Copying and/or pasting full recipes to any social media is strictly prohibited.