Dehydrate asparagus spears to bring spring to your pantry all year long, and use it to create a great green powder to add to any casserole or soup, including creamy asparagus soup.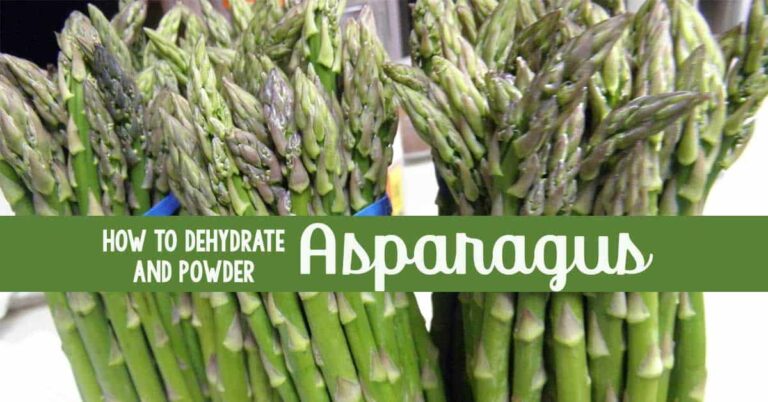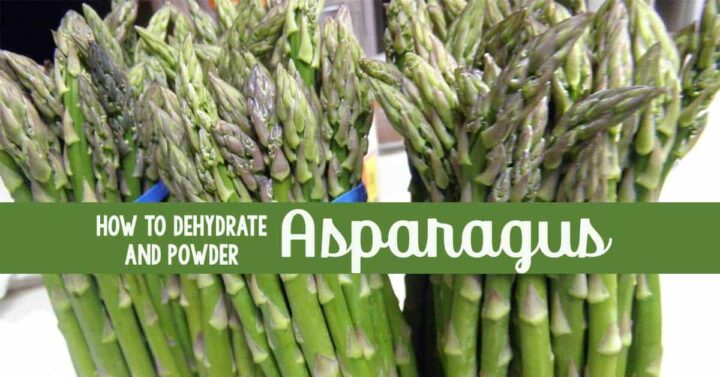 Although it may be cold outside on this late winter day, spring will soon arrive and the season for asparagus will be here. Look for fresh asparagus in the supermarket from February to June, with April being the peak of the season and the time when it will be at the best prices.
The best price you can get for asparagus is usually around $1.50/lb in the spring in North America for a brief time. This is when you can grab enough to dehydrate aspargus for a whole year.
Alternatively, you can purchase frozen asparagus to accomplish the same dehydrated asparagus spears for storage.
If you have the room and know how you can easily grow your own asparagus.
Dehydrating asparagus allows me to do the time-consuming preparation, lay the pieces out on dehydrator trays, and walk away until they are completely dry. It's almost as easy as freezing but it makes room in the freezer for precious space we can use for meat.
The Ultimate Dehydrator Cookbook gives these general directions for drying asparagus:
"Choose young, tender stalks. Wash; cut off tough end. Slice into 1-inch pieces. Blanch 3 to 4 minutes. Dry at 125 degrees until brittle. Rehydrate and serve in soups or with seasoned cream sauce. Water content 92%"
Here's the process for dehydrating asparagus spears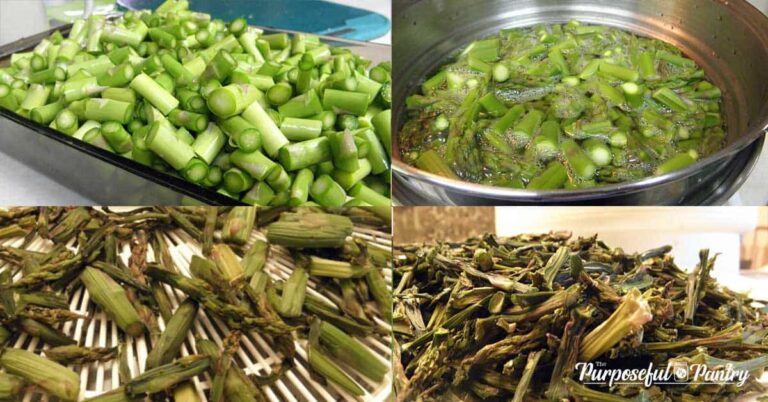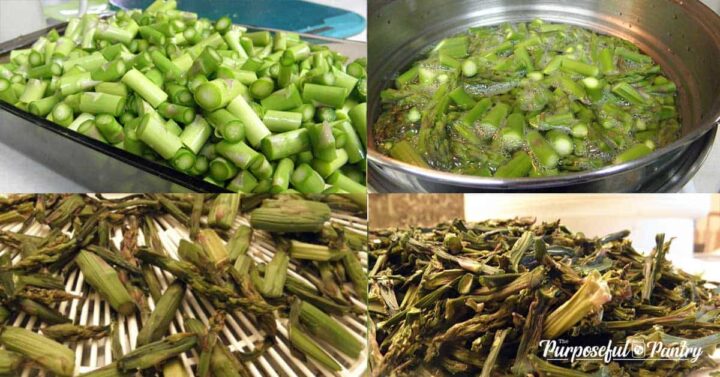 Dehydrate at 125F / 52 C for up to 18-24 hrs. Read directions below for particulars.
Directions:
Wash the asparagus and cut off the tough ends.
Remove the tough ends and set them aside
Cut the remaining stalks into one to two-inch pieces. You don't have to be exact about it.
Once you are done with the cutting, separate your pieces into three types of spears – (1) the tender tips (2) the remaining stalk (3) the ends you removed. Set these aside to be treated separately.
Blanch each of the cut piece types separately in a rolling hot water bath for 3 minutes. The timer is started from the time they are boiling, not when you put them in the water. After 3 minutes, place the pieces into ice water to stop the cooking process.
Lay them out, by type, in single layers on your dehydrator trays. Each of these types of asparagus stalk will dry at different rates. Taking the time at the beginning of the processing makes it easier to remove single trays when they are finished.
You'll know your asparagus spears are completely dry when they are very crisp. No amount of moisture will be seen when you squeeze a piece or when you cut it open.
Dehydrating Asparagus Temperature and times
TEMP: 125 F / 35 C
Asparagus tips for 6 to 8 hours.
Middle asparagus stalks for 8 to 12 hours
Tough asparagus ends for 10 to 14 hours
Remember - times are relative and use them as a guide only. It may take you less time or even longer time depending on your machine, your home's humidity, etc.
NEXT STEP: Conditioning. At this point, condition your asparagus to ensure that you have completely equal humidity in your asparagus, and don't run the risk of mold forming over time.
Storing Dehydrated Asparagus
First, take those tough, stalk ends that you dried and turn them into powder for use in soup and as a thickener in recipes. While they are too tough to eat in their natural state, they are still full of flavor. It is done the same way as when making powder from fresh greens, except you will need to run them through the food processor and mesh screen several times. Those stalks are tough!
Next, store the dehydrated spears and tips in canning jars with tight-fitting lids, or place them in FoodSaver bags. Whichever method you choose for storage, make sure the pieces are completely dry. Store them in a cool dark place – your pantry shelves are perfect.
How to use dehydrated asparagus spears
To rehydrate asparagus spears:
Add the dried pieces to a bowl and use hot water to completely cover the asparagus.
Soak them for 15 to 20 minutes. They may not use all of the water, so drain it off or add the remainder to your recipe.
Remember, the tips will become tender and plump up really well, while the stalks will take a bit longer.
You can use these rehydrated asparagus pieces in your morning eggs or in a frittata recipe, really, anything that calls for cooking the asparagus will work. They also work well then used whole in soups and stews, and there is no need to rehydrating them, just be sure to add additional water to your recipe.
How to Make Dehydrated Asparagus Powder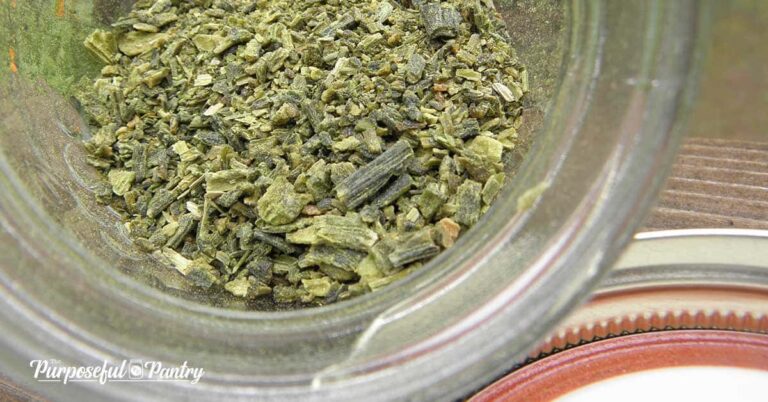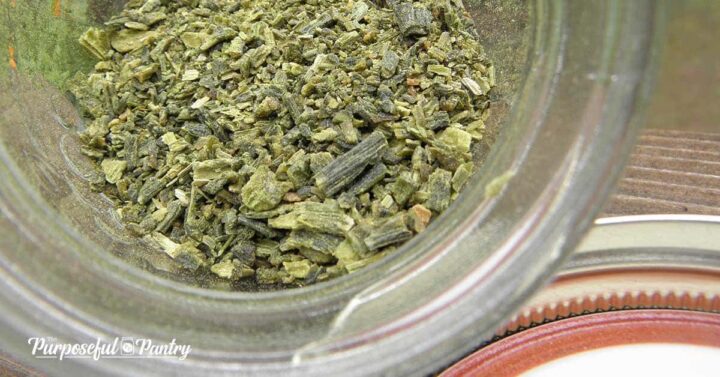 If you would like to powder dehydrated asparagus to add to vegetable powder or to add to green powder, simply place your asparagus pieces into a bullet blender (my personal favorite is the NutriNinja bullet blender) or a high-speed full-sized blender and plus until you have the pieces mostly chopped, then on high to form a powder.
Spread the dehydrated asparagus powder on fruit leather trays, a lipped silicone tray, a coffee filter, and place back into your dehydrator for 1 hour at a low temp. OR, you can put it onto a cookie sheet and into an oven with the pilot light lit, or your oven light on.
Store the powder in an airtight container in a cool, dry place.
While you shouldn't have an issue with asparagus powder clumping unless you've allowed moisture into your container, here are some hints and tips on how to keep powders dry and clump-free!
Instant Creamy Asparagus Soup
Ingredients:
¼ cups dry milk non-fat
⅛ cup arrowroot powder
⅛ cup instant chicken bouillon
¼ TB dried onion flakes
¼ TB garlic powder
⅛ TB white pepper
¼ tsp Italian seasoning
⅓ C asparagus powder - OR-
1 C dehydrated asparagus pieces
4 C chicken broth or water
Directions:
Bring 4 C of water or broth to a boil
Add the ingredients
Allow to simmer until all powders are dissolved or the asparagus pieces rae rehydrated
*Tip: to make this go a little faster, you can soak the asparagus pieces in the refrigerator in the broth/water before creating the soup.
Additional Ways to Preserve Asparagus
FREE PRINTABLE WORKSHEET:
If you are already a member of The Purposeful Pantry Library, grab your worksheet here.