Dehydrate frozen corn to get a head start on your dehydrated pantry. It's so easy to do, and is worth having shelf-stable vegetables that are easy to integrate into all of your family's meals!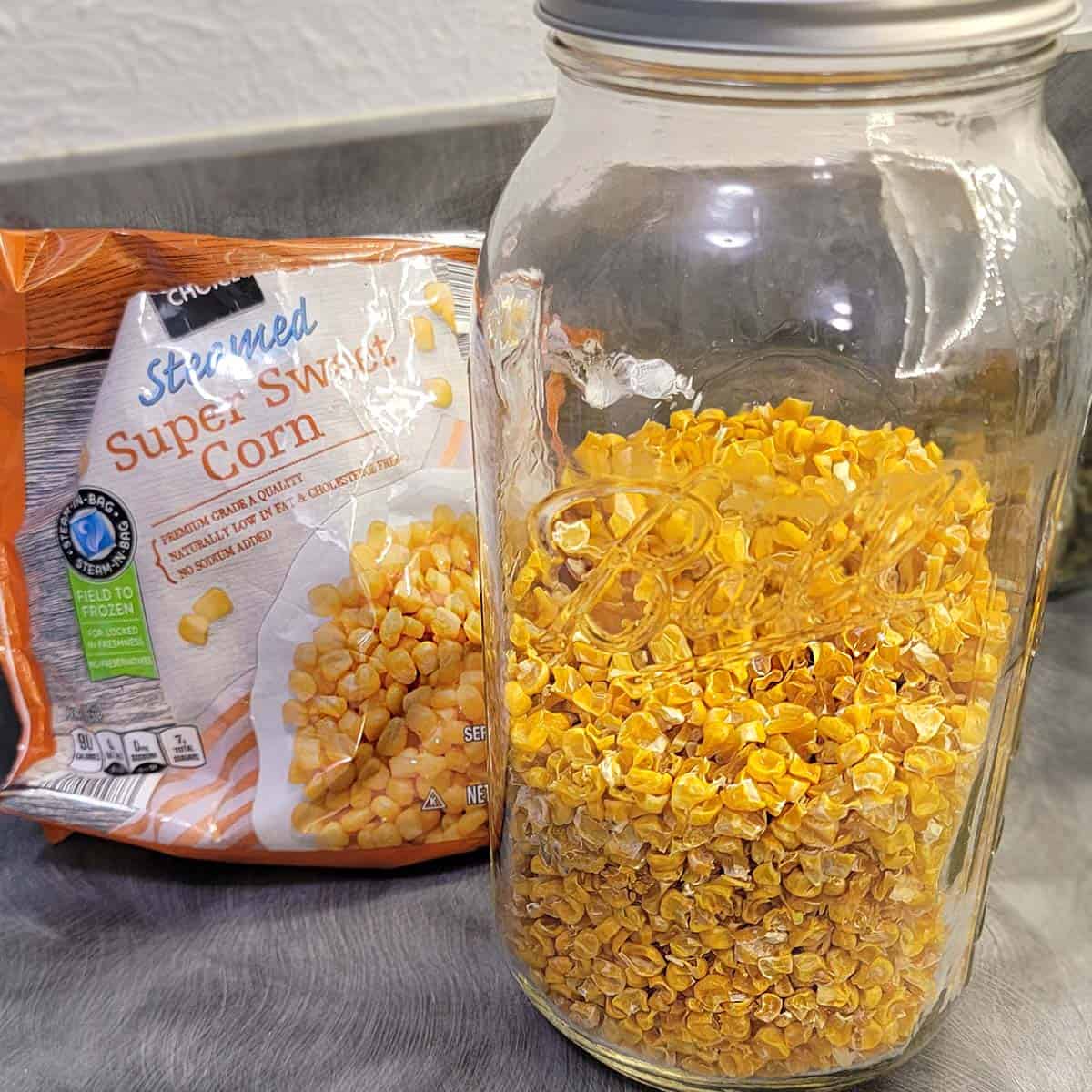 Why dehydrate frozen corn?
Because it's so quick and easy! The prep work has been done for you. No shucking, no removing the kernels from the cob, no picking away at the silks. Just open a bag, throw it on a tray, and dry!
How to Dehydrate Frozen Corn
Step 1: Cut open a bag
Really - it is that simple!
Step 2: Place frozen kernels on your dehydrator tray
You may need to use a mesh sheet if your tray has very open grates. Dehydrate your corn kernels frozen or thawed. The only thing affected is the time it takes.
Step 3: Dry at 125F/52C
Time could take anywhere from 6-12 hours depending on how densely you packed the trays, your home's humidity, your machine, etc.
Step 4: Dryness test
Kernels should be translucent, hard, and plink when dropped on a hard surface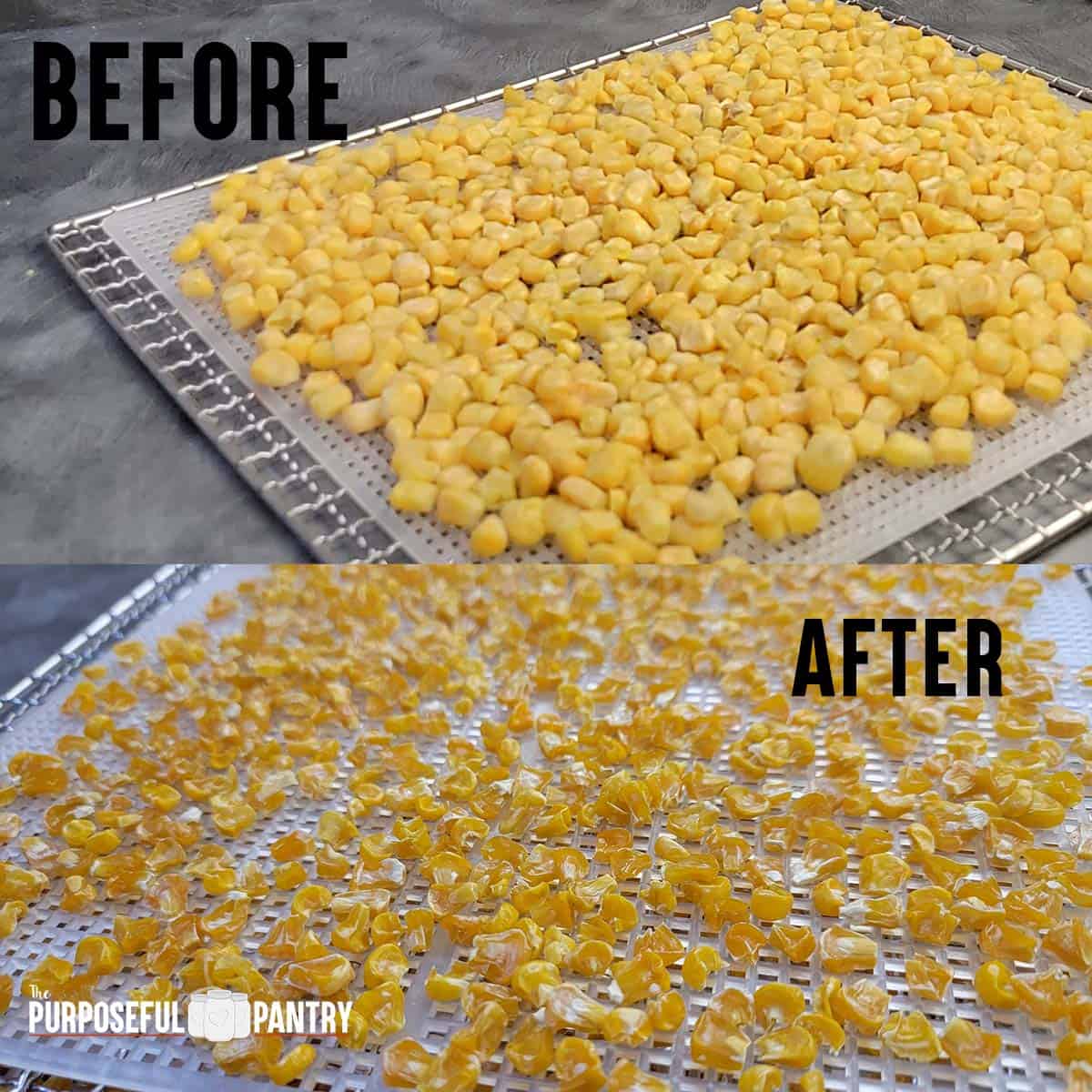 Step 5: Condition
Condition by placing corn in a large, airtight container. Shake it once a day for 5-7 days.
Conditioning helps ensure that the corn has equalized the little moisture that is left (no clumps of under dried corn), and allows you to check for moisture buildup or mold before storage.
Step 6: Store
Corn is best stored in an airtight container that is approximately the same volume as your dried corn. You can store dried corn for up to five years.
YIELD: 1 cup of frozen corn is approximately ½ cup dried corn.
To rehydrate dried corn
There are quite a few ways to rehydrate dehydrated foods. Remember, all dehydrated foods need some time to rehydrate, plus cook if they weren't fully cooked before drying.
Corn is one of the easiest foods to rehydrate. It doesn't need much prep at all.
Tossing into a soup or stew that is simmering for 20-30 minutes
Letting corn sit in a hot water soak for 20+ minutes
Soaking overnight in the fridge in water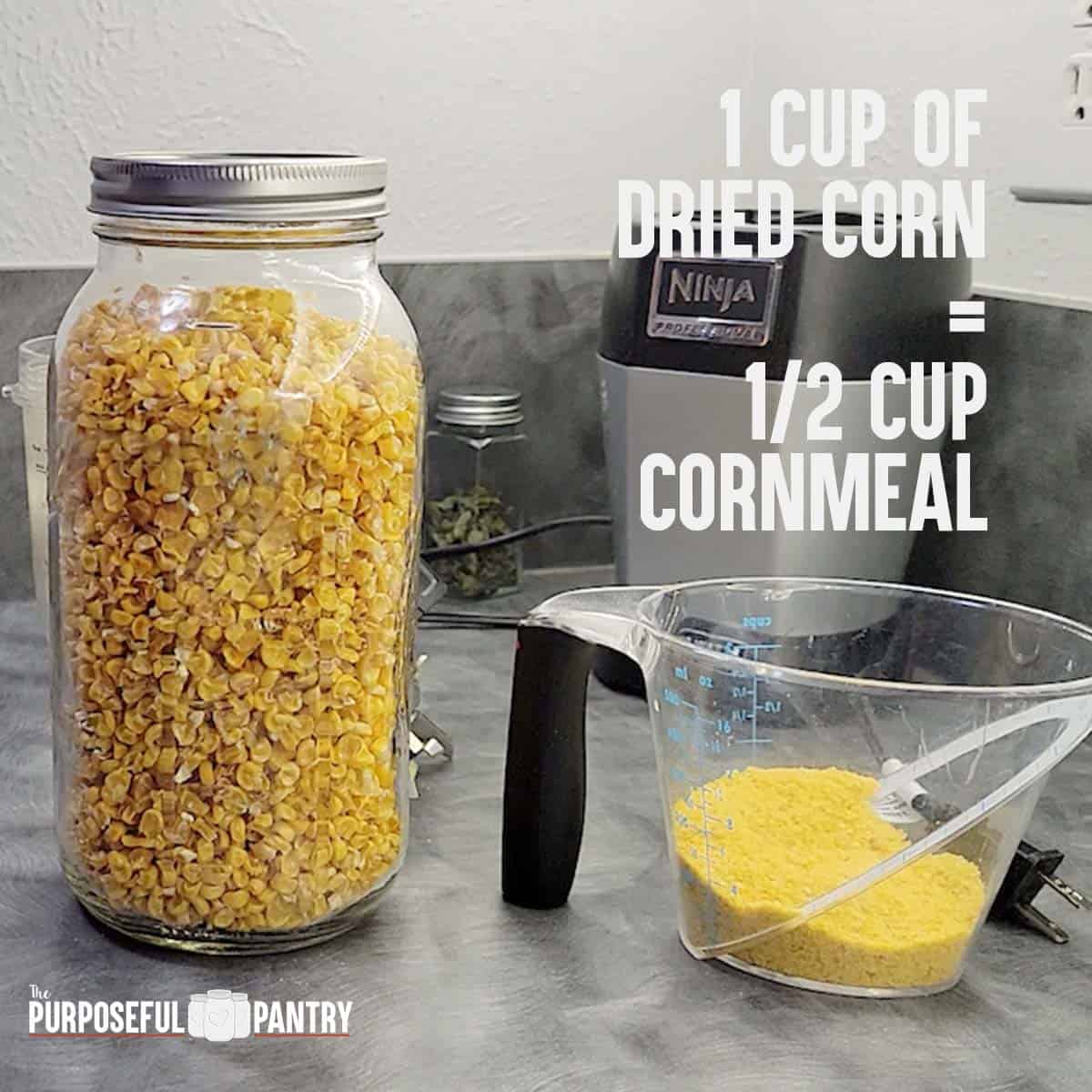 Uses for Dehydrated Corn
Throw into soups, stews, casseroles. Corn rehydrates fairly easily when given 20-30 minutes to simmer.
Grind to make quick cornmeal in a pinch (most cornmeal is made from a white or yellow dent corn - different than the sweet corn you might find in the frozen aisle, this can work in a recipe emergency).
Eat dried - it's not hard like corn nuts, and is a sweet treat
Recipes using Dehydrated Corn:
Watch as I dehydrate frozen corn and make it into taco soup and cornmeal!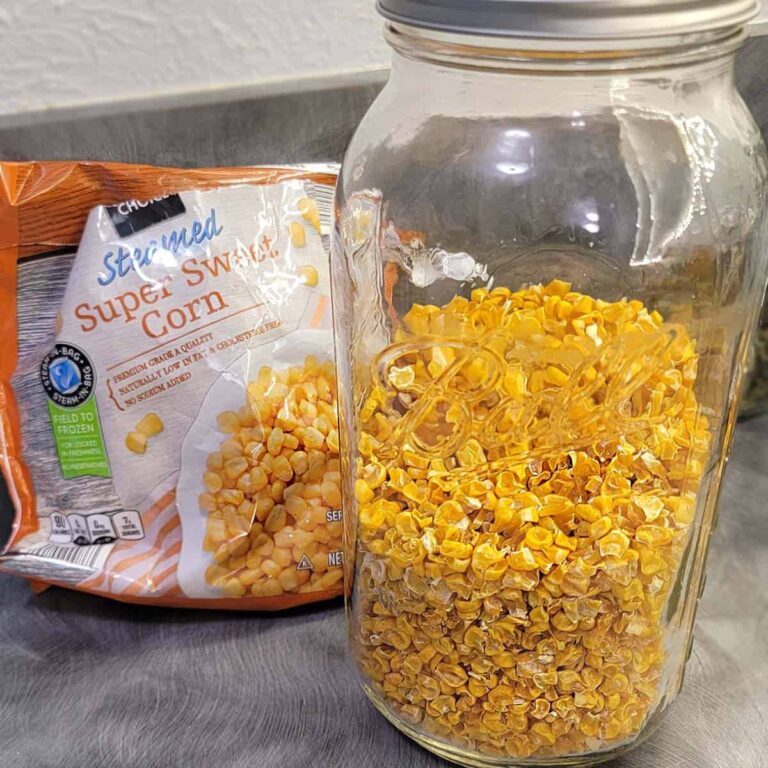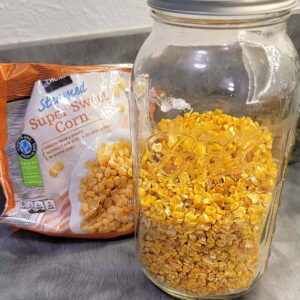 Dehydrate Frozen Corn
Dehydrate frozen corn to quickly build your dehydrated pantry, use it for cornmeal in a pinch, and add it to any meal!
Print
PIN THIS!
Rate
Instructions
Place frozen corn onto dehydrator trays

Dry at 125F / 52C for 6-10 hours

Corn done when slightly transluscent, hard, and plinks when dropped on hard surface.

Store in an airtight container for up to five years.
Darcy's Tips
Yield: 1 cup frozen corn is approximately equal to ½ cup dried corn
To make into cornmeal
Grind corn in a coffee grinder, bullet blender or large blender
1 cup dried corn is approximately equal to ½ cup cornmeal.
Nutrition
Calories:
10
kcal
|
Carbohydrates:
2
g
|
Protein:
0.3
g
|
Fat:
0.1
g
|
Saturated Fat:
0.01
g
|
Polyunsaturated Fat:
0.04
g
|
Monounsaturated Fat:
0.02
g
|
Sodium:
1
mg
|
Potassium:
30
mg
|
Fiber:
0.3
g
|
Vitamin A:
0.4
IU
|
Vitamin C:
1
mg
|
Calcium:
0.4
mg
|
Iron:
0.1
mg
Nutritional information is an estimation only. Nutrient information for dehydrated foods is based on fresh. Use ¼ of the servicing size for the same nutrient information. Thus 1 Cup of fresh fruit has the same sugars as ¼ dried.
©ThePurposefulPantry. Photographs and content are copyright protected. Sharing of this recipe's link is both encouraged and appreciated. Copying and/or pasting full recipes to any social media is strictly prohibited.