Dehydrate grapes to make your own homemade raisins! It's so easy to do, just takes a little prep work and some patience. And you'll absolutely love the results!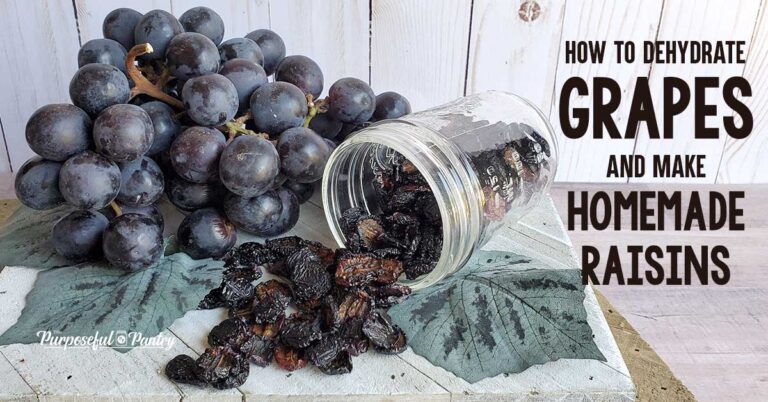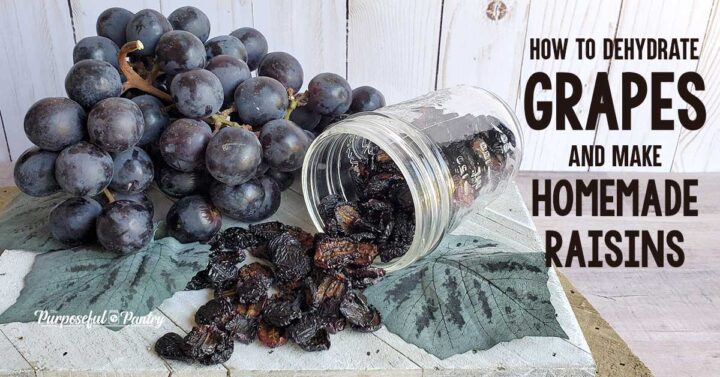 Grapes are such a fun fruit to dehydrate. The process is easy, you just need to do a little prep work ahead of time!
How to Dehydrate Grapes
Step 1: Wash grapes
Step 2: Break the skin
Just as with blueberries, the skin on the grape needs to be broken in some fashion to allow the moisture to escape from the grape for efficient drying.
Drying a grape without doing so, especially at a high temperature, can lead to case hardening where the outside dries into a shell quickly, and doesn't allow the moisture from the inside to escape. This can lead to molding problems down the line.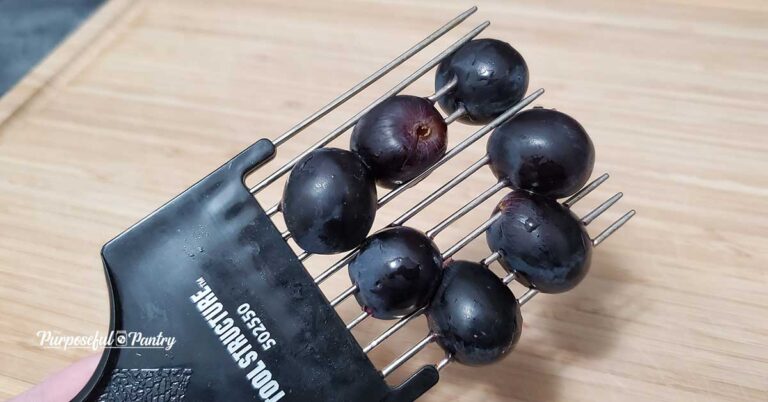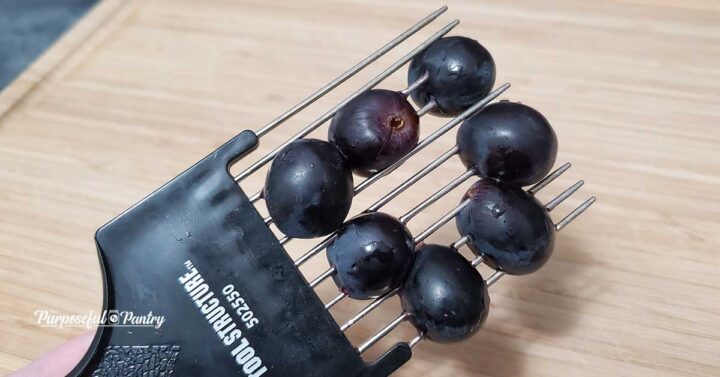 Options:
Blanch. This process is used more for vegetables to prepare them for dehydrating, but works great on berries, as well.

Boil pot of water
Dunk grapes in for 30 seconds
Remove and place into an ice bath to stop the cooking process

Use a knife to slice open. Don't cut all the way through if you want something more like raisins you purchase at the store.
Cut grapes in half. I recommend this mostly for large raisins, not tiny ones.
Pierce the skin to create holes. I use a sturdy metal hair pick to accomplish this quickly.
You can watch my video on how to blanch blueberries to learn how to do grapes, as well.
Feel free to subscribe to my Youtube channel to catch more great dehydrating and food storage videos!
3. Place on dehydrator trays
 I happen to use an Excalibur dehydrator, but any one will do. If you need help finding a dehydrator that's right for you, I've got a great resource for you to read.
4. Dry at 135°F / 57°C for 18-48 hours.
Yes, that seems like a crazy long time, but they can take a very long time to dry, especially if you haven't cut them.
The time variance will depend on how you've prepared them, your machine, the humidity of your home, etc.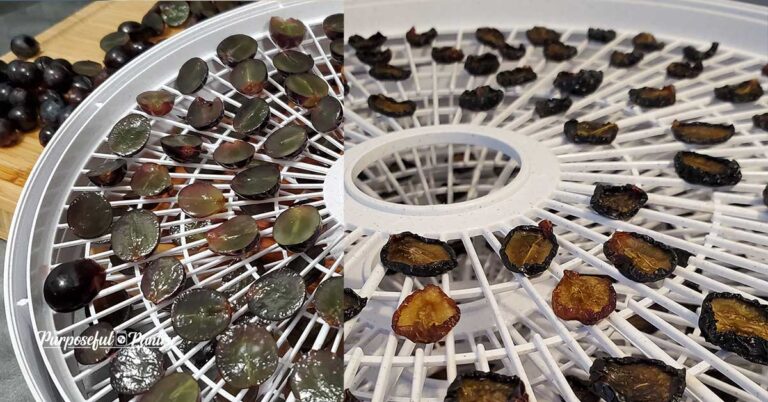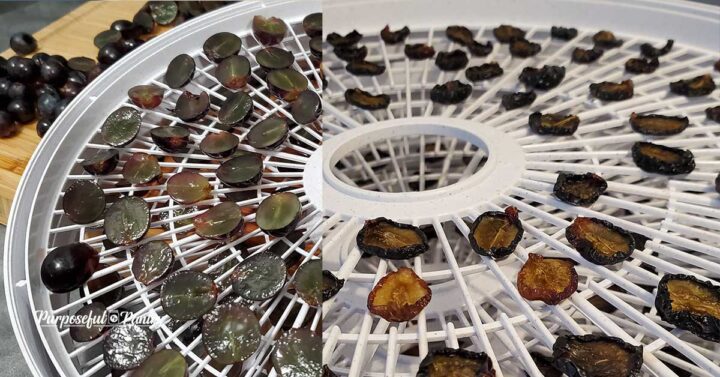 5. Test for dryness
Pull a few samples from your trays and allow them to cool. Grapes should be leathery to the touch, click when you drop them onto a countertop, and have no moist center. They will be a little harder than storebought raisins which may have been treated to keep their softness.
Condition grapes before putting away for storage. Place in a jar a little larger than necessary, and shake the jar once a day to loosen the grapes. This helps to ensure even humidity, and allows you to catch any moisture issues before mold begins to form. If you see moisture anywhere, put back into your dehydrator and continue to dry.
7. Store grapes
Grapes can be stored in airtight containers for up to two years (some may last longer). Use a mason jar with an airtight lid, vacuum seal bags, mylar or other airtight containers to store.
LEARN MORE: Proper way to store dehydrated foods.
Dehydrating Grapes Q&A
Do I have to break the skin?
If you don't, you run the risk of case hardening, and your grapes can take days to fully dehydrate.
Our raisins are too hard!
There is a golden rule in dehydrating that there is no such thing as dring too long -- but as with all rules, this one can be broken.
Grapes, dried too long, can be hard, hard on your teeth, and unpleasant to eat. If you've dried your grapes too long, and your raisins are super had, simply leave them out on the counter for a couple of hours to reabsorb any residual moisture in your home.
How long will dehydrated grapes last?
Dehydrated grapes, properly dried, conditioned and stored, will last safely up to two years in most cases. Over time, texture and quality may decline just as store-bought raisins do.
Learn more about drying fruit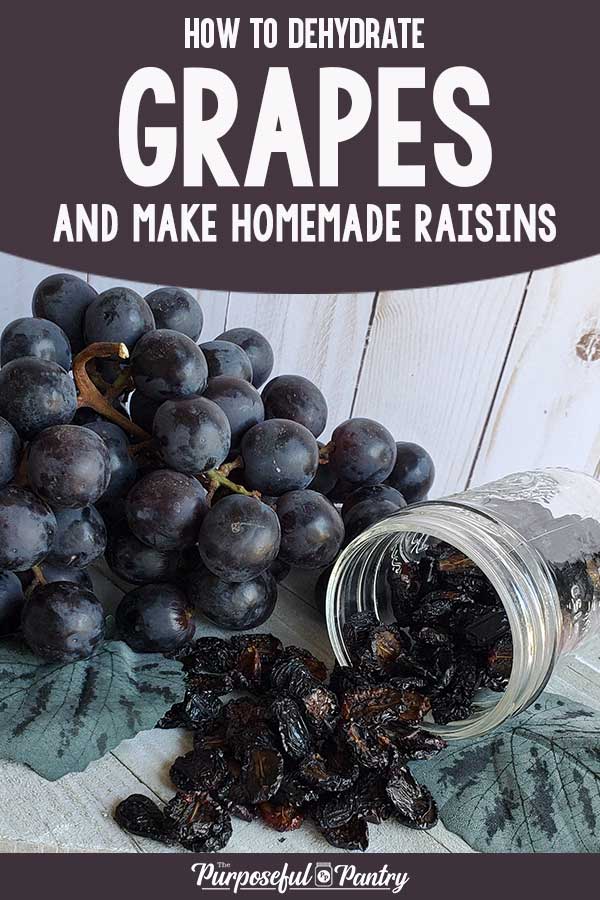 Get Your Free Dehydrating Worksheet!
If you are already a member of The Purposeful Pantry Library, grab your worksheet here.
Want more dehydrating info?
If this intrigues you to start more of your own dehydrating projects at home, be sure to check out the dehydrating section here on the blog, and subscribe to my newsletter where you'll get more projects delivered to your mailbox each week, plus it will give you exclusive access to my Resource Library This is the place you can download ALL the printables and exclusive content! I'm also posting tutorials on my Youtube channel, and would love for you to join my Dehydrating Tips and Tricks group on Facebook for more immediate help and ideas!