Learn to dehydrate cilantro (aka coriander) to preserve it for its fresh flavor all year long! It's so easy to do, even if you think it's a little soapy!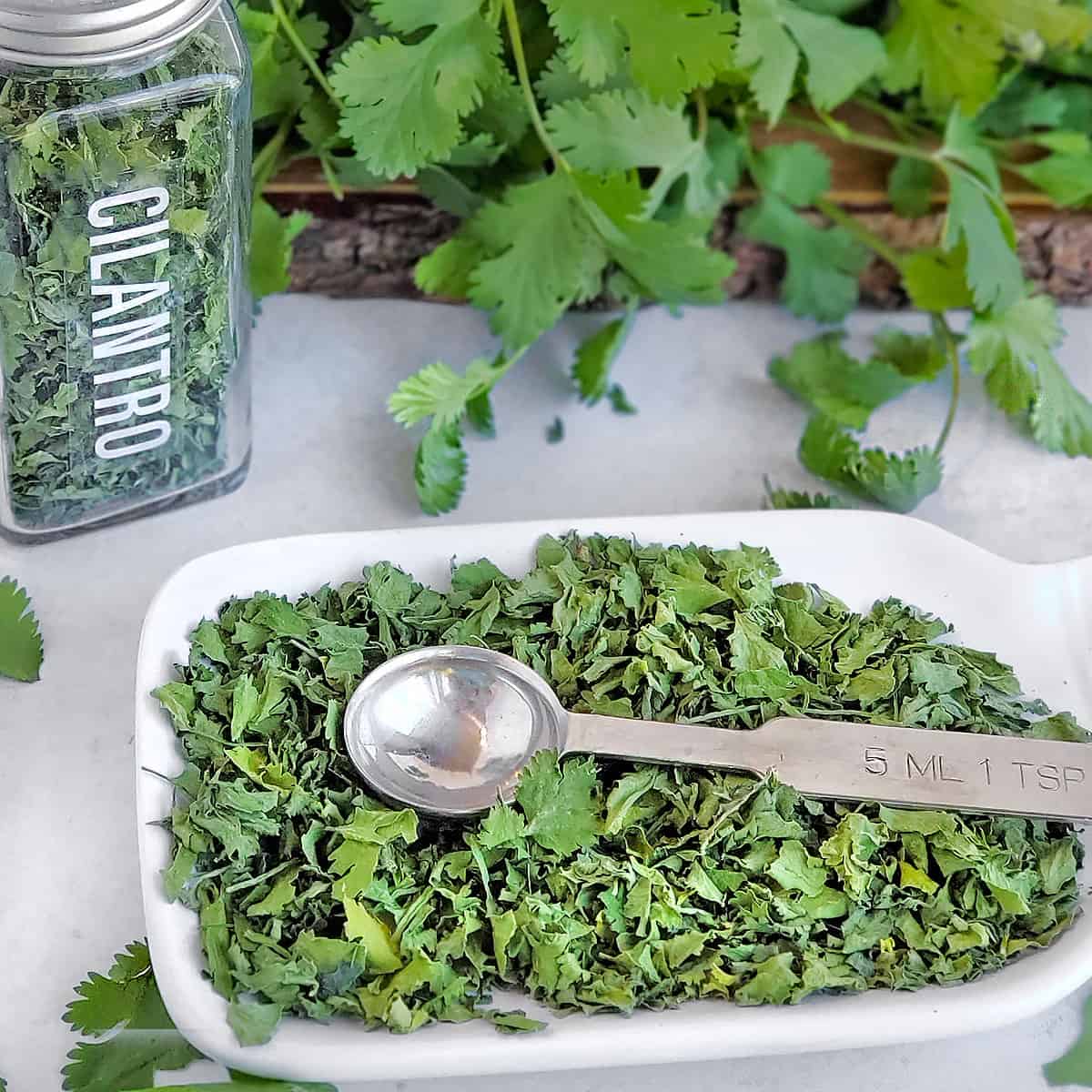 While cilantro and parsley are often mixed up for being the same plant, cilantro and coriander are actually the same!
Around the world, coriander and cilantro are the same - the leaves and stems of the same plant. However, in the US, we call the stems and leaves cilantro, and the spice made from the seeds coriander.
How to Dehydrate Cilantro
Step 1
Wash cilantro thoroughly.
I love using an OXO Salad spinner to spin the cilantro after washing to remove as much moisture as possible.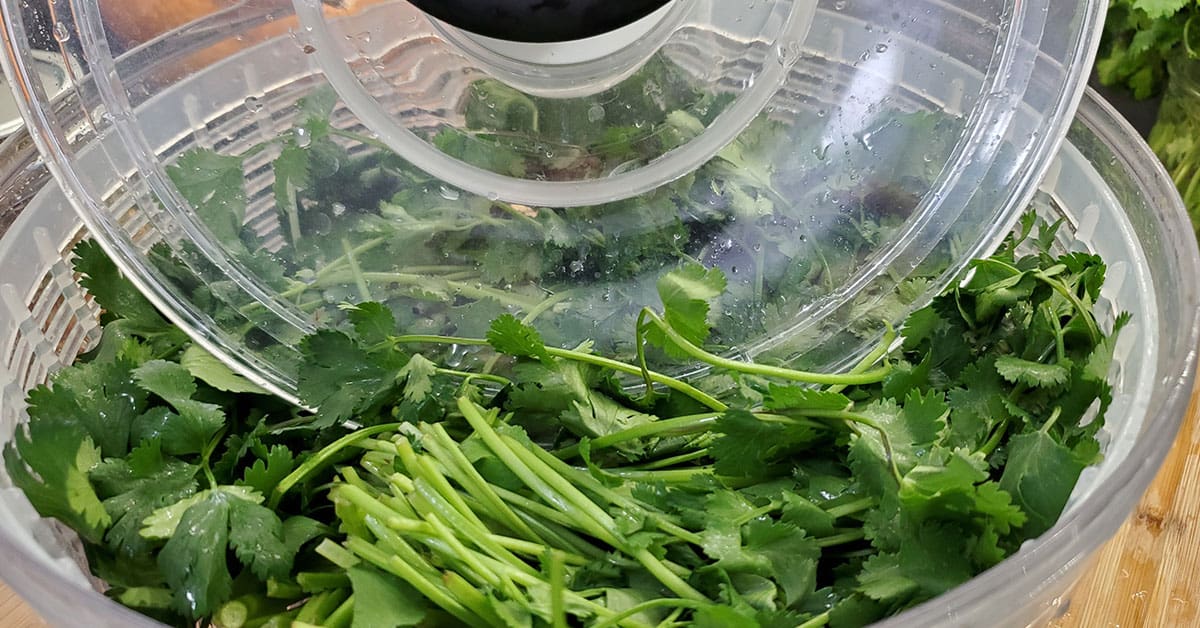 I like to cut the longer legs off the bundles that I cut or purchase from the store. Then separate the leafy ends and place them on trays from the stems and assorted leaves that go on separate trays.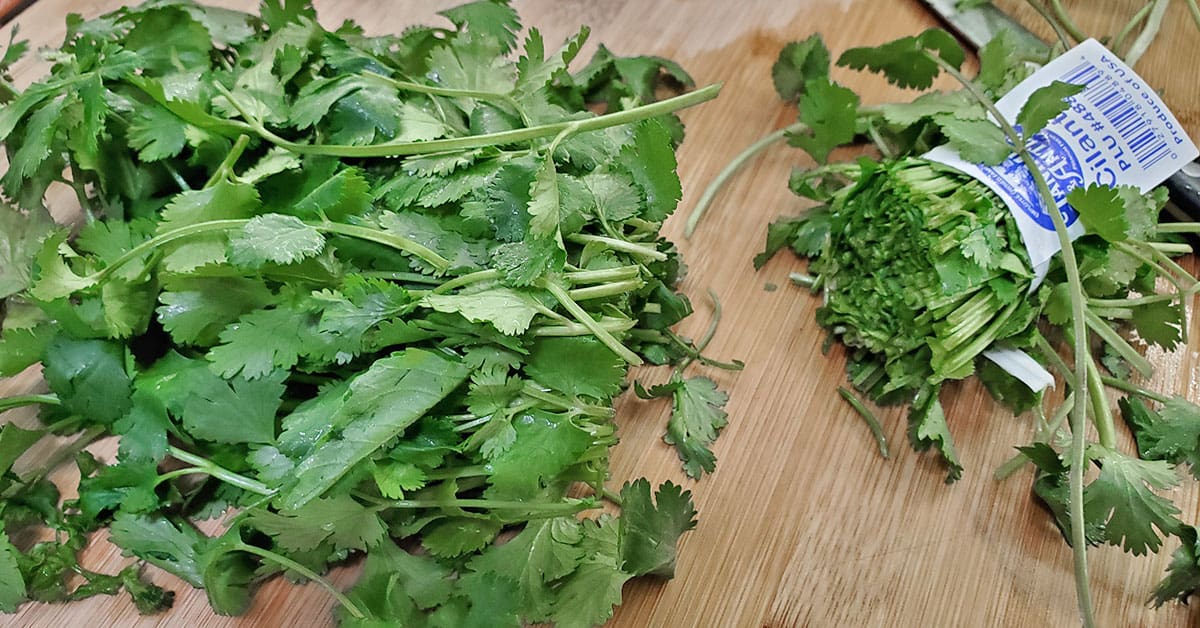 Step 2
Dry at 95°F / 32°C for 4-12 hours.
Times are relative when it comes to dehydrating. It's based on your machine, the temperature you set, the humidity in your home, and if you are drying only leaves or the leaves and stems. Mine took about 16 hours to dry fully through the thicker stems, but if I had done the leaves alone, it would have been about half the time.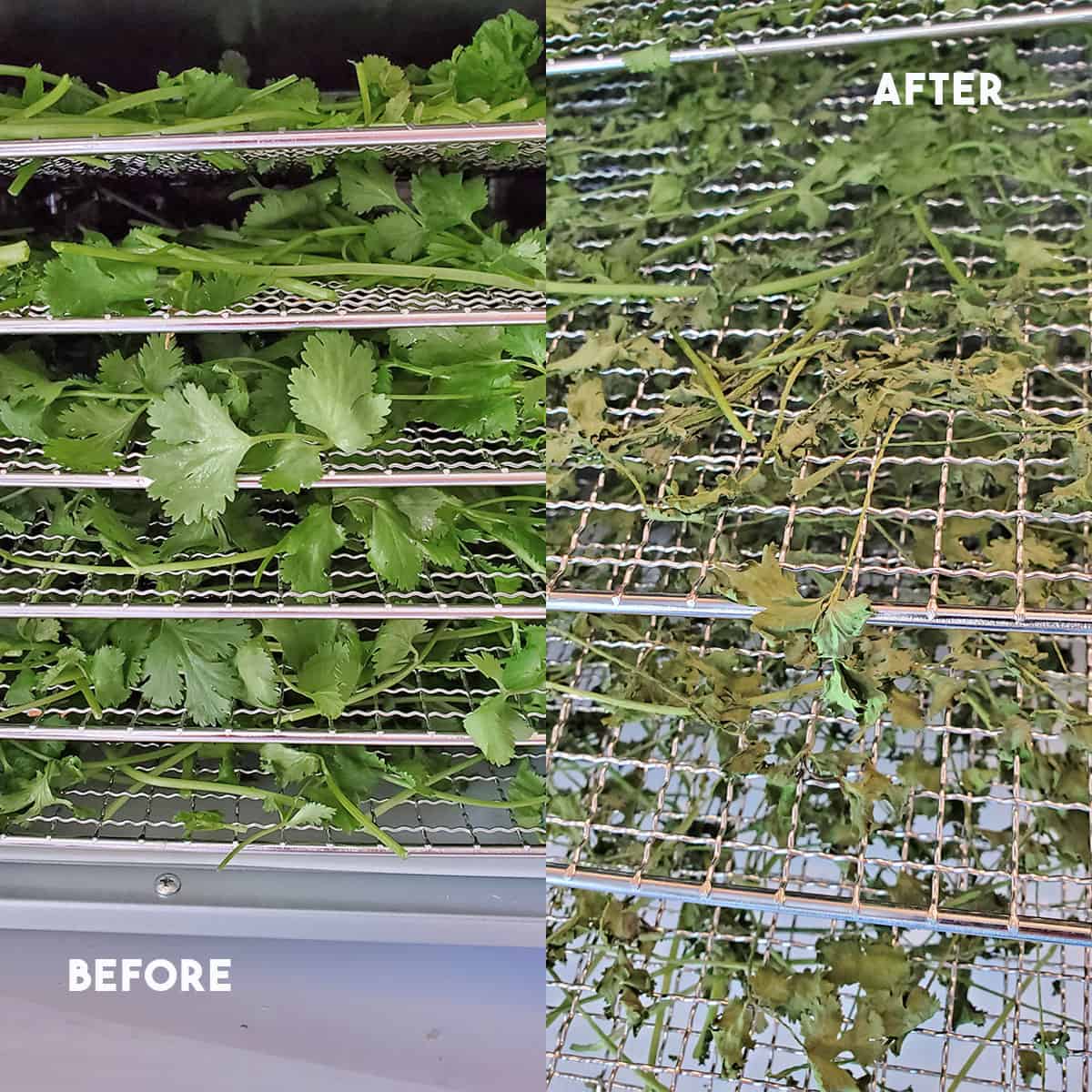 Step 3:
Condition. While conditioning is really necessary for fruits and vegetables, herbs are a little different. When you get to know when leaves are really dry, and feel them as you are stripping them from stems, you'll know if they need more time.
But until you have the hang of it, conditioning is a necessity.
Step 4:
Store in an airtight container for twelve months or so.
Other Ways to Dry Coriander
You can choose a number of ways to dry cilantro other than a dehydrator.
Hanging herbs - this is usually the best means of drying all herbs as it allows all of the natural oils to continue to keep the plant green and as full-flavored as can be.
Hanging in mesh or paper bags/herb drying rack
Microwaving herbs - 30-second increments for 1-3 minutes, until herbs are fully dried
Drying on rack in a car - many folks use the power of the sun in their cars to dry. Just remember, crack those windows to allow heat and moisture to escape, and keep a careful eye out!
Commonly Asked Questions about Drying Cilantro
Why kind of dehydrator do I need?
Any dehydrator that allows the temperature to go down to 95F-100F (35C) is the best for dehydrating or drying herbs. Any hotter and they begin to lose their flavor and color. I really love using my Cosori dehydrator, but there are a lot of other dehydrators that will work for you, too.
How long will dried cilantro last?
Herbs tend to last about nine to twelve months. You'll notice they begin to lose flavor after a while. The best test is to open your jar, crush some in your hand. If you can't readily identify the herb, it may be time to compost it.
However, if the smell is lighter than you expected, you can use more to bring that same flavor to your dish.
Does cilantro taste like soap?
For some folks, cilantro tastes like a bright, fresh herb that's perfect for Latin and Indian dishes. For others, it can come off tasting a lot like soap!
Genetics actually plays into the way your tongue translates the taste of cilantro! Are you a cilantro lover or does it taste like soap to you?
What is the best way to preserve cilantro?
While dehydrating is an easy way to preserve cilantro, and air drying is the perfect way to dry it, freezing cilantro is the best way to preserve cilantro to keep all of its natural flavor intact.
What is the difference between cilantro and coriander
Around the world, coriander and cilantro are the same - the leaves and stems of the same plant. However, in the US, we call the stems and leaves cilantro, and the spice made from the seeds coriander.
What is the difference between cilantro and parsley?
While the two herbs look so much a like, and are often mistaken for each other at the store, there is a difference.
Cilantro has a spicier, peppery, brighter flavor to the milder parsley. However, if you are out of cilantro in a dish, you can substitute it for parsley in most recipes.
Where did you get your jars and labels?
My jars and labels were purchased from Amazon when I rebuilt my spice rack this past year. Because my spice rack space is tall enough, next time, I'd go up a size to the 6oz.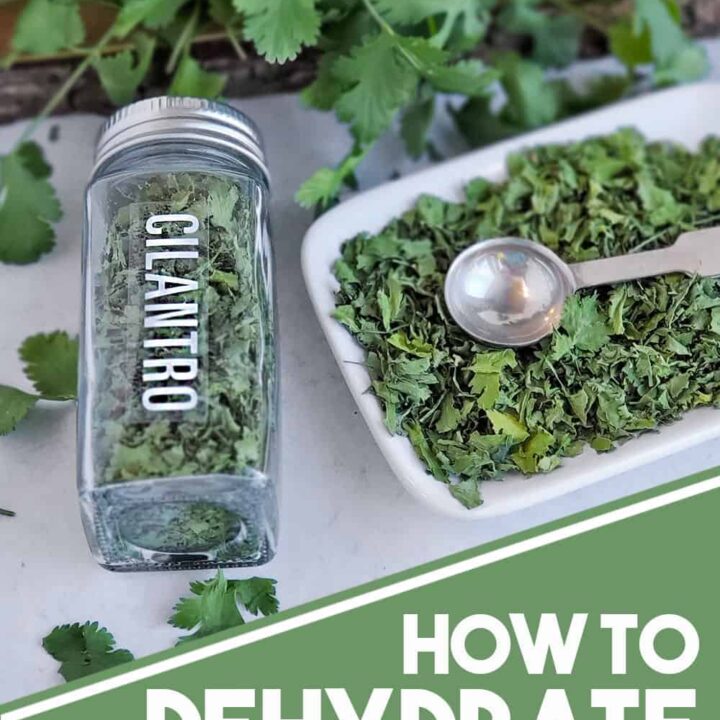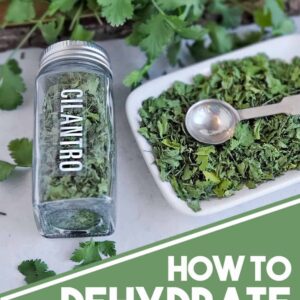 How to Dry Cilantro
Drying cilantro with a dehydrator (or air drying) is a great way to preserve cilantro all through the year.
Print
PIN THIS!
Rate
Ingredients
Cilantro leaves and stems

Coriander (internationally)
Instructions
Place stems on dehydrator trays

Dry at 95°F / 35°C for 4-12+ hours until crisp

Condition and store in airtight container
Nutritional information is an estimation only. Nutrient information for dehydrated foods is based on fresh. Use ¼ of the servicing size for the same nutrient information. Thus 1 Cup of fresh fruit has the same sugars as ¼ dried.
©ThePurposefulPantry. Photographs and content are copyright protected. Sharing of this recipe's link is both encouraged and appreciated. Copying and/or pasting full recipes to any social media is strictly prohibited.