Dehydrate Garlic & DIY Garlic Powder
Dehydrate garlic for the best garlic powder you've ever had! These easy step-by-step instructions for dehydrating garlic will help you get started! And use some of the grocery store hacks to help you do it faster with less fuss!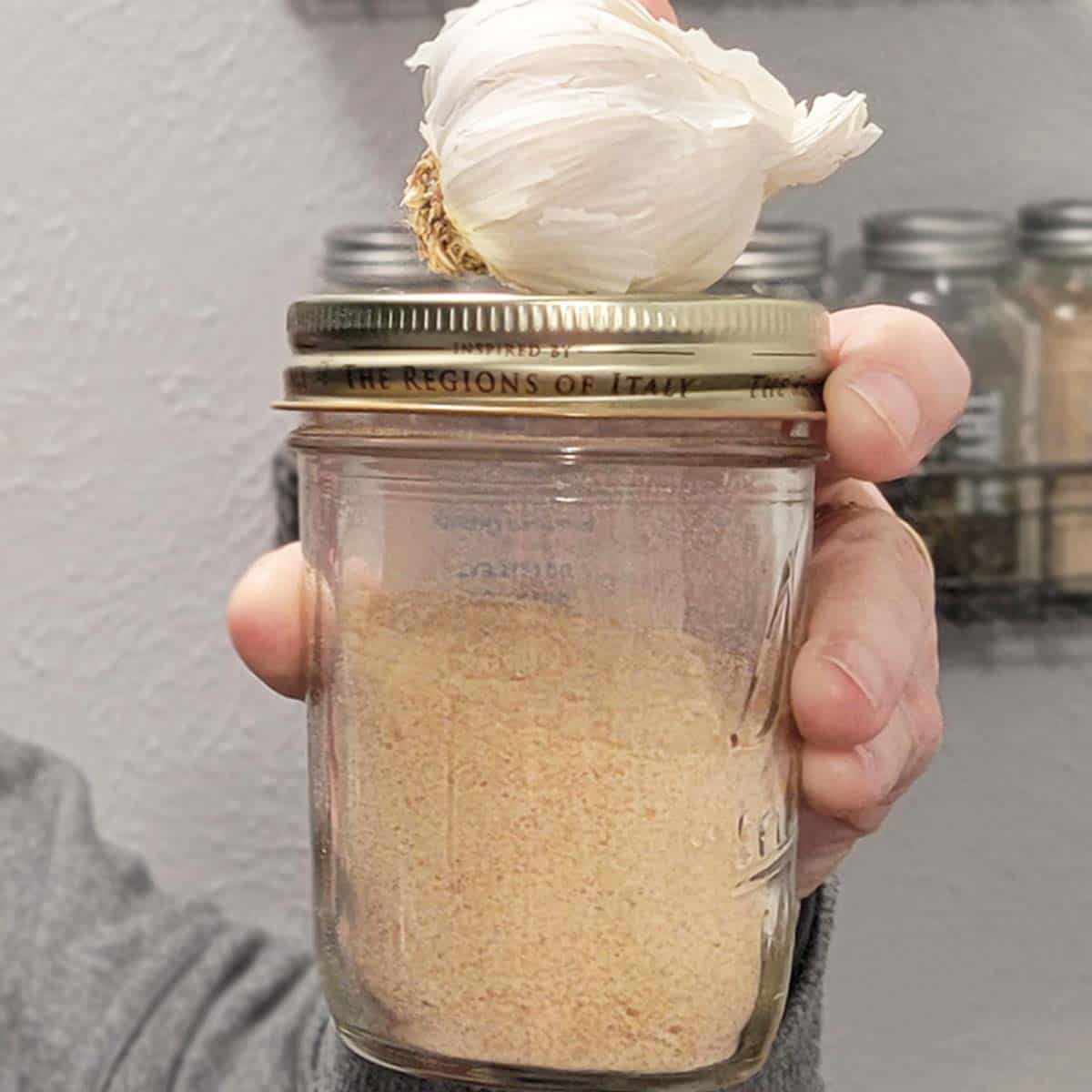 How to Dehydrate Garlic
Equipment
Dehydrator
Knife
Food Processor (not necessarily, but really helpful if doing bulk
Instructions:
Peel garlic (No, you don't have to peel the cloves, just remove the paper).
Slice or process into roughly minced pieces.
Place on lined dehydrator trays.
Dry at 95°F / 35°C for 8-18 hours.
Cool to test.
Condition.
Store in airtight container.
Testing for Dryness.
Garlic slices should easily snap when fully dried.
Minced pieces will be hard and plink when dropped onto a hard surface.
Dryness Test:
Allow garlic pieces to cool for five minutes.
Slices should easily snap apart.
Minced pieces should be hard and plink when dropped onto a hard surface.
Place pieces back into the dehydrator if they need more time.
Conditioning Dried Garlic
Place into an airtight container, with room to spare, and shake once a day for 5-7 days.
If you see signs of:
Clumping together
Moisture buildup
Pieces stuck to the side of the jar that don't easily shake off
Throw it all back into the dehydrator for a few more hours to finish drying
NOTE: If you see mold, do not use it – throw it all out. Mold in one place visible may not show you where it is growing elsewhere in the jar.
Storing Dried Garlic
Garlic is best-stored whole in an airtight container until you need to powder 1-2 months worth of garlic powder
Garlic pieces store 1-2 years, conservatively
Garlic powder stores 6-9 months.
Expert Tips
To do a bulk load without all the work of peeling, consider purchasing commercially jarred minced garlic in water. It will save you a ton of time to create your own dried minced garlic and garlic powder.
If you have issues with intense smells, you might consider drying garlic outside. The smell can be overwhelming for some.
How to Make Garlic Powder
DIY garlic powder is easy if you have a coffee grinder or bullet blender. Follow these simple steps and have garlic powder that tastes better than storebought!
Equipment
Coffee Grinder
Bullet Blender
Large Blender (these are generally not as effective unless you are doing large quantities – such as for holiday gift-giving for spice baskets)
Instructions:
Place garlic bits or slices into the grinder of your choice
Pulse often until pieces look fairly broken up, THEN process for 20 seconds at a time. Overprocessing leads to clumping!
Conditioning Powder
Yes, you should condition your garlic powder, too!
My favorite method is this:
Place garlic powder onto fruit leather sheet lining a cookie sheet
Place in a warmed (but turned off) oven
Let it sit for 15 minutes or so.
Cool
Store in an airtight container with either 1/4 teaspoon or more of arrowoot powder or a moisture absorber. Either helps control moisture from opening a jar over and over as you use to – and helps stop clumping.
More tips to stop clumping:
Store in an airtight container
Use 1/4 teaspoon of arrowroot powder per pint (increase if you need it)
Use a moisture absorber
Condition as above
LEARN MORE: 5 Ways to Stop Clumping in Powders
Expert Tip
Don't open your powders over your stovetop while cooking. The steam from your pots and pans will get into the powder to create clumping (remember that block of onion powder you struggle with?).
Instead, open near the stovetop, close the container, then pour your powder into your pot.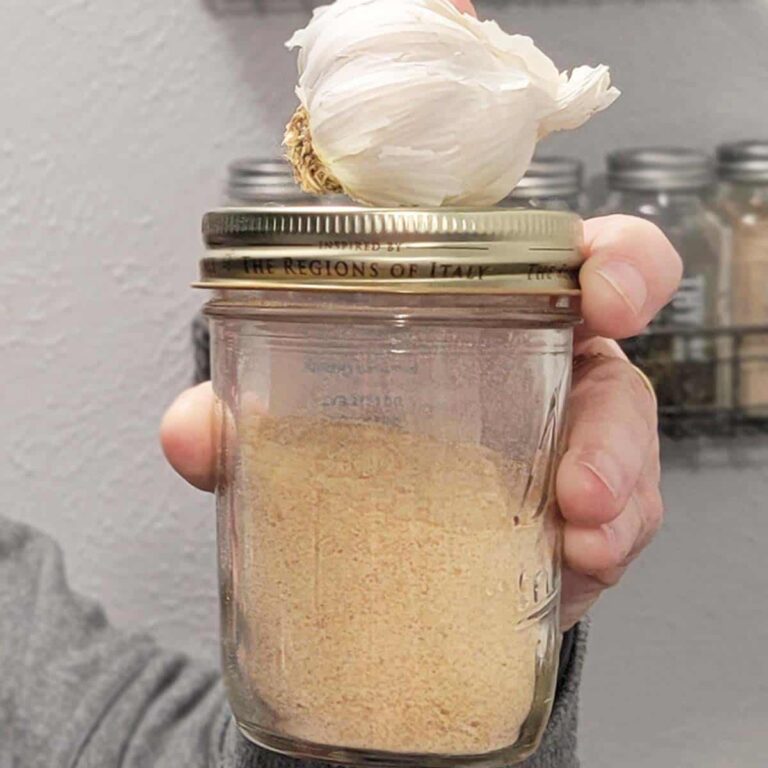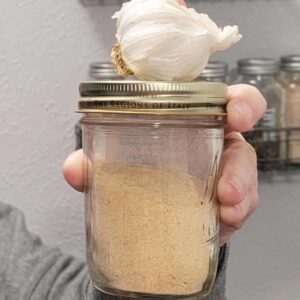 Dehydrate Garlic and Make Garlic Powder
Create your own fabulous garlic powder from dehydrated garlic – you'll never buy storebought again!
Print
PIN THIS!
Rate
Instructions
To Dry
Remove outter papes of garlic

Place on dehydrator sheets

Dry at 95°F/35°C until done

Store in an airtight container
To Powder
Place garlic in coffee grinder or bullet blender

Pulse often until you can continuously grind (more more than 30 seconds)

Preheat oven to its lowest temperature then turn off

Place powder onto a lined cookie sheet

Put powder into oven for 15 min or so to dry it out

Cool, then store in an airtight container
Darcy's Tips
Notes:
You can choose to throw unpeeled garlic cloves into the food processor to roughly chop them into small bits. These will work to throw into soups or stews for flavor or to continue to powder.
Yield:
1 Cup fresh garlic cloves = 1/4 Cup dried garlic = 1 Tablespoon garlic powder
Nutrition
Calories:
676
kcal
|
Carbohydrates:
150
g
|
Protein:
29
g
|
Fat:
2
g
|
Saturated Fat:
0.4
g
|
Polyunsaturated Fat:
1
g
|
Monounsaturated Fat:
0.1
g
|
Sodium:
77
mg
|
Potassium:
1819
mg
|
Fiber:
10
g
|
Sugar:
5
g
|
Vitamin A:
41
IU
|
Vitamin C:
142
mg
|
Calcium:
821
mg
|
Iron:
8
mg
Nutritional information is an estimation only. Nutrient information for dehydrated foods is based on fresh. Use 1/4 of the servicing size for the same nutrient information. Thus 1 Cup of fresh fruit has the same sugars as 1/4 dried.
©ThePurposefulPantry. Photographs and content are copyright protected. Sharing of this recipe's link is both encouraged and appreciated. Copying and/or pasting full recipes to any social media is strictly prohibited.