Do you want to make amazing vegetable chips, but you just don't know which are the best seasonings to for dehydrated vegetable chips? Here's a list of options to make even the common zucchini chip taste fabulous!
There are an infinite variety of combinations you can use from plain salt and pepper to commercial seasoning blends. Here are some great homemade seasoning blends for veggie chips that you will love!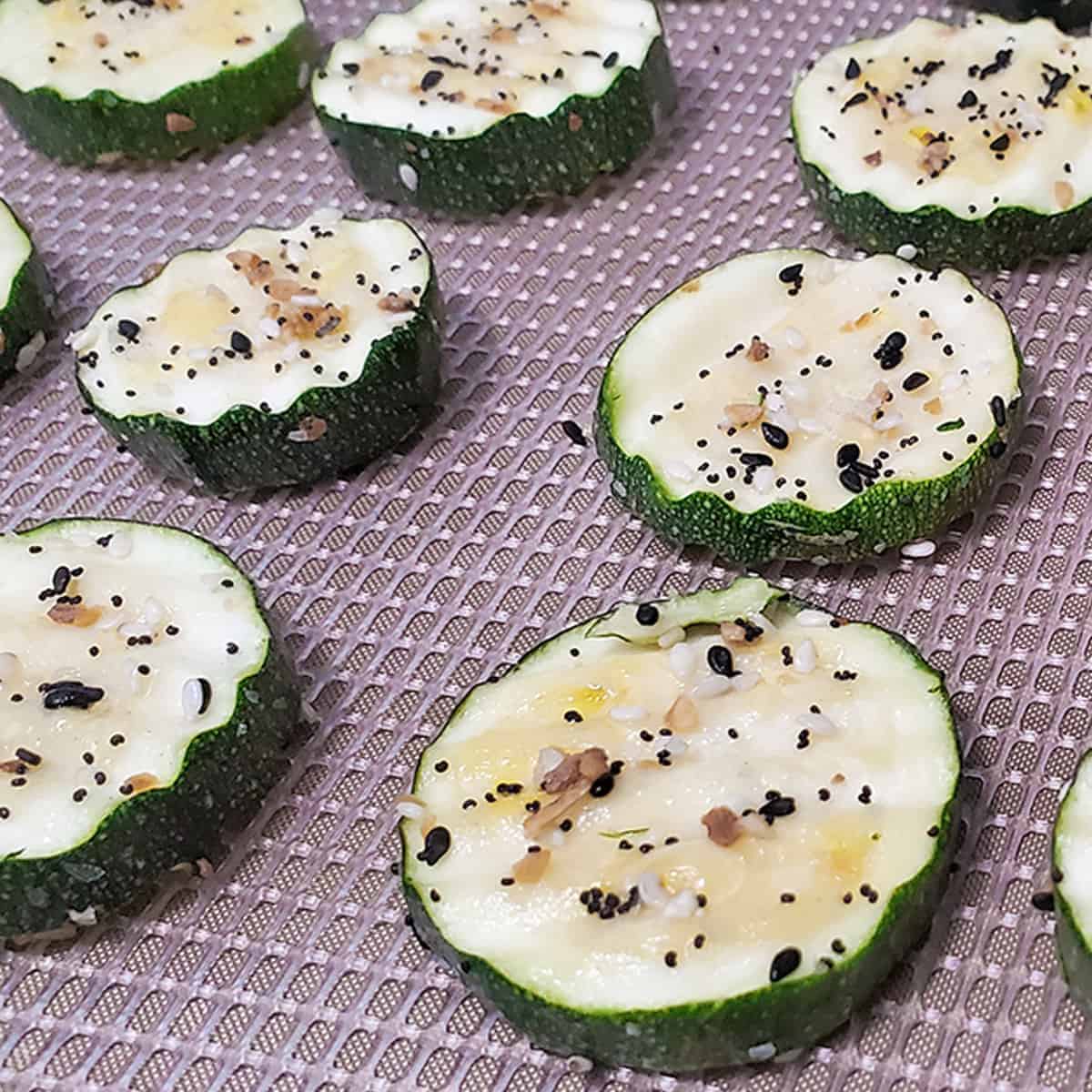 Dehydrated vegetable chips are one of the best and healthiest snacks that you can create in your dehydrator. It's also a great way to rescue that random zucchini that you just don't want to make muffins with!
And a benefit to making great seasoned veggie chips is that they can be a replacement for those salty, crunchy potato chips. Use these for lunches and after school snacks
Suggested Vegetables to Try
Many vegetables will make great veggie chips, but these are some that are sure to product a veggie chip you'll love!
Zucchini (my personal favorite)
Tomato - tomato chips with Italian herb blend or the Pizza Herb blend are fantastic!
Jicama
Beets
Sweet Potatoes (should be sliced thin and fully cooked for best results)
Squash
Tarro
Hearty greens (kale, spinach, radish, broccoli, swiss chard, etc.)
Green beans - these make great veggie snacks with many of the following seasonings.
How to Make Dehydrated Vegetable Chips
Most vegetable slices for dehydrating are made simply by thinly slicing and placing them on dehydrator trays (or the oven), drying until crisp, and eating!
Wash produce well.
Slice into ¼" (6mm) slices.
Blanch if needed (root vegetables especially, and a few other vegetables should be blanched before dehydrating - get the list here).
Season generously with your favorite seasoning - lightly press into chip if necessary.
Dry at 125°F/52°C for anywhere from 4 to 12+ hours depending on the vegetable. If you'd like crisper chips, cut them to ⅛" (3mm) slices and dry at 135°F/57°C
Test for dryness by allowing them to come to room temperature. Most chips should easily snap when dry).
Store in an airtight container and use within a few weeks.
A note about using oil on vegetable chips: use it sparingly, but know that it can turn rancid in storage on the shelf over time, so don't use it to put up vegetable chips for long-term storage, but something you'll have eaten within a month.
Best Dried Veggie Chip Seasonings
Seasoning any particular veggie chips is easy to experiment with. Some chips do better with certain flavor profiles - so think about how you'd serve that veg on its own as a side dish, but then experiment!
Here are some classic seasonings you can use on just about anything, and some that might be more specific to a particular vegetable.
Salt & Pepper (dip your zucchini in vinegar, then salt them up well for an added treat)
Salt & Vinegar (dip your veggie chip into vinegar, then salt it. Change that flavor up by using malt vinegar or apple cider vinegar. Or simply sprinkle on malt powder)
Onion Powder
Garlic Powder
Ranch Dressing Mix (here's a DIY version with cucumber powder!)
Nutritional yeast. This gives a nutty cheesy flavor to everything (especially good on dark greens, tossed in a little oil, and sprinkle on nutritional yeast and a little salt).
Italian seasoning blend
Jerk seasoning (these take a while to find one you love - but when you do, you'll use it all the time!)
Taco seasoning (good for dark leafy greens, jicama, zucchini)
Bagel Seasoning
Cayenne
Tajin Spice blend - great on dark leafy greens, jicama, zucchini)
Mrs. Dash or other commercial seasoning blends
BBQ rub
Any commercial spice mix you already love - think Mrs. Dash, Slap Ya Mama Cajun seasoning, Everything But the Bagel)
Soak in pickle juice, pineapple juice (especially good with zucchini chips), or pepper juice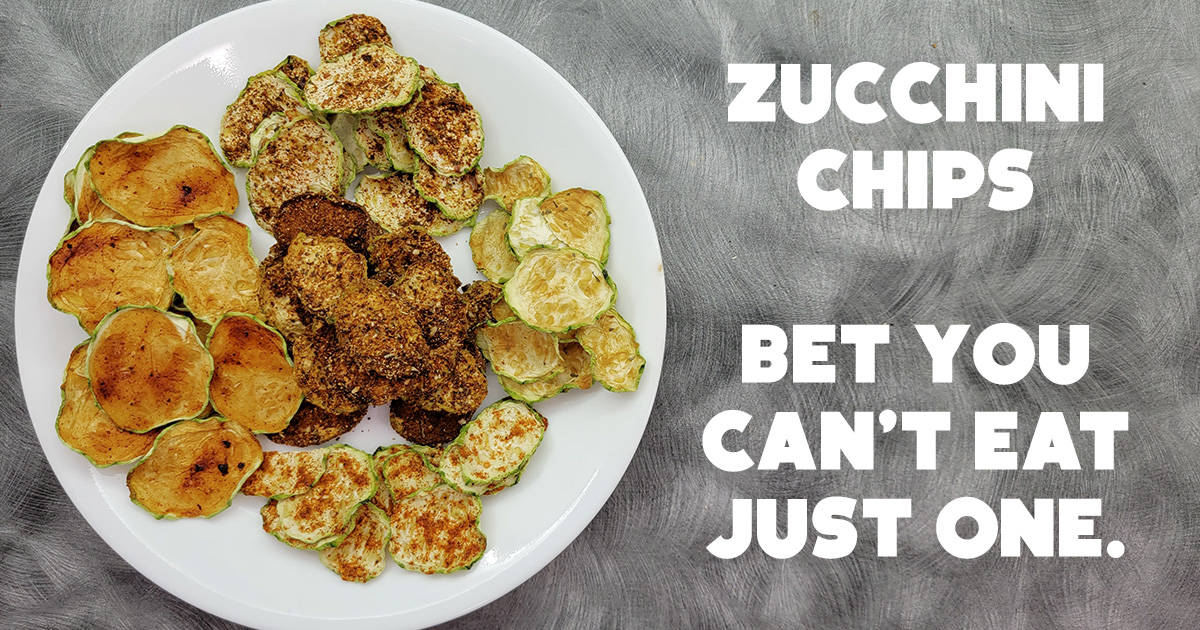 Make Your Own Spice Blends
Mix a quantity that fits your needs, whiz in a bullet blender or coffee grinder, for a powder, and store in an airtight container.
Pizza Topping
2 tablespoon tomato powder
¼ teaspoon celery powder
1 teaspoon garlic powder
1 teaspoon onion powder
½ tablespoon Italian herb mix
¼ teaspoon pepper
⅛ teaspoon ground fennel seed
¼ cup parmesan cheese (I prefer to use the cheese in a can variety as it blends better than natural, but you can top your chip with a little natural if you prefer)
Italian Seasoning Blend
½ C dried basil
¼ C dried rosemary
½ C dried marjoram
½ C dried oregano
¼ C dried thyme
2 TBS garlic powder
Mrs. Dash
3 tablespoons garlic powder
1 tablespoon dried basil
1 tablespoon dried marjoram
1 tablespoon dried thyme
1 tablespoon dried parsley
1 tablespoon dried savory
1 tablespoon onion powder
1 tablespoon dried sage
1 tablespoon ground black pepper
1 tablespoon dried lemon zest
1 teaspoon cayenne pepper
Bagel Seasoning
Ranch Dressing Mix
Montreal Steak Copycat
2 tablespoons peppercorns
1 tablespoon paprika
1 tablespoon coarse salt
1 tablespoon dried garlic or minced garlic
1 tablespoon dill seed
1 tablespoon red pepper flakes
1 tablespoon onion powder
2 teaspoons coriander seeds
2 teaspoons mustard seeds
Tajin Seasoning
2 tablespoons of paprika powder or red chili powder
2 teaspoons dried lime zest
1 teaspoon of ground cumin
½ teaspoon garlic powder
½ teaspoon onion powder
½ teaspoon coriander
½ teaspoon salt
½ teaspoon cayenne pepper
¼ teaspoon sugar
Old Bay Seasoning
Smokehouse BBQ Rub
¼ tsp granulated garlic
½ tsp dried orange zest (or orange powder will work as well)
3 tbsp granulated maple syrup from
¼ tsp cayenne
1 ½ tsp smoked paprika
1 tsp salt
Taco Seasoning
2 tablespoons chili powder
1 tablespoon whole roasted and ground cumin seeds
2 teaspoons arrowroot powder
¼ teaspoon dried oregano
1 teaspoon onion powder
1 teaspoon garlic powder
2 teaspoons kosher salt
1 ½ teaspoons hot smoked paprika
1 teaspoon ground coriander
½ teaspoon cayenne pepper
Expert Tips
Don't use oil if possible, especially for shelf-stable storage. Too much oil can make chips soggy instead of crisp. Using with greens or other foods that seasonings won't stick to is helpful, but use it with a light hand.
Use one tray per seasoning and take notes on which you and your family love best!
Make some of your seasoning blends in bulk to have handy to add whenever you have extra dehydrator space or a large harvest!
Frequently Asked Questions
How to Store dehydrated vegetable chips
Dried veggie chips should be stored in airtight containers for up to a year (if they don't have oil). Using zipper top bags is fine for a few days, but they are air permeable and will allow your chips to get soft over time.
Can I dehydrate potato chips?
Unfortunately, potatoes don't work as well as other vegetables for chips. You're so used to fried, that the texture is completely different. You can easily bake, air fry or fry potato slices for chip, but dehydrating is better for making dried potato slices to add to meals later.
Do you need oil for dried veggie chips?
You can use them on snacks to help seasonings stick, but be very light in useage as oil can make things soggier, not crisper in a dehdyrator. Oils used in dehydrated foods are not good for shelf-stable storage.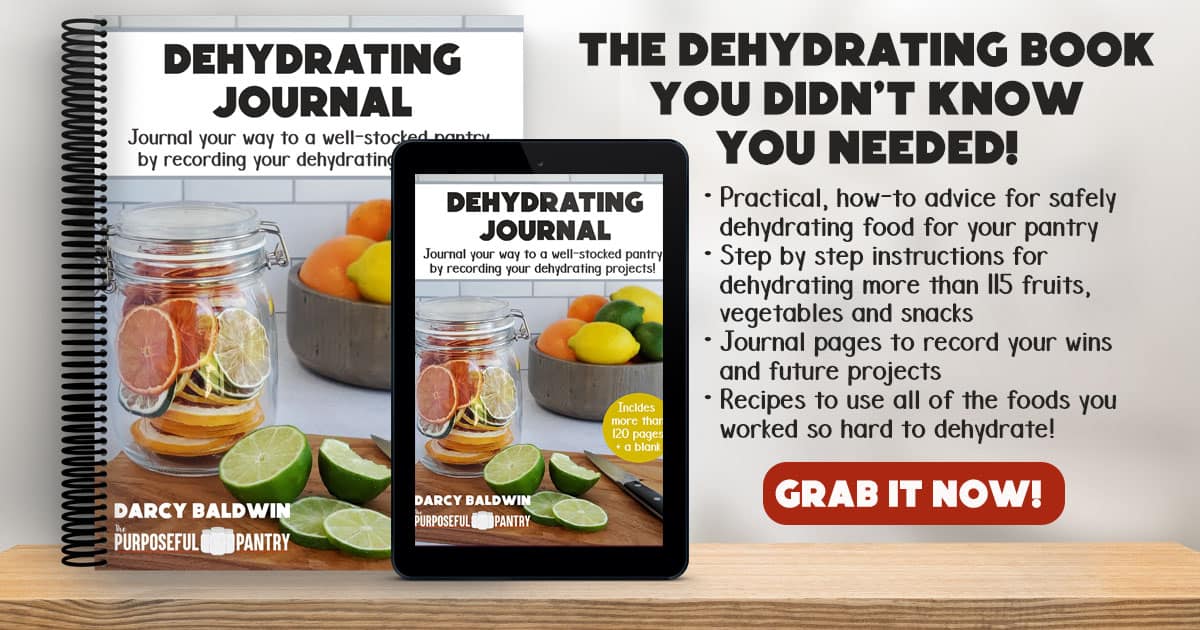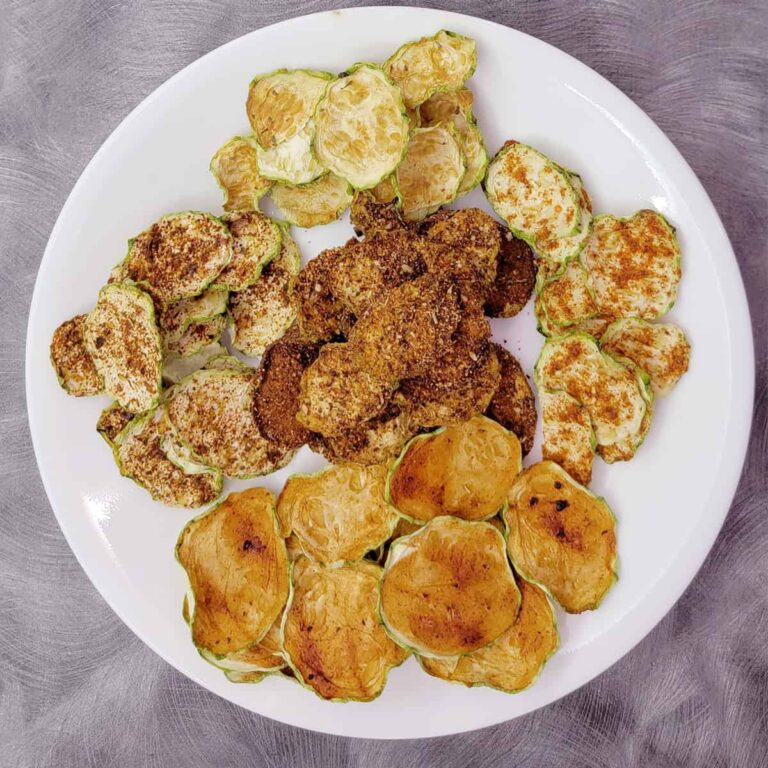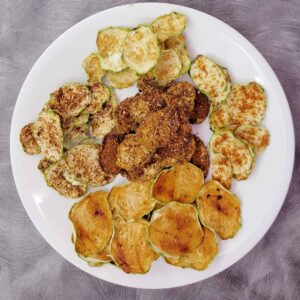 Pizza Flavored Topping for Zucchini Chips
Use this taste pizza flavored seasoning for vegetable chips in the dehydrator or oven!
Print
PIN THIS!
Rate
Instructions
Place a few chips at a time into baggie and shake

Alternatively, dip a chip, or sprinkle on top

Place on dehydrator trays at 135°F / 60°C

Dry for 6-10 hours until you get a crisp chip when cooled

Store in an airtight container
Video
Darcy's Tips
Note: If chips begin to be a little less crisp over time, just throw them back into the dehydrator for an hour or two to crisp back up.
You may think you've got too many chips - but they shrink a lot, and you'll eat through them very quickly. Do more than you think you'll need. 
Nutrition
Serving:
1
tablespoon
|
Calories:
130
kcal
|
Carbohydrates:
9
g
|
Protein:
8
g
|
Fat:
7
g
|
Saturated Fat:
4
g
|
Polyunsaturated Fat:
0.3
g
|
Monounsaturated Fat:
2
g
|
Cholesterol:
22
mg
|
Sodium:
442
mg
|
Potassium:
139
mg
|
Fiber:
2
g
|
Sugar:
0.4
g
|
Vitamin A:
264
IU
|
Vitamin C:
2
mg
|
Calcium:
274
mg
|
Iron:
1
mg
Nutritional information is an estimation only. Nutrient information for dehydrated foods is based on fresh. Use ¼ of the servicing size for the same nutrient information. Thus 1 Cup of fresh fruit has the same sugars as ¼ dried.
©ThePurposefulPantry. Photographs and content are copyright protected. Sharing of this recipe's link is both encouraged and appreciated. Copying and/or pasting full recipes to any social media is strictly prohibited.