Do you have these 15 essential dehydrated foods in your pantry? These shelf-stable foods can be used for any recipes you already make! Use the list to help create a well-stocked, dried food pantry for your family!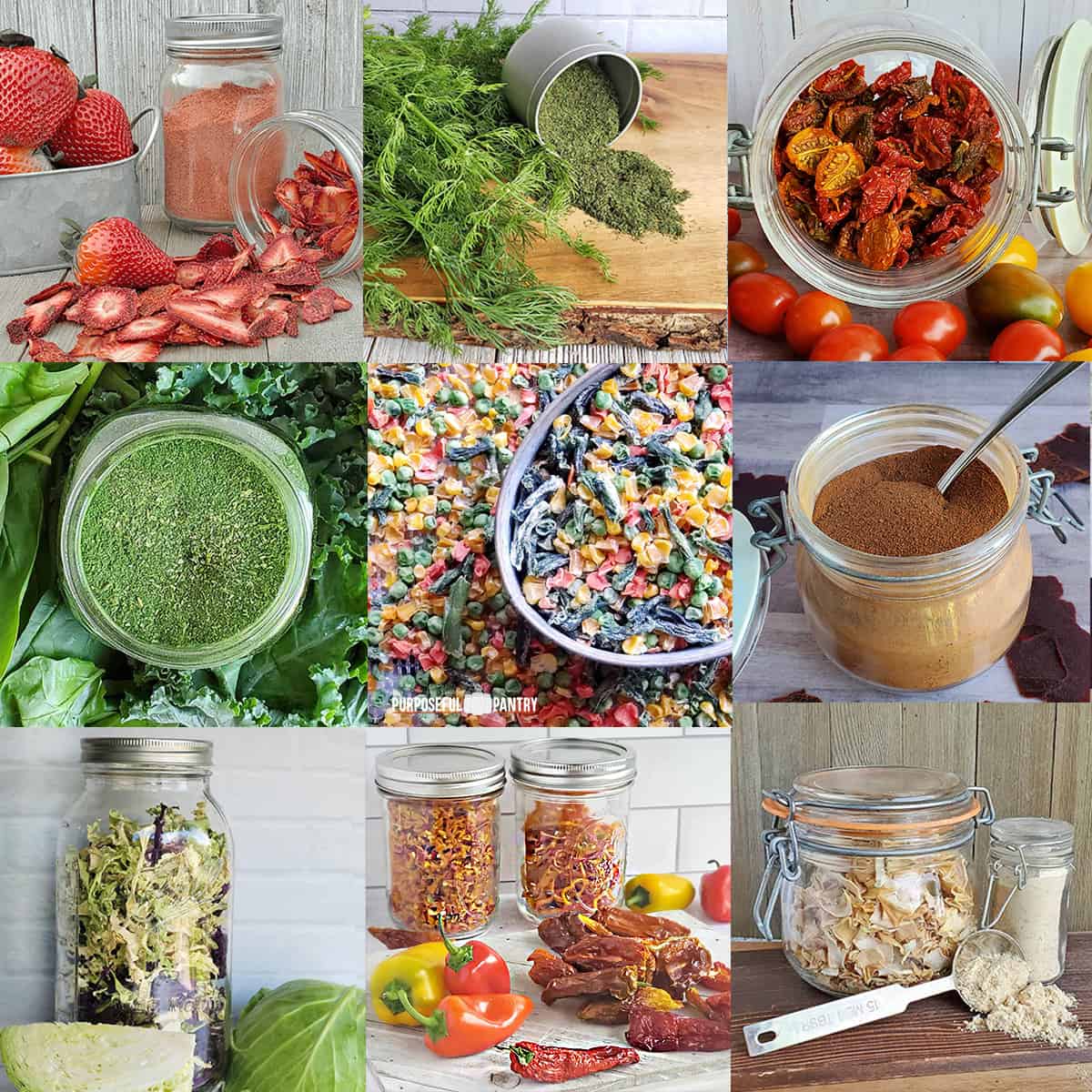 This post may contain affiliate links. As an Amazon Associate, I earn from qualifying purchases. Please read our disclosure policy.
These pantry staples are good for year-round use. Of course, you can purchase them in many stores or online. Still, you can easily do them yourself from your garden, grocery store, or farmer's market purchases with a food dehydrator (I use a Cosori Dehydrator for most of my food dehydrating).
Jump to:
15 Essential Dehydrated Foods Your Pantry Needs
1. Onions
Onions are a staple of many cuisines. But how often have you reached for onions to dice and found that you had none? You'll never have that problem again with your stash of dried minced onions.
The bonus is that your dried onions can create the most flavorful onion powder ever!
And if you want to really step it up a notch, try dehydrated caramelized onions!
1. Onions and Onion Powder
Learn how to dehydrate onions for perfect minced onions for meals, and make the most amazing tasting onion powder that is so much better than storebought!
Check out this recipe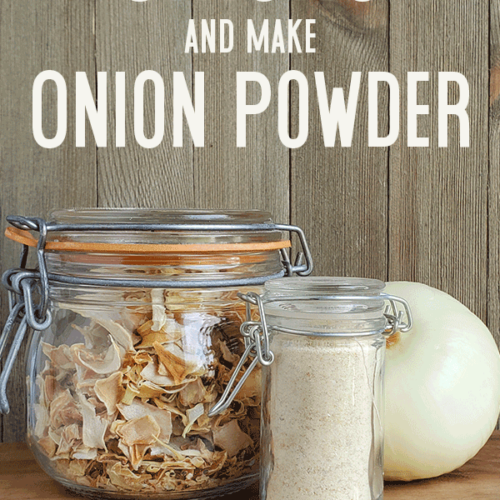 2. Herbs
Have you ever seen the color on most store-bought herbs? They tend to all be various shades of brown.
But home-dried herbs are glorious! They retain more of their flavors and smell! You can air dry or use a low temperature to dehydrate herbs to keep nutrients, color, and essential oils intact for wonderful flavors.
Herbs to try can be grown or purchased. Try one of these and then experiment with your favorite herbs:
One of my absolute favorite herbs to dry is dill, which this recipe will show you, but the process works across the board for most herbs.
2. Herbs
Drying dill brings the freshness of your garden to your pantry all year long! Learn all the ways you can dry dill to store on your pantry shelves throughout the year.
Check out this recipe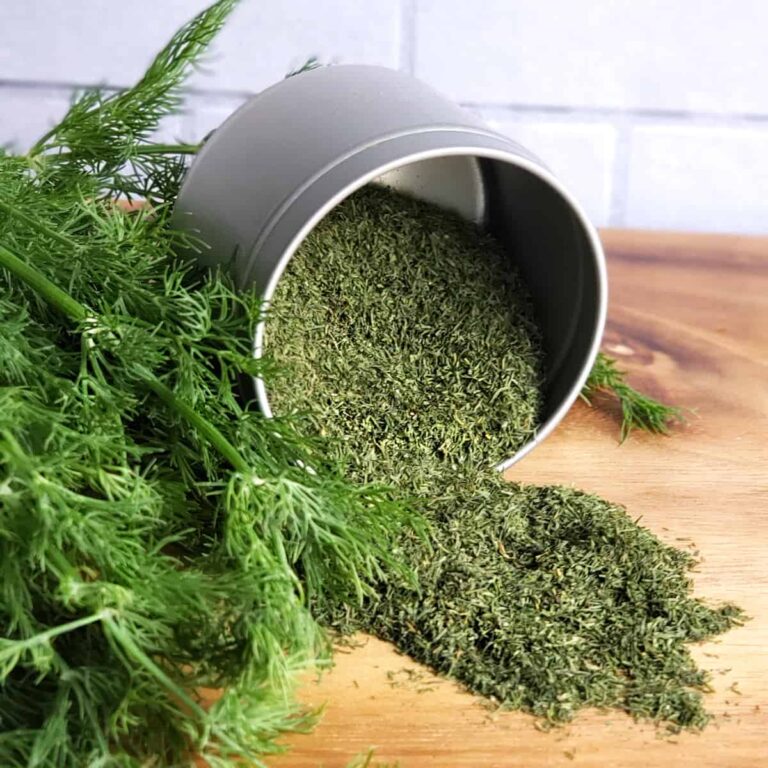 3. Greens
While greens are easy to grow in the cooler times of the year and are available year-round in a store, they can be hard to store for more than a few days. They wilt fast in the fridge, they can be frozen, and even canned, but they aren't necessarily good for fresh eating.
However, having green bits and powder in the pantry can make adding those essential nutrients to our diet so incredibly easy! Dehydrate your greens and store them whole or crunched up a little to add to your favorite soup or casserole to make eating greens a little more palatable to those who are learning to tolerate them, or make a fine powder to add to just about anything you cook from eggs to brownies and every dish between.
Greens that can be dehydrated:
Collard and turnip greens
Squash greens, broccoli, and cauliflower greens
Any dark, edible, leafy green (not nightshades)
3. Greens
Dehydrate greens and make your own super green powder to add nutrients to anything you cook and to your smoothies!
Check out this recipe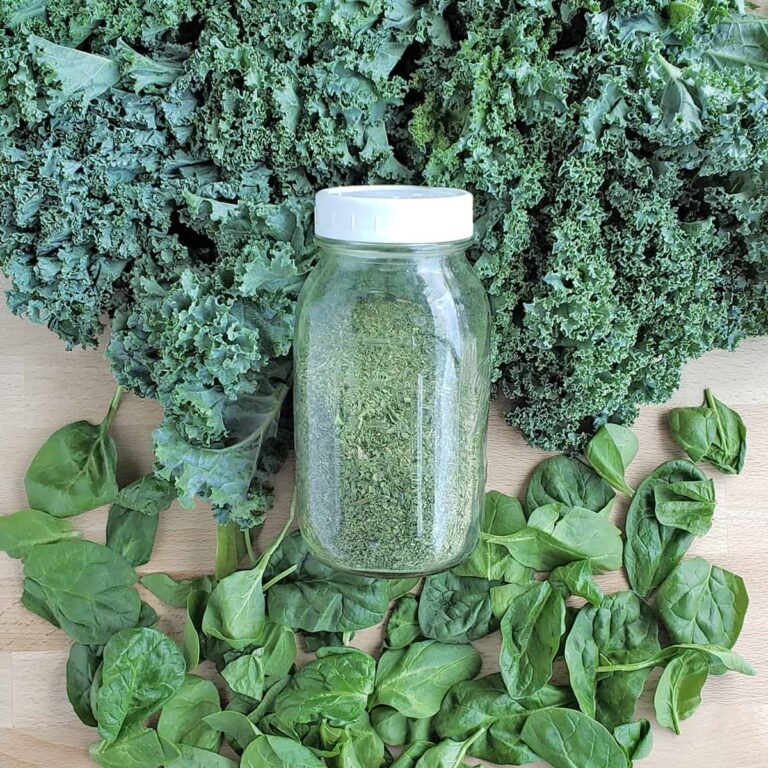 4. Tomatoes
Whether you slice, dice, halve, or dry from tomato paste or use tomato skins left from canning projects, dehydrated tomatoes are a staple every pantry needs.
But I find it most useful as tomato powder. From creating sauces and supplementing flavors in meats and soups to making ketchup, tomato powder is an easy way to store a ton of tomatoes (and replace canned tomatoes) in a small space.
4. Tomatoes
Dehydrate cherry tomatoes to preserve the garden bounty in the summer. BONUS: Use them to make this awesome DIY Sun-Dried Tomato hack all year long!
Check out this recipe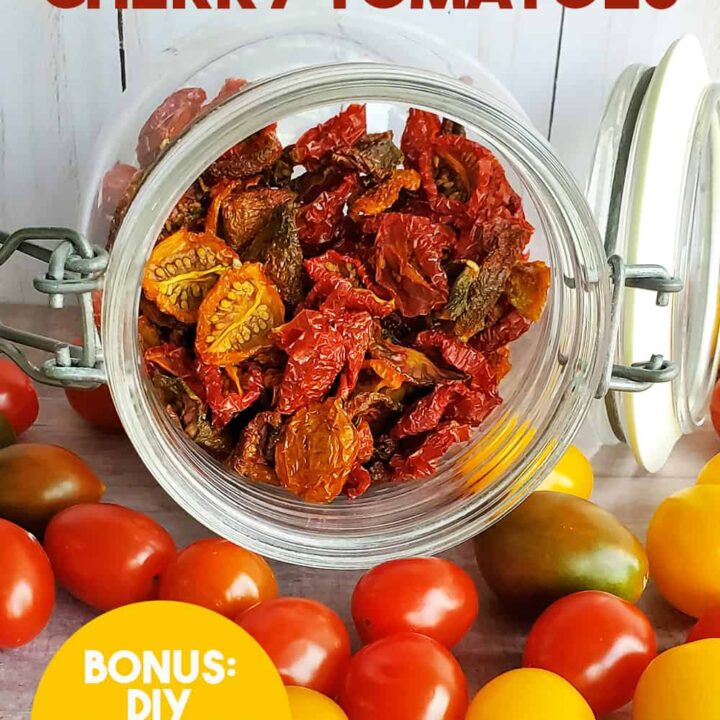 Read more: 25 Ways to Use Tomato Powder
5. Peppers
Peppers of all sorts are awesome to keep in the pantry! They store well, and you save that freezer space for more important things like ice cream!
From sweet to hot (to make chili powder) and everything in between, peppers are a staple you should be storing!
5. Peppers
Learn to dehydrate bell peppers to use on pizza, in sauce, and salads all year long!
Check out this recipe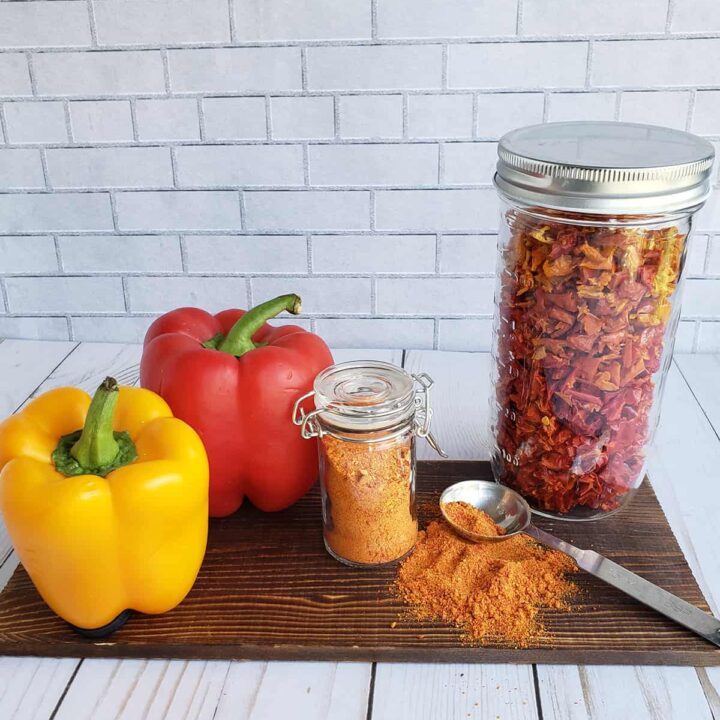 6. Mushrooms
Mushrooms are one of the easiest foods to dehydrate. A simple wipe or rinse, slice, and dry is all that is needed to make a shelf-stable food everyone should have.
I prefer to run mine through my veggie chopper to get mushroom bits for adding to any meal easily. Popping a handful into a soup, stew, or casserole, powdering for some of my favorite umami seasoning, or rehydrating to use in meatloaf is incredibly easy.
6. Mushrooms & Mushroom Powder
Dehydrate mushrooms to have shelf-stable mushrooms for use in meals all year long! You can also powder them to create a wonderful powder for giving a meaty flavor to anything you make!
Check out this recipe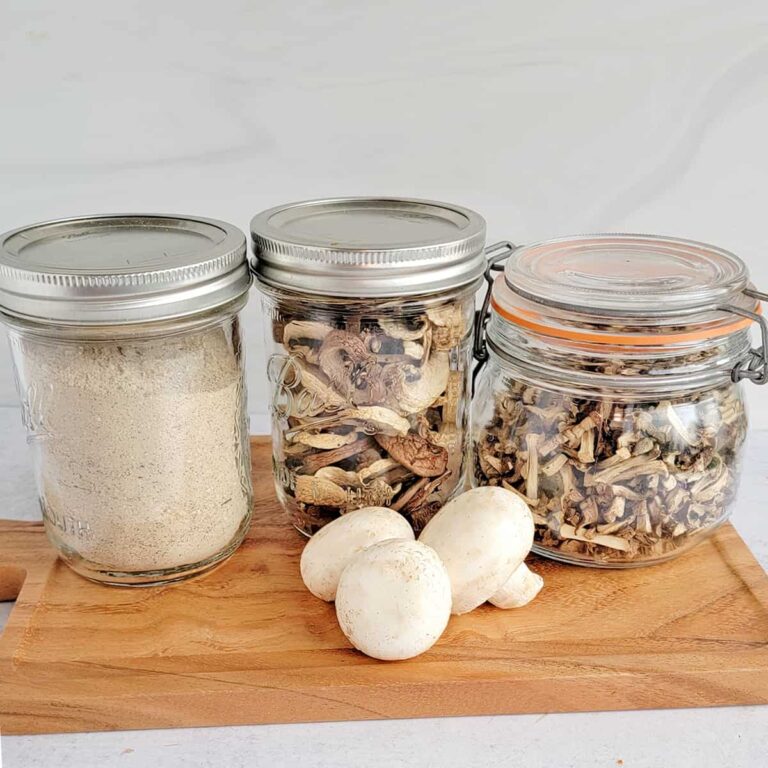 7. Frozen Vegetables
Frozen vegetables are one of my recommended first projects for a new dehydrator. The produce is prepped, cut, and ready to dry. No blanching is required! You can use individual vegetables or do a vegetable blend.
These dried veggies are so easy to put into soups, stews, casseroles, etc. You can even powder it for a great vegetable powder usable in everything you cook for extra nutrition.!
You can use individual vegetables or do a vegetable blend. Here are a few that are easy to start with
Corn
Broccoli/Cauliflower - you may want to cut down some of the larger chunks in these mixtures to be more bite-sized pieces.
Peppers and Onions
Green Beans
Carrots
Vegetable Medley
Onions - a benefit here is that onions will be less 'odiferous.' (aka stinky) if you go from frozen instead of fresh.
Tip: Watch for any frozen vegetables that have sauces, as those tend to contain fats and oils that may not be shelf-stable.
7. Frozen Vegetables
Make dehydrating easy by dehydrating frozen vegetables to make them shelf-stable, and get more room in your freezer!
Check out this recipe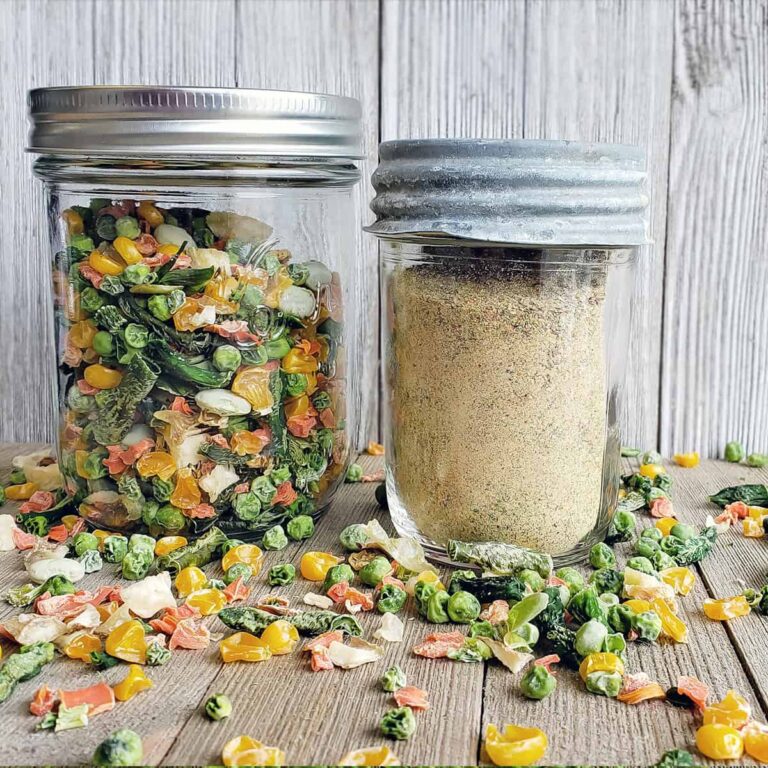 8. Potatoes
Potatoes are a staple for so many cuisines, and dehydrating is the perfect way to preserve potatoes for all the ways you use them.
Shredded - for hash browns
Diced - for soups
Sliced - for au gratin or scalloped potatoes
Mashed - for mashed potatoes.
9. Zucchini
With the abundance of zucchini, you can get from your garden or grocery stores, it is hard to store that abundance for later in the year. They are not cannable, and can freeze, but dehydrating zucchini in all the various ways you use them is the most effective way to put zucchini in your pantry.
You can make bread or these chocolate zucchini muffins, flour alternatives, soups and stews, fritters, and so much more!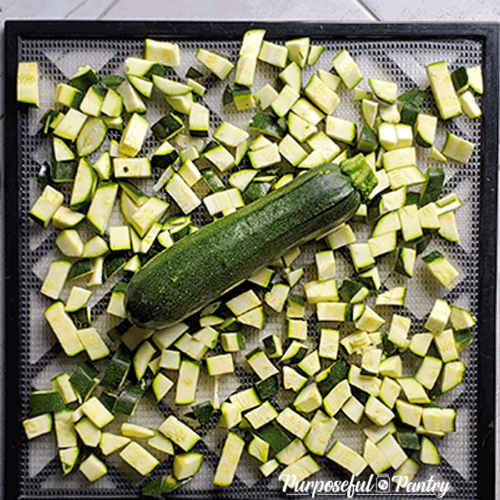 10. Apples
Apples are one of those fun snacking things we do in the dehydrator for the kids, but there is so much more you can do with them!
Slices for snacks
Fruit leathers for snacking (and rehydrate for applesauce if you want)
Sections for pies (yes, you can rehydrate to make pies!)
Shreds or fine cubes for oatmeal and baking
10. Apples
Dehydrate apples for chips, slices, shreds, etc. for long-term storage or snacking
Check out this recipe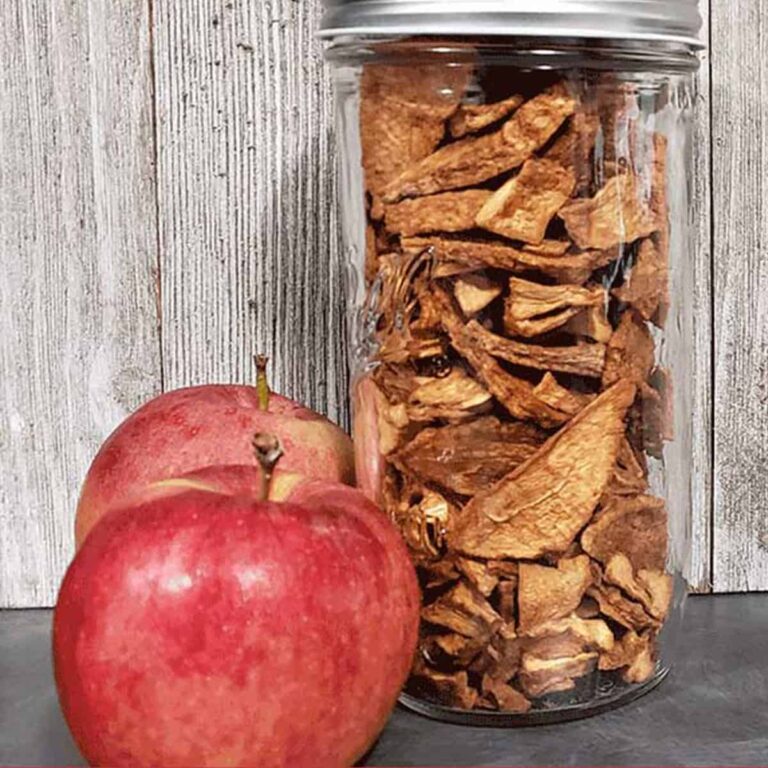 11. Celery
How many times have you purchased celery at the store only to find you throw most of it away because you just don't use it quickly enough? Or wish there was a way to do it all at once and not have to keep prepping it every night?
Of course, you can chop and freeze, but it's not shelf-stable. So, instead, dehydrate it! You'll have shelf-stable celery to use whenever you want, as much as you want, with only a bit of prep time! And if you need it, you can do a quick celery salt hack with celery powder!
Tip for Success: De-string celery (peel it) and cook thoroughly before dehydrating it for a softer, rehydrated product.
11, Celery
Dehydrating celery stops you from wasting that celery that always languishes in the back of your fridge from good intentions! Perfect for prepping your pantry with essential basics of cooking!
Check out this recipe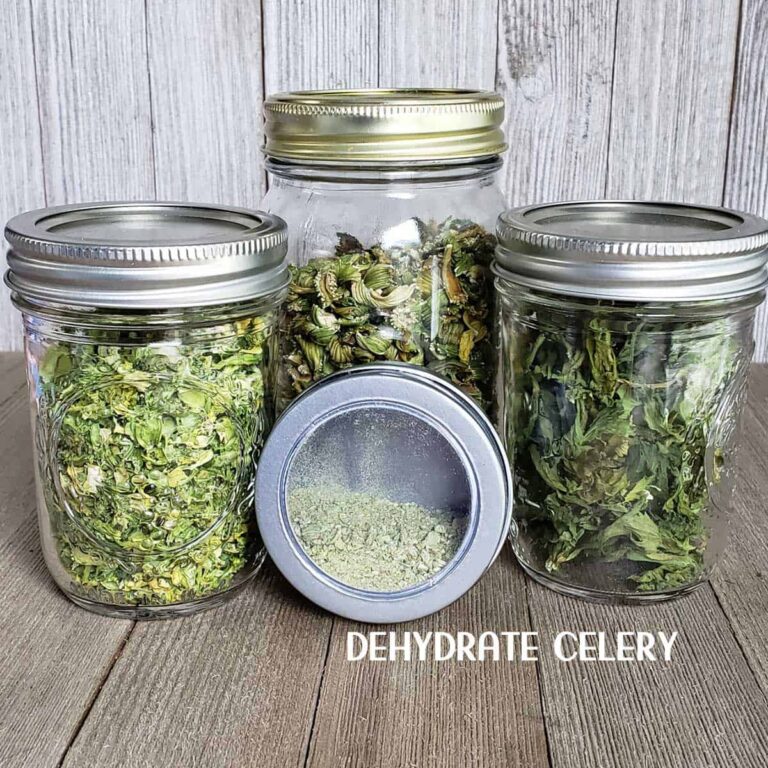 12. Strawberries
Strawberries are so versatile! Snacking, breaking down to add to bread or muffins, powdering for flavoring as I do in my Strawberry Rice Cereal Marshmallow Treats.
Tip: Don't toss the greens! Did you know you can eat strawberry greens!? They are a great addition to teas or green powder!
12. Strawberries
How to dehydrate strawberries and make strawberry powder to add to your food pantry.
Check out this recipe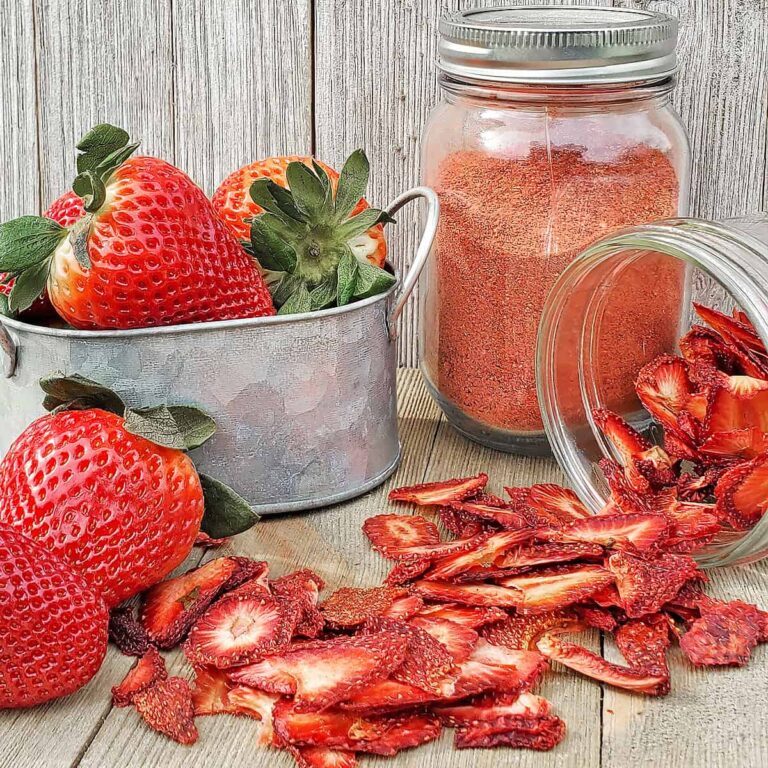 13. Garlic
Like onions, garlic is an essential staple that can be used in any recipe as you would fresh (rehydrate it first) or into an incredible powder in your pantry, and you'll never buy it again!
Tip: You can use the large tubs of pre-cut garlic in a water base, but not oil. This reduces the prep time for you and reduces (but does not eliminate) the strong smell you may get from fresh garlic drying.
13. Garlic
Create your own fabulous garlic powder from dehydrated garlic - you'll never buy storebought again!
Check out this recipe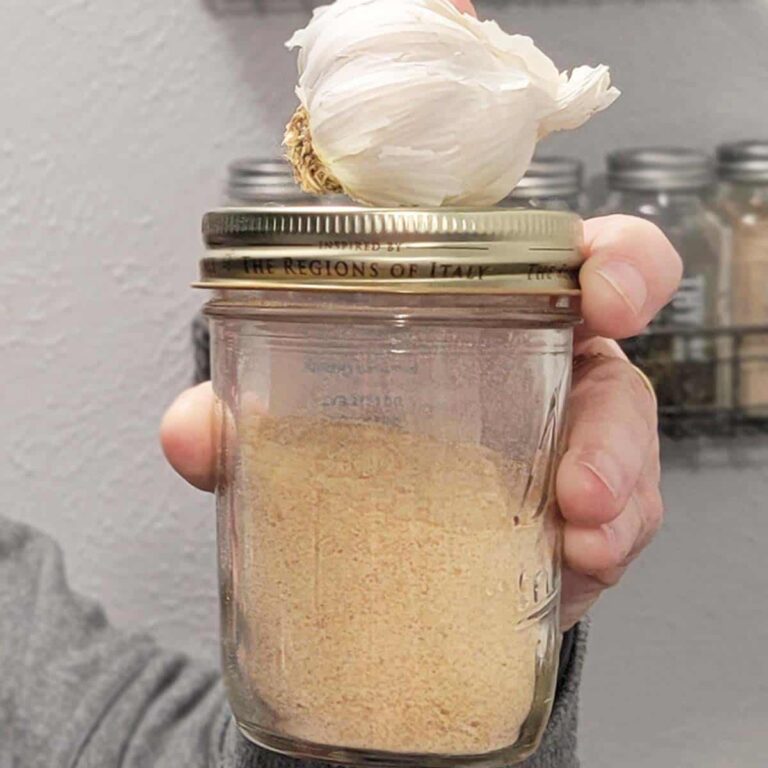 14. Beans
Beans can take a long while to prepare for any meal. However, you can cook up a huge batch, eat that night, and dehydrate the rest for quick and easy hiking meals, meals in a jar, or even a fast soup, along with dehydrated rice for a busy weeknight meal taco soup!
While this doesn't extend the shelf-life of beans infinitely, it makes quick meals much easier, especially for those who hike and camp a lot, since you use less water in rehydrating/heating than if you were cooking from scratch at the campsite.
14. Beans
Dehydrate canned beans to save room in your pantry, create meals in a jar for pantry storage, gift giving or emergency meals, prepare meals for hiking and camping.
Check out this recipe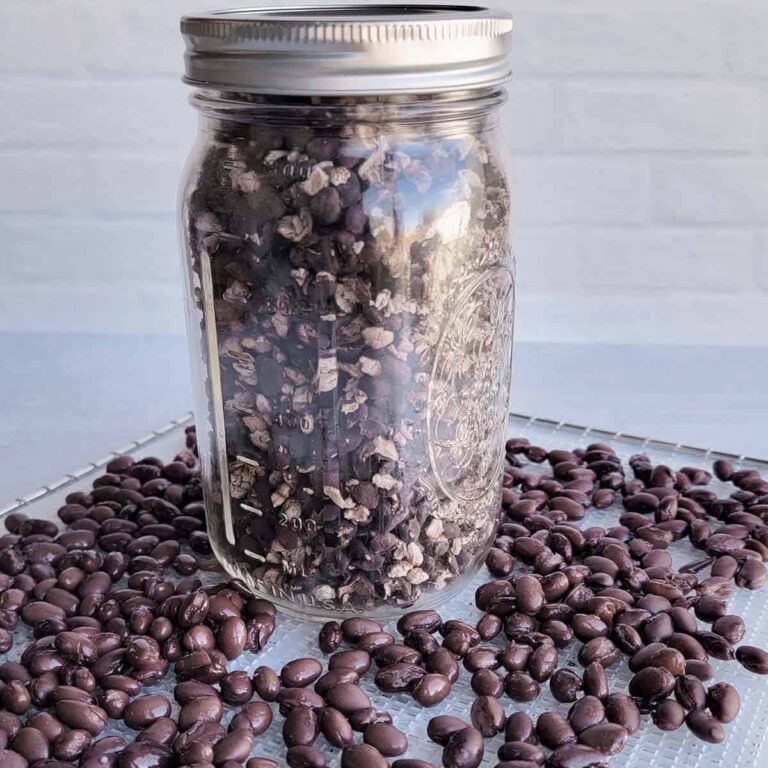 15. Cabbage
Cabbage lasts a very long time in the fridge, but the price can be extraordinary in parts of the year when it's not in season.
And using it to help bulk up soups and salads is a great way to get more nutrients into your diet! It's also a good way to bulk up your dehydrated green powder.
Keeping a jar in your pantry lets you add cabbage to almost any soup you make without having to prep. It can just be thrown in and will rehydrate and cook while the soup simmers!
15. Cabbage
Dehydrating cabbage to make it shelf stable for up to two years is the perfect way to have egg roll casserole or fried rice at any time!
Check out this recipe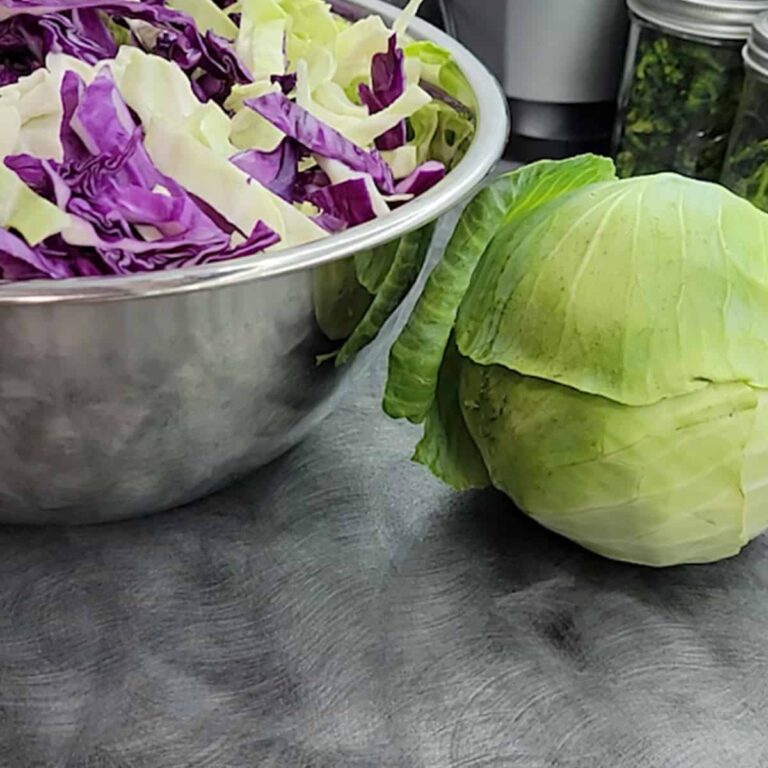 Storage
Store dehydrated foods in an airtight container (whether you use glass jars, mylar bags, or vacuum seal bags), giving you about two years of optimal storage. Your mileage may vary with longer times depending on the food and the storage conditions you have.
Storing in a dark, cool, dry place is beneficial as well. Adding oxygen absorbers and moisture absorbers or vacuum sealing in mylar is beneficial but definitely not necessary.
Alternatives
Of course, if you do not want to dehydrate your own, you can use this list to help you create a freeze-dried food pantry for long-term storage. Besides our essentials listed above, you can then include these foods which are not good candidates for dehydrating:
Augason Farms, Emergency Essentials, NutriStore, and ThriveLife foods are good companies for these. Of course, you can invest in a freeze-dryer and freeze dry foods yourself to create the same essentials for your food storage.
What would you include?
Granted, we didn't add jerky or other cuts of meat (not reliably shelf-stable for longer than a month or so), fruit leathers, marshmallows, or other items that are more like snacks than staples.
And you may find that you don't like one of the above items enough to use it. That's fine! But let us know what your dehydrated staples are in your pantry! What are the essential dehydrated foods your family uses all the time?
Frequently Ask Questions
Dehydrated food is a staple in our home. But for some folks, it's a mystery. There are tons of questions about how and why to dehydrate, but here are a few that will help you now:
Do dehydrated foods lose nutrition?
Properly pretreated (if necessary) and dried, most dehydrated foods keep all of the nutrition, including vitamins, minerals, proteins, and fiber, as their fresh counterparts. They also retain all their calories. Vitamins A & C are lost with high drying temperatures, and some water-soluble vitamins may be lost in blanching. However, blanching helps stop the enzymatic process that makes foods turn color or degrade faster. If you wish to keep all the nutrients in your dried food, dry it below 115°F/46°C.
What foods cannot be dehydrated?
While any food CAN be dehydrated (except for things like chocolate and butter that will melt), some foods, such as high-fat foods like avocados, milk, and eggs, aren't the best candidates for dehydrating since their high-fat content makes them unreliable for shelf storage. Other foods, such as cheese, are messy and, again, not reliably shelf-stable.
Are freeze-dried foods and dehydrated foods the same?
The sublimation process of freeze-drying foods is different than that of dehydrating. The freeze-drying process freezes food, then uses heat to remove the water as a vapor. That's what gives it a styrofoam-like texture. Dehydrating uses warm air to evaporate water from produce, shrinking it. They both do require water to rehydrate, but freeze-drying may often have a better texture for some foods, and has a longer shelf-life with proper storage.
How does dehydrated food taste?
It will depend on your own taste preferences - but it depends completely on the food. Some dehydrated food is crunchy and flavorful, some is hard and dry. Foods meant for snacking are usually thin, crunchy, and seasoned (or, as in the case of fruits, eaten as is). Dried foods for storage are generally meant to be hard and dry to store well and rehydrated and seasoned to use in dishes.