How to Dehydrate Mushrooms and Mushroom Powder
Dehydrate mushrooms and make a mushroom powder seasoning that elevates the fungi into so much more! Dried mushrooms mushroom powder are amazing pantry staples you should always have!
Fresh mushrooms are awesome, but don't have a long shelf life. Dehydrating mushrooms gives you the chance to make them shelf-stable to use in your everyday cooking, and you can store them for a few years!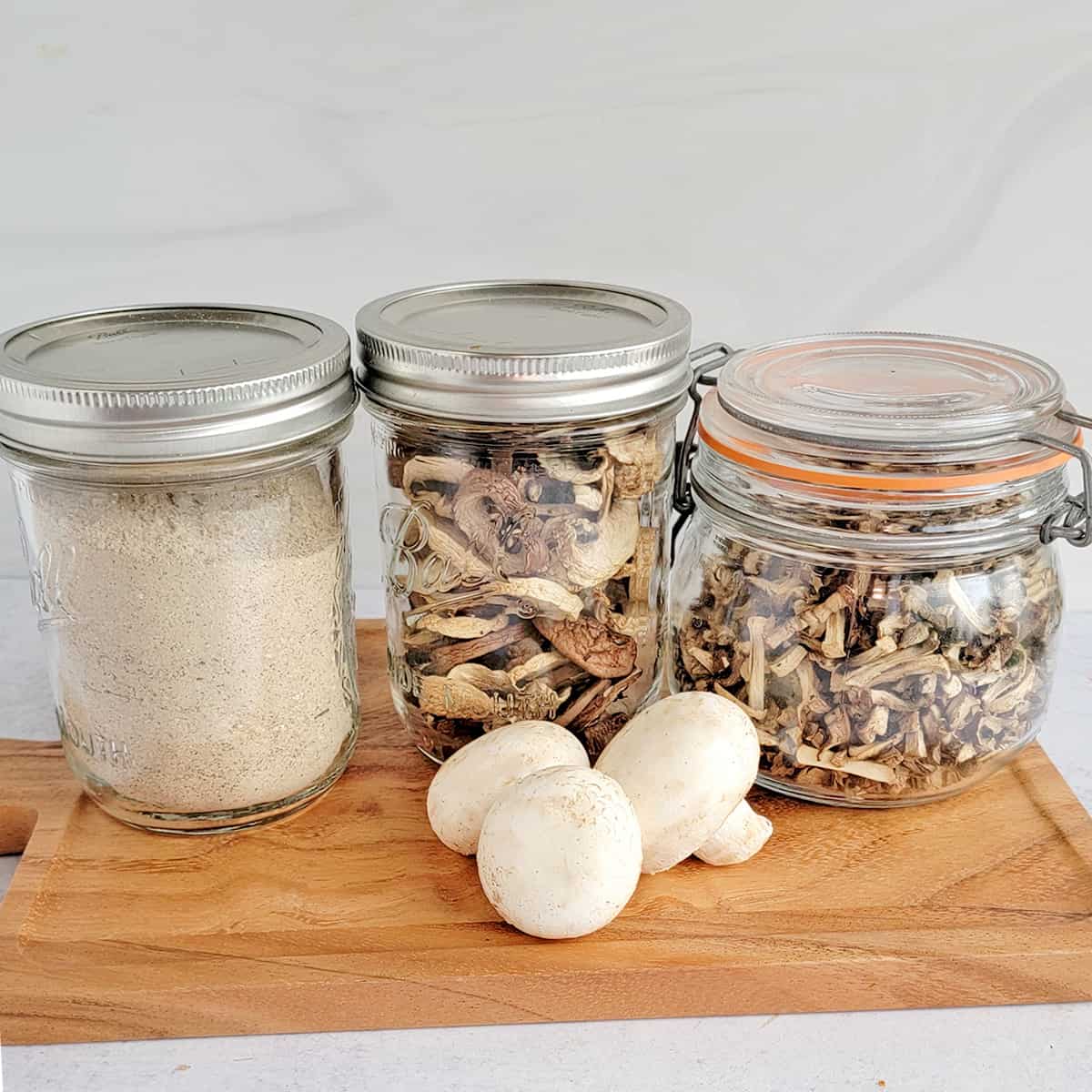 This post may contain affiliate links. As an Amazon Associate, I earn from qualifying purchases. Please read our disclosure policy.
But the best thing about dehydrated mushrooms?
The powder.
Oh, the mushroom powder! It's just to die for.
Well, please be really careful about the mushrooms you use to make it – you don't really want to die from it!
How to Prepare Mushrooms for Drying
To brush or rinse. That is the question.
The truth is, you can do either. Really.
Whether you've picked safe mushrooms or you have purchased some from your local grocer, there is some sort of cleaning to be done.
Wiping: wiping of the dirt/medium of you mushroom is generally good enough to clean for eating. You can use a mushroom brush, a cloth, or even a damp cloth.
Rinsing: Rinsing in water is safe to do, as well. Mushrooms will absorb only a small amount of water.
Don't Mushrooms Soak Up Too Much Water?
Alton Brown did an experiment on his show Good Eats back in the day called "Fungal Gourmet". You can read the transcript of the show, but the final findings were that mushrooms were absorbing only about a teaspoon of water, whether they were rinsed or soaked for 10-30 minutes.
So, if you have particularly dirty mushrooms – don't be afraid to rinse them to help clean them up!
The only thing it might do is make your mushrooms a little darker after drying.
How to Dehydrate Mushrooms
Quick Instructions: Slice and dry at 125°F / 52°C until dry and brittle.
These instructions are going to be for generic mushroom drying. Most of us can access a few kinds from the local grocery store. You may have more options at specialty stores, and you may pick your own.
Step 1: Rinse or brush clean.
Mushrooms are best if there are no signs of mold growing on cut ends, that the gills have not opened and fallen apart, etc. Fresh mushrooms are best.
If you have stems that are large or woody, you can remove them and do them separately – they are perfect for powder (instructions below).
Step 2: Slice into 1/4 slices
Cutting with a knife is a perfect way to cut the slices. You do not have to be exact, but 1/4″ gives a good efficient drying size without breaking too easily.
You can use this mushroom slicer if you want more control over the exact size of your mushroom pieces. I caution against using a regular egg slicer as the mushrooms can break the wires.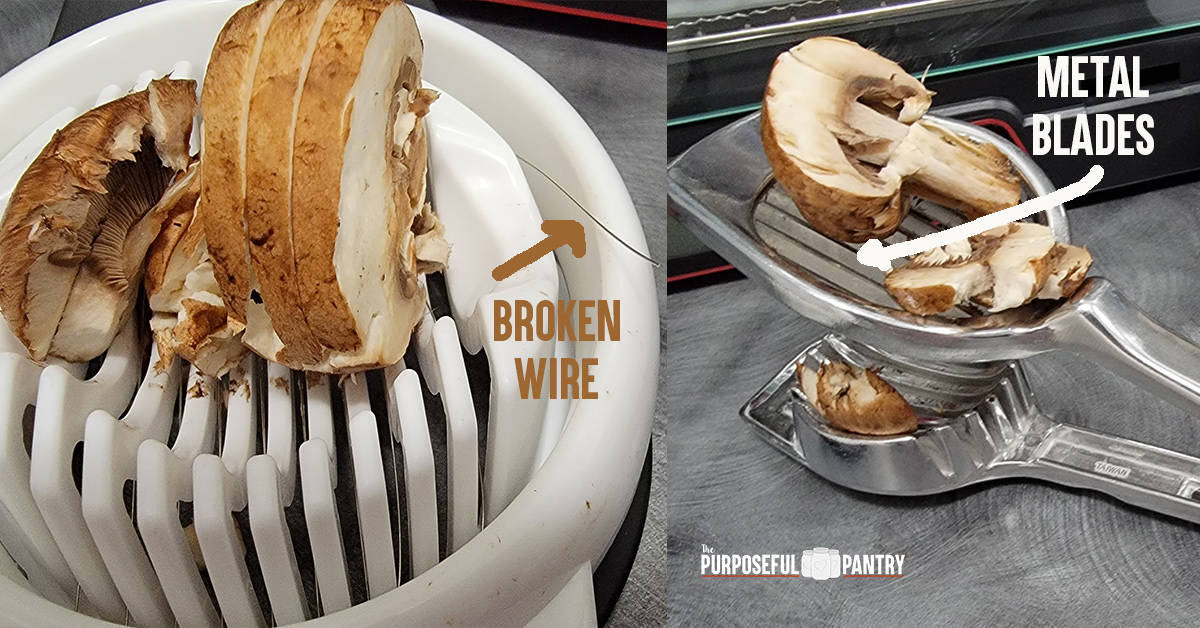 Alternatively, you can pulse your mushrooms in your food processor or use a vegetable chopper like the one I use in the video and create mushroom pieces. This is my favorite way of using and storing mushrooms for regular use and makes it easy to powder when I'm ready. It also decreases the drying time by half or more.
TIP: If you're doing a ton of mushrooms, use a good, heavy-duty egg slicer with solid blades to help slice your mushrooms. I use this one from Amazon as I've never found one in a local store. Using a regular egg slicer with the wire cutters will lead to the wires breaking.
Step 3: Dry at 125°F-135°F (52°C to 57°C)
Mushroom Slices – place your slices onto your dehydrator racks. You do not have to use protection as they don't stain and they don't tend to stick.
Mushroom Pieces: With the mushroom pieces, fruit leather sheets or parchment/baking paper is recommended as pieces will dry small and can fall through to the bottom.
Slices will take approximately 6-10 hours to dry, pieces will be dry in 3-6 hours.
Step 4: Dryness Test
Mushrooms should be cooled to test. They should break easily and have a leathery texture
Step 5: Condition
Condition by placing dried mushrooms into a large, airtight container. Shake once a day for a week. Keep an eye out for any indication that there is condensation, sticking or other moisture issues.
As long as no mold is found, you can throw them back into the dehydrator if needed.
Step 6: Storage
Store in an airtight container for up to two years. You can use a desiccant pack if you live in a humid environment and are in and out of the container a lot.
Dehydrating Different Mushroom Varieties
Beech Mushrooms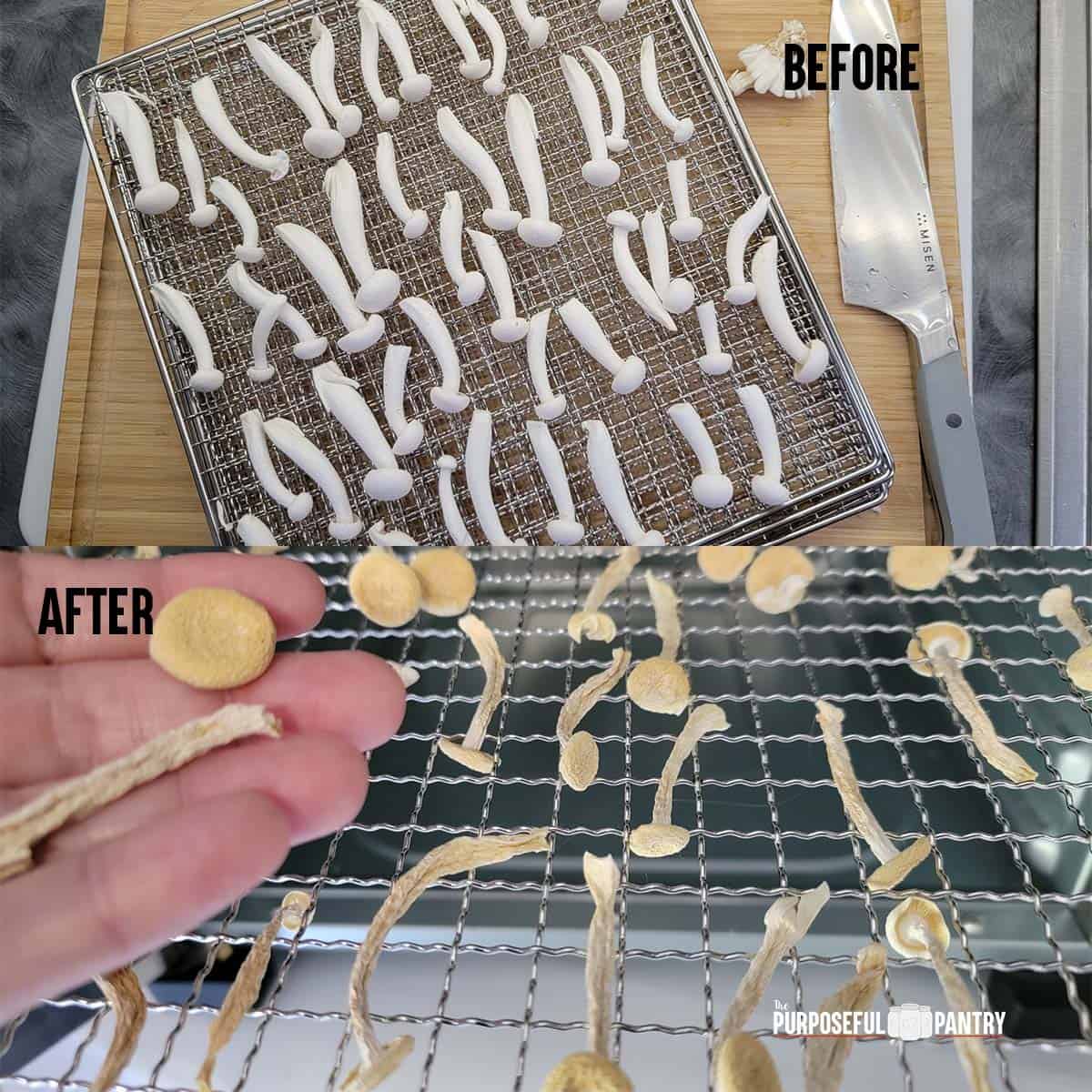 How to Dehydrate Mushrooms in the Oven
Thinly slice cleaned mushrooms
Place on parchment paper on a cooling rack that is over a cookie sheet for best results. This keeps the paper off the hot cookie sheet.
Dry for 1-2+ hours at a temp below 200°F.
You can flip after the first 30 minutes to release moisture from the bottom of the mushroom slices.
Cool, then test for dryness – leathery texture, easy to break apart.
Condition
Store in airtight containers in a cool, dark place for up to two years.
Dehydrate Canned Mushrooms
If you are short on time, have a load of canned that you want to convert, or just want to experiment, yes, you can dehydrate canned mushrooms.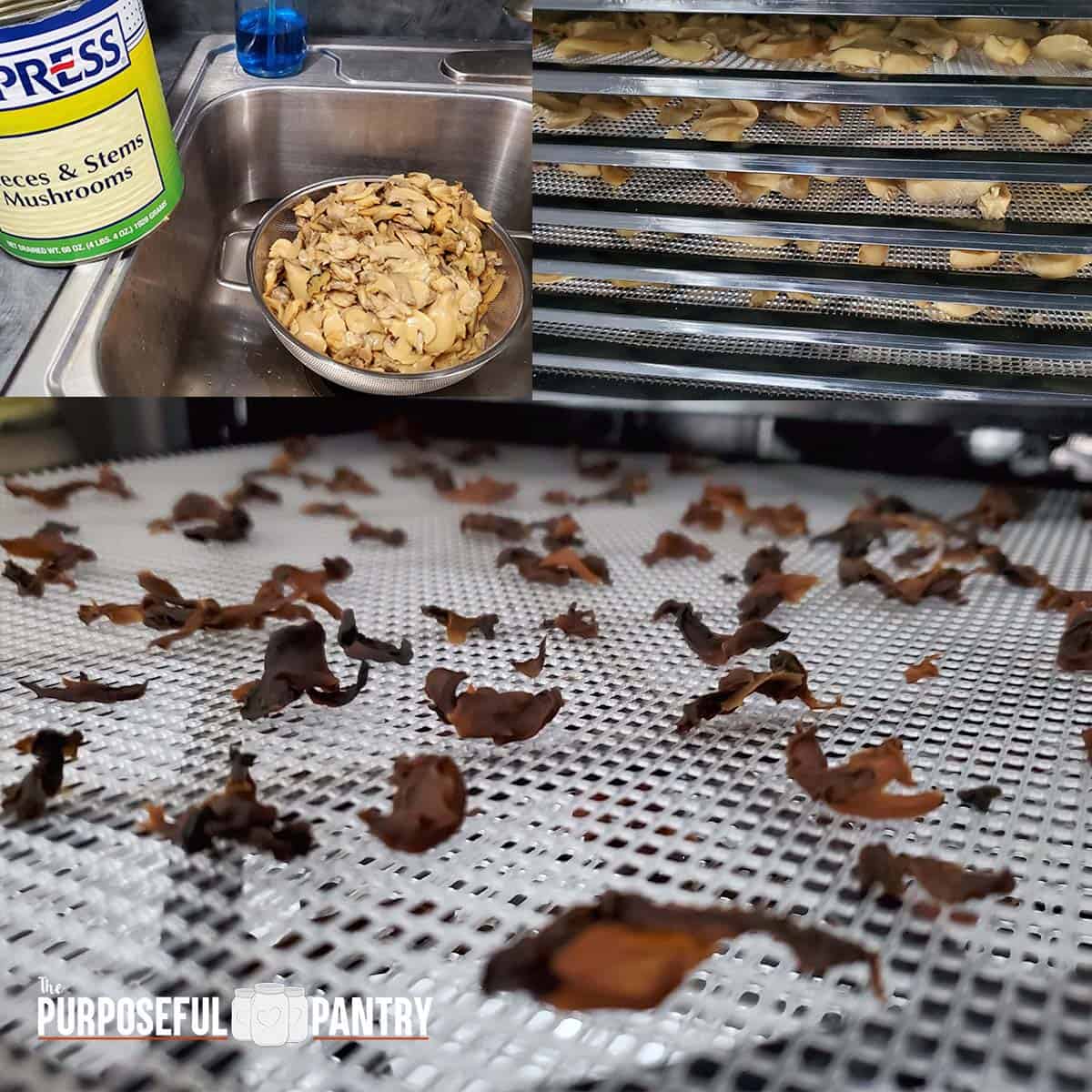 Following the above steps for the drying process, this is what my experience has been.
They shrink up tremendously. The canning process breaks down all the fibers, which is why they are so soft, thus once dried, they shrink tremendously.
Their flavor is definitely changed resulting from salt used in the canning process, etc.
Their flavor is not great (this is my personal opinion, you may love them), and are fine to go ahead and powder to use instead.
Best Mushrooms for Mushroom Powder
My personal take is whatever safe mushrooms you can get your hands on, use them. However, price plays into this in that bulk creating mushroom powder from very expensive mushrooms can be cost prohibitive.
The more flavor a mushroom has, the better suited for mushroom powder. But even with the simple Button Mushroom, the dehydrated mushroom powder is amazing. We actually prefer it over dehydrated mushrooms in our meals.
Button
Cremini
Shitaki
Portobello
Oyster
Porcini
Chicken of the Wood
Oyster
Any foraged mushroom that is safe to eat
There are so many varieties to choose from and not all listed here. My criteria is usually how much powder will get (which is why I don't use Enoki or Beech – they are saved for dried and cooking).
I generally look for bulk alternatives since I make this once a year.
Safety:
Know your mushrooms, and don't dry anything you can't identify as edible.
Know which mushrooms need to be cooked before being eaten (Morel, Porchini, Honey.
Mycologist Paul Stamets suggests that no mushrooms should be eaten raw (as they are largely indigestible and don't give you full nutrients), but you'll be using your mushrooms in meals.
Rehydrating Dried Mushrooms
Mushrooms are best rehydrated in a pot of simmering water for 30 minutes.
Then they need plenty of time to cook in the meal you are using them in for best results.
Save the water to add to the broth – it's incredible!
If you really love the mushroom flavor but aren't a fan of the texture of rehydrated mushrooms – take it a step further with mushroom powder!
How to Make Mushroom Powder
Place mushrooms in the grinder of your choice (bullet blender, coffee grinder, or large blender).
Pulse until larger pieces break up, then grind until you have a fine powder
Remove and allow to cool
Place in an airtight container for up to a year
Use about 1 Tablespoon (or personal preference) for added 'umami' flavor to any savory dish.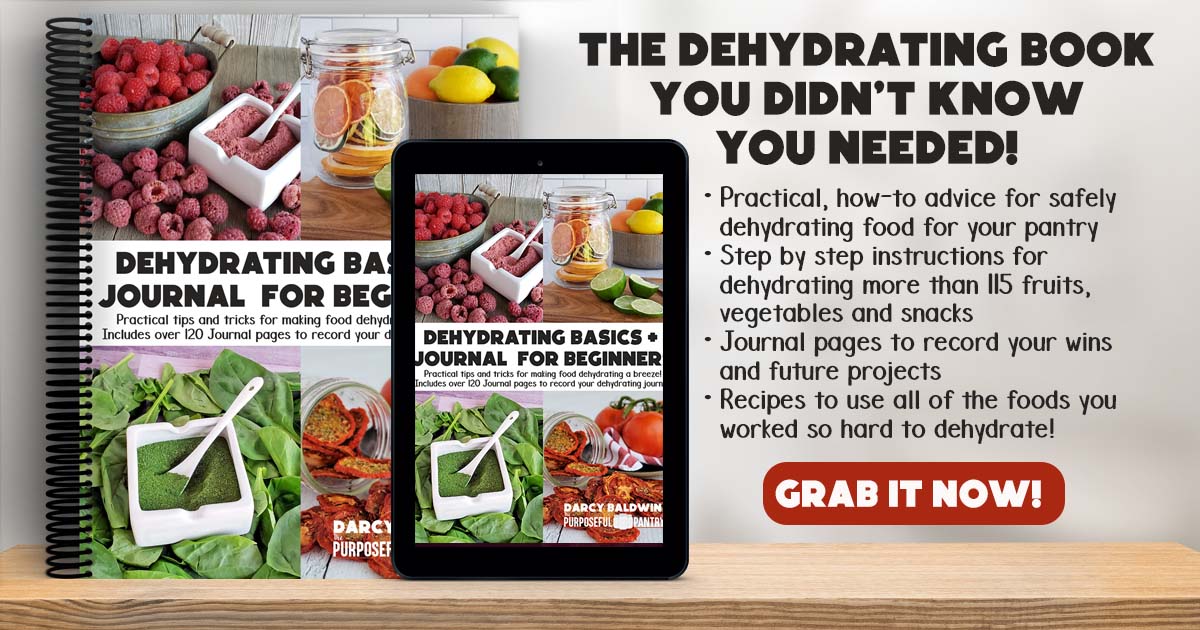 Uses for Mushroom Powder
You can think of mushroom powder as being a shot of umami – that unknown quantity that just makes things have a deep flavor profile. Some compare it a little adding MSG, without the MSG. It's a meaty flavor that is hard to quantify.
Add 1 TB (or more or less to your liking) to mac n cheese sauce
Toss into spaghetti sauce for flavor without the texture
Create a Mushroom Powder Seasoning Blend
Sprinkle on top of meat or add to a burger blend
Use as a seasoning base for roasting potatoes or green beans or other root vegetables.
Make your own Cream of Mushroom soup for cooking.
Watch How I do it all in this video:
In the video, I used the Saraha Folding Dehydrator by Brod & Taylor. It folds up into 1/3 of the size of a standard dehydrator and can be tucked away in your closet, under your bed, or behind a couch. It's a great choice for those with limited storage space like small house dwellers and RV/Campers.
Dehydrating Mushroom FAQs
What kind of Dehydrator should I use?
Any dehydrator will work, though the Cosori Premium is a good middle of the road, stainless steel dehydrator that works very well.
Can I dehydrate canned mushrooms?
Yes, you can, but they are a poor substitute for fresh, dried mushrooms. They have a rubberized texture, are usually much saltier, but do translate to a seasoned powder well.
How long do dehydrated mushrooms last?
Properly stored, dried mushrooms last quite a few years, though the 'safe' answer is about a year. Mushroom powder also lasts much longer than typical powders, up to two years.
Can I dehydrate frozen mushrooms?
While you can, I don't recommend it. They are better used as they are unless you just need to do it because your freezer died. They turn dark, and hard and don't have the same texture as doing fresh. Dehydrating would be a last resort.
How else can I preserve Mushrooms?
Try canning mushrooms for pantry storage! It is easy to do in small or large quantities, and the process will give you a wonderful broth to use as well for making risotto or other meals!
Thoughts or questions?
If you've had questions about dehydrating mushrooms or have some experience to share in how you use them, please leave a comment below!
Other Ways to Use Mushrooms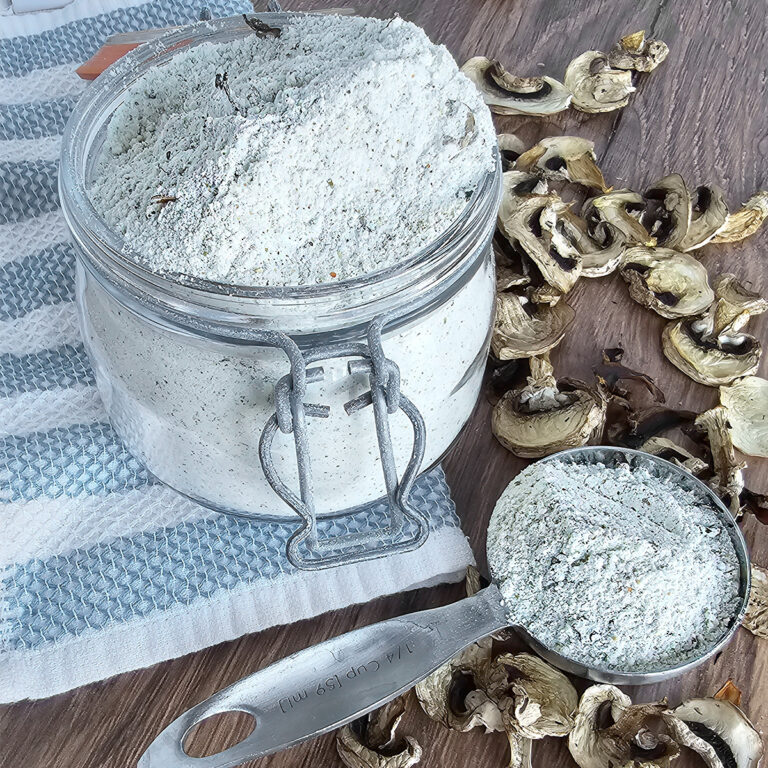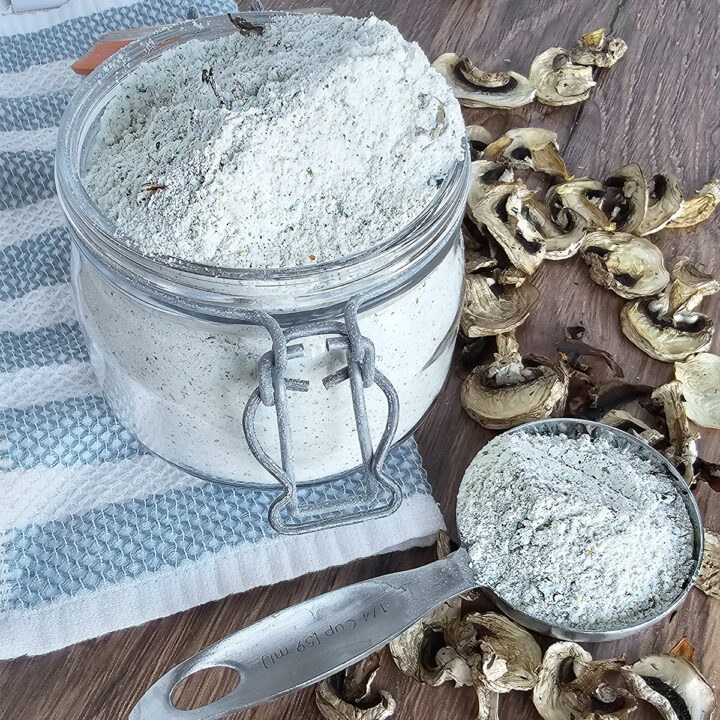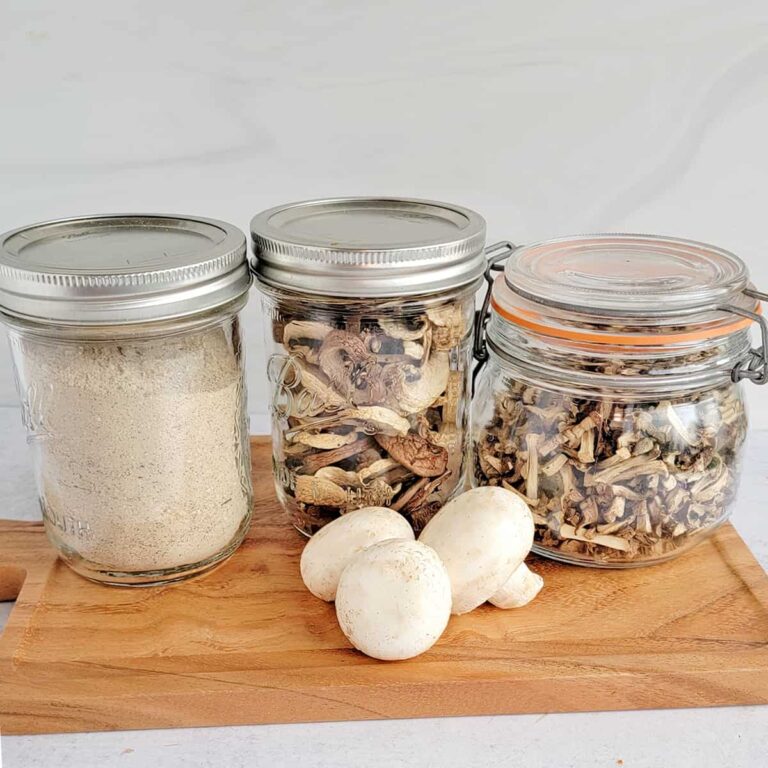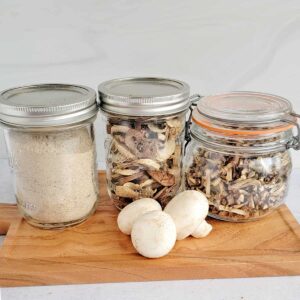 Dehydrate Mushrooms & Make Mushroom Powder
Dehydrate mushrooms to have shelf-stable mushrooms for use in meals all year long! You can also powder them to create a wonderful powder for giving a meaty flavor to anything you make!
Print
PIN THIS!
Rate
Equipment
Coffee grinder

Use a coffee grinder, bullet blender or blender to create powder
Ingredients
Mushrooms

Use whatever safe mushroom you'd like to use!
Instructions
How to Dehydrate Mushrooms
Place into single layers on dehydrator trays

Dry at 125°F-135°F (52°C to 57°C)

Test for dryness (should be crisp and break easily)

Store in an airtight container for up to three years
How to make Mushroom Powder
Place mushrooms into a grinder of choice

Pulse until mushroom pieces are broken down

Quickly blend until powder

Do not open jar until dust has time to settle

Store in an airtight container for up to two years
Video
Darcy's Tips
Notes:
Rinsing mushrooms under water will not make them waterlogged, but you may find that your mushrooms dry a little darker. You can use a damp rag or brush to clean them.
Conditioning: Place in a large jar, and shake once a day for five days to ensure everything is evenly dry, and no condensation is showing on the mushrooms or container. Move to a permanent storage container.
Store in an airtight container in a dark, cool, dry place for up to two years.
Try mushroom powder in eggs or create this incredible Mushroom Seasoning Blend for rubs, and other dishes!
https://www.thepurposefulpantry.com/mushroom-powder-seasoning-blend/
Nutrition
Serving:
1
Cup
|
Calories:
21
kcal
|
Carbohydrates:
3
g
|
Protein:
3
g
|
Fat:
0.3
g
|
Saturated Fat:
0.1
g
|
Polyunsaturated Fat:
0.1
g
|
Sodium:
5
mg
|
Potassium:
305
mg
|
Fiber:
1
g
|
Sugar:
2
g
|
Vitamin C:
2
mg
|
Calcium:
3
mg
|
Iron:
0.5
mg
Nutritional information is an estimation only. Nutrient information for dehydrated foods is based on fresh. Use 1/4 of the servicing size for the same nutrient information. Thus 1 Cup of fresh fruit has the same sugars as 1/4 dried.
©ThePurposefulPantry. Photographs and content are copyright protected. Sharing of this recipe's link is both encouraged and appreciated. Copying and/or pasting full recipes to any social media is strictly prohibited.