Dehydrate mushrooms and make a mushroom powder seasoning that elevates the fungi into so much more! Learn how to adapt a copycat Trader Joe's Umami Seasoning to your tastes!
Fresh mushrooms are awesome, but don't have a long shelf life. Dehydrating mushrooms gives you the chance to make them shelf-stable to use in your everyday cooking, and you can store them for a few years!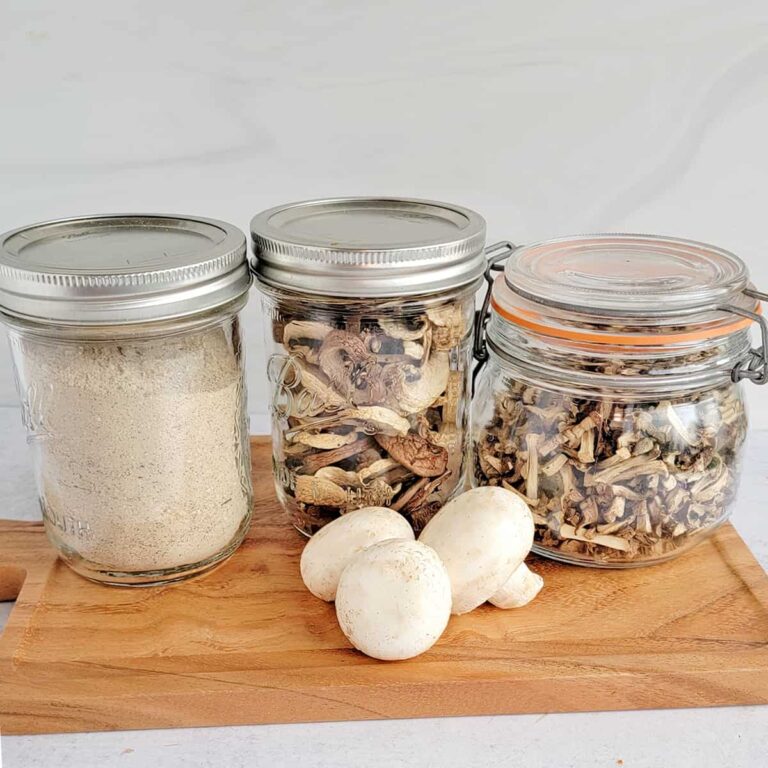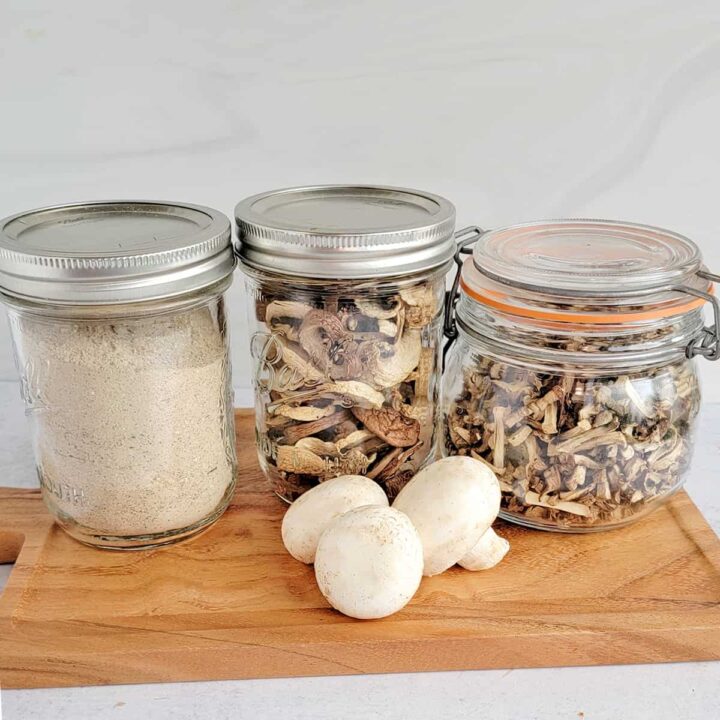 But the best thing about dehydrated mushrooms?
The powder.
Oh, the mushroom powder! It's just to die for.
Well, please be really careful about the mushrooms you use to make it - you don't really want to die from it!
How to Prepare Mushrooms for Drying
To brush or rinse. That is the question.
The truth is, you can do either. Really.
Whether you've picked safe mushrooms or you have purchased some from your local grocer, there is some sort of cleaning to be done.
Wiping: wiping of the dirt/medium of you mushroom is generally good enough to clean for eating. You can use a mushroom brush, a cloth, or even a damp cloth.
Rinsing: Rinsing in water is safe to do, as well. Mushrooms will absorb only a small amount of water.
Alton Brown did an experiment on his show Good Eats back in the day called "Fungal Gourmet". You can read the transcript of the show, but the final findings were that mushrooms were absorbing only about a teaspoon of water whether they were rinsed or soaked for 10-30 minutes.
So if you have particularly dirty mushrooms - don't be afraid to rinse them to help clean them up!
The only thing it might do is make your mushrooms a little darker after drying.
Either way, make sure you clean all of your mushrooms thoroughly before using them. The medium they grow in is not toxic in any way, but you don't want the grit in your food.
How to Dehydrate Mushrooms
These instructions are going to be for generic mushroom drying. Most of us have access to a few kinds from the local grocery store. You may have more options at specialty stores, and you may pick your own.
In the video, I used the Saraha Folding Dehydrator by Brod & Taylor. It folds up into ⅓ of the size of a standard dehydrator and can be tucked away in your closet, under your bed, or behind a couch. It's a great choice for those with limited storage space like small house dwellers and RV/Campers.
Use these general directions for
Button
Crimini
Baby Bella
Portabella
Step 1: Rinse or brush clean.
Mushrooms are best if there are no signs of mold growing on cut ends, that the gills have not opened and fallen apart, etc. Fresh mushrooms are best.
If you have stems that are large or woody, you can remove them and do them separately - they are perfect for powder (instructions below).
Step 2: Slice into ¼ slices
Cutting with a knife is a perfect way to cut the slices. You do not have to be exact, but ¼" gives a good efficient drying size without breaking too easily.
You can use this mushroom slicer if you want more control over the exact size of your mushroom pieces. I caution against using a regular egg slicer as the mushrooms can break the wires.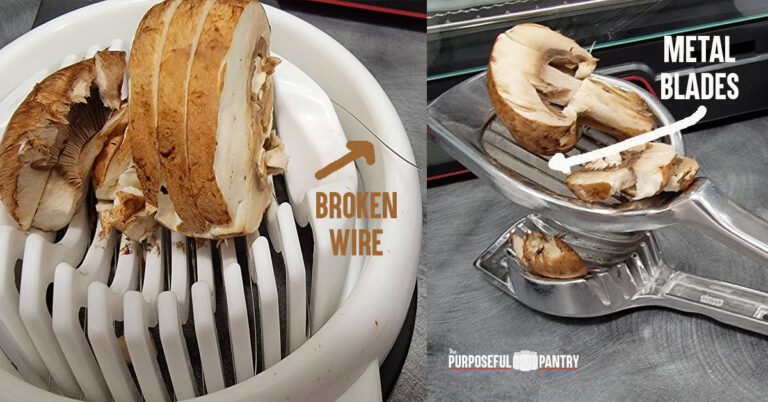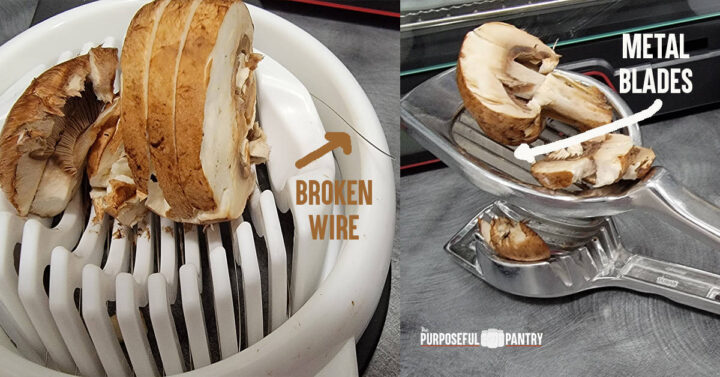 Alternatively, you can pulse your mushrooms in your food processor or use a vegetable chopper like the one I use in the video and create mushroom pieces. This is my favorite way of using and storing mushrooms for regular use, and makes it easy to powder when I'm ready. It also decreases the drying time by half or more.
TIP: If you're doing a ton of mushrooms, use a good, heavy-duty egg slicer with solid blades to help slice your mushrooms. I use this one from Amazon as I've never found one in a local store. Using a regular egg slicer with the wire cutters will lead to the wires breaking.
Step 3: Dry at 125°F-135°F (52°C to 57°C)
Mushroom Slices - place your slices onto your dehydrator racks. You do not have to use protection as they don't stain and they don't tend to stick.
Mushroom Pieces: With the mushroom pieces, fruit leather sheets or parchment/baking paper is recommended as pieces will dry small and can fall through to the bottom.
Slices will take approximately 6-10 hours to dry, pieces will be dry in 3-6 hours.
Step 4: Dryness Test
Mushrooms should be cooled to test. They should break easily and have a leathery texture
Step 5: Condition
Condition by placing dried mushrooms into a large, airtight container. Shake once a day for a week. Keep an eye out for any indication that there is condensation, sticking or other moisture issues.
As long as no mold is found, you can throw them back into the dehydrator if needed.
Step 6: Storage
Store in an airtight container for up to two years. You can use a desiccant pack if you live in a humid environment and are in and out of the container a lot.
Dehydrating Different Mushroom Varieties
Beech Mushrooms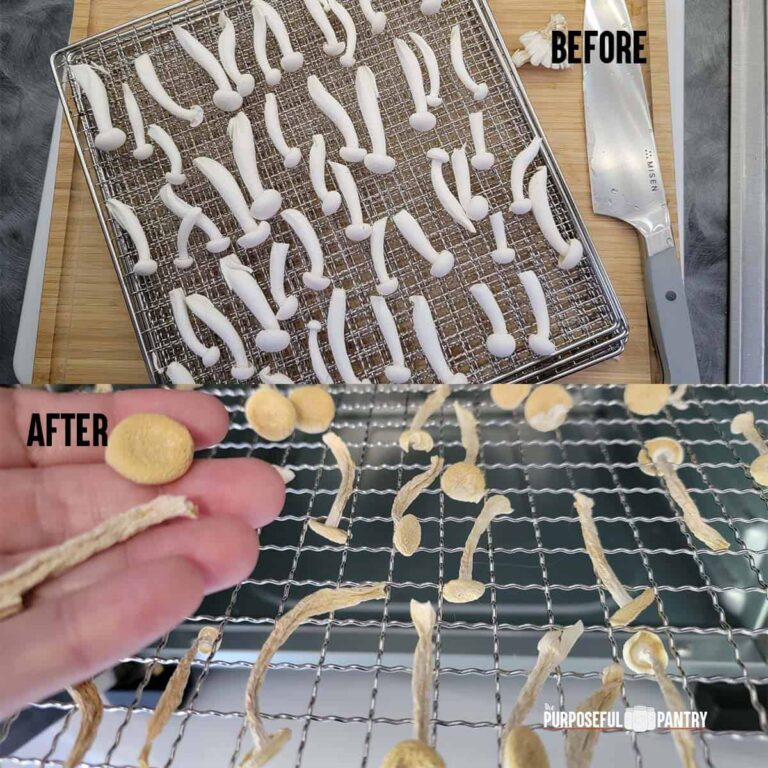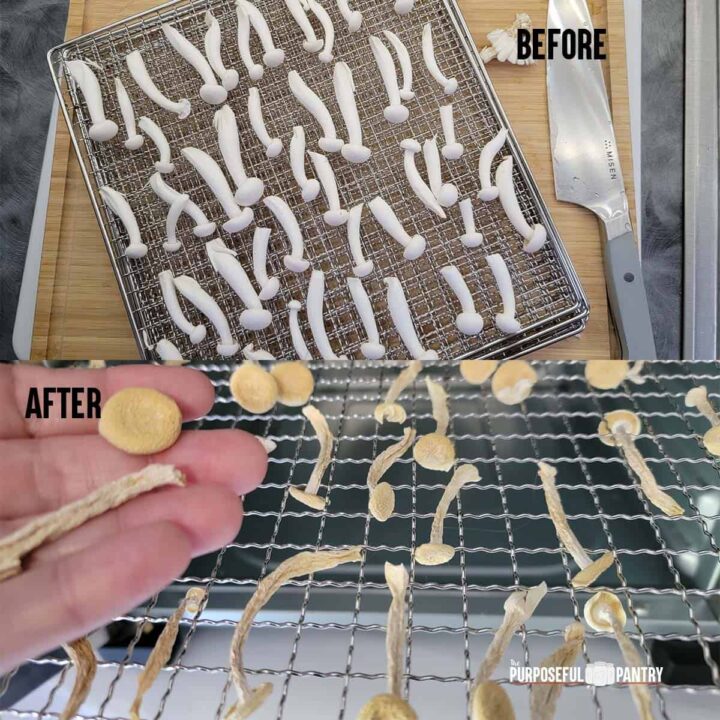 How to Dehydrate Mushrooms in the Oven
Thinly slice cleaned mushrooms
Place on parchment paper on a cooling rack that is over a cookie sheet for best results. This keeps the paper off the hot cookie sheet.
Dry for 1-2+ hours at a temp below 200°F.
You can flip after the first 30 minutes to release moisture from the bottom of the mushroom slices.
Cool, then test for dryness - leathery texture, easy to break apart.
Condition
Store in airtight containers in a cool, dark place for up to two years.
Rehydrating Dried Mushrooms
Mushrooms are best rehydrated in pot of simmering water for 30 minutes.
Then they need to be given plenty of time to cook in the meal you are using them in for best results.
Save the water to add to broth - it's incredible!
If you really love the mushroom flavor, but aren't a fan of the texture of rehydrated mushrooms - take it a step further with mushroom powder!
How to Make Mushroom Powder
Place mushrooms in the grinder of your choice (bullet blender, coffee grinder, or large blender).
Pulse until larger pieces break up, then grind until you have a fine powder
Remove and allow to cool
Place in an airtight container for up to a year
Use about 1 Tablespoon (or personal preference) for added 'umami' flavor to any savory dish.


Uses for Mushroom Powder
You can think of mushroom powder as being a shot of umami - that unknown quantity that just makes things have a deep flavor profile. Some compare it a little adding MSG, without the MSG. It's a meaty flavor that is hard to quantify.
Add 1 TB (or more or less to your liking) to mac n cheese sauce
Toss into spaghetti sauce for flavor without the texture
Create a Mushroom Seasoning Blend (recipe below)
Sprinkle on top of meat or add to a burger blend
Use as a seasoning base for roasting potatoes or green beans or other root vegetables.
Watch How I do it all in this video:
In the video, I used the Saraha Folding Dehydrator by Brod & Taylor. It folds up into ⅓ of the size of a standard dehydrator and can be tucked away in your closet, under your bed, or behind a couch. It's a great choice for those with limited storage space like small house dwellers and RV/Campers.
Dehydrating Mushroom FAQs
What kind of Dehydrator should I use?
Any dehydrator will work, though the Cosori Premium is a good middle of the road, stainless steel dehydrator that works very well.
Can I dehydrate canned mushrooms?
Yes, you can, but they are a poor substitute for fresh, dried mushrooms. They have a rubberized texture, are usually much saltier, but do translate to a seasoned powder well.
How long do dehydrated mushrooms last?
Properly stored, dried mushrooms last quite a few years, though the 'safe' answer is about a year. Mushroom powder also lasts much longer than typical powders, up to two years.
Thoughts or questions?
If you've had questions about dehydrating mushrooms or have some experience to share in how you use them, please leave a comment below!
Mushroom Seasoning Blend
This blend is something that I developed based on many renditions of the Trader Joe Umami blend but made it more my own. Our family LOVES this on popcorn. Even more than when we use pickle powder.
Mushroom Seasoning Blend
Create a mushroom seasoning blend, similar to the Trader Joe's Umami Powder. But this one is so easy to adapt to your own tastes!
Ingredients
3

TB

Mushroom powder

1

TB

Onion powder

2

teaspoon

Mustard powder

2

teaspoon

Thyme

1

TB

salt

1

TB

ground pepper
Instructions
Mix all ingedients together

Use 1 TB or as much as you prefer!
Notes
Alternatives:
Make it spicy by adding
1 teaspoon Jalapeno powder -or-
1 teaspoon crushed red pepper flakes -or-
1 teaspoon Cayenne pepper
Make it Cajun by adding
1 teaspoon oregano
1 TB dried green pepper bits
5 TB paprika
½ teaspoon Cayenne Pepper