Create a mushroom powder seasoning blend, similar to Trader Joe's Umami Powder. But this one is so easy to adapt to your own tastes made from your own dehydrated mushrooms!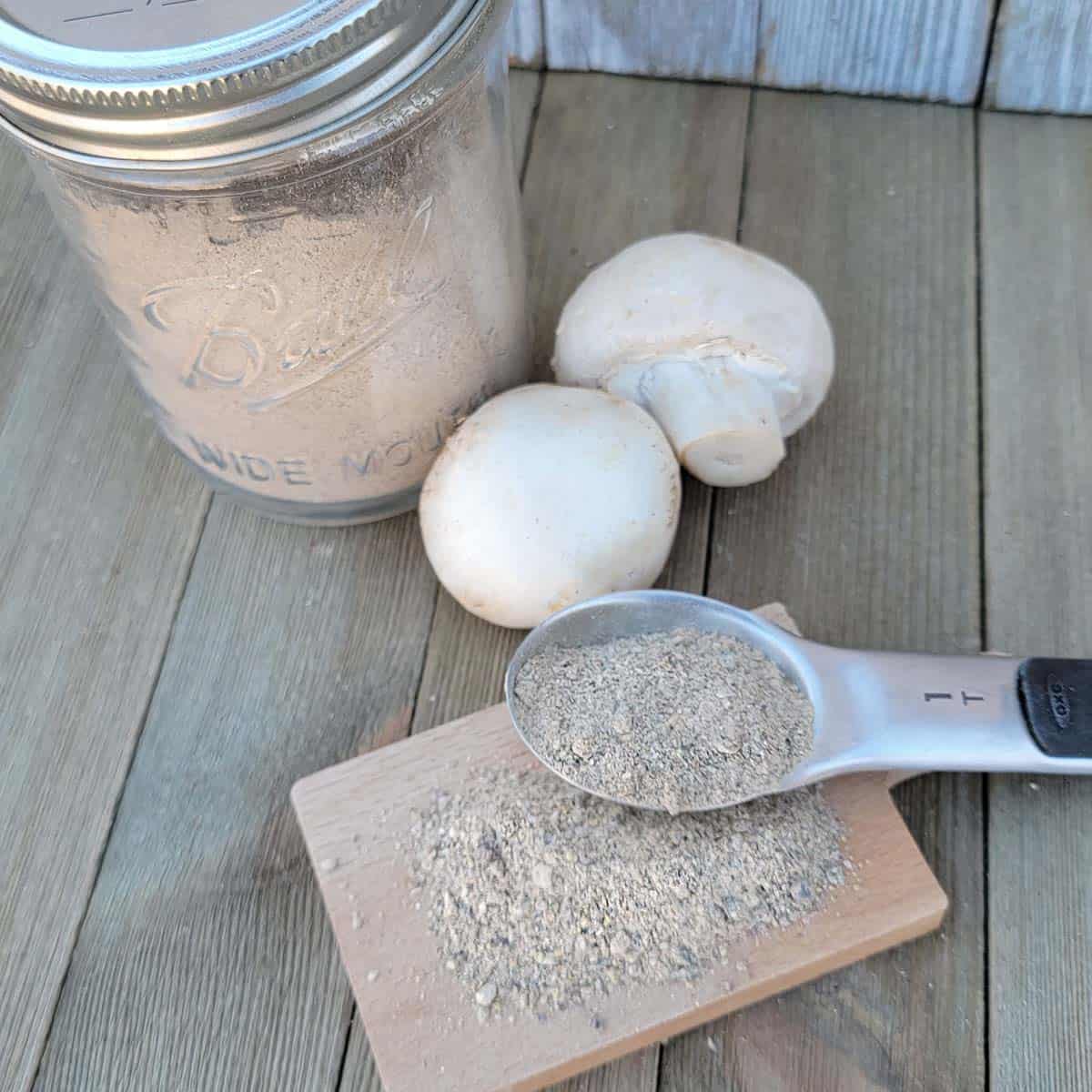 This blend is something that I developed based on many renditions of the Trader Joe Umami blend but made it my own. Our family LOVES this on popcorn. Even more than when we use pickle powder.
DIY Umami Mushroom Seasoning
This copycat Trader Joe's Umami Seasoning blend lends itself to a bigger flavor that can be adaptable in so many ways!
Ingredients
Instructions
Mix all ingedients together
Use 1 TB or as much as you prefer!
Store in an airtight container for a year
Alternative Herbs
If you don't have thyme, try one of these alternatives instead:
Oregano
Majoram
Generic Italian Blend
Herbs de Provence
Basil
Poultry Seasoning
Any other herb that's your favorite!
Alternative Mixes
Want to change up the flavor of the basic mushroom seasoning blend? Try one of these ideas:
Spicy Mushroom Blend
1 teaspoon Jalapeno powder -or-
1 teaspoon crushed red pepper flakes -or-
1 teaspoon Cayenne pepper
Cajun Mushroom Blend
1 teaspoon oregano
1 TB dried green pepper bits
5 TB paprika
½ teaspoon Cayenne Pepper

Suggested Uses
Use as a rub for most meaty proteins
Flavor popcorn - seriously - better than pickle powder, and we like that stuff, too!
Make a gravy
Make a seasoned aoli - blend with mayo and some garlic
Use to flavor bread or crackers
Use to replace mushrooms in soups, stews, casseroles, rice, etc.
Create a vegetable and chip dip with sour cream, garlic, and caramelized onions pieces
Use to elevate meals in a jar spice blends
Use in meatloaf or meatballs
Use in scrambled eggs or fritatta dishes
Add to vegetable dishes - our personal favorite is to roasted potatoes or green beans. But it's also fabulous on just about anything!
Use in anything savory - the umami quality of mushroom powder, especially the seasoning blend - gives a different level of flavor to just about everything!
Best Mushrooms for Mushroom Powder
My personal take is whatever safe mushrooms you can get your hands on, use them. However, price plays into this in that bulk creating mushroom powder from very expensive mushrooms can be cost-prohibitive.
The more flavor a mushroom has, the better suited for mushroom powder. But even with the simple Button Mushroom, the dehydrated mushroom powder is amazing. We actually prefer it over dehydrated mushrooms in our meals.
Button
Cremini
Shitaki
Portobello
Oyster
Porcini
Chicken of the Wood
Oyster
Any foraged mushroom that is safe to eat
There are so many varieties to choose from and not all are listed here. My criteria are usually how much powder will get (which is why I don't use Enoki or Beech - they are saved for drying and cooking).
I generally look for bulk alternatives since I make this once a year.
LEARN MORE: How to Dehydrate Mushrooms
Mushroom Powder Seasoning Blend
Learn how to create and elevate this copycat Trader Joe's Umami seasoning blend with your own dehydrated mushroom powder and home-dried herbs!
Ingredients
3

TB

Mushroom powder

1

TB

Onion powder

2

teaspoon

Mustard powder

2

teaspoon

Thyme - dried

1

TB

salt

1

TB

ground pepper
Instructions
Mix all ingedients together

Use 1 TB or as much as you prefer!

Store in an airtight container for a year
Notes
Alternatives:
Make it spicy by adding
1 teaspoon Jalapeno powder -or-
1 teaspoon crushed red pepper flakes -or-
1 teaspoon Cayenne pepper
Make it Cajun by adding
1 teaspoon oregano
1 TB dried green pepper bits
5 TB paprika
½ teaspoon Cayenne Pepper