Drying mint is so easy to do and a great way to have mint flavor all year long! Learn the secrets of drying and storing mint for optimum flavor!
Mint, of all types, is so easy to dehydrate. There are quite a few ways to accomplish it, even without a dehydrator.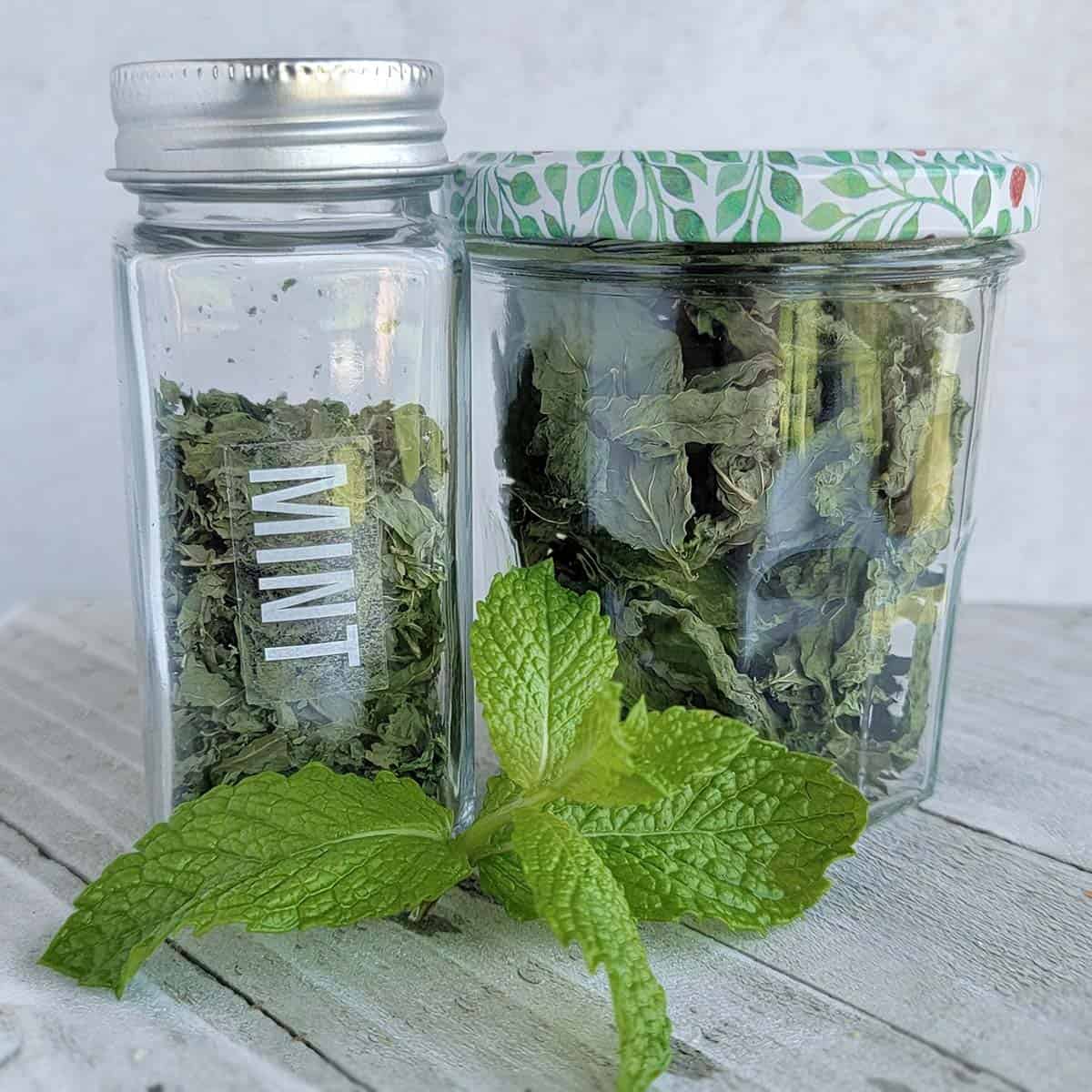 How to Dry Mint
For all processes below, first wash your mint - whether it's storebought or homegrown, it's best to wash off any impurities.
For large batches, you can use a salad spinner (I use the OXO salad spinner) to quickly spin away most moisture before drying. Or you can choose to put on tea towels and let air dry or gently pat dry.
Note: I'm using spearmint as an example in this post. But you can dry all mints the same way.
Dehydrator Instructions
Place on dehydrator trays (no need to remove stems)
Dehydrate at 95F/35C for 4-10 hours
Strip leaves from stems
Store in airtight containers
If you happen to use a Sahara Folding Dehydrator, it has an air-dry feature (no heat) that makes drying herbs even better!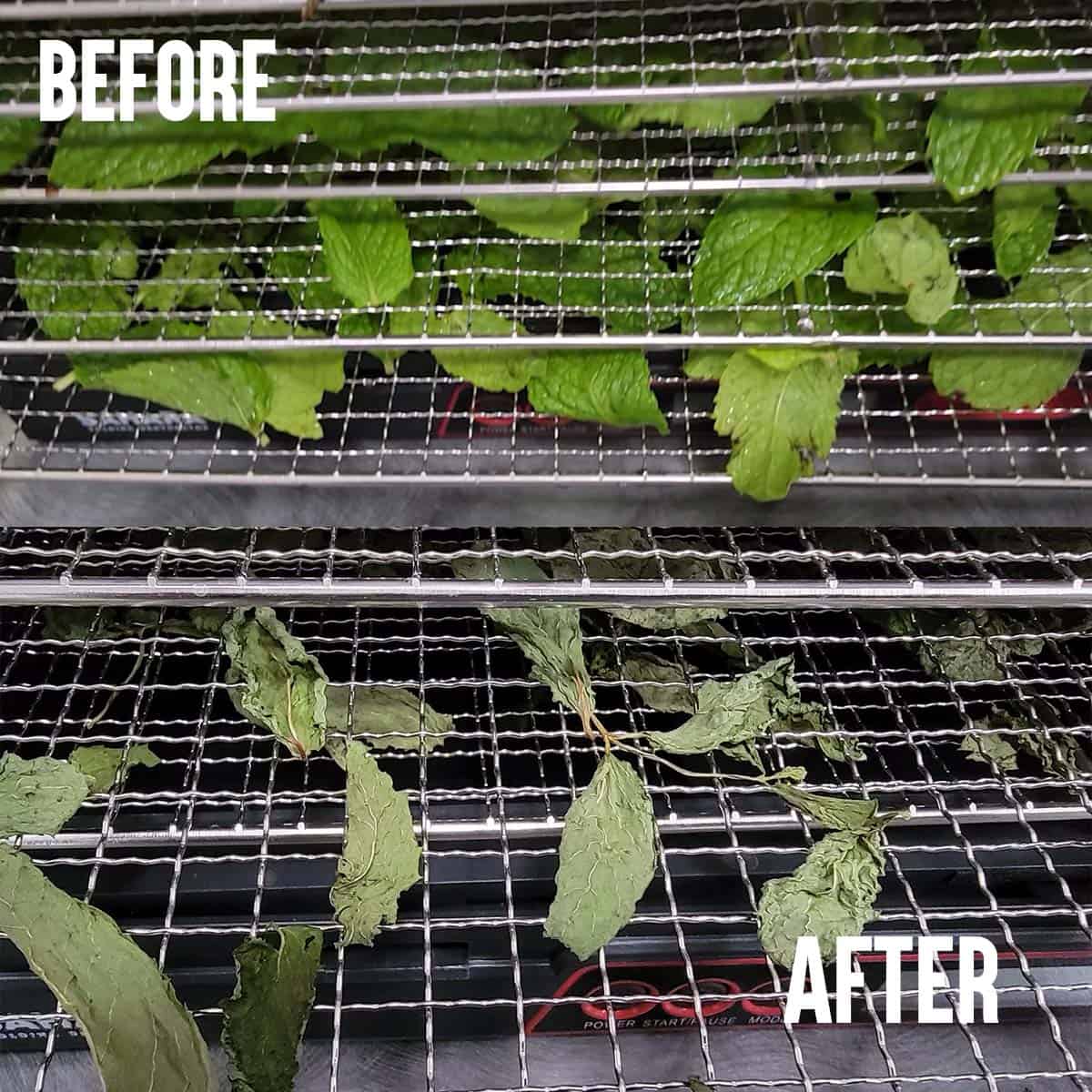 Air Dry Instructions
Bundle into small bundles and tie off with twine, string, rubber bands
Place into a paper bag (with a few holes), a milk bag, or other protective bag with airflow, and hang in a cool, dark, place with plenty of air flow.
Dry for up to two weeks
Strip leaves from stems
Store
Oven Drying Instructions
Place on cooling racks on a cookie sheet. Use parchment paper if desired.
Prop the door open to allow excess heat and moisture to escape (please be cautious if you have mobility-impaired individuals in your home).
Dry in the oven overnight with light on or pilot light going. This may take up to up to two hours.
Alternatively, set your oven temp to its lowest possible temperature, dry mint, turn off the oven after the first hour and let the residual heat finish. If you can't get below 200°F/93°C, I recommend air drying instead, so as not to burn the mint.
Strip leaves from stems
Store.
Microwave Instructions
Place leaves on a microwave-safe plate. You may use a paper towel if desired.
Run on high for thirty seconds.
Then run in five-second intervals until leaves are dried like paper. Remember, they will be hot, so it will affect the feel.
Cool
Store.
When is Mint fully dried?
When the leaves crumble easily in your hand.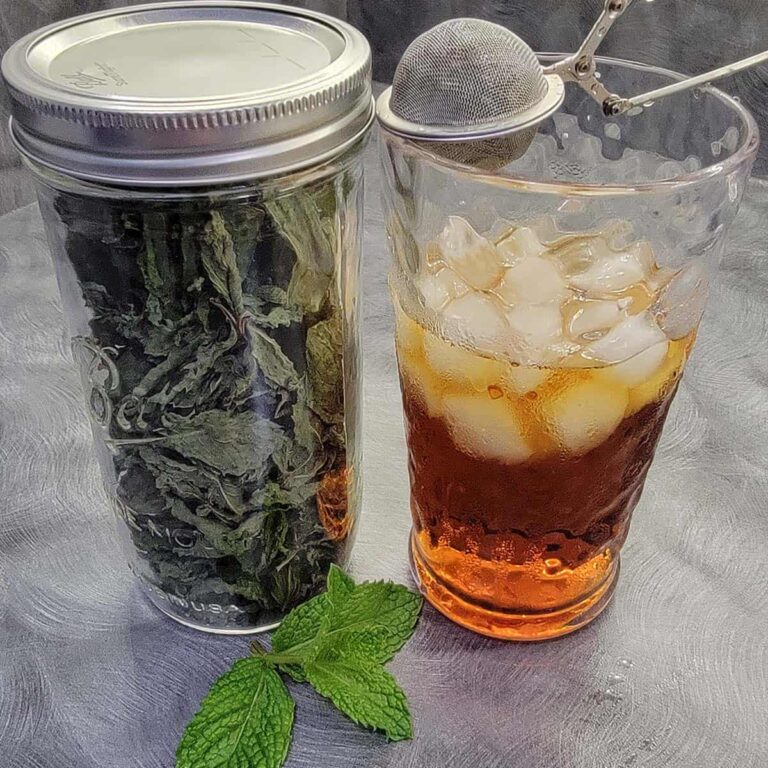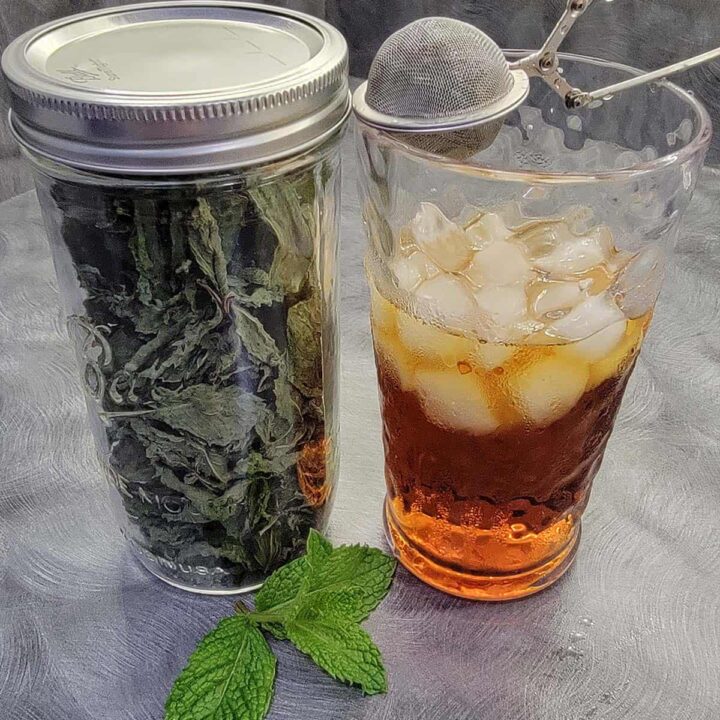 What is Conditioning?
Conditioning is the 'double-check' phase of drying. Put your final product into a jar with a little space, shaking the jar once a day for 5-7 days (more for fruits, less for herbs), to make sure you see no signs of moisture buildup.
No food sticking to the sides of jar or each other that don't easily shake off
No condensation
No signs of mold after a few days (in which case you should toss all of the contents of the jar).
If you find any of these issues (other than mold), put food back into your dehydrator to dry more.
You do not have to condition those things meant as snacks in the next few days.
Uses for Dried Mint
Add to tea blends
Use in recipes as you would other herbs
Use as an infused flavor in hot or cold tea. I happen to use this tea infuser, but you can use a tea ball as well.
Add to Asian dishes
Use in Pesto for a bright uplifting flavor
Use in capsules to help regulate digestion. Learn more about creating capsules at home with this handy tutorial.
Drying Mint FAQ's
How long to store dried mint?
Most dried mint lasts about a year. If you begin to notice that you can no longer identify the herb when you open a jar, crush it in your hand. If you still cannot identify it, it's done and you need to get more
What mint works best?
You can dry any mint variety! Some mints are strong like peppermint, others are less so. But all mint dries in this fashion - experiment with your favorite!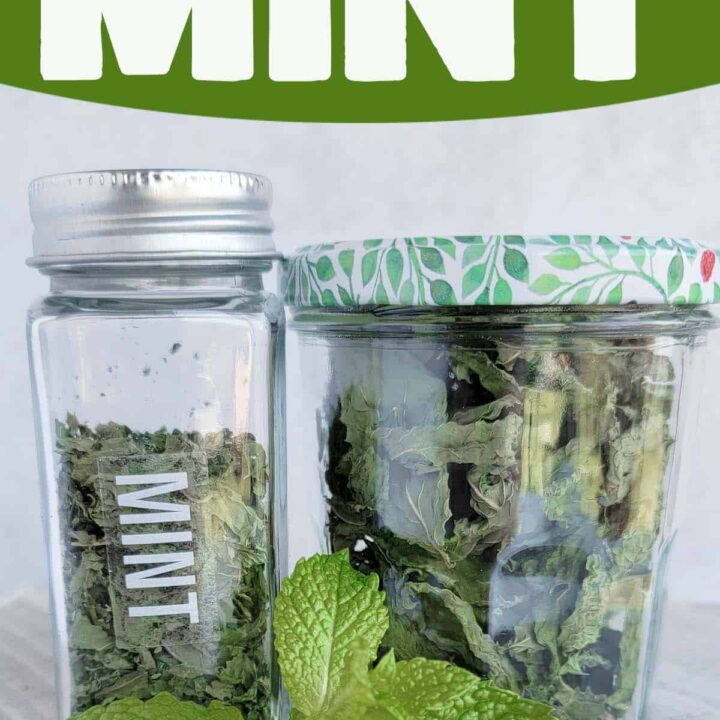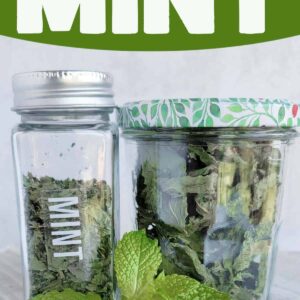 Drying Mint
Dehydrate or dry mint is so easy to do and a great way to have mint flavor all year long!
Print
PIN THIS!
Rate
Ingredients
Mint

Use any variety you have
Instructions
Wash mint well and remove excess moisture
Dehydrating Instructions
Dry at 95F/35C until mint crumbles
Air Drying Instructions
Tie into bundles and hang in a well ventilated, cool, dark space

Or place onto drying racks

Dry for up to a week until leaves crumble
Microwaving Instrucitons
Place leaves in single layer on microwave-safe dish

Run on high for 30 seconds

Run in increments of five seconds until fully dry
Further instructions
Once dry, destem if needed
Nutritional information is an estimation only.