Learn to dehydrate zucchini in eight ways - chips, cubes, and shreds. Makes your abundance of zucchini harvest useful in so many ways - including zucchini flour! And you can stop begging neighbors to take it your zucchini!!!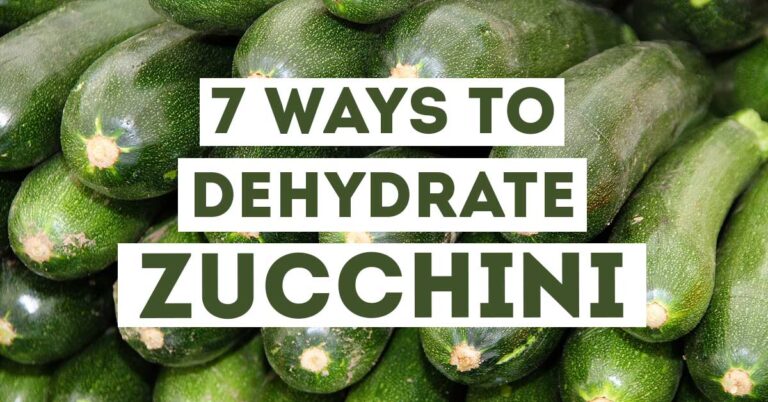 Have you seen the memes of yard flamingos being made from end of the season zucchini harvests? Or have you thought about zucchini bombs of bags of zucchini just dropped onto neighbor's doorsteps and running away?
Or are you wanting to find ways of using zucchini to help add vegetables to your family's daily intake?
I've put together a collection of ways to dry zucchini for ways to eat other than simply tossed into a salad or soup.
Many of these can be used seasonings to help create some tasty snacks that your kids will love! And they can be low-carb and keto-friendly snacks for you, too!
Dried Zucchini Chips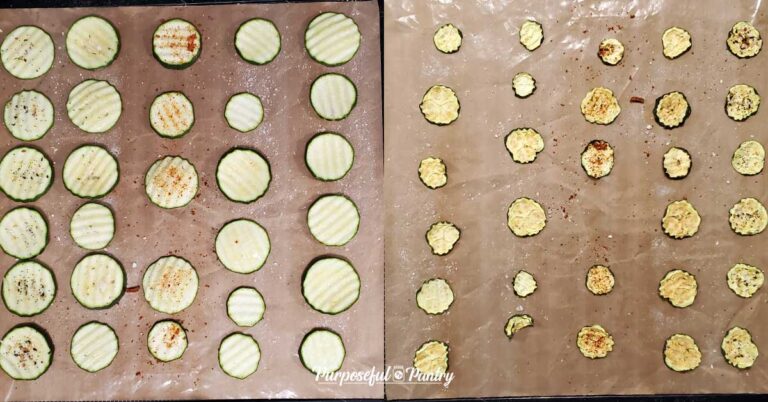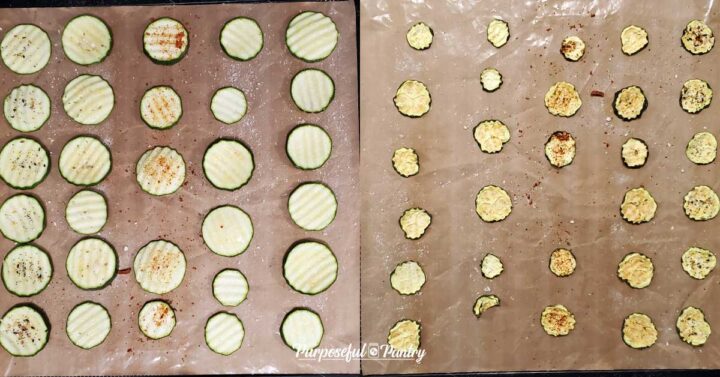 Wash zucchini
Using a knife, a mandoline or other slicer of your choice, cut your zucchini into slices. I recommend ¼" or so.
Sprinkle on your favorite seasoning
Dry at 125°F/52°C for 6-8 hours. Remember..drying times are relative and your home's humidity, the moisture content of your produce, and your machine's strength make a difference.
Eat!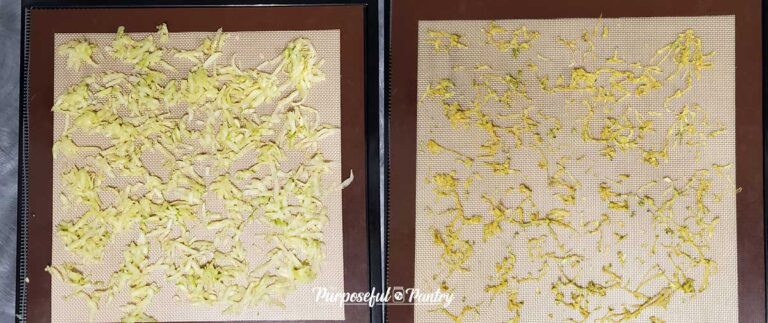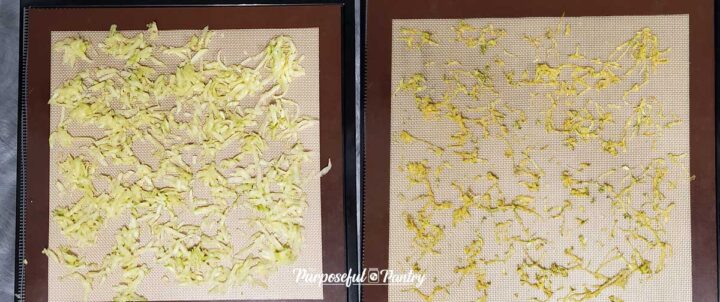 Zucchini Shreds
Dried zucchini shreds are perfect for putting up for winter baking and adding to make zucchini breads and muffins, for sneaking into casseroles and soups, for making zucchini hashbrowns, etc. They dry quickly, and are perfect for storage.
Wash zucchini
Peel (optional)
Shred with a box grater or a food processor or even a fun cheese grater that is risk-free of scraping your fingers!
Spread on dehydrator trays lined with parchment/baking paper or fruit leather sheets.
Dry at 125°F/52°C for3-6 hours - making sure to stir a few times during the process to help separate shreds.
Yield: 1 7" zucchini is approximately 1 C shredded zucchini and 4 TB dehydrated zucchini shreds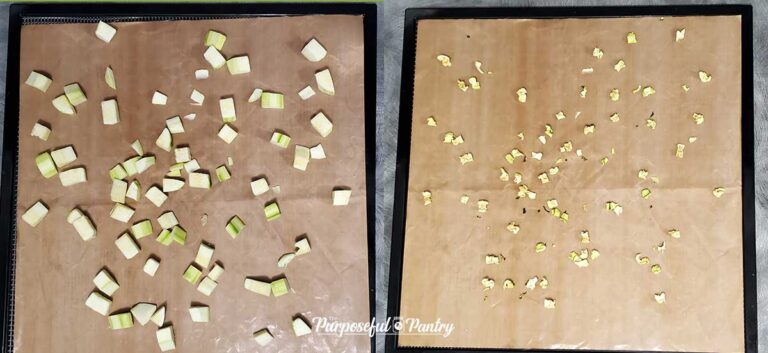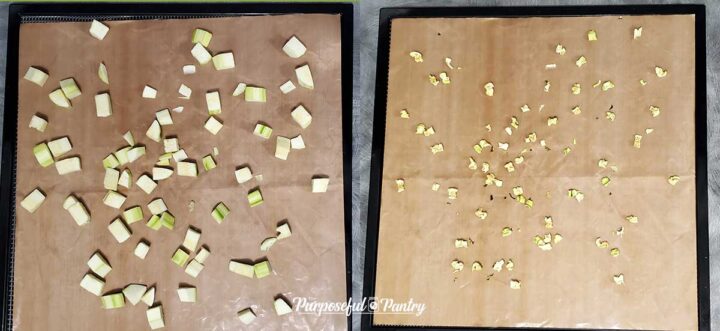 Zucchini Cubes
I love having dried zucchini cubes for a couple of reasons.
To have ready to throw into soup, stews or casserole dishes
To powder for zucchini powder (aka zucchini flour that can substitute for other flours in baking).
Wash zucchini
Peel if desired
Cut into cubes (I use this vegetable chopper to make the job go faster)
Spread on trays and dry at 125°F/52°C until hard, dry cubes - usually 4-8 hrs.
Yield: 1 7" zucchini is approximately 1 C of fresh zucchini cubes and ¼ C of dehydrated zucchini cubes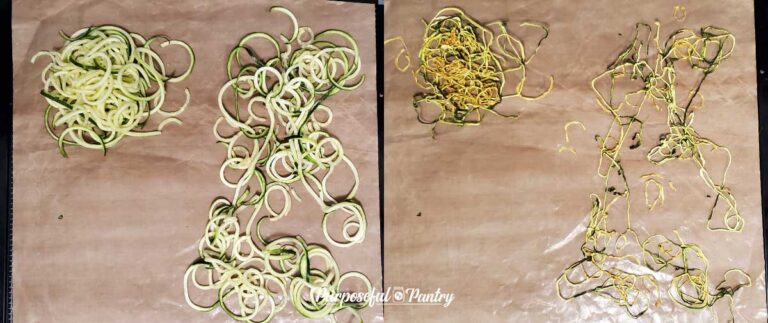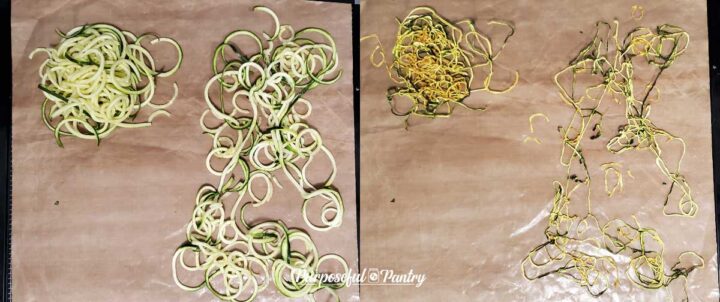 Dehydrate Zoodles
Zoodles can be used in place of pasta for a low-carb or Keto-friendly diet, as a crunchy layer in a sandwich, or as a side dish on its own with a little butter and seasoning.
Wash zucchini
Peel zucchini (optional)
Run through a spiralizer or use a peeler to peel small strips
Place 'nests' of spiralized zoodles on your dehydrator
Dry at 125F°F/52° for approximately 4-8 hours.
Yield: 1 7" zucchini is approximately 2 C of zucchini noodles and ½ C zucchini noodle nests.
Tip: The photo above shows the difference in drying and ease of storing between doing zoodle nests and laying them out. Nests can just sit on top of each other easily in an airtight container without completely breaking.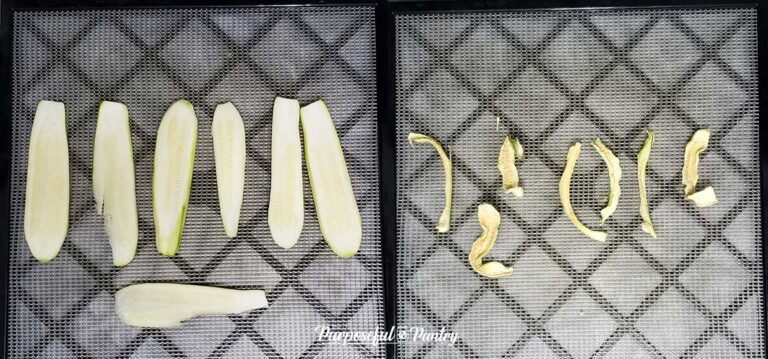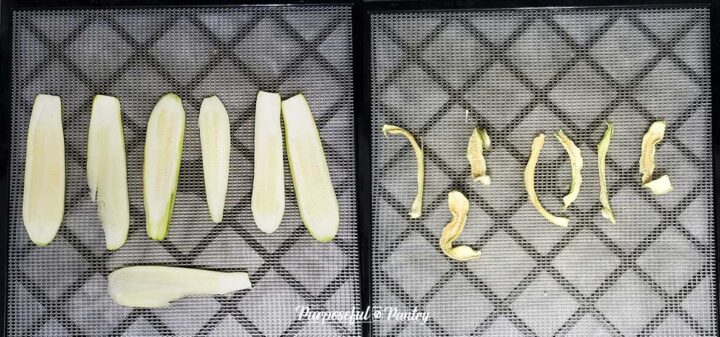 Dehydrate Zucchini Slices
These can be used to make a Keto or carb-friendly replacement for lasagna noodles.
Wash zucchini
Peel zucchini (optional)
Use a knife or a mandoline to cut slabs of zucchini to about ¼-1/2" thickness per your preference of bite. They will take longer to dry the thicker they are
Dry at 125°F/52°C for 6-8 hours
Tip - larger zucchini at a ½" slap is a great noodle replacement. Smaller zucchini tend to shink up a lot and need more layering to replace the concept of a lasagna noodle. As you can see in the photo above, because I did not have large noodles, and I peeled these, they are quite small and shriveled. They will still work, especially for doing lasagna cups in a muffin tin or small loaf pan.
Zucchini Jerky
For vegans, vegetable jerkies like eggplant and zucchini can give a sense of having 'jerky'. Play with your favorite marinades on your zucchini slabs to find one you love.
This recipe is for 2-3 7" zucchini
½ cup teriyaki sauce
2 tablespoons water
Optionally, add some red pepper flakes or jalapeno powder or mock paprika for spiciness.
Wash zucchini
Slice in ½"-¼" slices. Remember, the thicker slabs take longer to dry, but thinner ones might shrivel more.
Marinade for 2-3 hours
Place on dehydrator trays lined with parchment if you are worried about staining or sticking.
Dry at 125°F/52°C until crisp - usually 5-10 hrs depending on the moisture and thickness.
Zucchini Powder
Wash zucchini
Peel (optional)
Shred with your grater or a food processor
Dry in your dehydrator at 125°F/52°C for 3-6 hours in most cases
Powder with a coffee grinder or blender of your choice. I prefer a bullet blender, but offer other recommendations here.
Store in an airtight container. A desiccant pack can be helpful. Learn more about storing powders here.
Zucchini powder is great to add to your generic vegetable powder and boost the nutrition in everything that you eat.
Using Zucchini powder as a flour replacement
However, if you are interested in learning to use zucchini flour to replace regular flour to work towards a low-carb or keto-friendly lifestyle, check out my friend Victoria's post on using Squash Flour (her main example is with yellow squash, but she makes a note using zucchini towards the bottom).
Basically ½ Cup zucchini flour replacing ½ cup of regular flour in your recipes. And her cake recipe....to die for.
Zucchini Gummies
My friend, Laure, at Commonsense Home has a great recipe for zucchini gummies that you're going to love!
How to Store Dehydrated Zucchini
In almost all of these projects, for long-term storage, conditioning is key.
Dry food
Cool sample to test for dryness
Store in airtight containment that is about the same volume as your product (no large jars for a tiny bit of dried food). Learn more about properly storing dehydrated foods here.
Desiccant packs are helpful in high humidity if you are in and out of your jars a lot.
Yields of Dehydrated Zucchini


Dehydrating Zucchini FAQ
Can I dehydrate in the oven?
Yes, you can, but keep a close eye on your produce because most ovens only go down to between 170-210°. Find more tips on dehydrating in an oven here.
What Kind of Dehydrator Should I Use?
I happen to use an Excalibur Dehydrator, but it's not always the best choice for everyone because of budget, space, needs, etc. I wrote a great resource to help you decide which dehydrator is best for you.
What if my dried zucchini snacks get soft?
If you are creating these to snack on in the next week, and you find that they are getting a little chewy, just throw them back onto your dehydrator for an hour.
FREE PRINTABLE WORKSHEET:
[mailerlite_form form_id=1]
If you are already a member of The Purposeful Pantry Library, grab your worksheet here.