Dehydrated Tzatziki Seasoning Mix
Make thick and creamy tzatziki with this shelf-stable mix made from dehydrated cucumbers! Add to a bowl of yogurt, and enjoy!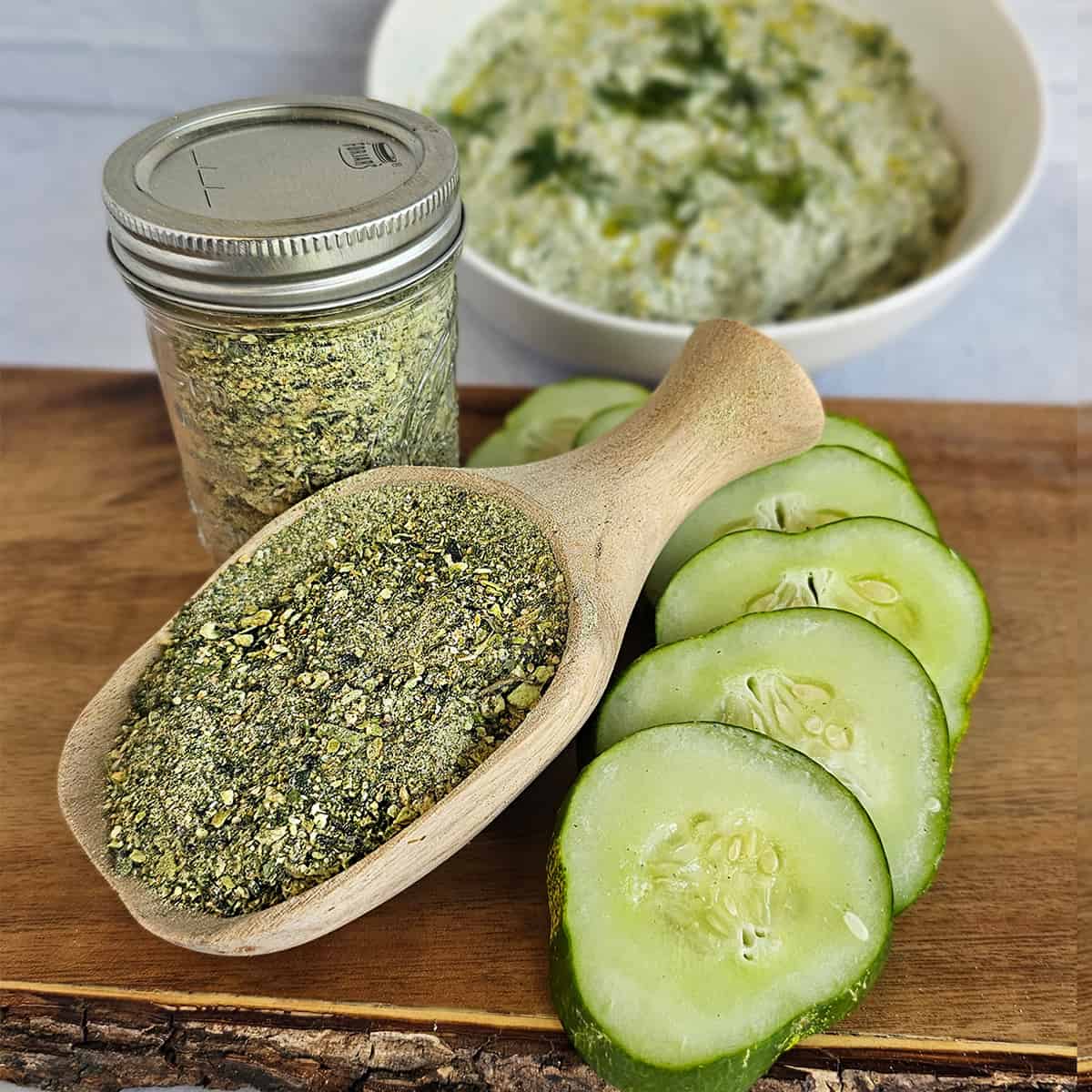 This post may contain affiliate links. As an Amazon Associate, I earn from qualifying purchases. Please read our disclosure policy.
Why make a dry seasoning mix when tzatziki is so easy to make fresh?
Simply because of this: You have to do something with the gazillion cucumbers popping up in your garden, don't you!?
Seriously – the dry mix is a completely different flavor profile and gives these benefits:
Preserving all the cucumber for shelf stability;
A quick and easy way to create tzatziki in the deep dark winter when no good fresh cucumber can be found lurking in the back of your fridge;
Impress friends and neighbors;
It's just really good;
There's no ranch dressing in site!
And because I can (my favorite).
Will it taste like fresh tzatziki?
No. But it's still darned good on its own.
I think of this as having any other spice mixes I create in my pantry on hand to make whenever I want. At 2:00 AM, when I'm craving, the only cucumber in sight is the one nibbled by the neighborhood squirrel still hanging on the vine in the dark backyard I'm unwilling to fight the possum for.
DIY Dehydrated Tzatziki Seasoning Mix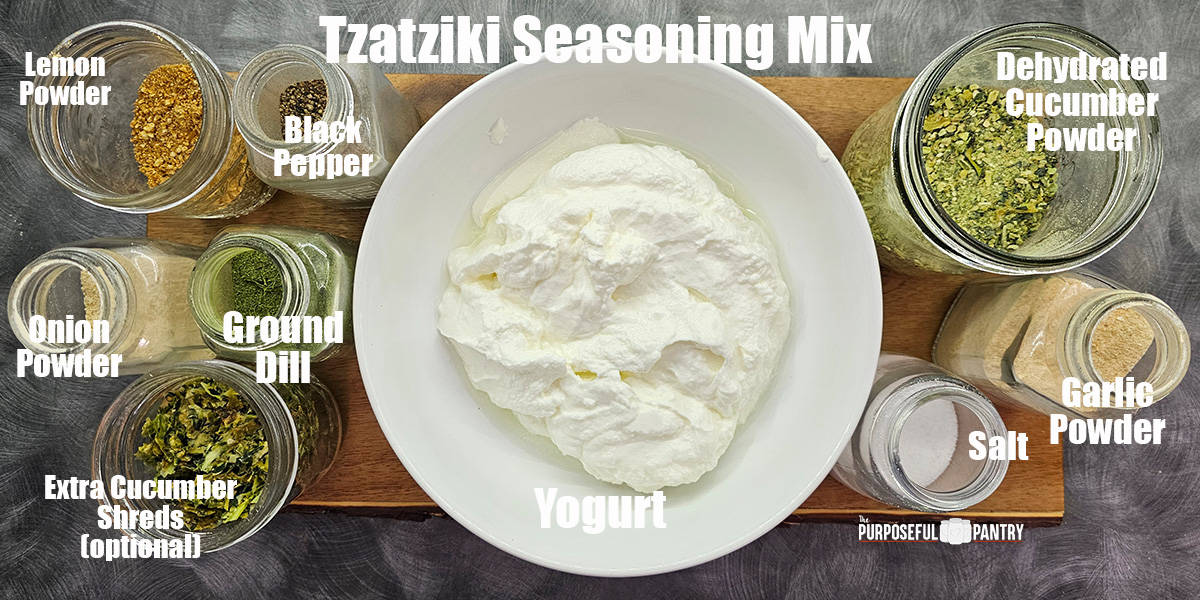 Ingredients
Yogurt: You can use any non-flavored, full-fat yogurt. If you want a smooth and creamy tzatziki, use regular yogurt. This is perfect as a drizzle. But if you want it thick and creamy that you can eat with a spoon, use a thick Greek yogurt.
Cucumbers: use any variety of cucumbers you have. You can even use those that get away from you in the garden. Open, remove seeds with a spoon, and cut if you wish, then dehydrate the cucumbers to store in your pantry. You can also make your powdered cucumbers as smooth or chunky as you like.
Sour Cream: While yogurt is traditional, you can use sour cream in any ratio that you'd like to the yogurt or replace it completely.
Lemon powder: If you don't have lemon powder, add a teaspoon of vinegar or lemon juice to mix the fresh as the final product. You can also use something like Tru Lemon if you don't have dehydrated lemons on hand to powder.
Fresh ingredients: You can add any fresh ingredients you wish. If we have it, I garnish it with a bit of fresh dill from the garden and might use some fresh lemon juice to brighten the flavor.
Mint: Though it's not a traditional ingredient, I love adding it for a different flavor.
Garlic: This recipe is garlic-forward, so you might want to decrease the garlic if needed.
Directions:
Mix the dry ingredients in an airtight container. Shake well to mix them up.
Store in an airtight container for a year or more.
When ready to make, mix with 2.5 cups of yogurt. Adjust as you need.
Allow to sit in the fridge for a few hours for the flavors to meld.
Store in an airtight container in the refrigerator for up to a week.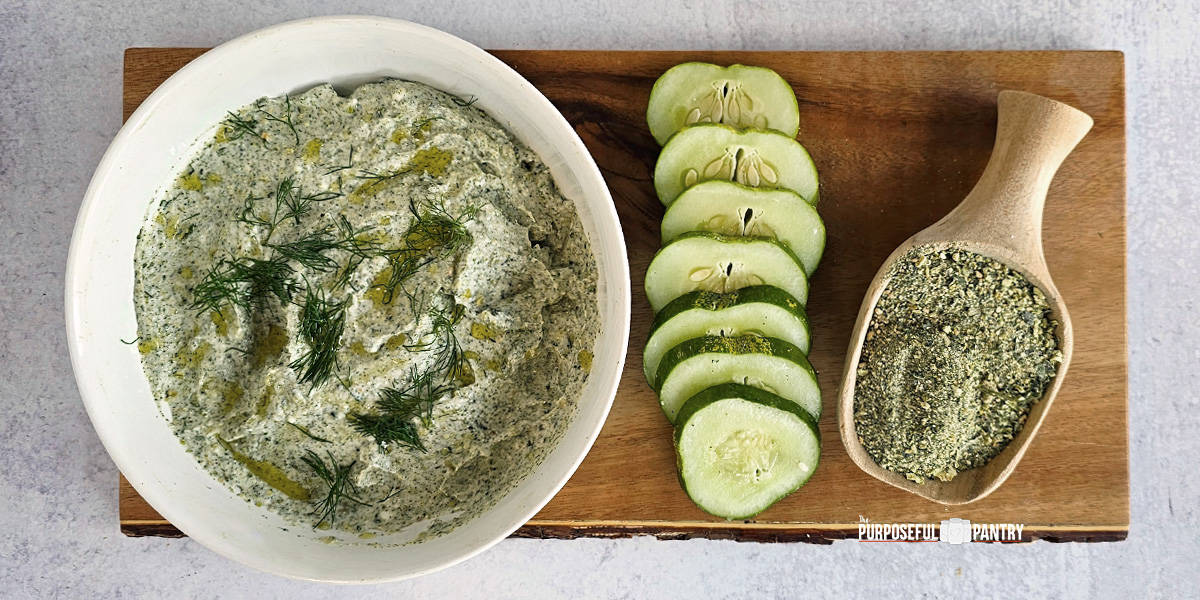 How to Serve:
Top with fresh dill, a drizzle of olive oil, or shredded cucumber.
Serve with vegetables, pita chips, crackers, or extra spoons to just scoop it up!
Use as a drizzle (or dollop, depending on how thick you like it) on gyros, burgers, and sandwiches, instead of ranch dressing (but I have to say, my ranch dressing mix IS pretty good.
Darcy's Tips:
I do love a thick and hearty tzatziki, but if you prefer a smooth and drizzly option, go with regular yogurt.
Use full-fat yogurt whenever possible. This is not something to skimp on calories for. Use sliced vegetables instead of those pita chips instead!
Make this ahead by 24 hours if possible, but at least a few hours ahead. It really tastes better with a little time (or, I wonder if a little thyme?).
I've never been able to make this with yogurt powder successfully, but if you have, I'd love to hear your results and tips!
More DIY Pantry Staple Ideas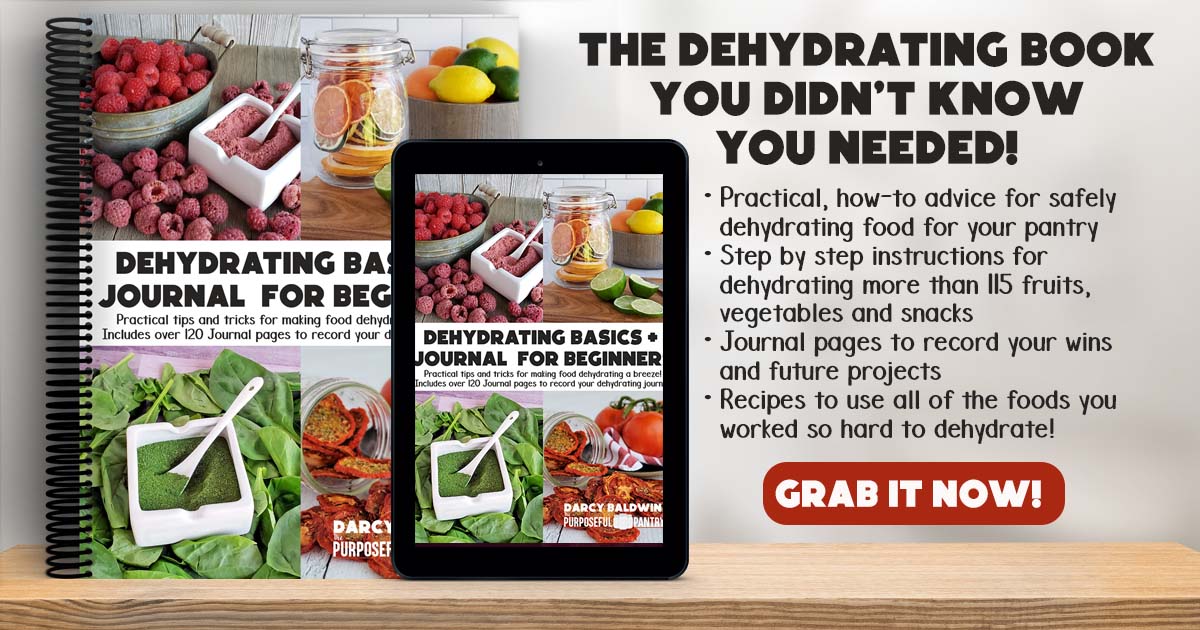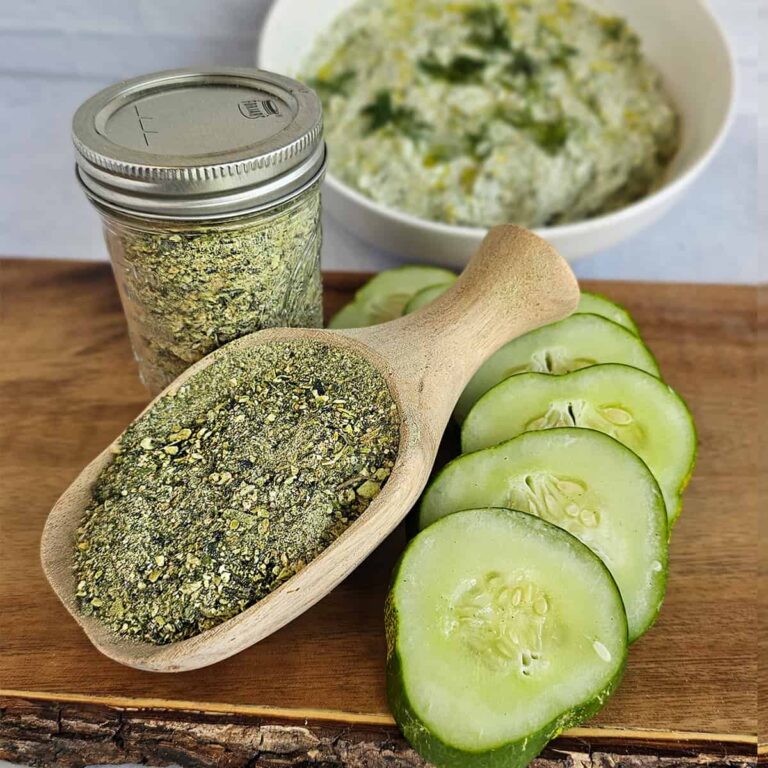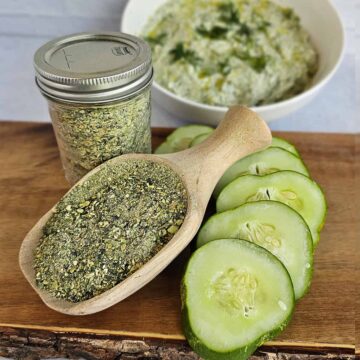 Dehydrated Tzatziki Seasoning Mix
Create wonderful creamy tzatziki with this DIY tzatziki mix and add to fresh yogurt any day of the week, even when cucumbers aren't in season!
Print
PIN THIS!
Rate
Instructions
For Storage
Combine all ingredients into an airtight container, shaking to mix well.

YIELD: approximately 1/2 cup.
To Create Tzatziki
Combine 1/2 cup of dried tzatziki seasoning mix to 2.5 cups of yogurt and mix thoroughly.

Store in refrigerator for at least two hours to allow the flavors to meld.
Darcy's Tips
If you've never dried cucumbers, follow these simple steps to dehydrate cucumbers.
This recipe is easy to create in bulk and will easily store for a year. Use 1/2 cup of mix for this recipe.
Cucumber powder can be finely ground or a little chunky for your preference.
Use regular yogurt for a thinner outcome, greek yogurt for a thicker outcome.
Remember that recipes can be adjusted for your taste.
Nutrition
Serving:
0.25
cups
|
Calories:
35
kcal
|
Carbohydrates:
3
g
|
Protein:
5
g
|
Fat:
0.2
g
|
Saturated Fat:
0.1
g
|
Polyunsaturated Fat:
0.01
g
|
Monounsaturated Fat:
0.03
g
|
Trans Fat:
0.003
g
|
Cholesterol:
3
mg
|
Sodium:
252
mg
|
Potassium:
99
mg
|
Fiber:
0.2
g
|
Sugar:
2
g
|
Vitamin A:
32
IU
|
Vitamin C:
0.4
mg
|
Calcium:
65
mg
|
Iron:
0.3
mg
Nutritional information is an estimation only. Nutrient information for dehydrated foods is based on fresh. Use 1/4 of the servicing size for the same nutrient information. Thus 1 Cup of fresh fruit has the same sugars as 1/4 dried.
©ThePurposefulPantry. Photographs and content are copyright protected. Sharing of this recipe's link is both encouraged and appreciated. Copying and/or pasting full recipes to any social media is strictly prohibited.