Dehydrate spinach and make spinach powder to extend the life of your garden-grown spinach or the great grocery deals you can get! It is one of the easiest dehydrating projects you can do and is so versatile!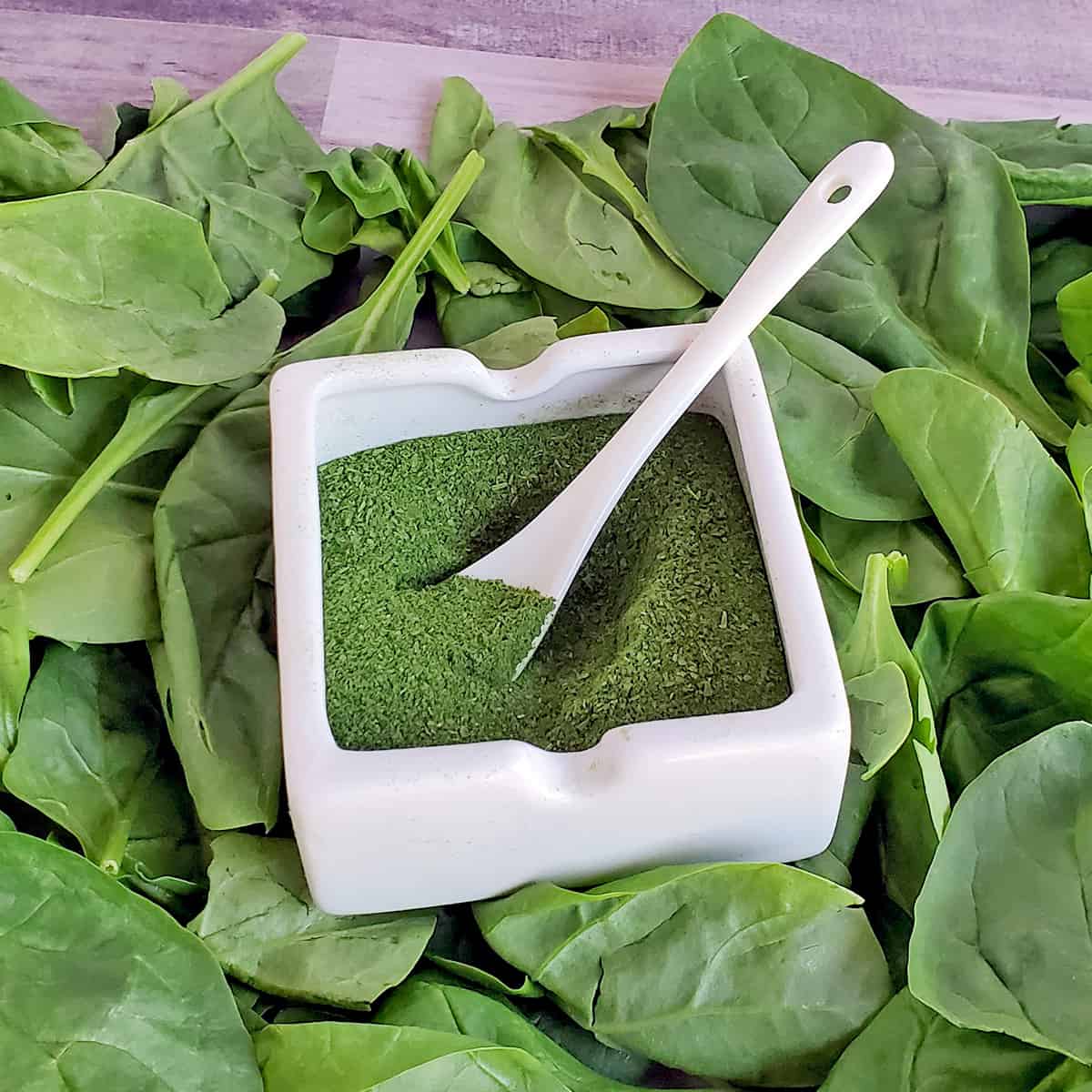 Do I Need to Blanch Spinach?
Spinach, like all greens, contains oxalic acid which can work against your body absorbing the vital nutrients from spinach. We often eat spinach raw in salads, etc., and that's fine.
But because, in most cases, you'll be using dehydrated spinach in foods that you cook, you don't need to blanch as the cooking takes care of it.
Blanching can help reduce the size of large spinach to make loading onto trays easier, but you'll need to separate them more so that leaves don't stick and not dry properly.
When Is Dehydrated Spinach Done?
When your spinach shatters in your fingers it is done. But be sure to check those stems, too. If they are not dry, keep drying!
Equpiment needed:
Dehydrator
Mason Jars
Salad Spinner (this is optional, but I find it helpful.
How to Dehydrate Spinach
Wash leaves.
Dry off leaves (I find a salad spinner works great to remove excess surface moisture).
Place on trays.
Dry at 125F / 52 C for 4-8 hours.
Oven Directions:
Follow the instructions above for prep
Place on cooling racks on cookie sheets.
Dry in an oven at the very lowest setting it has with the door cracked open to allow airflow and moisture to escape.
Keep an eye on leave so that they don't burn.
Get more ideas on dehydrating in the oven here.
Dehydrating Frozen Spinach
Frozen spinach can be dried, as well.
Directions:
Thaw
Spread onto trays the best you can
Dry at 95F/35C (recommended is 125F/52C, but the lower the more of the vitamins and minerals you keep)
Test - should crumble
Condition
Store
How to Store
After conditioning, dehydrated spinach can be stored in an airtight container for six months to a year.
How to use Dehydrated Spinach
Dehydrated flakes, as we like to call them, make a perfect addition to just about any meal you are going to cook.
We crush them just enough to not be large leaves, but not so much that they are like crushed herbs. It gives spinach bulk to a meal, without being overwhelming.
Use to color fresh pasta or bread dough
Sprinkle in scrambled eggs
Use to make green powder supplement capsules
They will rehydrate naturally in whatever you are making.
Quiche
Fritattas
Casseroles
Soups
Meatloaf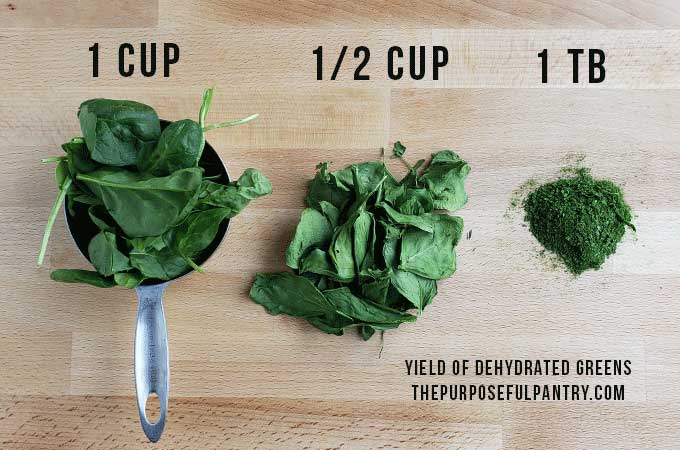 10 oz package of bulk spinach=
9.5 C of fresh bulk spinach=
8 C of dehydrated spinach=
¼ C of spinach powder
How to Make Spinach Powder
Powdering spinach is easy, and you don't need any special equipment. Simply placing your spinach in a zip-top bag and crushing it with your hands can be enough for a rough powder that looks like the typical dried herbs you get at the store.
I use a large blender because of the bulk, but you can use a coffee grinder or bullet blender, too.
It's a good idea to place your powder back onto trays in order to dry it as heat from grinding can create moisture. Here's how I do it with trays I made from fruit leather sheets.
You can also mix your spinach powder with greens of every sort to create a master mix of Green Powder.


Uses for Spinach Powder or any Green Powder
Want to try More Powders?
📖 Recipe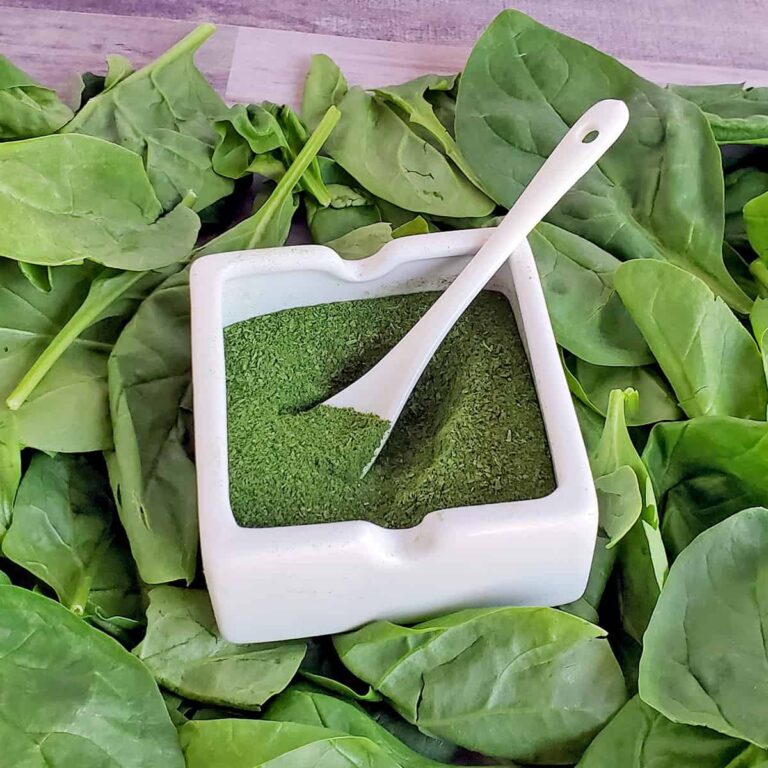 How to Dehydrate Spinach and Make Spinach Powder
Preserve spinach for any meal with spinach flakes or spinach powder and create shelf-stable spinach storage in your pantry.
Print
PIN THIS!
Rate
Instructions
Separate spinach leaf from any large woody stems if desired

Place on deydrator trays.

Dry at 95F / 35C for 4-10 hours until cripsy when cool

Store leaves in an airtight container -or-

Place dried spinach leaves in a coffee grinder or bullet blender and powder.
Darcy's Tips
How to Use Dehydrated Spinach:
1 C fresh = ¼ dried = 1 TB powdered
Flake spinach leaves into meals and cook - no prep work needed. They will stay as large as you make them and rehydrate within the dish.
Sprinkle spinach powder into any savory dish to boost the nutrition - works especially great in eggs or smoothies!
Store in an airtight container for up to a year.
Nutrition
Serving:
0.25
Cup
|
Calories:
7
kcal
|
Carbohydrates:
1
g
|
Protein:
1
g
|
Fat:
0.1
g
|
Saturated Fat:
0.02
g
|
Polyunsaturated Fat:
0.1
g
|
Sodium:
24
mg
|
Potassium:
167
mg
|
Fiber:
1
g
|
Sugar:
0.1
g
|
Vitamin A:
2813
IU
|
Vitamin C:
8
mg
|
Calcium:
30
mg
|
Iron:
1
mg
Nutritional information is an estimation only. Nutrient information for dehydrated foods is based on fresh. Use ¼ of the servicing size for the same nutrient information. Thus 1 Cup of fresh fruit has the same sugars as ¼ dried.
©ThePurposefulPantry. Photographs and content are copyright protected. Sharing of this recipe's link is both encouraged and appreciated. Copying and/or pasting full recipes to any social media is strictly prohibited.