Dehydrating basil is a wonderful way to preserve your harvest for your pantry and use it in your cooking all year long! And trust me – what you dry at home will be so much better than what you can purchase in the store!
There are so many varieties of basil that you can grow or purchase. All can be dried for your pantry seasoning and spice blend storage year round!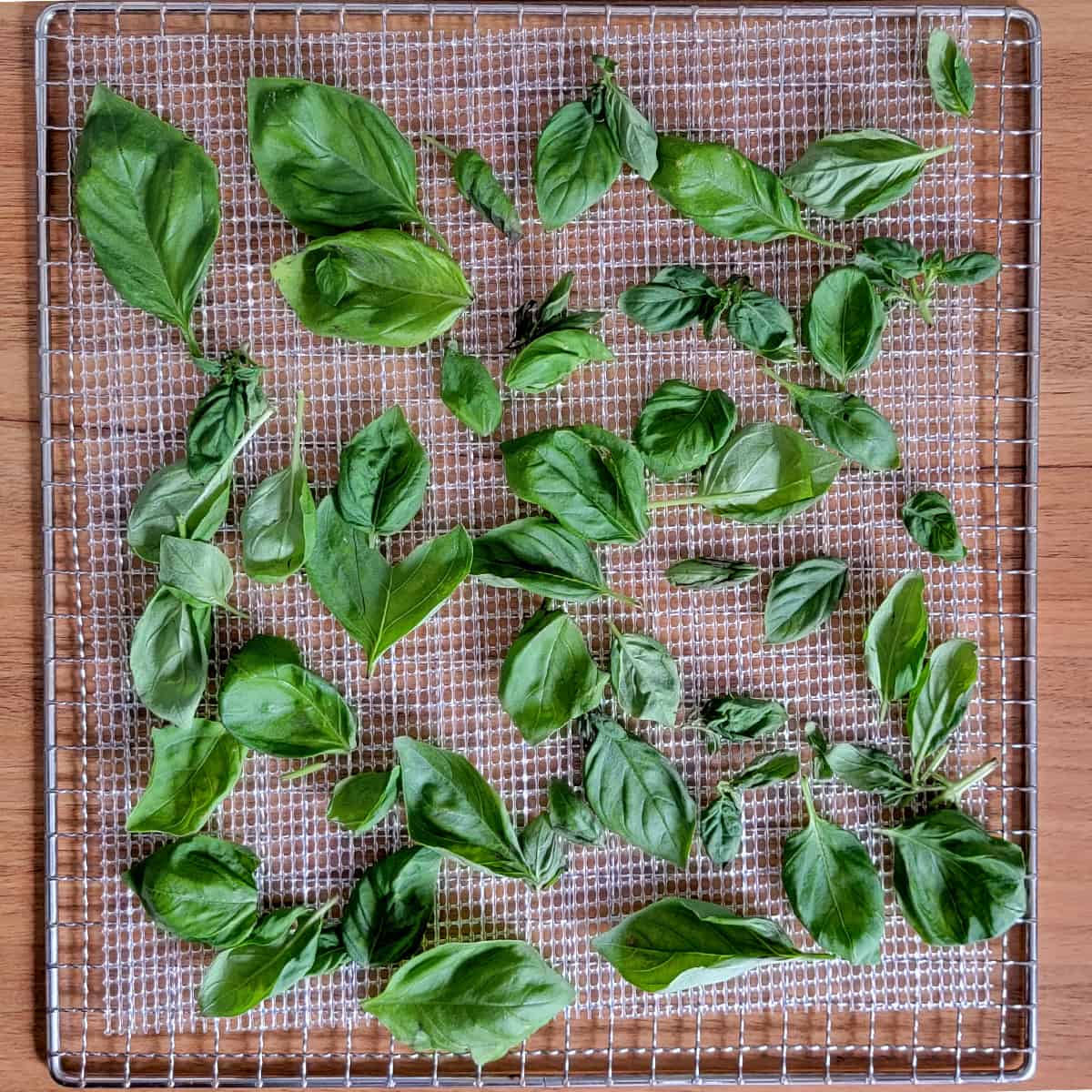 Most Common Varieties of Basil
Sweet Basil- is probably the most well-known variety in the US (and my favorite). Perfect for pesto (also my favorite!)
Thai Sweet Basil – these leaves look a lot different than the Sweet Basil variety and put up purple flowers. It is perfect for higher temperatures
Genovese Basil – much like the Sweet variety – but broader, pointier leaves, and some think even more aromatic
Purple Basil
Holy Basil (aka Tulsi) — is great for Indian dishes
There are other varieties such as lemon, lime, cinnamon, summerlong, Greek, etc.
Tips for Drying Basil
Air drying works best for herbs, but a dehydrator can help you move through a mass amount more quickly
Basil can take longer than books and websites suggest, so be patient. It can easily take 24-48 hours to dehydrate some varieties of basil
Chop basil ahead of time to make smaller pieces that will dry faster.
If air drying, you can wrap your basil bundles in paper bags to hang to keep dust and insects off
It's best to harvest basil before in the mornings, and before it goes to seed, for best results.
How to Dehydrate Basil
For the purposes of this post, we're going to be using a dehydrator to dry basil.
Equipment
Dehydrator
Instructions
Wash basil. It does help to allow to air dry a bit.
Place on dehydrator trays. While it does shrink, I prefer to leave the leaves separated instead of mounding as they take so much longer to dry than greens.
Dry at 95F/35C for up to 48 hours. Yours may dry faster, but be prepared for them to take longer because of the broad leaves and naturally occurring oils that make it so fragrant!
Allow samples to cool before testing – basil is done when it is easily breakable in your hand
Store in an airtight container for about a year.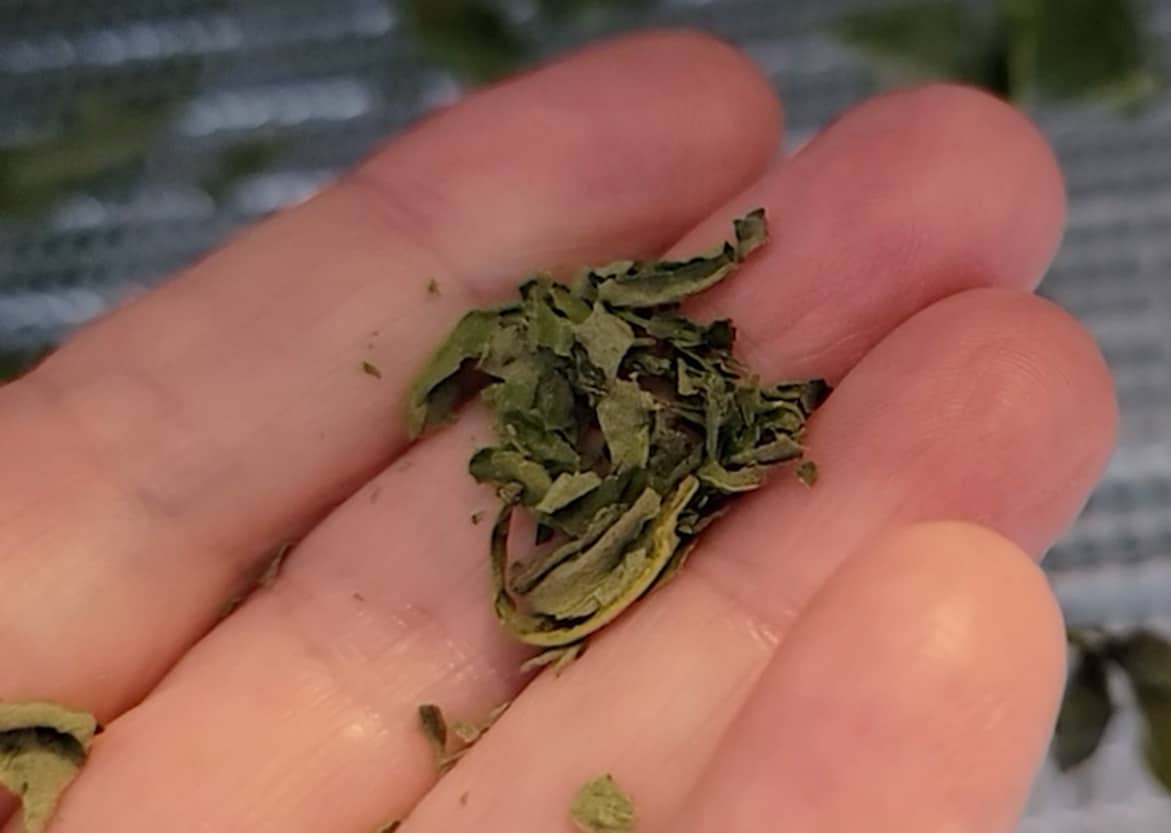 Other Ways to Dry Basil
Get more info on how to dry herbs without a dehydrator.
How to Store Dried Basil
Any airtight container will work – glass jar, spice jar, mylar bag, vacuum seal bag, etc.
You can leave it whole, crumble it, or powder it
Dried Basil will last approximately a year.
If you open your container and can't immediately identify the herb, try crushing it in your hand. If the smell is still not obvious, it's time to toss it into your compost pile.
Tips to know if your dried basil is good
Like other herbs, they begin to degrade over time, no matter how you store them.
When crushed, you can easily identify the smell as basil
Keeps its color – over time, dried basil begins to lose its color and will burn brown
Learn more: 5 Best Tips for Storing Herbs
Why did my basil turn brown?
This happens with dehydrating at times, even at a low temperature. While air drying is always best to retain color and fragrance, dehydrating can be so much faster. Don't water log your herbs, harvest in the mornings after watering, try not to bruise your herbs, and use the lowest possible temperature possible.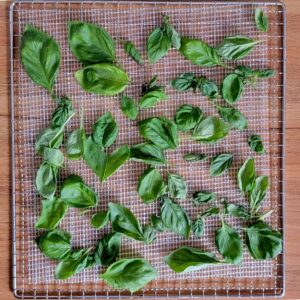 Dehydrate Basil
Dehydrating basil is a wonderful way to preserve your harvest for your pantry and use in your cooking all year long!
Print
PIN THIS!
Rate
Instructions
Allow basil to air dry five minutes

Place on dehydrator trays.

Dry at 95°F/35°C for up to 48 hours.

Allow samples to cool before testing – basil is done when it crumbles completely in your hand

Store in an airtight container.
Video
Darcy's Tips
Condition: Place in an airtight jar and shake once a day for five days. If no evidence of moisture or sticking, place in final storage container.
Good for up to a year. Store in the freezer for longer-term usage.
Tip: to prevent over browning:
Be gentle with the leaves. They do bruise easily and can turn dark when dried.
Wash leaves then dry them before putting on dehydrator trays. Excess moisture can cause over browning. Using tea towel or salad spinner or even air drying, get rid of as much excess moisture as possible.
Nutrition
Calories:
104
kcal
|
Carbohydrates:
12
g
|
Protein:
14
g
|
Fat:
3
g
|
Saturated Fat:
0.2
g
|
Polyunsaturated Fat:
2
g
|
Monounsaturated Fat:
0.4
g
|
Sodium:
18
mg
|
Potassium:
1338
mg
|
Fiber:
7
g
|
Sugar:
1
g
|
Vitamin A:
23927
IU
|
Vitamin C:
82
mg
|
Calcium:
803
mg
|
Iron:
14
mg
Nutritional information is an estimation only. Nutrient information for dehydrated foods is based on fresh. Use 1/4 of the servicing size for the same nutrient information. Thus 1 Cup of fresh fruit has the same sugars as 1/4 dried.
©ThePurposefulPantry. Photographs and content are copyright protected. Sharing of this recipe's link is both encouraged and appreciated. Copying and/or pasting full recipes to any social media is strictly prohibited.