Holiday Gift Ideas from Dehydrated Food
Use these holiday gift ideas made with dehydrated food to give a special gift for your loved one this year! Put your food dehydrator to use to create lovely gifts and edible treats for everyone!
Using your food dehydrator can be more than just creating fruit leathers and jerkies. You can create a bounty of pantry-stable items for yourself, and so many things that will make great gifts for Christmas and other gift-giving occasions!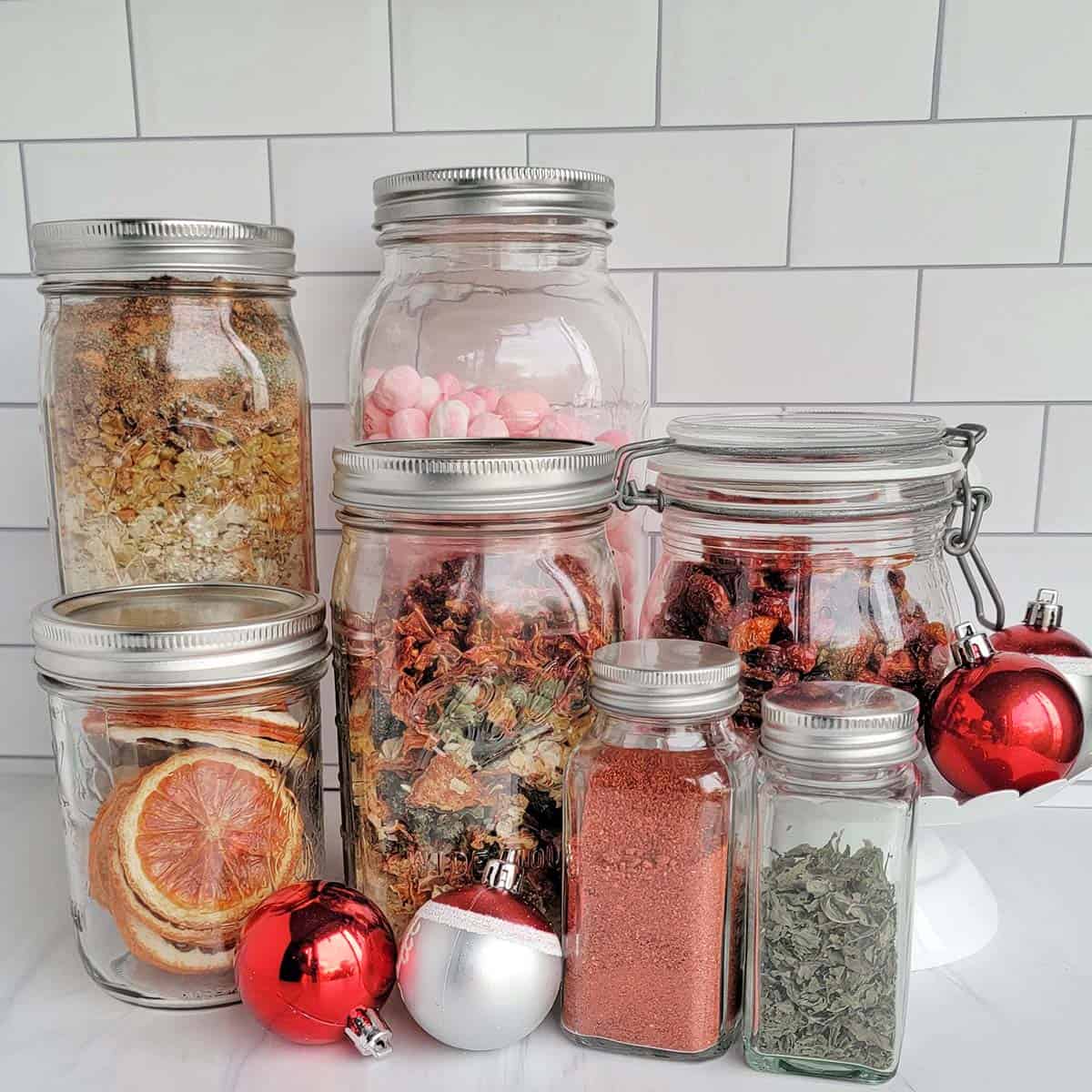 Gift Ideas from Your Dehydrator
Seasoning Blends
There are so many ways to use your dehydrated herbs and vegetables to create seasoning blends for Christmas or other holidays. You can go from basic to fancy – and serve in large mason jars or even fun test tubes (they won't be airtight for long-term storage, but the look is incredible!) or other apothecary-type jars. There are SO many options
Basic Seasonings
Caramelized Onions or onion powder for a twist.
Herbs – individual herbs or create blends

Herbs de Provence – one of my favorites and is perfect for chicken!
● ½ C dried Basil
● ¼ C dried Marjoram
● 2 TBS dried Rosemary
● ¼ C dried Savory
● ½ C dried Thyme
● 1 TBS dried Lavender

Salts – celery salt, lemon pepper salt, tomato & herb salt, pickle salt (don't laugh – it's perfect on popcorn and in potato salad), and combinations of other vegetables with salt loosely blended to make fun finishing salts or even cooking salts. Using course salts makes a great finishing salt with these blends.
Herbal Salts

1 cup kosher or sea salt
1/4 cup dried parsley
2 tablespoons dried basil
1 tablespoon dried oregano
1 teaspoon paprika
1/2 teaspoon dried thyme
Directions: Loosely pulse in a coffee grinder or food processor. You can make any variety you love! It's a very forgiving recipe.

Mushroom Seasoning Blend – takes mushroom powder up a notch and is great for steaks, adding a deeper umami flavor to dishes and so much more!)
Chili Lime and Salt seasoning (a Tajin copycat) that can be made with a lot of different kinds of chiles – hotter peppers makes the blend even spicier!) There are also many make your own seasoning mixes here that we use on our vegetable chips.
Soup Wreaths – these are beautiful rings of dried herb blends that can float on a soup to be used for flavoring and garnish. It can even be used when cooking chicken, etc.
Mirepoix or Cajun Trinity Powder – not only could you give a large jar of these mixed as dehydrated meal starters, the powdered version of them makes a great seasoning for so much!
Powders
Dried Vegetables as Gifts
Doing basic vegetables as single ingredients or even soup blends. Not only would this be a great pantry starter for newlyweds or young adults venturing out into their own homes, but it's great for those who are preparedness-minded, too!
These make great meal starters that are shelf-stable!
Meals in a Jar
Soups in a jar like this taco soup mix make great gifts for quick meals, for those who are no longer able to handle long work times in the kitchen, and even emergency meals for those more preparedness-minded. There are hundreds on the web to find, but keep some of these things in mind:
Don't use dehydrated meats. While you may use them in your home, they aren't really great for shelf stability, and you should look at freeze-dried instead. Most dehydrated meals in a jar that are made with proteins should not be expected to last more than a year for the best results. Don't use any that contain fats.
Cream of anything soup mix – this is a great base to do many of your 'creamier' kinds of dishes – and it is shelf-stable. Equals to about 9 cups of cream of 'something' soup. You can add your own mushroom powder and mushroom bits, or celery, etc.
2 cups powdered non-fat dry milk
3/4 cup cornstarch
1/4 cup instant chicken bouillon (regular or low sodium)
2 Tbsp dried onion flakes
2 tsp Italian seasoning or other herbal seasonings of your choice
By itself, this is a great way to introduce people to shelf-stable food storage!
Recipe note: When looking at recipes online that call for freeze-dried products, you can easily replace almost all of them with dehydrated versions (except dairy and meat).
Basic Veggie Soup – serve in a mug or small jar and you have an instant just add water soup
1/2 Cup of dehydrated vegetables
Seasonings
1 Bouillon cube (or equivalent stock powder)
Scalloped Potatoes in a Jar mix
Omelet in a jar – A mix of dehydrated peppers, onions, and mushrooms to add to either powdered eggs for a shelf-stable emergency meal or just sprinkled into eggs!
100 Best Meals in a Jar Recipe Ideas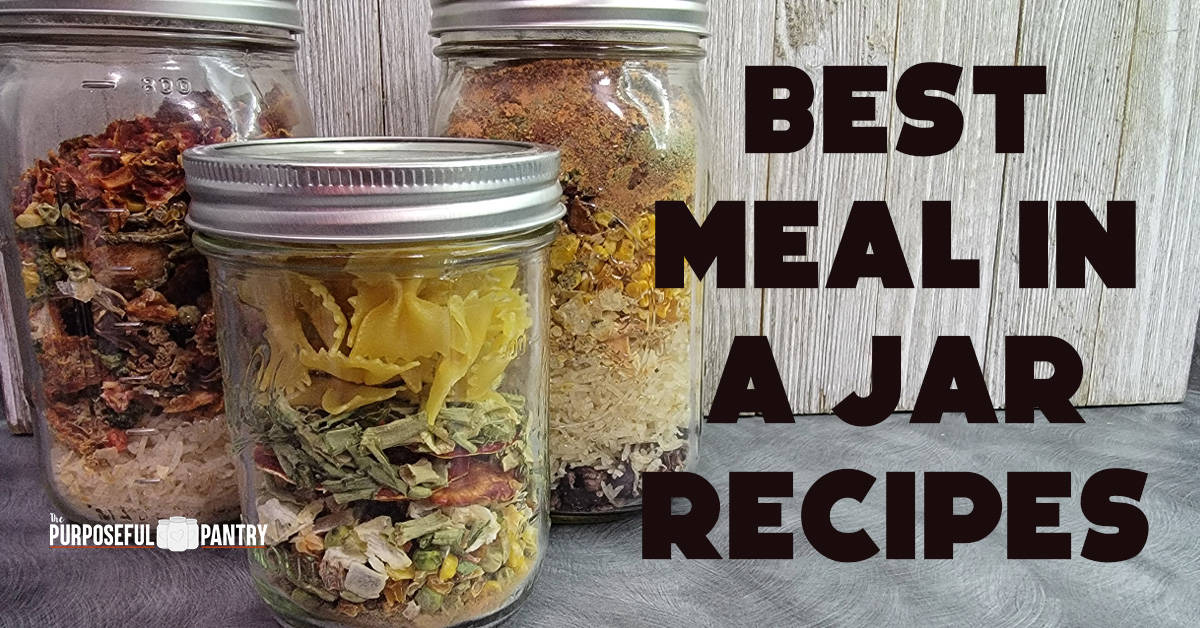 Snacks
Biscotti – yes, a sort of version that makes fun treats from your own quick bread, etc. You can dry the bread, then dip it into chocolate for a fun treat. It's not quite the same as Italian biscotti, but this dehydrated quick bread can be so much more versatile with all the different flavors you can create.
Crunchy S'more Mix – a great way to use all those dehydrated marshmallows you've been creating! It works with freeze-dried as well.
Apple slices, strawberries, pineapple, bananas, and kiwi – all single fruits can be made into tasty snacks. These are great in water or teas to infuse flavor, too!
Fruit Salad – create a blend of tropical fruits and dried coconut, or do a berry blend or other blend of your recipient's favorite fruits for snacking.
Trail mixes – Use your favorite fruits, nuts, seeds, and whatever else you love putting into trail mixes to give as snacking gifts.
Oranges, kiwi, strawberry – slices dried then dipped in your favorite chocolate. These need to be done soon before gifting, stored in the fridge, and eaten fairly quickly.
Pineapple flowers – cutting pineapples into thin slices and drying them until brittle makes pretty flowers that can be used for cake decorating or snacking. They are a beautiful addition to fruit mixes, too!
Baked goods using dehydrated foods as ingredients
Oatmeal packs – are so easy to create, and dehydrated fruits make excellent additions!
Cream Cheese / Veggie Dip packets – seasoning blends using fruit or vegetable powders to elevate basic cream cheese and sour cream!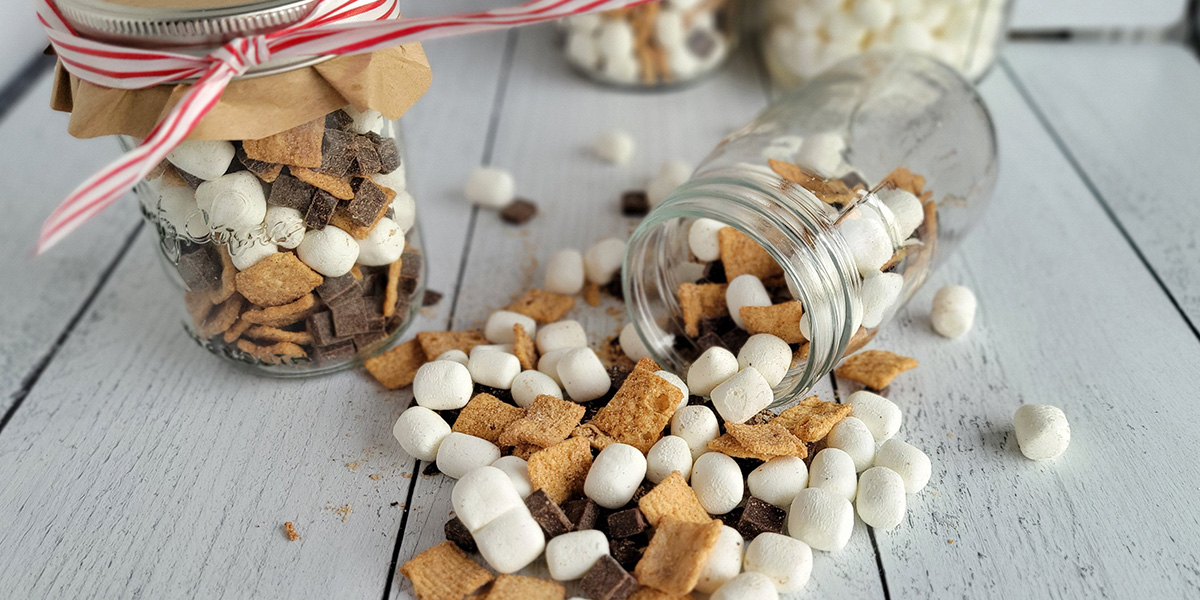 Drinks
Teas
Teas are a sweet way to show your giftee how much you care. Tea blends are also varied and personal and can be created from so many dried herbs, spices, flowers, tea leaves, etc.
You can take a standard black or green loose-leaf tea and add in mixes to create beautiful teas, or create your mixes that are just herbal. The possibilities are infinite with hundreds of recipes available online with a quick search.
Tip: Many teas must be strained to separate the solids from the tea.
Sangria Mix – dehydrated oranges slices, raspberries, strawberries, grapes, blackberries, pineapples, and cinnamon sticks – create a mix that sounds great! Include a package with a bottle of red wine. Include instructions to soak it in the refrigerator for 3-4 days to macerate the fruit fully.
Or do a blend of citrus slices and rosemary sprigs with a bottle of gin as a gift!
Cocktails and mocktails: You can use fruit powders mixed with sugars for rimming drinks – as well as lime and salt for margaritas
Other
Marshmallows – while this should be a snack item, there are quite a few ways to use dehydrated marshmallows that might really kick up the gift-giving for you!
More Gift Guide Ideas: Gifts Ideas for Every Dehydrator!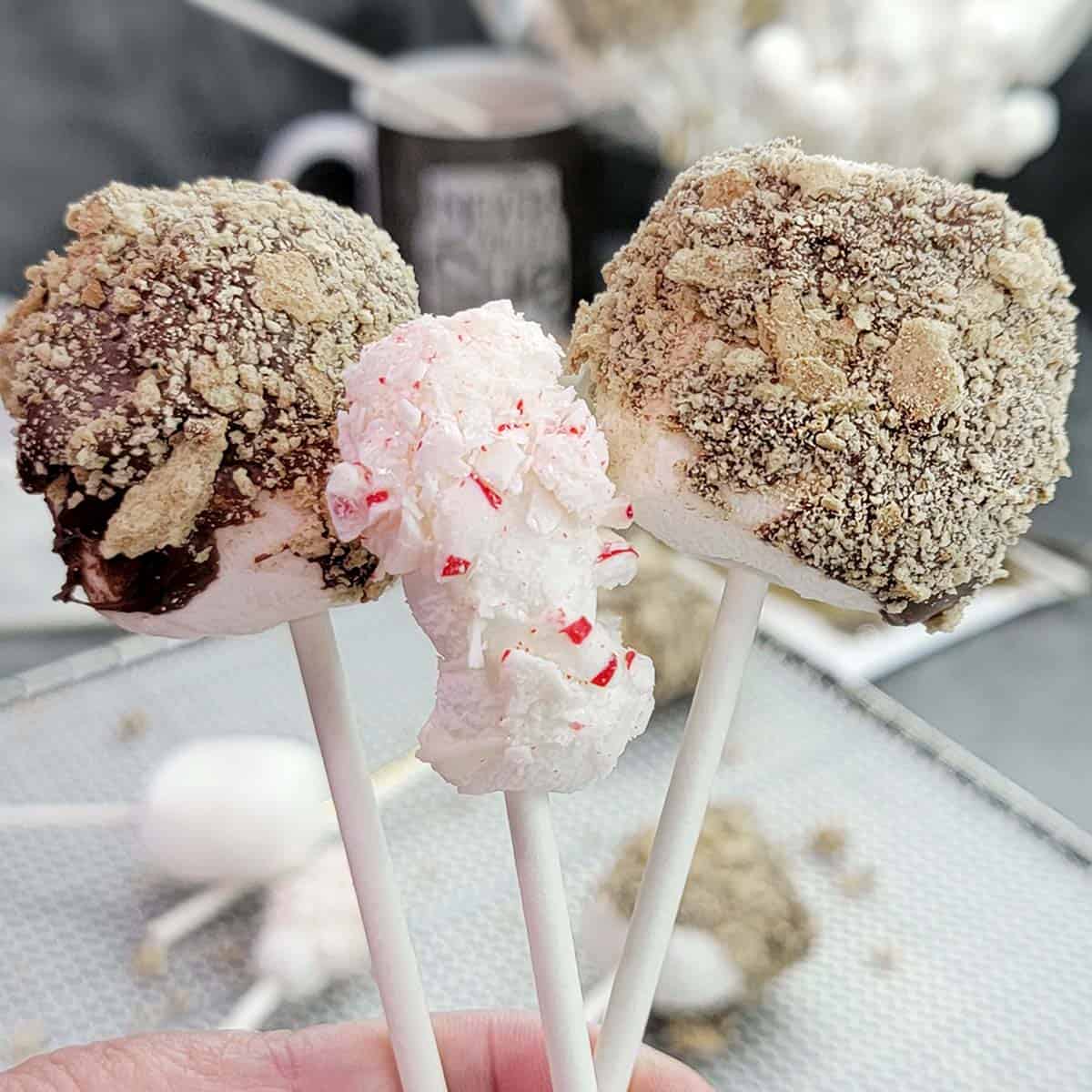 Room Decor Gifts
Potpourri – this can be used to sit prettily in a dish or simmered on the stove with water for a more intense smell.
Use a mixture of
Dried Oranges or other citrus
Dried cranberries
Cinnamon sticks
Bay leaves
Rosemary (fresh or dried)
Clove
Star Anise
These can be packed in food gifting baggies with a ribbon for a pretty add-on or hostess gift. Be sure to leave directions on simmering in a pot or leaving as a dry room potpourri.
For a lighter scent, try
Dried flowers
Lavender
Dried lemon or apples
Rosehips
Essential oil of your choice. While the flowers will retain a little smell, the essential oil is what will make the potpourri last (you can spray the flowers and seal them for a few weeks to help them absorb the oils). This is a great tutorial for doing a flower-based potpourri that makes creating sachets and other longer-lasting displays easy
Citrus Garlands
Stringing together dried citrus slices can give a wonderful addition to a mantlepiece or tree. Try any type of citrus for a variety of colors, or stick to oranges for a more traditional look. If you need instructions, I have a tutorial for drying many citrus varieties.
Tip: To make them last, you can spray the slices with a clear protectant once done.
Dried flowers – because these can be used in teas, bath soaks, sachets, and potpourri, as well as room decor, they can be a beautiful gift from your garden every year.
Dried Flower and Herb Bundles – think about mixing rosemary and eucalyptus sprigs with some pretty dried flowers in bundles to keep in jars or hang as flower swags.
Personal Care Ideas
Bath soaks – mix 2 cups Epsom salts, 3 tablespoons baking soda, 3 tablespoons citrus powder of your choice, or dried lavender, lightly blend place in a jar. This can be used for a refreshing bath soak.
Dehydrated Treat Gifts for Pets
Don't forget these easy treats for the furry friends!! These are a couple of basics that you can start with – there are tons available online – but please remember to start with those from pet vets or good pet stores to get started.
How to Package Dehydrated Food Gifts
Airtight containment is the best means of packaging and storage for dehydrated foods. It's not always easy to do small portions in
Small mason jars
Regular mason jars
Spice Jars (I really love these 6 ounce jars from Amazon that I use for my spice rack)
Recycled jars of all kinds
Small Foodsaver bags cut and sealed for small portions
Food-grade baking cellophane bags like these from Amazon or a hobby shop/craft store
Apothocary jars / test tubes / decorative – make sure that the glass is food grade, and those with cork toppers are not good for long-term storage but certainly fine for gift giving.
Baggies – these cute canning jar bags are fine for gift giving (not long-term storage), or move to a zippered mylar version.