Love those little hard marshmallow bits in your hot chocolate or your kids' favorite breakfast cereal? There are never enough, are there? Do you ever give hot chocolate mixes for Christmas? Step up the gift with your own marshmallow bits. You can learn to make your own with this quick and easy tutorial on how to dehydrate marshmallows for hot chocolate!
If I am completely honest with you, we use a packet of hot cocoa mix plus a heaping tablespoon of powdered chocolate and a mountain of fresh marshmallows in our mugs during the winter. If we happen to have cream in the house, we'll use it instead of milk. And we NEVER use water.
If we're going to do it, we're going to do it up big. Because who wants this?!
However, marshmallows don't last forever, we don't make a ton of crispy treats, so often those bags might get all dry and yucky. Who wants that?!
So one day I found the answer:
I CAN DEHYDRATE MARSHMALLOWS!!!
Dehydrating marshmallows is one of the easiest projects for a beginning dehydrator recipe. It can take a lot of time, but the process is one of the easiest to do. There is virtually no prep work and little maintenance.
How to Dehydrate Marshmallows
Before you get started: Always preheat your dehydrator when you begin to prep your produce, and dehydrate at the appropriate temperatures. Running at 160F  doesn't make things dehydrate faster, it just promotes case hardening, which you don't want!
 1. Cut larger marshmallows to smaller sizes:
While mini marshmallows can certainly go on the dehydrating racks, it is helpful to first cut them in half. It just makes the drying time go so much faster. You can use scissors or a knife, but I suggest keeping a wet cloth with you to occasionally clean the blades.
This does mean that the larger shaped marshmallows won't have their shape any longer, but it could save you hours in drying time.
2. Lay marshmallows in a single layer, not touching
While there are many foods I am not so particular about separating (such as greens as they begin to shrivel almost within the hour), I do make sure my marshmallows aren't touching so that there aren't spots where they may not have dried well.
Even in this photo, it was hard to get a shot of them not touching because every time I jostled the tray, they congealed 🙂 I opted not to cut this batch in half so I could time the drying time. And, I was drying 5 bags of marshmallows that I'd gotten for .25/bag on a Kroger clearance haul, so I didn't have the time to sit and cut them all.
3. Dehydrate Marshmallows at 120F for 6-100 hours.
Now – don't let that time frame fool you. If you dehydrate larger marshmallows, it is going to take forever. But cut marshmallows that are the size of 1/2 of a mini marshmallow will only take 6-12 hours, depending on the relative humidity of your home, if there is insufficient airflow on your trays, and the position of the Earth to Venus (just kidding on that last one – not really, but really).
► YOU MIGHT ALSO LIKE: How to Dry Cherries with a Dehydrator
I did 5 bags of mini-marshmallows in a full Excalibur Dehydrator, and it took about 30 hours. You can't dry them too long, however. They won't burn at a lower temperature. Just don't turn it up to get them to dry faster. It doesn't really work that way.
How do you know when dehydrated marshmallows are done?
Dehydrated marshmallows are done when they are completely crunchy.
For me, marshmallows don't change a ton when they are dried like most foods do. They do shrink up a tad and may have a slightly shriveled surface, but at first glance, it's not easy to tell.
We tend to pull a few out after 8 hours or so, let them cool, and do taste tests. Once they are easy to crunch and don't form a gooey ball in your mouth, they are done. My boys LOVE being my taste testers on marshmallow days. I wish they enjoyed greens day equally as much.
I shared this video on my Instagram Page so that you could hear what it sounds like.

Forgive the dead marshmallows on the floor. We spilled a partial tray and hadn't picked them up, yet.
How to Dry Marshmallows in the Oven
Unlike a dehydrator, ovens don't go low enough to dehydrate without cooking, unless you have the new ovens with a dehydrating feature.
What you can do is set your oven at its lowest setting, and prop the door open to allow much of that heat to escape. I don't have an accurate time frame as I've never done them that way, but you can expect anywhere from 5-12 hours in the same fashion.
Please be cautious if you have young children as they won't know not to touch an open oven door that may be hot.
DOWNLOAD YOUR HOW TO DEHYDRATE MARSHMALLOW WORKSHEET HERE


How to Air Dry Marshmallows
This is a cheat. You can just leave a bag that's been opened but not sealed completely in your pantry. In about three months, you'll have rock hard little marshmallows 😉 I hate when that happens, but it does work!!
How to Store Dehydrated Marshmallows
Store in airtight containers with an oxygen absorber thrown in, or use a vacuum sealer to seal a jar. You can use a zip-top storage bag (the freezer variety) and double-bag it and remove the excess air with this neat trick, or you can use a mylar bag for long-term storage. I keep a separate smaller jar for day to day use available so we don't have to keep wasting vacuum sealer time or absorbers.
However, zip-top bags are not a great solution for long-term storage as they will allow air to permeate the plastic after a while. However, you can do smaller quantities in zip-top bags and then store in a larger, air-tight container with no problem.
As a quick tip — I shared in this video how to store your fresh marshmallows, which would work for your dehydrated ones as well. In the video, you'll see a large canister of dehydrated marshmallows. Over the next few days, I'll actually transfer those to regular canning jars that have been vacuum sealed for longer-term storage.
Tools I use in my kitchen to dehydrate:
Make Your Own Homemade Marshmallows
If you really want to get into the basics of marshmallows, try this recipe from Alton Brown. You may never buy store marshmallows again.
If you'd rather skip the work, you can purchase dehydrated marshmallows in bulk, but you'd want to repackage them for long-term storage. My son gets this canister version for Christmas every year. He snacks on them, and adds a little hot chocolate to his mug of marshmallow bits 😀
CAN I DEHYDRATE HOLIDAY MARSHMALLOWS?
You bet you can!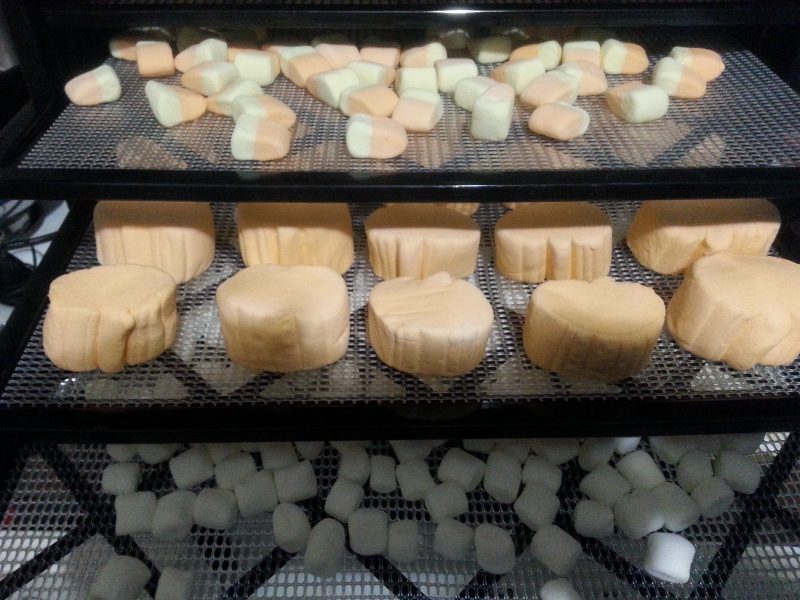 Just be sure to understand that they will take a lot of time when you dehydrate them full size, especially the fall pumpkin ones. If you can cut them, do so, if not, set aside a couple of days for the larger ones to fully dry. They'll still be fun, they'll still be dehydrated, they just take longer.
DIY HOT COCOA MIX
Here are some Make Your Own Hot Chocolate Recipes  you might want to try, too!
DIY Hot Cocoa Mix from Pioneer Woman
Hot Spiced Cocoa Mix from Common Sense Homesteading
Hot Cocoa Mix from Alton Brown
Homemade Dark Hot Cocoa Mix from Countryside Cravings