Do you want to keep the goodness of fall pumpkins long after autumn is over? Dehydrate pumpkin and make pumpkin powder for baked goods, pies, smoothies, and dog treats. Enjoy fall all year long with this easy way to preserve pumpkins without canning or storing large jars of canned pumpkins.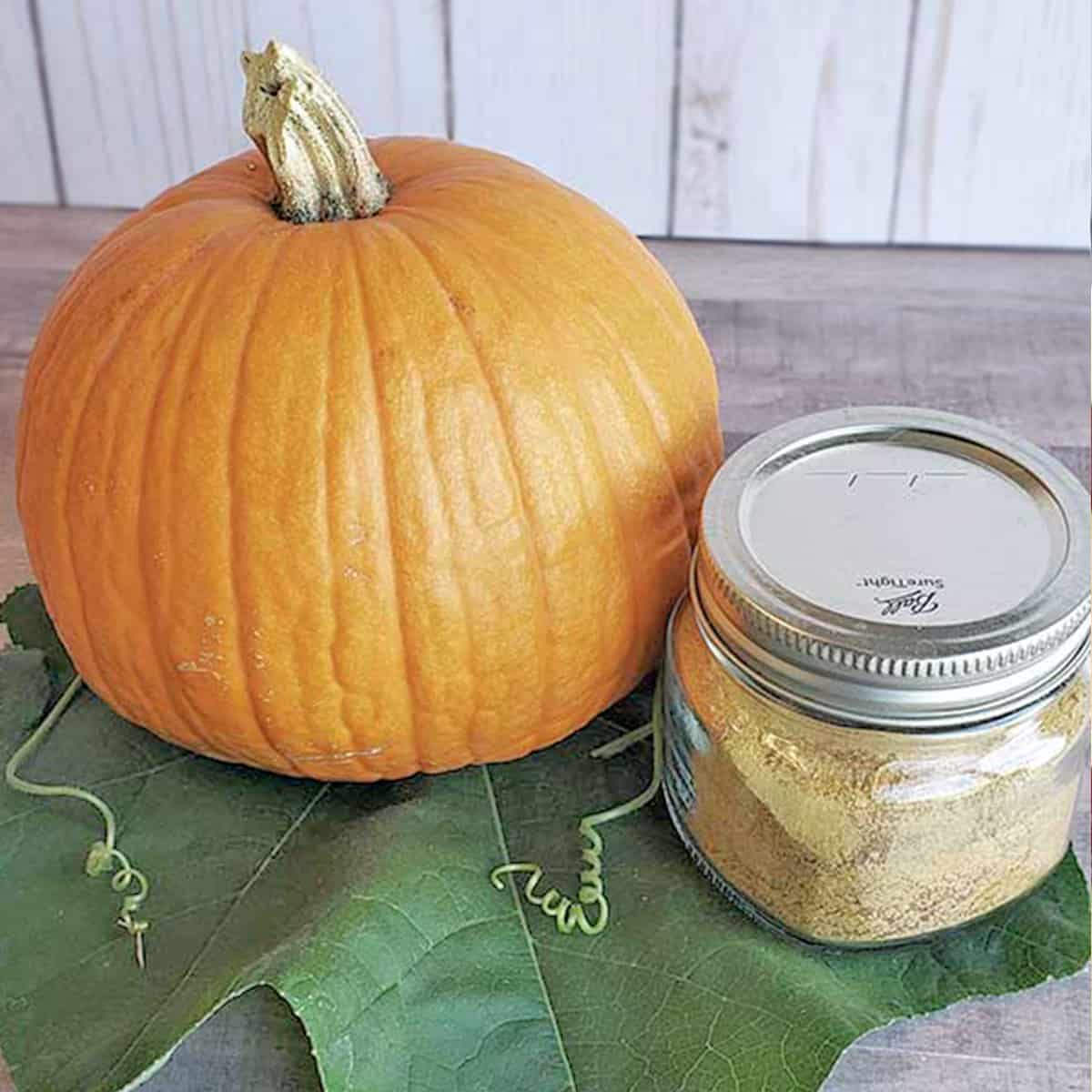 This post may contain affiliate links. As an Amazon Associate, I earn from qualifying purchases. Please read our disclosure policy.
Pumpkin is my favorite fall flavor when altered with a little spice and creams in soups or every form of baked good.
This easy process takes a little time, but it's worth it when you can grab so many orange orbs of autumnal goodness and save them for the whole year.
And you'll never have to worry about those pesky, fake canned pumpkin shortages, either! This way, you can store pumpkin powder on the shelf and make your own pumpkin puree anytime you feel the need for fall and pumpkin spice!
If you want to use pumpkin powder, check out these uses for pumpkin powder that go beyond making pumpkin pie!
Learn more: How to Dehydrate Pumpkin Leaves
Jump to:
Kinds of Pumpkin to Use
You can use any kind of pumpkin for this recipe - including most winter squashes that can be interchangeable. Those larger, heirloom varieties with thick, flavorful flesh are best but are not always available to many.
Most of the ones listed here will be common varieties found in North America. But there are many varieties of pumpkins grown all over the world that will work, as well!
Sugar Pumpkins
Long Island Cheese
Warty pumpkins - yes, all those wart-covered pumpkins are edible!
Jack-o-lantern - while field pumpkins tend to be more watery and stringy than their smaller counterparts, they are edible!
Butternut squash - you
Don't confuse ornamental gourds with pumpkins. Those varieties may not be edible.
How to Dehydrate Pumpkin
There are numerous ways to dehydrate pumpkins. We will focus on drying a puree to make pumpkin powder to store.
Step 1: Roast Pumpkin
Instructions:
Wash pumpkins. It's important. Cutting into the skin and flesh and pumpkins can be very dirty.
Cut the pumpkin into segments of your choice, and clean out the 'guts'.
Set aside the seeds to roast later.
Place pumpkin segments on oven-safe lined baking sheets and bake at 350°F / 175°C for 45-50 minutes until just fork tender.
Remove the skins and allow the puree to cool.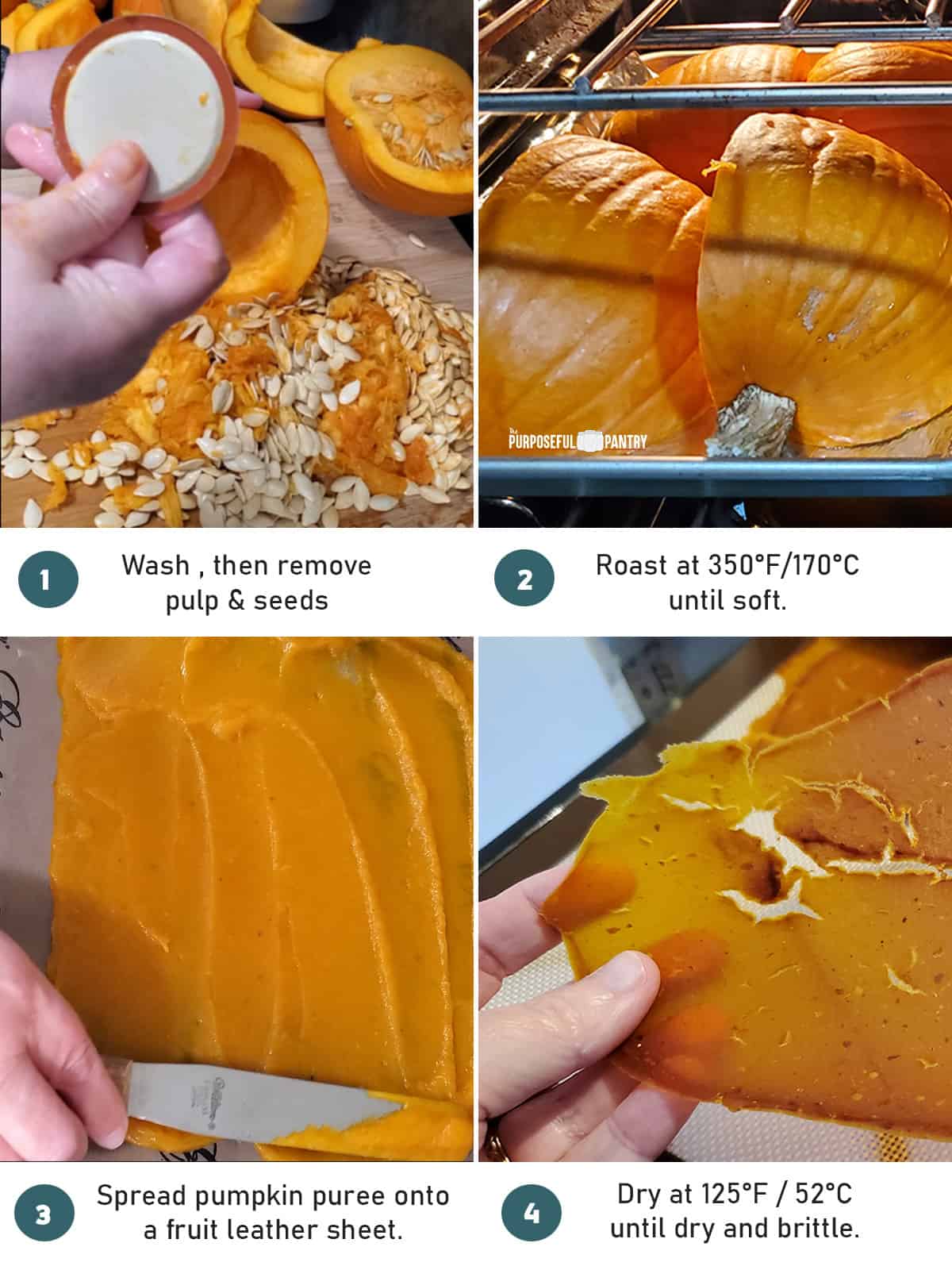 Expert tip: Don't toss the skins and pulp! They can be dehydrated, too, for pumpkin powder!
Many people will put all the bits (minus seeds) into a blender and puree it together, keeping the pulp and skin incorporated into the puree. You can also just compost the skin or pulp if you opt not to use it.
If you don't want to save this for pumpkin puree, you can go to a pumpkin pie fruit leather instead.
Step 2: Dehydrate Pumpkin Puree
Spread pumpkin puree onto fruit leather sheet line dehydrator trays and dry at 125°F / 52°C for 10-12 hours until brittle. ¼" to ⅛" is good. You're not making fruit leather, you're making pumpkin brittle!
Condition pumpkin puree in an airtight jar for a week.
Store in an airtight container for up to a year. It might be helpful to break it into small shards.
I use an Excalibur Dehydrator in this project, but any dehydrator will work!
How to Make Dried Pumpkin Powder
Equipment:
Grinder - whether a coffee grinder, a bullet blender, or a large blender. I have some essential dehydrating tools list suggestions if you need one.
Instructions:
Place pumpkin puree shards into your choice bullet blender, blender, or coffee grinder.
Blend until smooth.
Place on a cookie sheet in an oven that has been warmed and then turned off, and allow to dry for 15-20 minutes.
Store in an airtight container with a desiccant pack for six to twelve months.
Yield:
The pumpkin yield from a typical sugar pumpkin is 2 ¼ cups of pumpkin puree to 1 cup of pumpkin fruit leather (shards) to ½ cup of pumpkin powder.
This, of course, will vary depending on the size of the pumpkin you make, the water content of the puree, or how large you break down the fruit leather.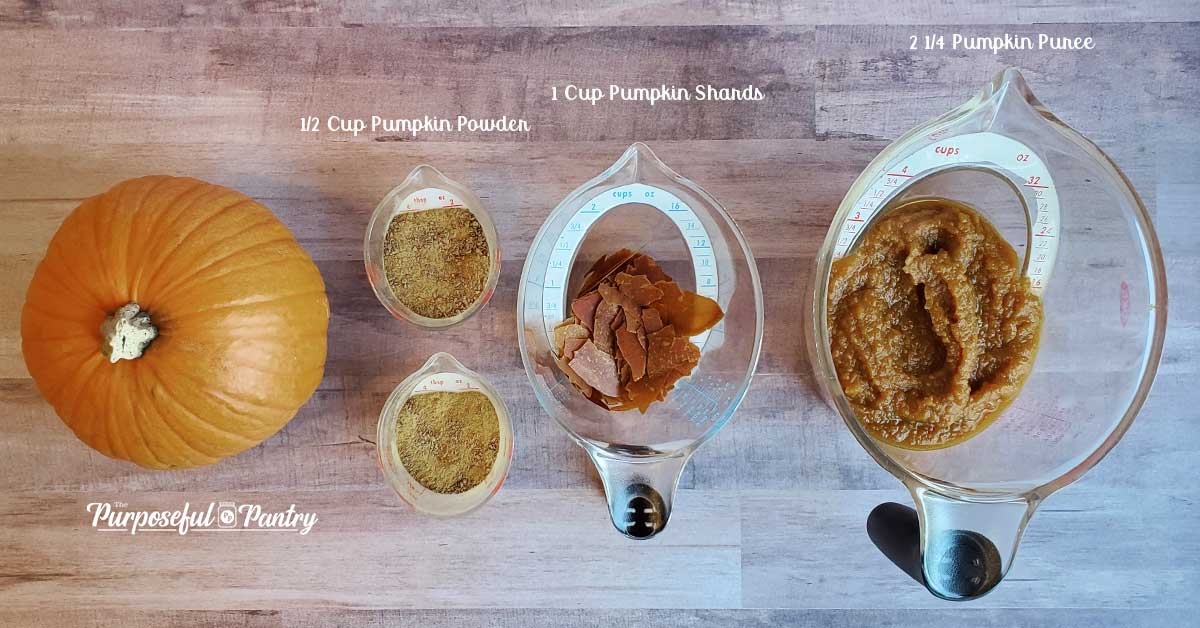 Store:
Dried pumpkin powder can be stored in an airtight container (such as a mason jar or mylar bag) for up to a year.
Drying Pumpkin Tips
An excellent cleaning tip is to use an old canning jar lid to scrape your pumpkin clean - it works wonders!!!
If using giant watery pumpkins, you may want to place your puree in cheesecloth in a colander and allow it to strain.
Alternatively, you can place the puree in a saucepan and simmer it on low heat to remove excess moisture.
Alternatively, you can shred the pumpkin to dry without making a puree. It will be good for adding to breads for flavor, but may need quite awhile in hot water to 'cook' before using to create pumpkin pie.
Don't use parchment paper if your puree is particularly wet as the parchment will absorb it and may make the leather stick in the end.
Of course, if this is a bit messy for you or if you don't have pumpkins available to you, you can make pumpkin powder from canned pumpkin!
How to Rehydrate Pumpkin Powder
Pumpkin puree is a mainstay in our home. From bread to smoothies to soups to pie, it's something I keep stocked all year long. I even did a video recently creating a year's worth of pumpkin powder!
However, I don't have space to keep as many jars as I might use in a year, so I dehydrate my pumpkin (I even dehydrate canned pumpkin!) to save space in my pantry.
Whenever I want to make something, I can either use the powder to flavor or reconstitute the dehydrated pumpkin powder back into a puree!
Ingredients
2 cups of hot water
½ cup pumpkin powder
Directions:
These directions make enough pumpkin puree that you might typically find in a 15-ounce can of pumpkin puree from the grocery store.
Mix 2 cups of hot water with ½ cup of pumpkin powder.
Allow the mixture to sit for 10-15 minutes.
Use in any recipe that typically calls for pumpkin puree.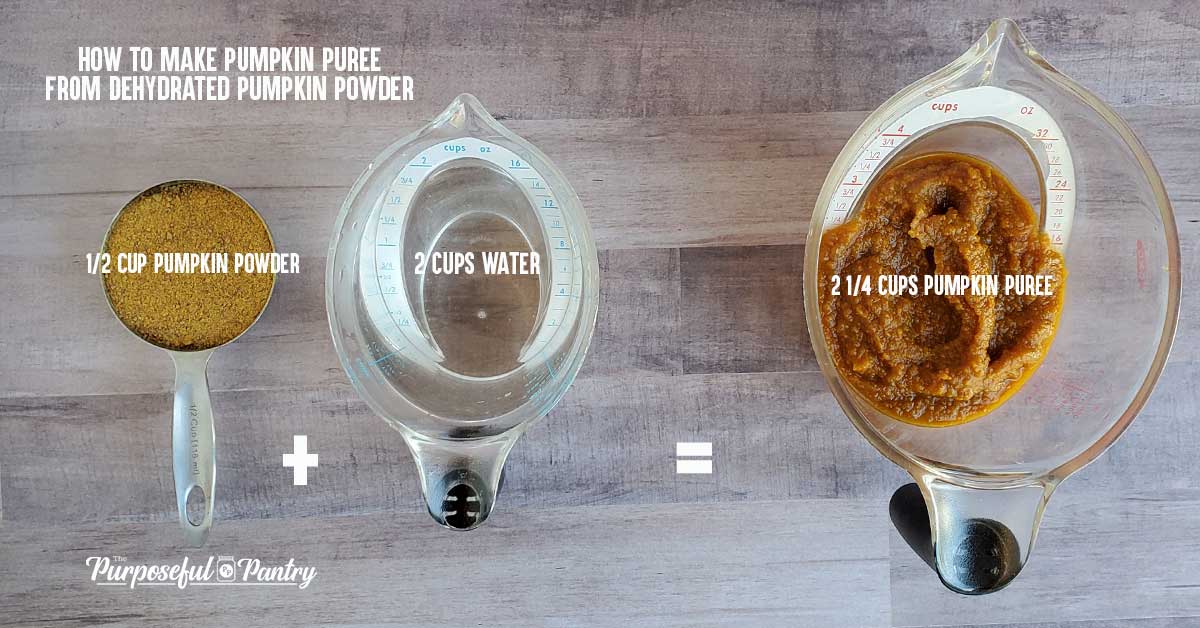 Rehydrating Tips:
If you need a loser puree, add some more water.
If you need a denser puree, add a little less water or a little more powder.
Uses for Pumpkin Powder
Of course, using pumpkin powder to recreate pumpkin puree that you would typically use in any recipe is a given. But there are so many other ways to make pumpkin powder useful in the kitchen!
Use a bit of powder in your pasta for pumpkin noodles
Add 1-2 tablespoons in a bechamel to create a pumpkin pasta sauce. Be sure to allow the powder to fully rehydrate in the sauce to blend properly.
Create a twist on a typical pumpkin spice late by adding pumpkin powder to your coffee grinds or create a mix for adding to any coffee!
Add powder to a favorite gnocchi recipe!
Add a tablespoon or more to boost the nutrition of pancakes or waffles - and they'll taste yummy, too!!
Sprinkle onto dog food to help with your pup's digestion!
Add a little pumpkin powder to your candied nuts.
Add a tablespoon or two to your morning oatmeal.
Sneak a little powder into your next round of mac and cheese. It boosts nutrients and color!
Add into any tomato-based sauce for deeper flavor and added nutrients.
Add to granola.
Get even more great ideas on how to use pumpkin powder throughout the year.
Dehydrate Pumpkin Cubes
If you want to dehydrate pumpkin to be used in soups or stews, it's super easy, too! Instead of using a puree, winter squash can be diced and used in soups, stews, and other dishes throughout the year!
Instructions:
Cut and remove seeds and strings.
Dice into ½" or smaller cubes.
Blanch cubes for 4 minutes.
Dehydrate at 125°F/35°C for 8-15+ hours.
Condition for 5 days by placing in a jar and shaking once a day to check for sticking or moisture buildup.
Store in an airtight container for up to two years
Dryness test: When cubes are slightly translucent, plink when dropped, leathery, and hard. Don't assume a slight color change and hardness on the outside to be fully dry, the insides should be dry as well.
Commonly Asked Questions
Can I dehydrate the whole pumpkin?
Yes - roast the pumpkin (I do recommend cutting it in half for a faster roast and easier managing - or even in large slices). Then simply puree the entire pumpkin. The skin and strings are edible.
Is this also how to dehydrate butternut squash?
Yes, you can dehydrate butternut squash in the same fashion as this.
What is the difference between canned pumpkin and pumpkin puree?
Canned pumpkin tends to be thicker than typical pumpkin puree made from scratch. It's typically made from Dickinson pumpkins that can also be called squash.
My roasted pumpkin puree is watery, what now?
If you find that roasting your pumpkins has given you a watery consistency, you can drain it in a fine mesh colander or put it on the stovetop and gently simmer it to cook out some of the moisture.
More
📖 Recipe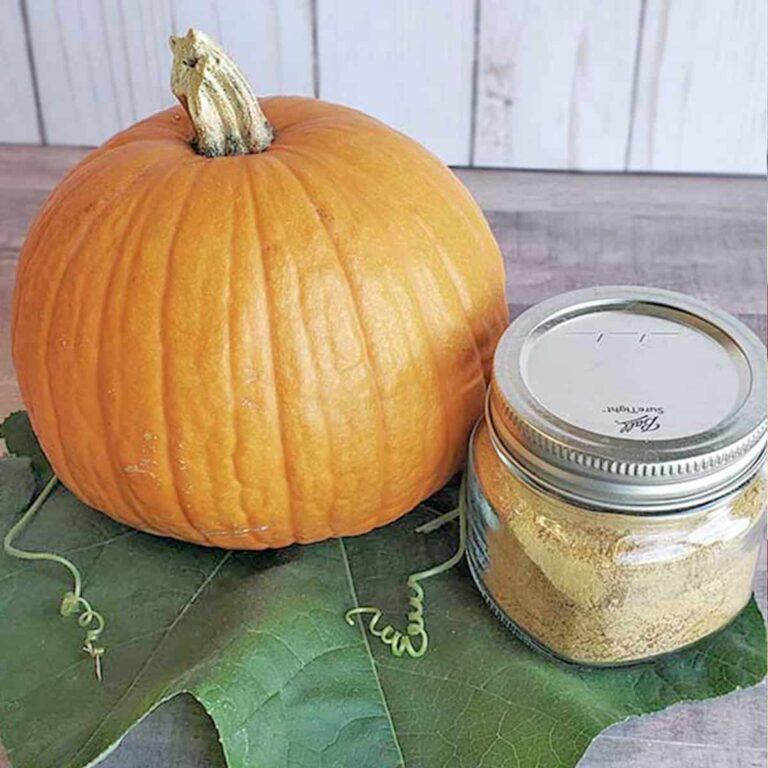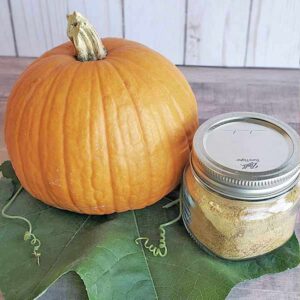 How to Dehydrate Pumpkin and Make Pumpkin Powder
Preserve pumpkin all year long by dehydrating the puree and making pumpkin powder that stores much more easily.
Print
PIN THIS!
Rate
Equipment
Blender or coffee grinder

Fruit leather sheets

Parchment can be used instead

Offset Spatula
Instructions
Preparing Pumpkin Puree
Place on cookie sheets lined with aluminum foil or silicone baking sheets

Bake at 350°F / 175°C for 45-50 minutes until fork tender, do not let them burn.

Allow to cook, then remove skin. Set puree aside to cool
Dehydrating Instructions
Spread puree thinly on dehydrating trays lined with fruit leather sheets. ¼" to ⅛" is good.

Dry at 125°F / 52°C for 10-12 hours

Store in airtight containers ion shards
To Make Pumpkin Powder
Place pumpkin shards in a blender.

Pulse until smooth powder is formed.

Pour onto baking sheet and place inside oven that has been warmed to 175°F, but turned off.

Remove after 20 minutes, allow to cool, store in airtight container with desiccant packs.
Video
Darcy's Tips
To use:
Mix 2 cups hot water with ½ cup pumpkin powder
Allow the powder to absorb by sitting for 5-10 minutes
Adjust to your preference if too thick or too loose.
Use as you would in any recipe for baking or cooking.
Removing pulp tip: Use an old canning jar lid to scoop out. It's so much easier than a spoon.
Don't toss the pulp! The pulp can also be dried and powdered!! Just remove the seeds and spread the pulp out on a tray as you dry the puree.
Nutrition
Serving:
1
Cup
|
Calories:
30
kcal
|
Carbohydrates:
8
g
|
Protein:
1
g
|
Fat:
0.1
g
|
Saturated Fat:
0.1
g
|
Polyunsaturated Fat:
0.01
g
|
Monounsaturated Fat:
0.02
g
|
Sodium:
1
mg
|
Potassium:
394
mg
|
Fiber:
1
g
|
Sugar:
3
g
|
Vitamin A:
9875
IU
|
Vitamin C:
10
mg
|
Calcium:
24
mg
|
Iron:
1
mg
Nutritional information is an estimation only. Nutrient information for dehydrated foods is based on fresh. Use ¼ of the servicing size for the same nutrient information. Thus 1 Cup of fresh fruit has the same sugars as ¼ dried.
©ThePurposefulPantry. Photographs and content are copyright protected. Sharing of this recipe's link is both encouraged and appreciated. Copying and/or pasting full recipes to any social media is strictly prohibited.