You can dehydrate carrots for long-term storage, and do it in more ways than just coins (including the carrot tops!) Check out all the options available to stock up your pantry today!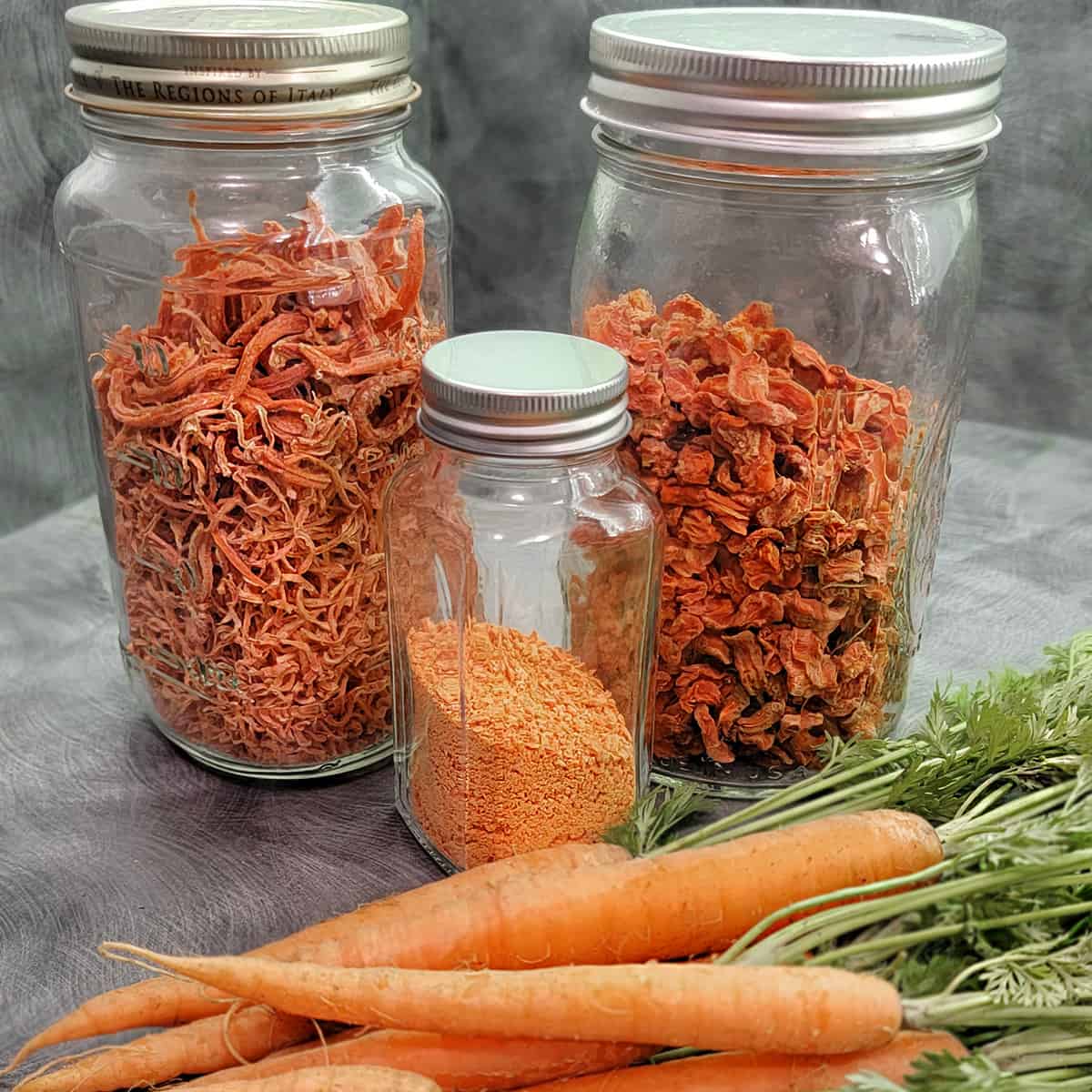 This post may contain affiliate links. As an Amazon Associate, I earn from qualifying purchases. Please read our disclosure policy.
Whether you use frozen carrots, shredded carrots from the produce department, carrots from your garden, or carrots you got from the grocery store, or even canned/fully cooked carrots, you can make shelf-stable carrots for your pantry!
How to Dehydrate Carrots
Step 1. Wash, Peel, and Remove Greens
Or wash and peel. It's your choice in how you think about it, but peeling is recommended, especially for commercially grown root vegetables, before preserving (necessary for canning, especially).
Step 2: Cut
Whether you want shreds, coins, or dice, prep them the way you prefer. You can do baby carrots whole, but they will take quite a while to dry.
You can use a knife, a mandoline, a safety mandoline, a food processor, or a grater - anything that you normally use to prepare carrots can be used to get them ready for dehydrating.
Step 3: Blanch
All root vegetables should be blanched before dehydrating. You aren't boiling the nutrients away but stopping the enzymatic process that causes the vegetable to degrade over time.
Shreds: 2 min
Coins or cubed: 4 min
Learn more about why blanching is important in this Blanching for Dehydrating guide.
Steam blanching is acceptable for the same amount of time.
Use the blanching water to create a soup for dinner, or pour onto your garden plants! Don't waste it!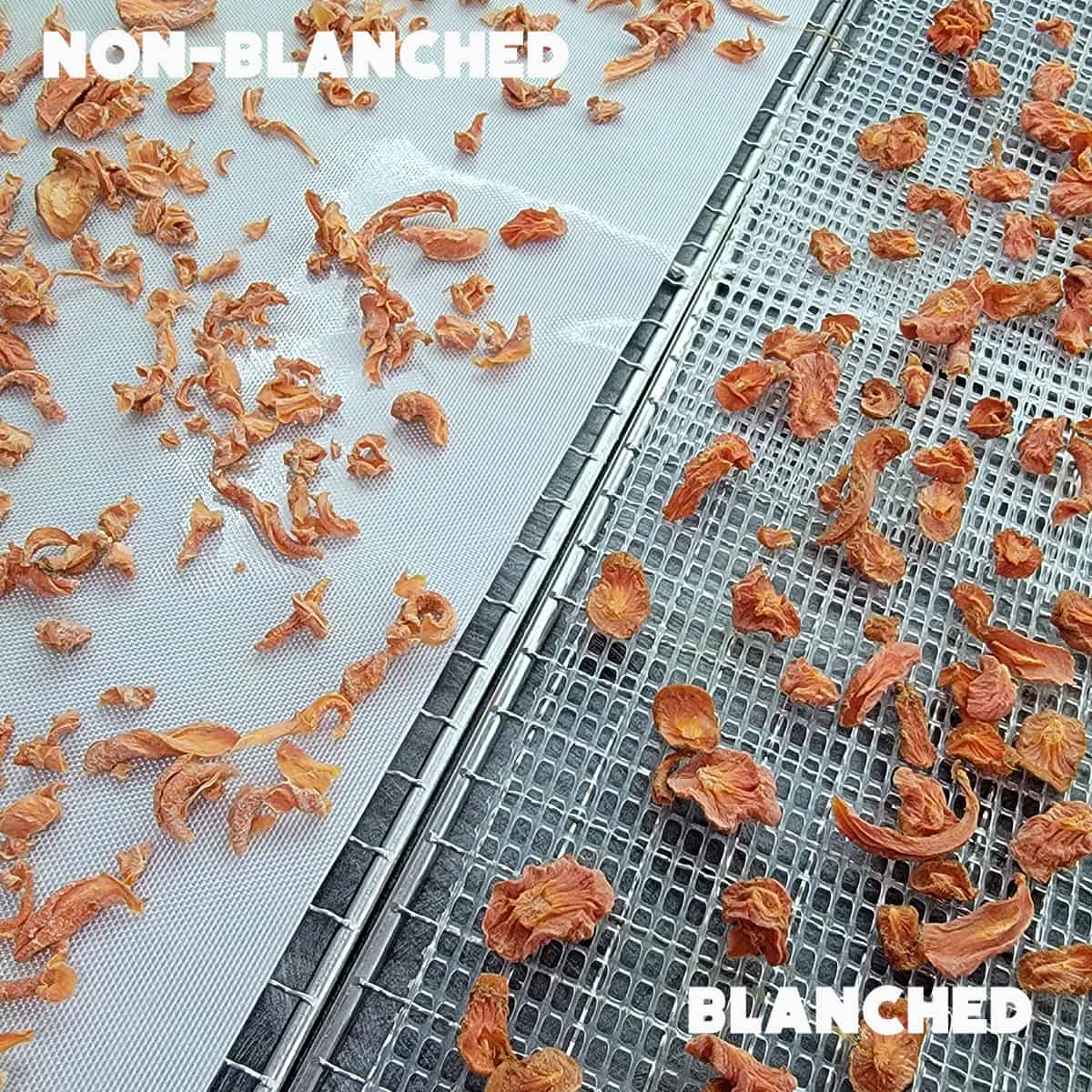 Step 4: Dry at 125°F / 52°C
Place on dehydrator trays and dry for anywhere from 8-18 hours, depending on how you prepared the carrots, your home's humidity, the power of your dehydrator, etc.
Shreds - 6-10 hours
Coins and cubes - 8-18 hours
Step 5: Test for Dryness
Pick a few pieces to test from different trays and allow them five minutes to cool.
Carrots are dry when their surfaces are leathery, and they break easily. You may not hear a snap, but they should break easily with no bending.
Step Five:
Don't miss this vital step! Conditioning allows you to catch any areas of moisture before they turn into mold.
Simply shake the jar once a day for five days to watch for signs of sticking, moisture buildup, or mold.
If you see sticking or moisture, put the potatoes back into the dehydrator to dry more. If you see mold, toss.
Step 7: Store
Storage in an airtight container is all that is needed. You can vacuum seal manually, or with an O2 absorber if you plan on keeping your carrots in long-term storage for more than 6+ months (meaning you won't be opening it). Or you can use a moisture absorber if you are in and out of the jar a lot and live in a humid climate.
Otherwise, nothing else is needed.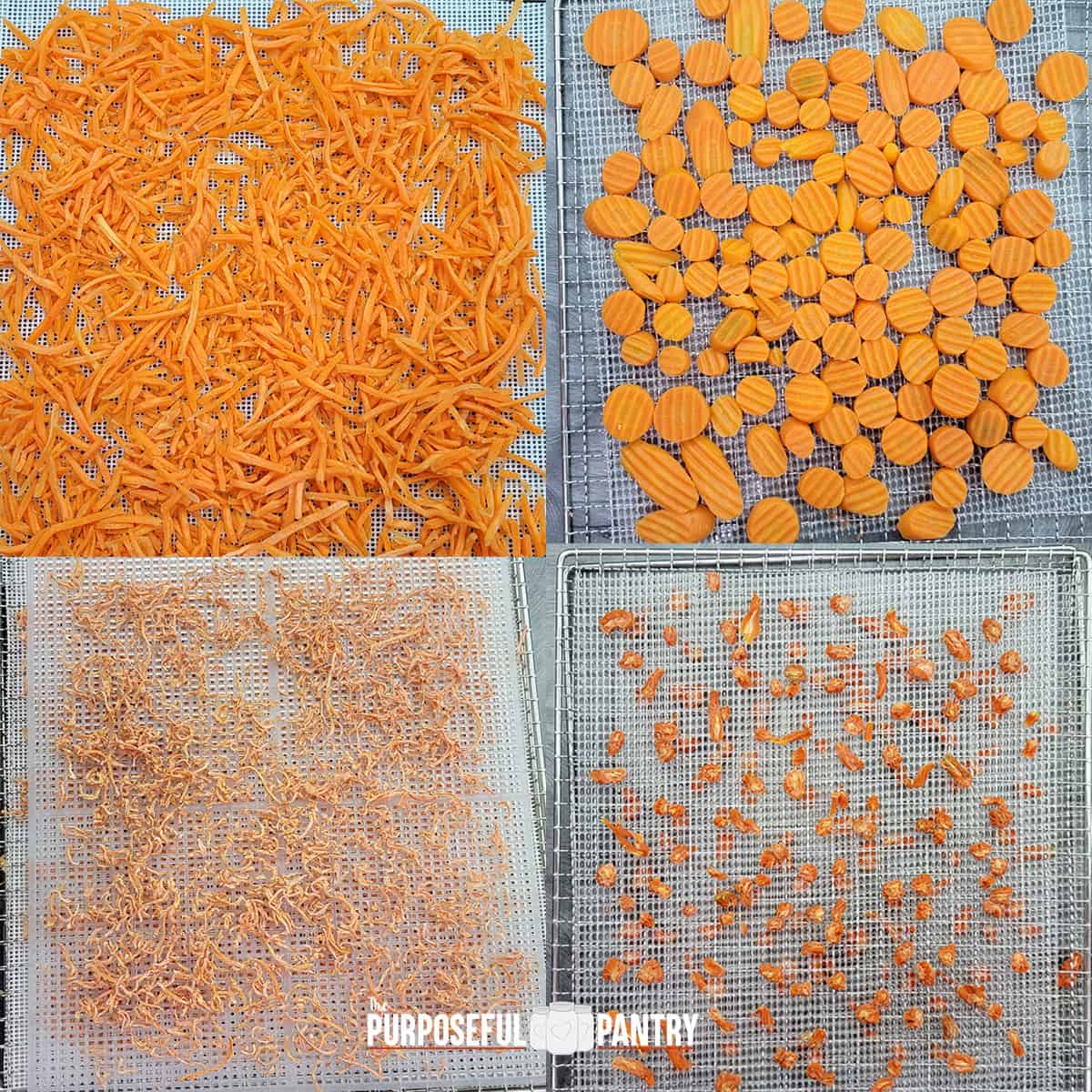 LEARN MORE: How to Dehydrate Carrot Tops for Green Powder
Oven Directions
Follow the preparation instructions above
Place on cooling racks on cookie sheets. Line with parchment paper if needed.
Heat oven to the lowest temperature it goes
Crack door slightly with a heat-proof utensil (wooden or silicone spoon)
Allow to fully dry.
Condition
Store.
Notes on oven dehydrating:
Ovens often don't get low enough to effectively dry. So be sure to keep a close eye out on items burning instead of drying.
A cooling rack on a cookie sheet is recommended to get the food up off the solid hot surface of a cookie sheet.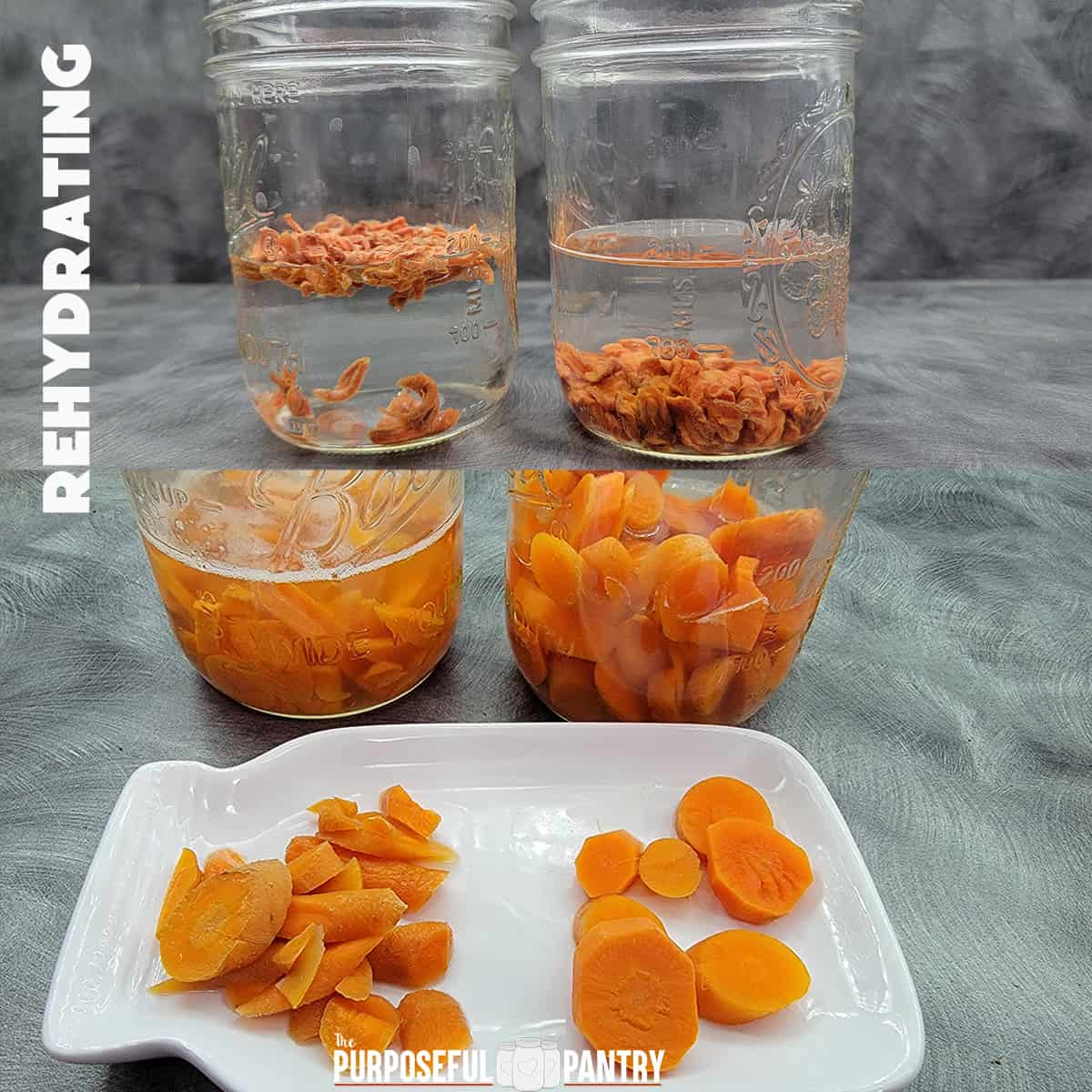 How to Rehydrate Dried Carrots
Rehydration can happen in a number of ways to prepare dehydrated carrots for a meal.
Water Soak - my favorite method as it is the least hands-on. You can soak the dried carrots for an hour or two or leave them in the fridge overnight.
Simmer in a pan on the stovetop with water - no presoaking needed!
Pour boiling water over bowl of dried carrots and let steep for 15-30 min
Freqently Asked Questions
Do I have to use something in the jar for storage?
No. As long as you have properly dried, conditioned, and stored the carrots, no moisture absorbers or oxygen absorbers are needed. Both are simply insurance.
How much dehydrated carrot to use in a recipe?
Generally, ⅓ cup of dried carrots = 1 cup of fresh in most recipes.
Can I dehydrate carrot tops?
YES! Treated like herbs, carrot tops can be dried and used to flavor like parsley or to add to green powder!
More Dehydrating Ideas for Spring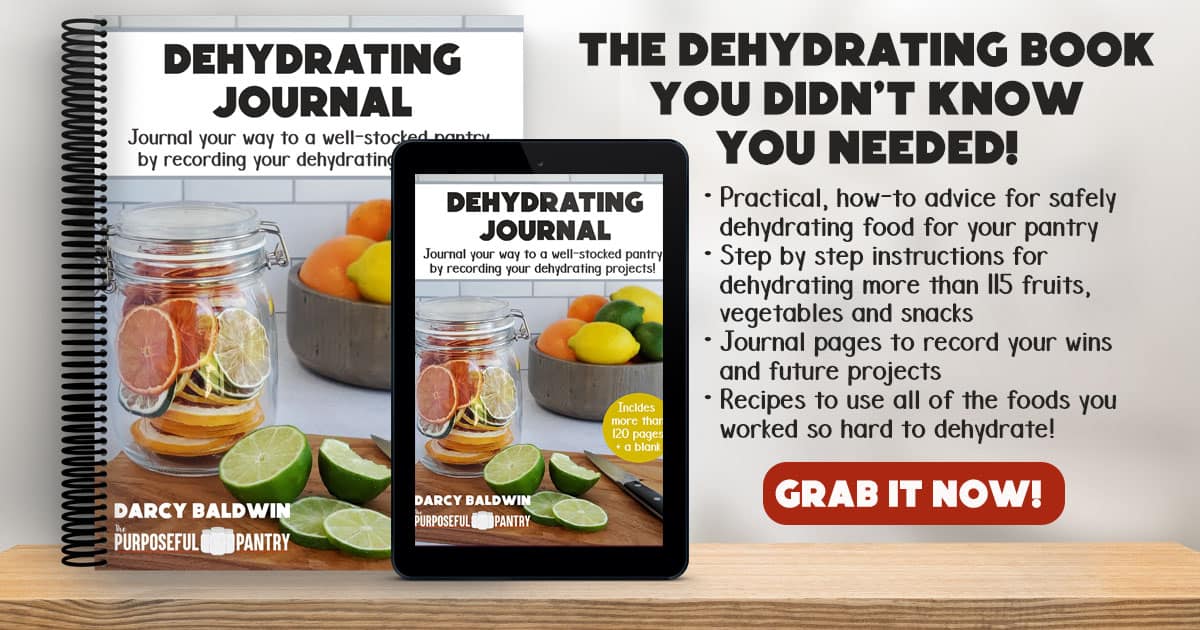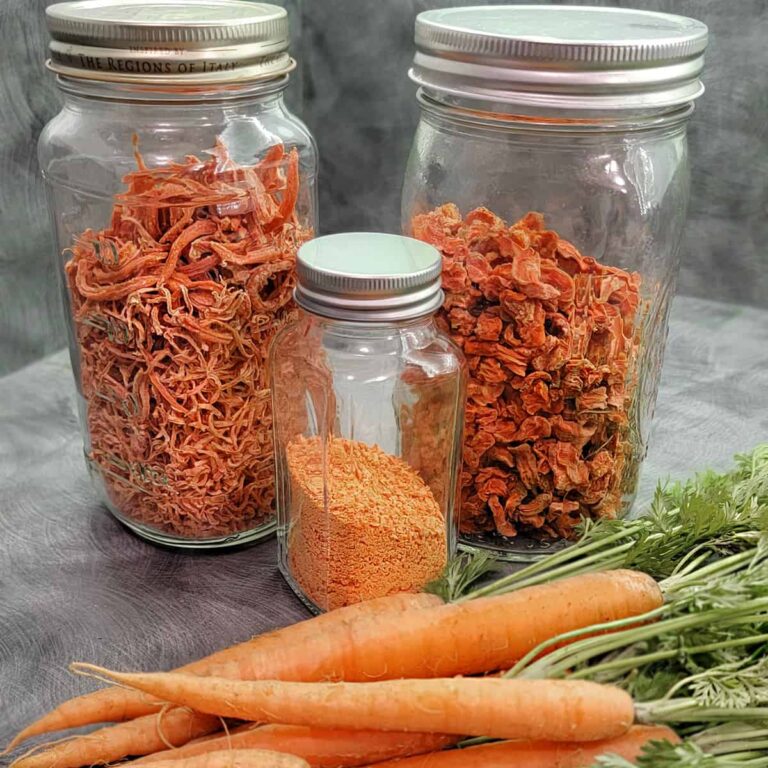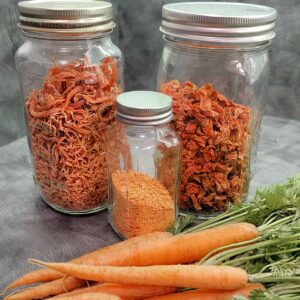 Dehydrate Carrots
You can dehydrate carrots for long-term storage, and do it in more ways than just coins (including the carrot tops!) Check out all of the options available to you to stock up your pantry today!
Print
PIN THIS!
Rate
Instructions
Wash, Peel, De-Green (save the greens and dry them, too!)

Cut into desired shapes (shreds, cubes, coins)

Blanch cubes and coins 4 min

Place into ice bath to stop cooking

Dry in single layer at 125°F/52°C for 8-15+ hours until hard, shriveled, and completely dry.

Condition

Store in airtight container for up to two years
Video
Darcy's Tips
Shredded Carrots:
Shreds can be blanched for 2 min to help retain color, but is not necessary. However, they may begin to turn white after a few months.
To Rehydrate Carrots:
Soak in water for a few hours, or in a simmering pot of water or broth for 15-20 min. Carrots will still need time to cook in your dish if you do a short rehydrate.
Condition: Place food into a large glass jar, shake once a day for a week to check for any signs of moisture buildup or sticking that isn't released by an easy shake of the jar. If you find signs, put it back into the dehydrator to dry more. 
Storage: Store in an airtight container for up to two years in a dark, cool, dry place.
Nutrition
Calories:
186
kcal
|
Carbohydrates:
43
g
|
Protein:
4
g
|
Fat:
1
g
|
Saturated Fat:
0.1
g
|
Polyunsaturated Fat:
0.5
g
|
Monounsaturated Fat:
0.1
g
|
Sodium:
313
mg
|
Potassium:
1452
mg
|
Fiber:
13
g
|
Sugar:
22
g
|
Vitamin A:
75777
IU
|
Vitamin C:
27
mg
|
Calcium:
150
mg
|
Iron:
1
mg
Nutritional information is an estimation only. Nutrient information for dehydrated foods is based on fresh. Use ¼ of the servicing size for the same nutrient information. Thus 1 Cup of fresh fruit has the same sugars as ¼ dried.
©ThePurposefulPantry. Photographs and content are copyright protected. Sharing of this recipe's link is both encouraged and appreciated. Copying and/or pasting full recipes to any social media is strictly prohibited.