Strawberry season is short but oh so sweet! Learn how to dehydrate strawberries to have little bites of summer all year long in your pantry!! It's easy, quick, and I'll show you a great hack to hulling strawberries, too!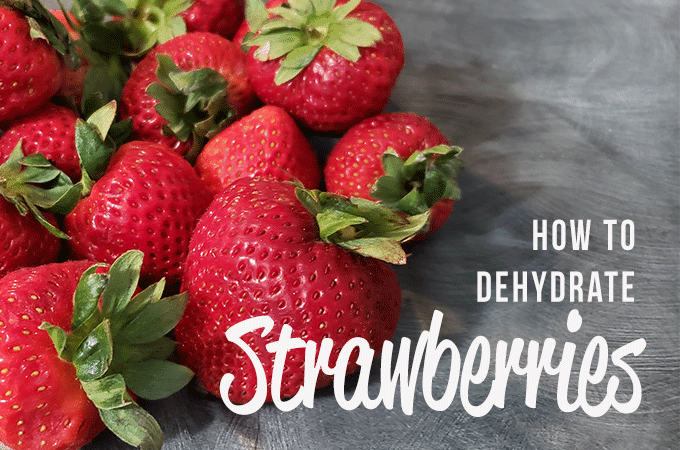 Did you know that strawberries are not technically berries? It's true.
Botanically, strawberries are really aggregate fruits, NOT a true berry. Berries are fleshy fruits deriving from a single flower ovary, and contain their seeds on the inside of their flesh, while strawberries store their seeds on the outside of their flesh, and derive from multiple flower ovaries.
Other fruits that are actually berries might surprise you:
Watermelon
Bananas
Tomatoes
Kiwi
Grapes
Squash - yes, our favorite pumpkin is actually a berry, botanically speaking.
This really doesn't affect how you preserve strawberries, it's just a fun little piece of gardening trivia to share at your next dinner party.
The Problem with Strawberries
Strawberries and other fleshy spring fruits are highly susceptible to mold. Just think about that container of strawberries that you purchased last week at the grocery store on Tuesday that had a mound of white mold on it on Wednesday morning when you opened the fridge for your morning smoothie.
You can help alleviate this by how you wash and store your strawberries.
How to Keep Strawberries Fresh
Many people recommend washing soft flesh berries like strawberries and raspberries before storing them. I disagree. Moisture from those berries are what contribute to the berries molding quickly, so I like to store just as they are in the fridge. I wash only as I'm ready to use. While I'm pretty steadfast with this practice and raspberries, I can be a little more forgiving of strawberries if I know we'll be using them within a day or two - I'll go ahead and wash immediately.
If, however, you find that you need to pick out a few bad fruits and wash the container for possible mold spores, this is how I do it.
Pick out any bruised or molded fruit;
Place the berries in a water bath of 2:1 water to the vinegar solution.
Washout the clamshell container your strawberries are in, and dry thoroughly,
Place a paper towel at the bottom of the container.
Dry strawberries thoroughly by laying out on a towel or gently spinning in a salad spinner, like this one from Oxo, and then allowing to dry.
Place strawberries back into your container.
Return to refrigerator.
If keeping in the clamshell is not, there are new containers that allow you to keep strawberries better in the fridge. They are designed to help you keep optimum conditions to help your produce last as long as possible.
How to Dehydrate Strawberries
Before you get started: Always preheat your dehydrator when you begin to prep your produce, and dehydrate at the appropriate temperatures. Running at 160F  doesn't make things dehydrate faster, it just promotes case hardening, which you don't want! Have you ever tested the temperature on your dehydrator?
1. Wash your strawberries thoroughly.
You can use a DIY vegetable wash that is at least 2:1 vinegar to water. You really need that high concentration of vinegar if you're going to use it at all.
There are even studies that suggest a simple wash in water is more beneficial because the amount of vinegar you have to use is so high, anything less is just wasting it.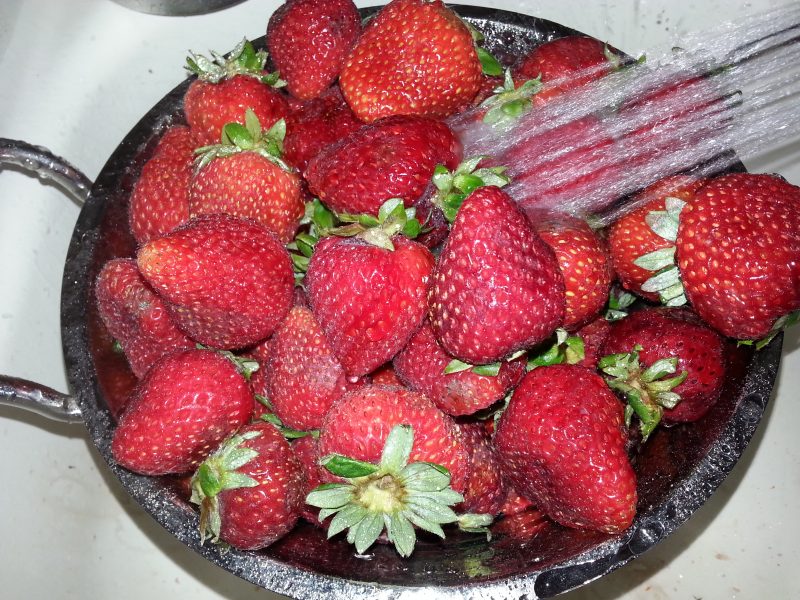 2. Hull the strawberries.
You might just use a paring knife to do this. I just cut a v-shape under the greens and pull them out. You might buy a strawberry huller made specifically to do this work (works on tomatoes, too!), or you can try the Quick Tip below using a straw. I used the straw in this photo. Though, if I only have a few to do, a paring knife makes quick work of it. But don't just throw away those hulls,  use them for more!
3. Slice your strawberries into 1/4" slices.
Keeping them thin and uniform will help them dehydrate at a consistent rate and take less time to dry. This gives you strawberry chips. If you prefer a smaller dice to put into things like oatmeal, feel free to keep cutting.
My friend, Shelle from Rockin W Homestead likes to cut her strawberries in chunks like this:
4. Arrange on a dehydrator tray.
This is a good time to get your kids involved 🙂 It's important to not let the fruit touch. They don't react the same way that herbs and greens do, so they need their space!
Note: You may wish to spray your strawberries with lemon juice or an ascorbic acid solution to help prevent strawberries from turning color while dehydrating. This is not as necessary as it is for bananas and apples, but some people prefer to do it.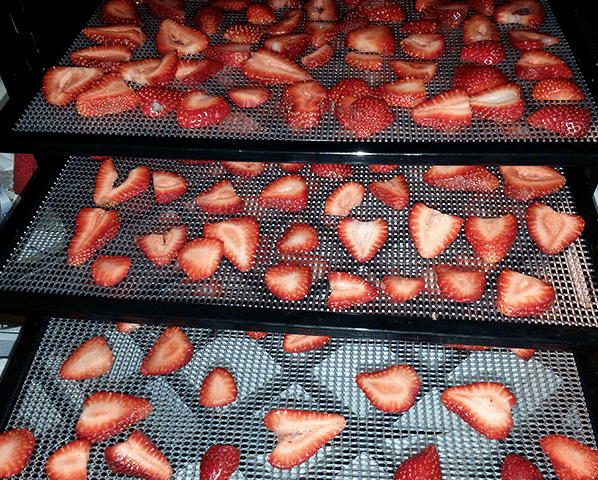 5. Place your trays in your dehydrator, set at 125-135F
Dry until the strawberries are dry and pliable.  I keep it on the low side to help keep as much of the nutrition in the fruit as possible.
When Are Strawberries Done?
Typically takes a batch like this about 8 hours to dry when sliced thin, up to 12-18 hours if done in halves.
Strawberries should be dry to the touch like paper, and pliable - but will probably not shatter the way vegetables would when completely dry.
Allow to come to room temperature and test again for the same effect. If they are bendy (as opposed to pliable), put them back in to dry more.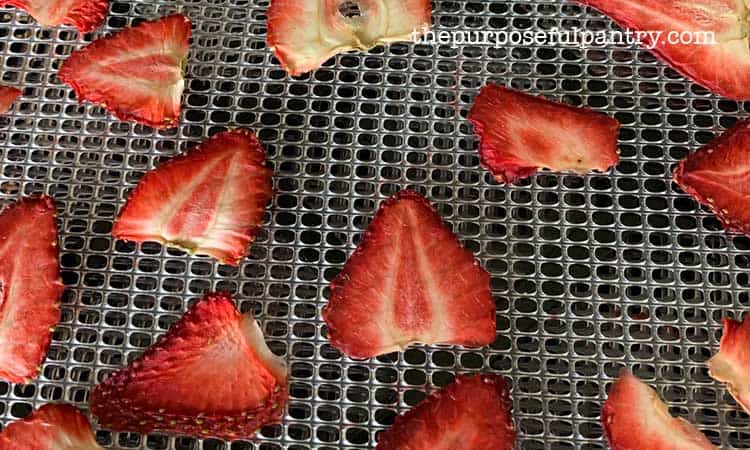 SHOULD I CONDITION DEHYDRATED STRAWBERRIES
Place your dehydrated strawberry slices into airtight containers, but not as if you were storing them for long-term. You want to give them a little room to move
Shake container daily.
Over the week, check for moisture build up in the container. If you see moisture in the fruit or condensation inside the jar, you'll need to pop them back into the dehydrator to dry again for a few hours to remove the residual moisture.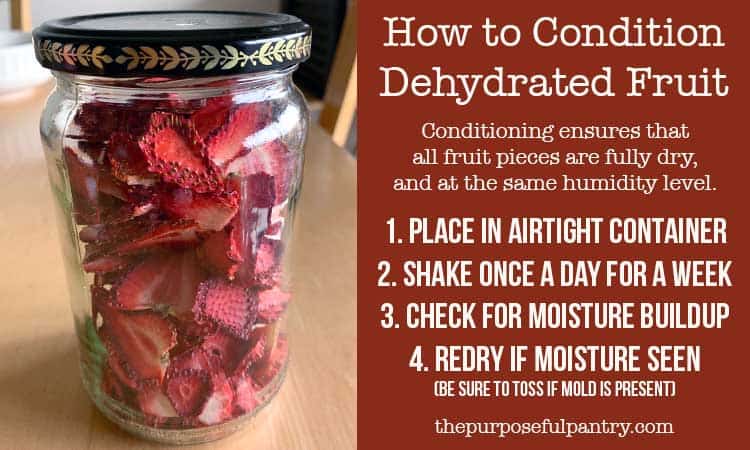 HOW TO STORE DEHYDRATED STRAWBERRIES
Mason Jar that has been vacuum sealed either with a vacuum sealing machine or an oxygen absorber that is the appropriate size for the container. I do not use the O2 absorber if this is a jar I plan on getting in and out of often, but if it is for long-term storage.
Airtight container with a desiccant pack to absorb any moisture.  The desiccant pack is to help absorb any moisture that may be lingering during storage but does NOT replace the conditioning method. It only helps to absorb the moisture introduced by opening the jar often.
Mylar storage bags that have been vacuum sealed (I also toss in an oxygen absorber to fully vacuum seal them).
Tools You Might Need:
My Favorite Dehydrating Books:
HOW TO HULL A STRAWBERRY HACK
One quick note - while I'm using an aluminum straw in the photo, you can use a stainless steel straw, too. I tend to bend too many plastic ones, so just use my metal stash, instead.
# 1 - Place straw at the bottom point to the strawberry
#2 - Gently push the straw up through the strawberry, being sure to aim for the middle of the crown as you push through so that you get all of the crown off.
Use the strawberry as you had planned! I did 3 qt. packages in about 5 min, much faster than I did use a paring knife...and I kept more of the fruit intact. If you choose not to dehydrate off of you strawberries this project, try this low sugar strawberry jam recipe, too!
How to Use Dehydrated Strawberries:
Straight out of the container for snacks
Trail mix - just like you might add any other fruit
Muffins (add a little extra moisture to your batter)
Oatmeal - just like you might add fresh strawberries - just allow them to rehydrate a bit before eating
Smoothies - add to your morning smoothies
Pack in lunches
Strawberry Powder
Make Strawberry Powder
If you dry your strawberries well, you may want to make strawberry powder. Follow the steps I have here in my Blackberry Powder post. But remember, strawberries don't dry out the same way, so they need to be thoroughly dried, or you can dry the powder a bit after by placing between layers of parchment paper before drying for a second round. This does work best with freeze-dried strawberries, but you can test it at home.
LEARN ABOUT DRYING FRUITS: