Dehydrate cherry tomatoes to preserve the garden bounty in the summer. Use them to make this awesome DIY Sun-Dried Tomato hack all year long!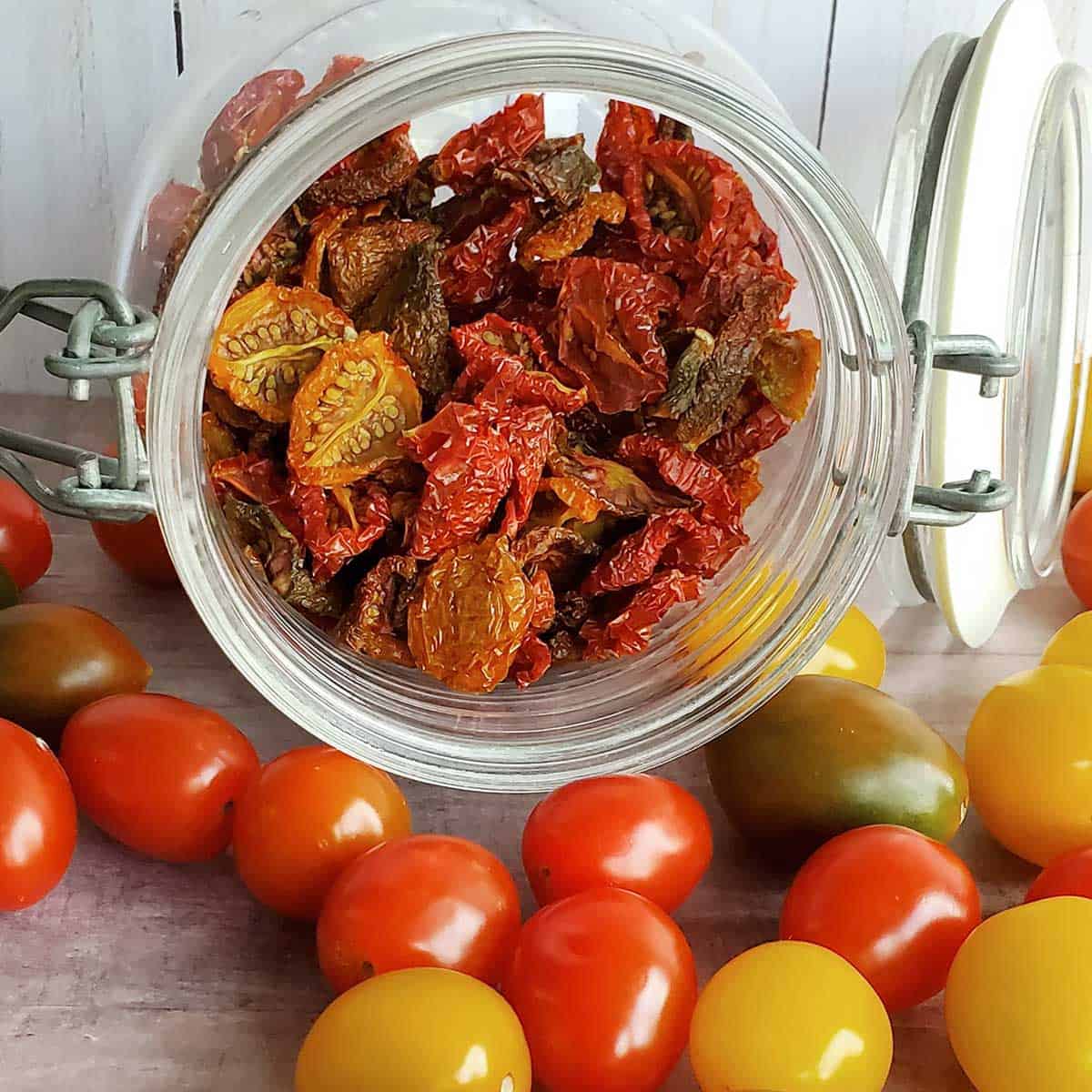 Do you plant more cherry or grape tomato plants thinking you'll never have enough, then find yourself with those tiny tomatoes flooding your kitchen during the height of harvesting?
Here's a simple way to preserve those tiny sweet globes of goodness and keep them for use all year long!
How to Dehydrate Cherry Tomatoes
This works so well on most small tomatoes such as cherry, grape, Roma, Sun Gold, Super Sweet 100's, etc.
Dehydrator Directions Tips:
Step One:
Wash and remove any debris and over-ripe tomatoes.
Fun tip: I soak mine in my OXO salad spinner, dump the water into my garden, then spin them to help dry them more quickly. They aren't damaged and it helps remove that excess water making them more slippery when cutting (though, after the 5th one...there's no chance things are staying dry!).
Step Two:
Cut tomatoes in half (half again if needed)
Step Three:
Place on dehydrator trays skin side down. It can be helpful, but not necessary, to put a fruit leather sheet or parchment paper down on top of your tray to protect from any juice.
This is important because you want as much surface area to be exposed to release that moisture (especially if you are putting these on fruit leather sheets), and to help mitigate sticking.
Step Four:
Dry at 125°F/52°C for 10-18+ hours
Step Five:
Step Six:
Store in airtight container for up to a year. Tomatoes have a shorter shelf-life because of the acids in them, so be sure to remember to mark them to rotate through a little more quickly.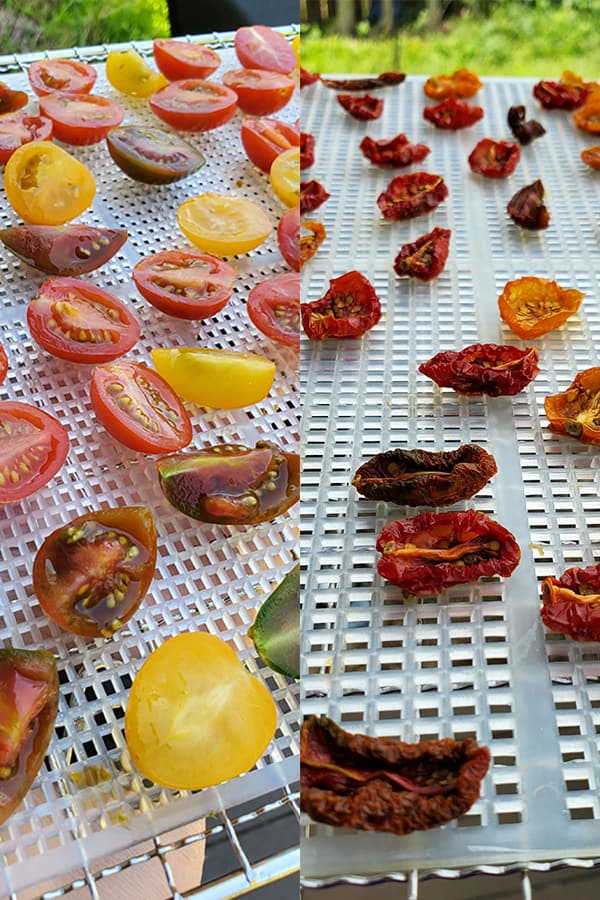 How to Dry Tomatoes in the Oven
Wash
Cut in half
Place tomato halves skin-side down on parchment-lined cookie sheets
Dry in an oven at its lowest setting - or 170°F - leaving the door cracked with a heat-proof spoon or silicone pad if possible.
Dry for 4-8 hours being careful to look for signs of overdrying/browning/burning of tomatoes
Condition
Store in an airtight container for up to one year
Uses for Dry Tomatoes
Toss into any salad for a sweet bite
Eat as snacks on their own - they are yummy like raisins or dried cranberries!
Make Sun-Dried Tomatoes (see recipe card below for instructions)
Throw into spaghetti sauce, stews, chilis, or casseroles for some texture
Chop and add to bread, muffins, etc.
Add to any pasta dish
As a topping on pizza
Mix into scrambled eggs
Create savory muffins by mixing Italian seasonings and chopped dried tomatoes and sausage into a basic muffin recipe
Rehydrate in good olive oil, salad dressing, or even water to add to sandwiches and salads without the chewier texture of just dried.
Chop into smaller pieces and add to hummus
Powder and make a scrumptious sandwich spread.
Related: How to Make and Use Tomato Powder
Watch how I dry them and make 'sun-dried' tomatoes in oil.
Commonly Asked Questions
How long do dried tomatoes last?
Approximately 8-12 months for best results. The acids in tomatoes give them a shorter shelf-life than other dehydrated foods.
While this is the suggestion for best results, you may find that you get much more time out of yours!
What kind of small tomatoes can I use to dehydrate?
Sun Gold, Super Sweet 100's, grape, plum, cherry, Roma (though time will be longer with Romas).
What kind of dehydrator do I need?
Any dehydrator will work, though you really want to use one with temperature control, if possible. It gives you more control on the quality of food you produce. I happened to use a Cosori dehydrator in this tutorial, but also use Nesco and Excalibur dehydrators. I have created a resource that helps you decide what is the best dehydrator for you and your budget.
Can I store the sundried tomatoes in the pantry?
Unfortunately, it's not the safest means of storing.
Here's why: "Oil may protect botulism organisms trapped in a water droplet. Furthermore, the oil may have a deleterious effect on lid gaskets and at least one manufacturer of home canning lids recommends against it."
Source: https://nchfp.uga.edu/tips/summer/home_preserv_tomatoes.html
Why did my sundried tomatoes solidify?
Depending on the oil you used, the white is actually the oil solidifying in the cold of your refrigerator. Simply place your jar in a bowl of warm water (not hot, thermal shock is a thing), and allow it to warm the oil back up, and it will liquefy again.
My tomatoes are still hard even after putting in oil
Simmer them on the stove gently before using to help. Sometimes, they just need a little heat to open up the cells and soften up.

📖 Recipe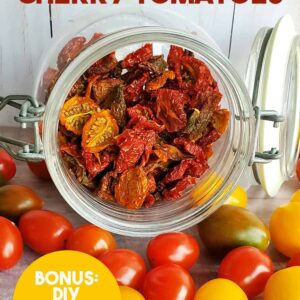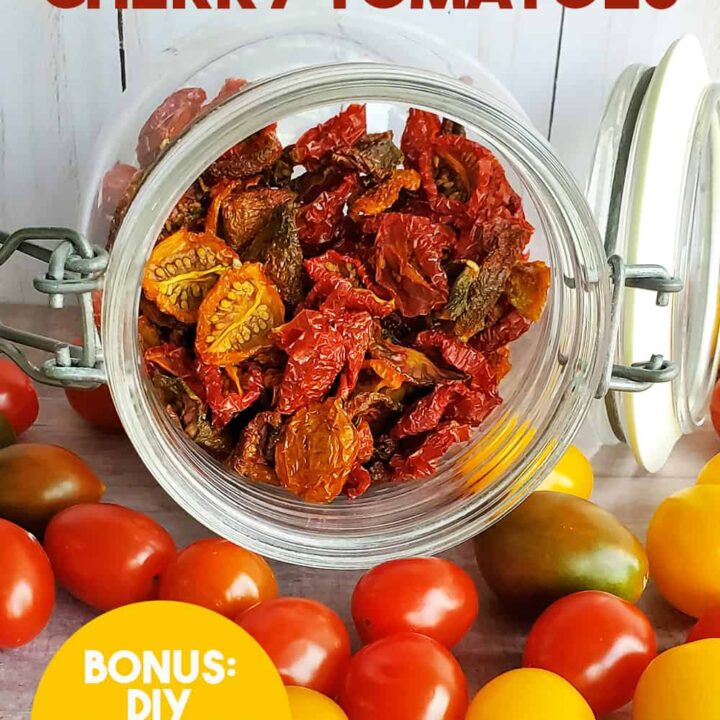 Dehydrate Cherry Tomatoes and other small tomato varieties
Dehydrate cherry tomatoes to preserve the garden bounty in the summer. BONUS: Use them to make this awesome DIY Sun-Dried Tomato hack all year long!
Print
PIN THIS!
Rate
Ingredients
Small tomato of your choice
Instructions
Dehydrator Instructions
Rinse and choose tomatoes

Cut in half or quarters depending on size of tomato

Place on dehydrator trays skin side down

Dry at 125°F / 52°C for 10-18+ hours
Oven Directions
Follow above directions except:

Use the lowest setting on your oven (below 200F). Watch for over browning
Darcy's Tips
How to Make 'Sun-Dried' Tomatoes from your dehydrated tomatoes:
After conditioning, place dried tomato pieces into a container of your choice.
Cover completely in olive oil.
Store in the fridge for up to three days.
Use as you would any sun-dried tomato product.
Nutritional information is an estimation only. Nutrient information for dehydrated foods is based on fresh. Use ¼ of the servicing size for the same nutrient information. Thus 1 Cup of fresh fruit has the same sugars as ¼ dried.
©ThePurposefulPantry. Photographs and content are copyright protected. Sharing of this recipe's link is both encouraged and appreciated. Copying and/or pasting full recipes to any social media is strictly prohibited.