Want a way to do mirepoix in bulk and make is shelf-stable at the same time? Use this handy trick to dehydrate mirepoix -- but add this fun twist for a new flavor!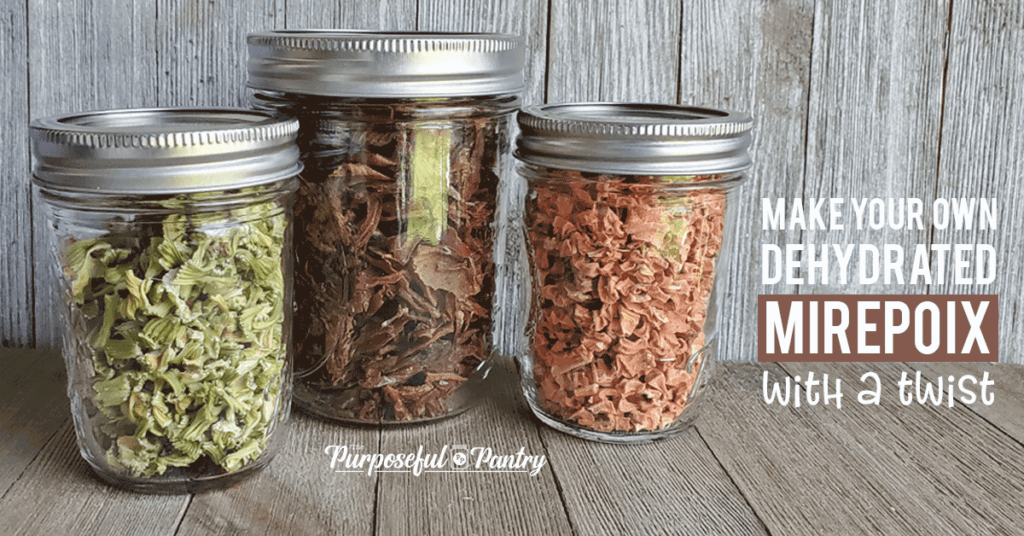 Mirepoix (meer-pwawwww as this Texas girl likes to say it), is the base aromatic blend for hundreds of dishes.
The typical ratio is 2:1:1 onions to celery to carrots. But you can do the mixture however you like for your own meals.
And it's based on what you happen to have a the time. If you don't have enough onions, then use what you've got.
But the awesome thing about creating this dehydrated mirepoix mixture is that you cut it once, use the fresh you nee for that night, dehydrate the rest, and you won't have to worry again for awhile
How to Dehydrate Mirepoix
1. Preheat Dehydrator to 125°F/52°C
Always preheat your dehydrator when you begin to prep your produce, and dehydrate at the appropriate temperatures. Running at 160F doesn't make things dehydrate faster, it just promotes case hardening, which you don't want!
2. Prepare your onions, celery and carrots
Cut the into similarly sized pieces for more consistent drying time
3. Place onto dehydrator racks separately.
Because they may dehydrate at different rates, it's best to keep them separated.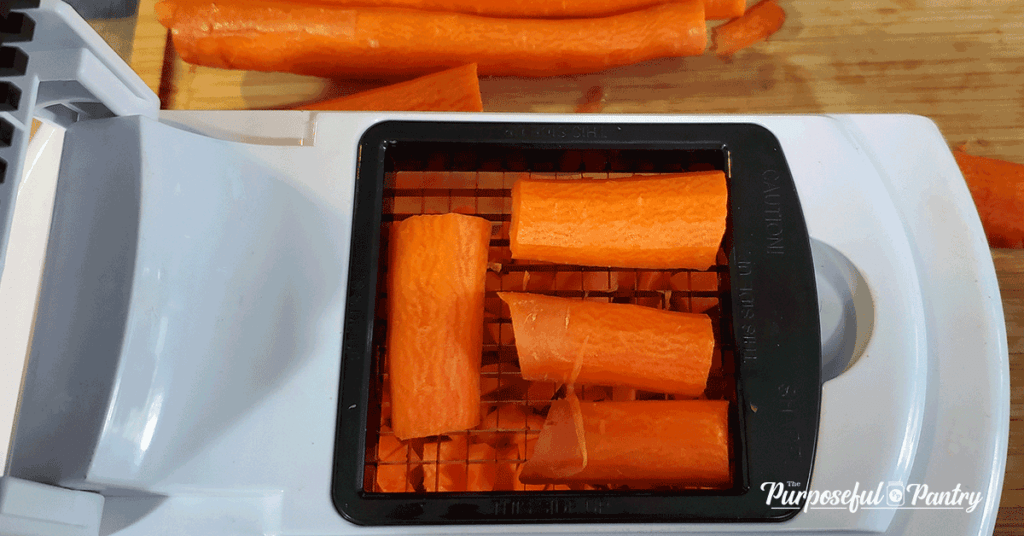 I don't own a food processor, so I use this Fullstar Onion Chopper (Amazon) to make things a little more even and go more quickly when I'm doing bulk prep.
The Secret Ingredient
Just in case you didn't recognize the twist in my caramelized mirepoix, here it is -- caramelized onions. Typically, you'd use fresh. But we love this twist and the flavor it brings!
Just throw them in a slow cooker and allow them to cook for 4-6 hrs until soft, drain any liquid, and throw them onto the dehydrator trays with your celery and carrots.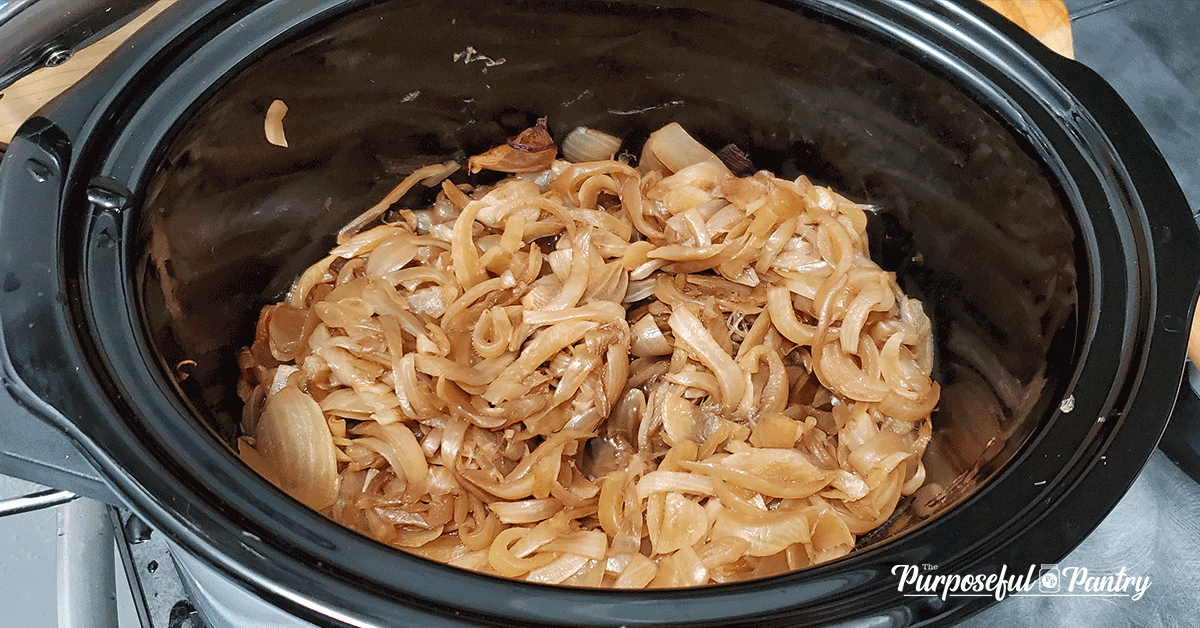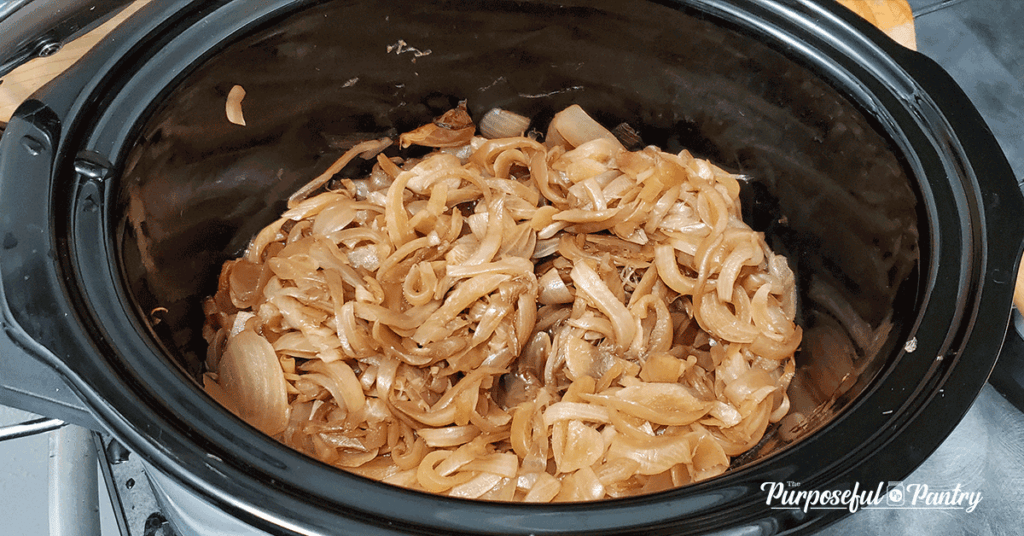 READ MORE: How to Dehydrate Caramelized Onions + Make Onion POwder + DIY Onion Soup Mix
4. Dry at 125°F / 52°C
Dry for approximately 8-12 hours until fully dry. They will be hard, non-pliable and crunch, respectively. Make sure to pull them out to let them cool before testing.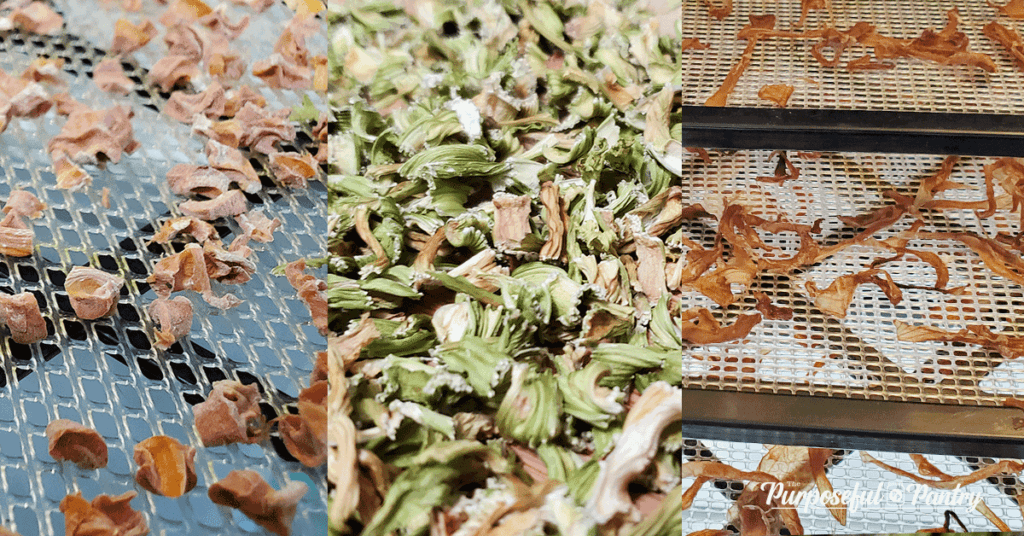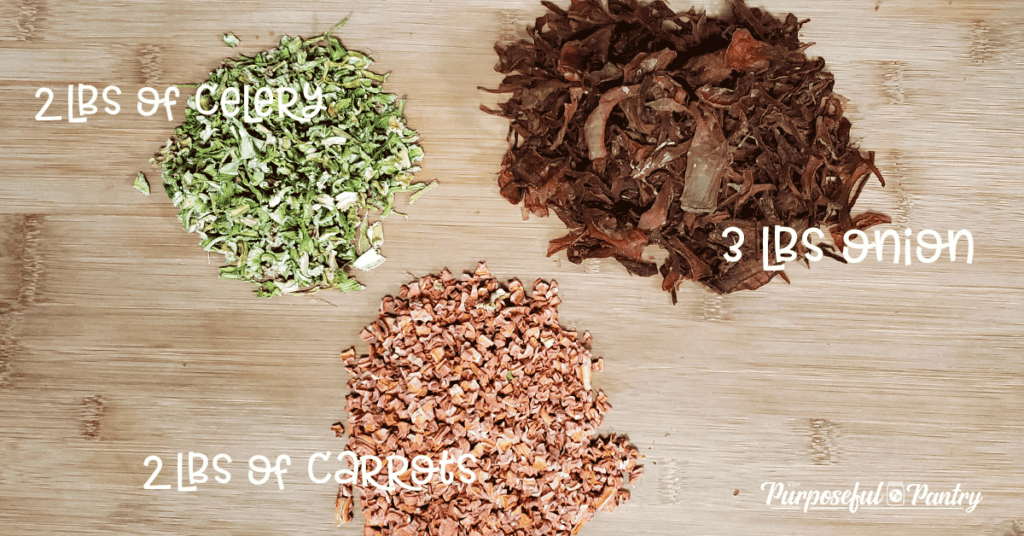 Condition
If you plan on using these whole, condition dehydrated foods first before putting back into storage. You can choose to keep them separate and just use as you need it or mix them into one larger container.
Store in an airtight container
Store in an airtight container to keep your dried mirepoix as 'fresh' as can be in a cool, dark place.
How to make Dehydrated Pre-Cooked Mirepoix
You can definitely dehydrate mirepoix AFTER you've cooked it. It works the same way as blanching does if you were doing the individual ingredients traditionally.
Simply cook your mirepoix in a large skillet or stockpot with a small bit of water or vegetable stock to brown.
Then follow the dehydrating instructions above. Your time will be decreased by an hour or two
TIP>> do not use oils or fats if you intend this to go into your pantry for long-term shelf stability. Fats and oils may turn rancid in long-term storage, so do it with a little water to help the process.
How to Make Mirepoix Mix
Rehydrate in a container of boiling water that covers the content for about 30 minutes until everything is soft again. Warm in the skillet until cooked through and continue on with your recipe.
How to Make Mirepoix Powder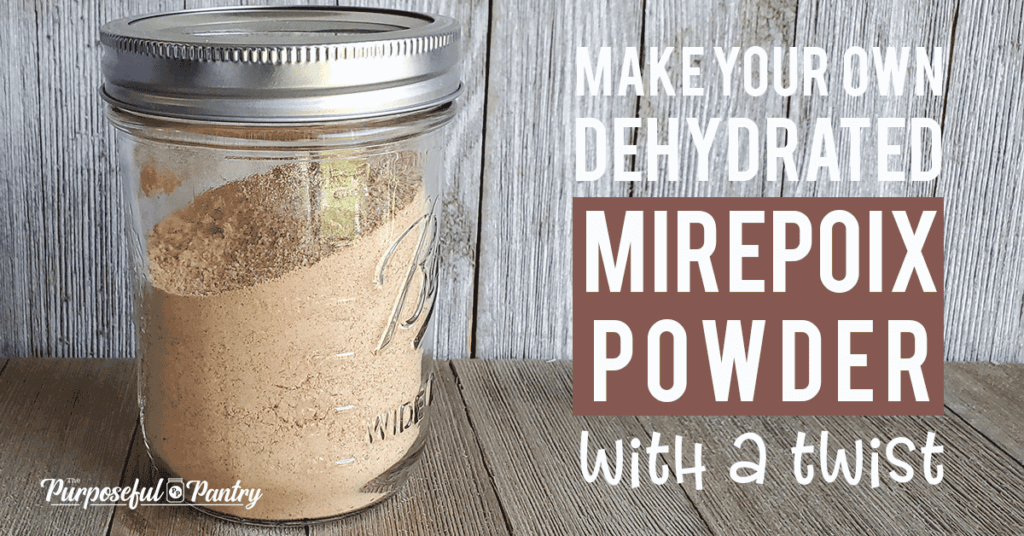 If, like my crew, you don't necessarily like the texture of cooked celery or onions, mirepoix power just might be the solution for you!
It's as easy as preparing your products above, then tossing into your blender to mix completely.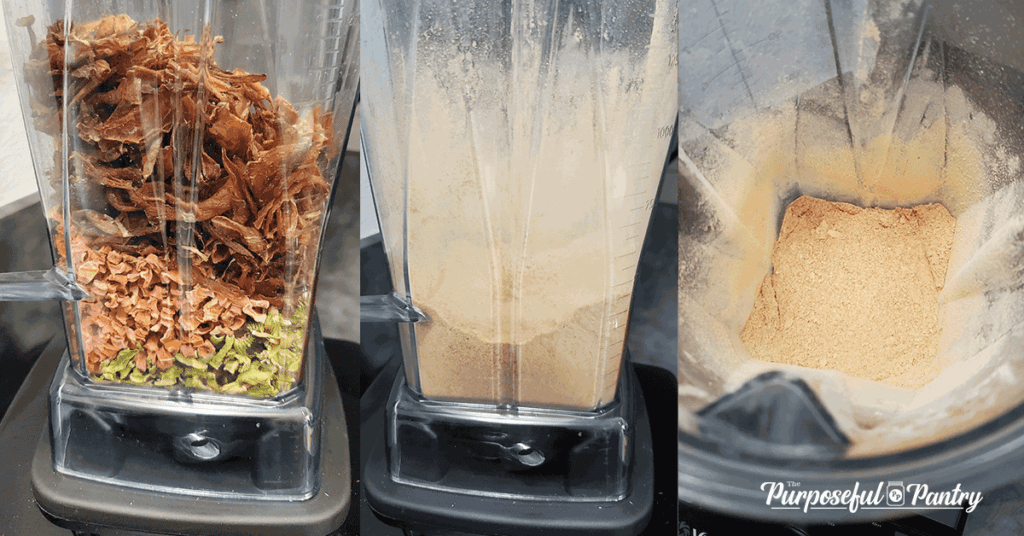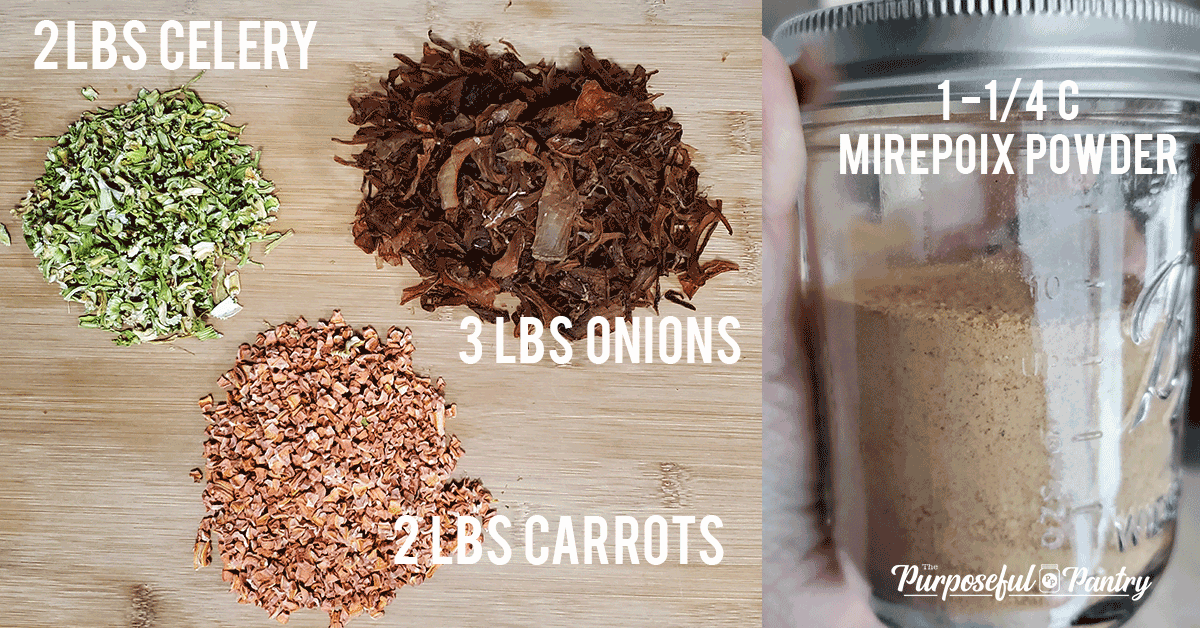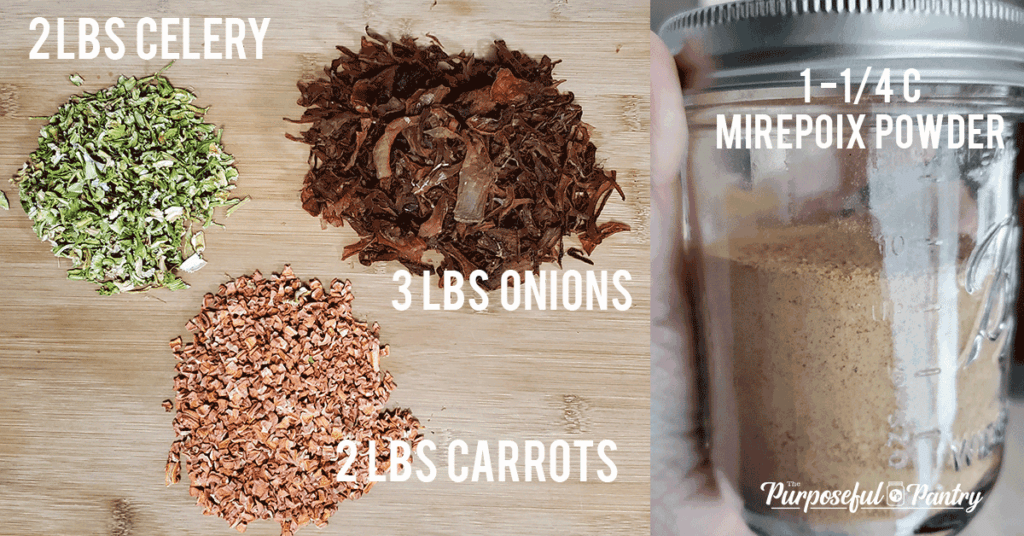 Free Printable Worksheet
If you are already a member of The Purposeful Pantry Library, grab your worksheet here.
Drying Your Power
When grinding powers, the friction causes heat, which draws moisture. So throwing your powders back into your dehydrator for an hour or two can dry them before you put them into storage.
You can create trays for your machine that work great. Use a covered bowl, lipped trays for circular or square machines. There are lots of options for you!
TIP>> 5 Ways to keep your powders from clumping and stay dry.
How to use Mirepoix Powder
Using mirepoix power can add a ton of flavor to just about any dish. Start with 2 teaspoons to flavor, and then adjust from there.
Use Mirepoix Powder to flavor soups and stews without the texture. It's perfect if you are creating cream of 'something' soups.
Use it to add to soup in a jar recipes
Use it to add to rice seasoning
Use it to create savory pasta dish or even to flavor your homemade pasta
Add some mushroom powder to it to create a meaty flavor seasoning mix.
Want to visualize the process? Leisa from SuttonsDaze made this video in partnership with this post for creating and dehydrating regular mirepoix. Volumes change as caramelized onions have less mass than dried raw onions, but the process is the same, otherwise.
DIY Bulk Mirepoix Powder
To me, creating from scratch and creating the powder, in the end, is easiest. Not many of us keep carrot power in bulk in our pantries.
However, if you have the bulk, you can do it in large quantities from your powders, and maybe even for gift giving!
Separate into smaller gift-giving jars for a tasty gift basket! Or just keep it all for yourself!
WHAT DEHYDRATOR SHOULD I USE?
One that you'll actually use is the answer!
I love my Excalibur Dehydrator. It does a ton of food and is a hard worker. However, it does take up a ton of counter space, which is at a premium for many.
But any machine that has temperature controls and allows you to dehydrate is great to use.
Want more Dehydrating Ideas?
If this intrigues you to start more of your own dehydrating projects at home, be sure to check out the dehydrating section here on the blog, and subscribe to my newsletter where you'll get more projects delivered to your mailbox each week, plus it will give you exclusive access to my Resource Library This is the place you can download ALL the printables and exclusive content! I'm also posting tutorials on my Youtube channel, and would love for you to join my Dehydrating Tips and Tricks group on Facebook for more immediate help and ideas!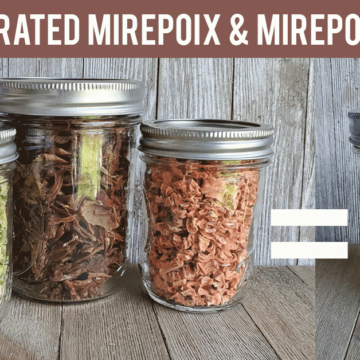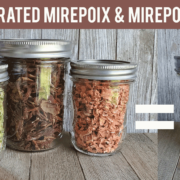 Dehydrated Mirepoix and Mirepoix Powder
Create a supper staple shortcut by dehydrating mirepoix in bulk -and a tasty powder to flavor other things down the road.
Print Recipe
Ingredients
3

lbs

Onion

2

lbs

Celery

2

lbs

Carrot
Instructions
Clean and cut vegetables into small pieces - the same size you would prep if you were making this fresh.

Place onto dehydrator trays in separate layers. They dry at different rates.

Dry at 125°F / 52°C for 6-12 hours

Store in airtight containers
Notes
In bulk:
The typical ratio is 2:1:1 onion to celery to carrot. But you can do the mixture however you like for your own meals.
To store: Store in airtight containers separately or together. 
To Powder: Put your ingredients into a bullet blender or large blender and pulse until a powder begins to form, then on high until fully powdered. Store in an airtight container with a desiccant pack if desired.