Dehydrate celery and save it from the fridge monster that makes everything mold! Bonus uses - celery powder and celery salt from these easy steps!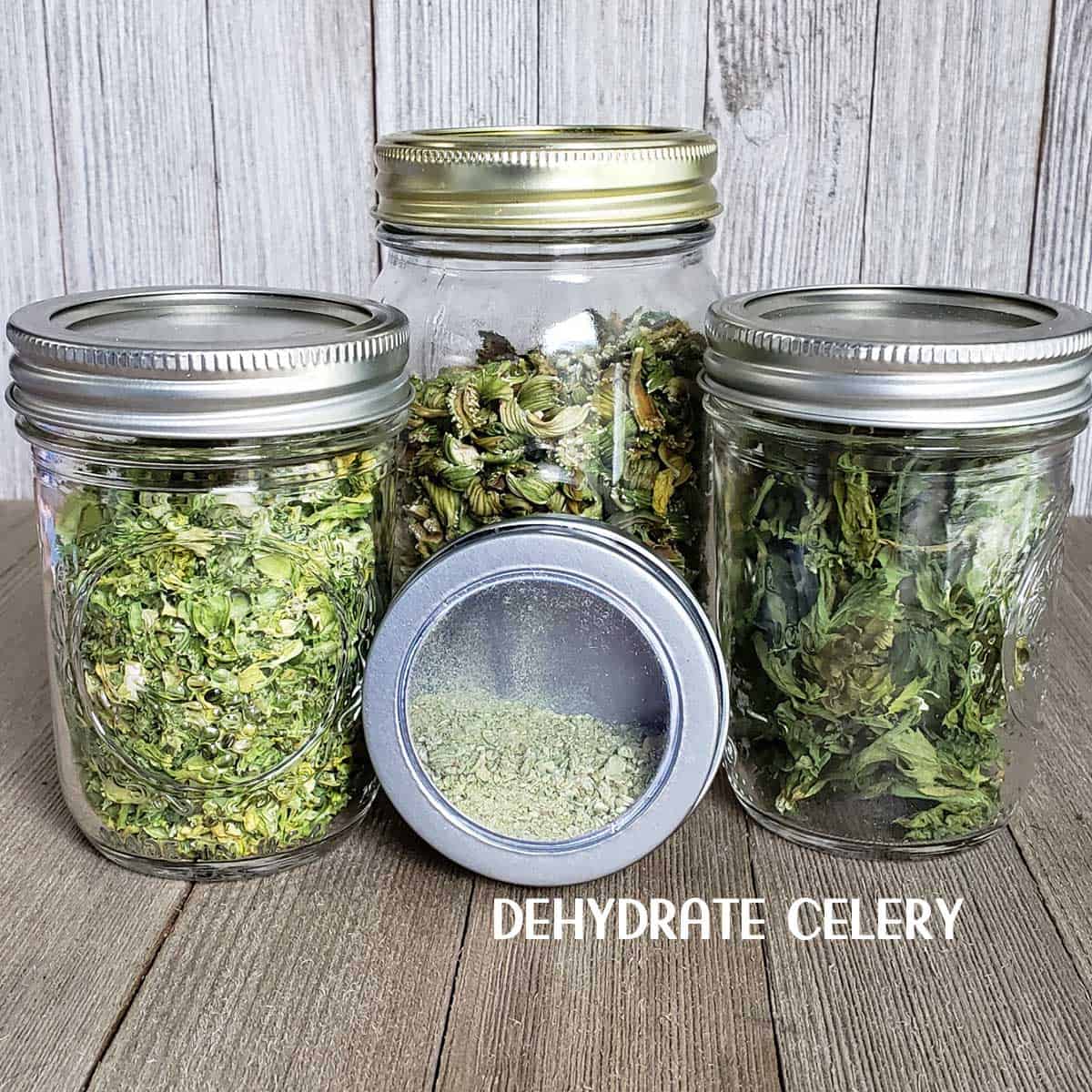 First, let me just put this out there. I hate celery. I hate it with a passion. I hate it so much. Maybe I just hate the texture and not the taste so much.
No, I just hate celery, yet I still love you guys more because I did this post. AND...because I love using celery powder IN things. Plus I love putting celery leaves into my Green Powder for a little punch of flavor.
Okay, so maybe I don't hate celery so much.
But before we get started - did you know - a bunch of celery is called the stalk...and each individual piece is called a rib? So when a recipe calls for a stalk of celery - which do you use?!
How to Dehydrate Celery
►Always preheat your dehydrator when you begin to prep your produce, and dehydrate at the appropriate temperatures. Running at 160F doesn't make things dehydrate faster, it just promotes case hardening, which you don't want! Have you ever tested the temperature on your dehydrator?
1. Separate ribs
Some might also find this is a good time to pull the strings from the stalks. Simple use a vegetable peeler to quickly take off the outer layer of the stalk, removing the fibrous strings. It's not a necessary step, however. It might help you down the road with the powdering if you don't have a good grinder/blender.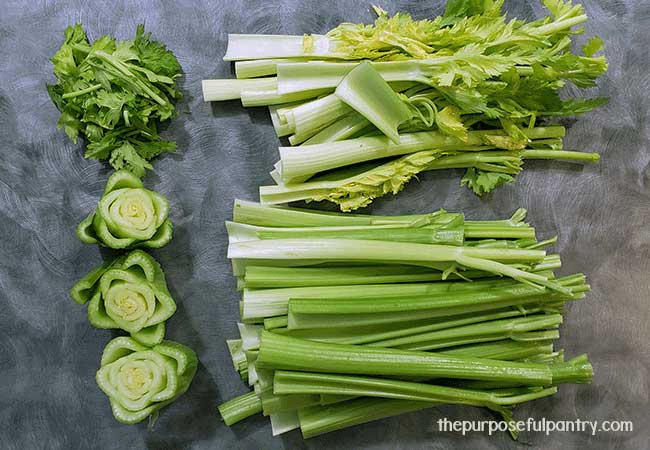 PRO TIP: Destringing the celery might create a better finished texture for you. Just use a vegetable peeler to lightly peel the outside of the stalk.
2. Clean Celery
Celery collects a lot of dirt and other debris in the stalks. I separate all of the ribs to soak and wash. Others choose to cut the celery first, and then wash what they'll use, and compost out the rest. Use a wet rag to wipe off particularly dirty stalks.
Allow to dry on a tea towel.
3. Chop Celery
Your choice -
Chop into bite-sized bits for use in stews and soups and all manner of cooking -or-
Chop into finer pieces, by hand or with a food processor (I use this Ninja Food System one), for easier powdering down the road. You will not need to blanch these pieces (see below), so no worries.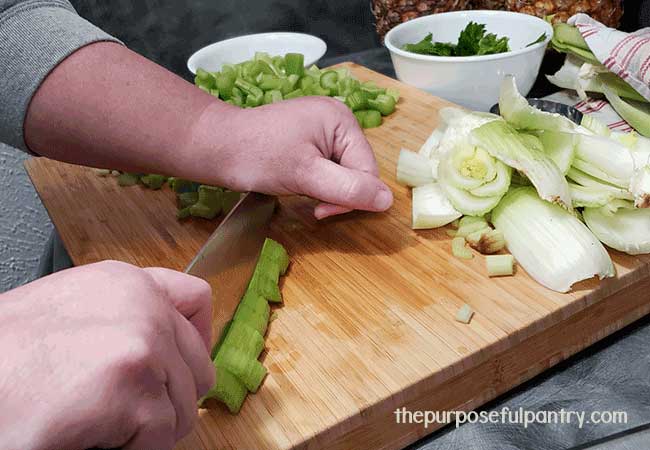 4. Blanch or not
Blanching, or parboiling, is a method of dumping a vegetable or fruit into boiling water for a few minutes, then quickly removing it and plunging it into an ice bath to stop the cooking process. It allows for a quick cook without fully cooking the vegetable or fruit.
To preserve color - in some cases, to stop from completely turning black like potatoes, or just to preserve a brighter color.
To make rehydrating easier - in the case of celery - blanched celery rehydrates to a softer end product.
My general rule of thumb for vegetables is that if you eat it raw, don't blanch it. It's not a solid rule - there are other vegetables you want to blanch for dehydrating even though you may eat it raw, but celery is one that straddles that line.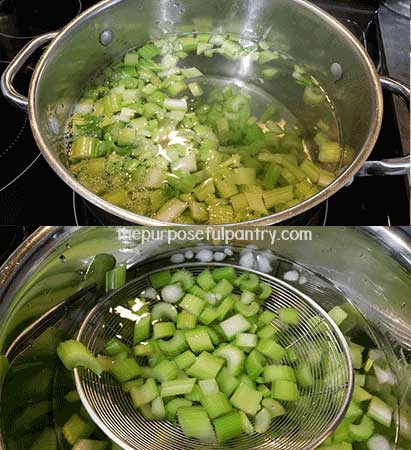 5. Dehydrate at 125F | 52C for 6-8 hours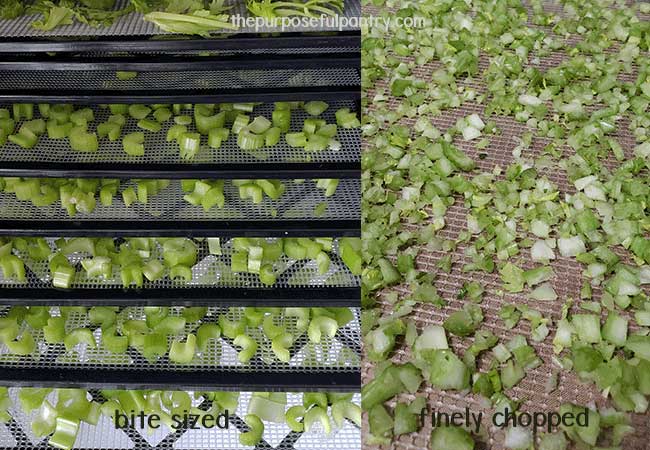 I'm using an Excalibur Dehydrator, but you can use any dehydrator you'd like - just make sure it has adjustable temperatures so you aren't cooking your food or creating a case hardening issue.
6. Check for dryness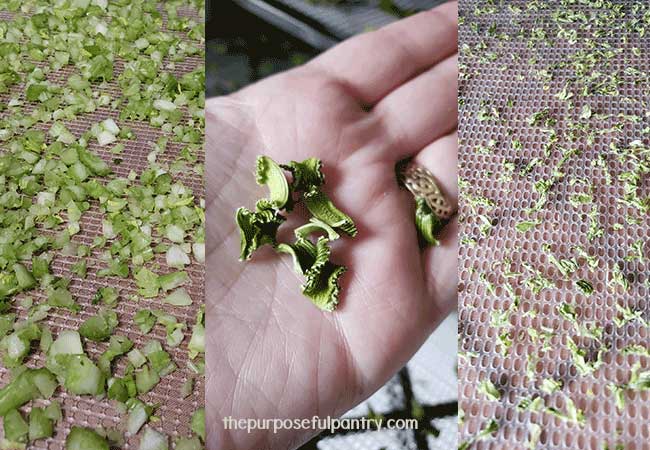 Celery should be hard pellets when done.
►TIP Always take samples out to allow them to cool before testing.
7. Condition
This is a crucial step for dehydrators. You need to allow your produce to equalize the humidity between pieces as well as check for excess moisture. Be sure to follow the conditioning protocol before moving on to storage!
8. Store in an airtight container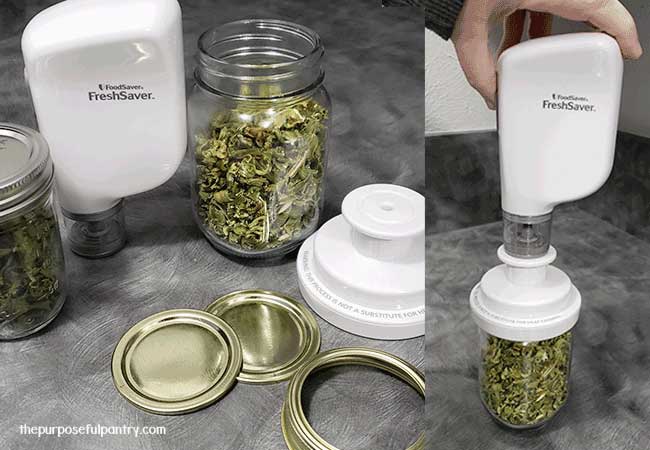 You can, of course, leave your dehydrated celery in an airtight container. But like other dehydrated products, celery absorbs moisture pretty quickly, so I would suggest a moisture absorber tossed in to help.
Use a full-sized vacuum sealer, or this handy hand-held vacuum sealer to seal in jars between uses. Make sure to use 2 canning jar lids when you seal this way, the top lid will come off when you're done. This just lets you get a better seal for the regular mouth jars. Wide mouth jars don't need the extra lid. You can watch my video on how to do this here.
You will need to also use the Food Saver jar attachments, but they work with any machine that has the tube port for vacuum sealing containers.
TIP ►► You can add your dehydrated celery leaves to your DIY Green Powder to expand the flavor profile easily!

HOW TO REHYDRATE CELERY
Put your desired amount of dehydrated celery into a bowl and cover with boiling water. If this is going into a soup or stew, you can take the cooking liquids and soak the celery instead - then pour the whole bowl back into the soup, or stew.
Allow to steep for 15 minutes or so.
I tested this out for you to show you my experience with the blanch vs. no blanch methods.
► To keep the color
Yes, blanched celery stays a little greener.
► Keep it from browning?
Unfortunately, I didn't find that blanching vs. not blanching settled the argument. Both sets of celery bits browned equally.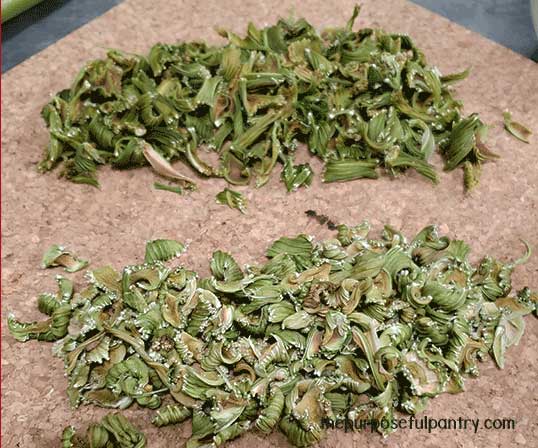 ►Easier rehydrating?
This is debatable and particular to your taste. Rehydrating the blanched pieces made them taste like they'd been in a soup for a while - soft and kind of spongy. I would worry that putting into long-cooking soups or stews might make them mush.
The non-blanched pieces still had a little brightness and crunch to them. They would be great for throwing into fresh salads or chicken salad where you might not want the full body of fresh celery, but a little crunch is good. I actually preferred this version of the two.
So - do you need to blanch? That's totally up to you.
I created this video, just for you, to see how this process works, and the difference between blanched and non-blanched dried celery.
How to Make Celery Powder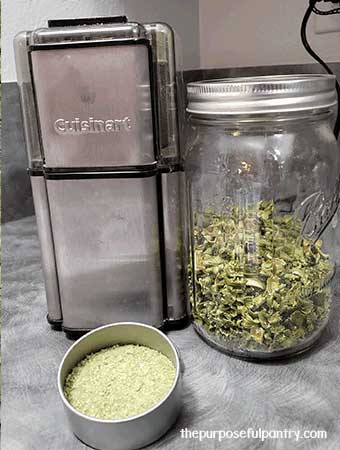 Toss a handful of dehydrated celery into a dedicated coffee grinder to create a celery powder. I recommend only doing enough for a few uses, since it keeps better than a large jar of celery powder. You can also make this same kind of powder from your dehydrated frozen veggies!
DEHYDRATED CELERY CONVERSION CHART
What is the yield of dehydrated celery?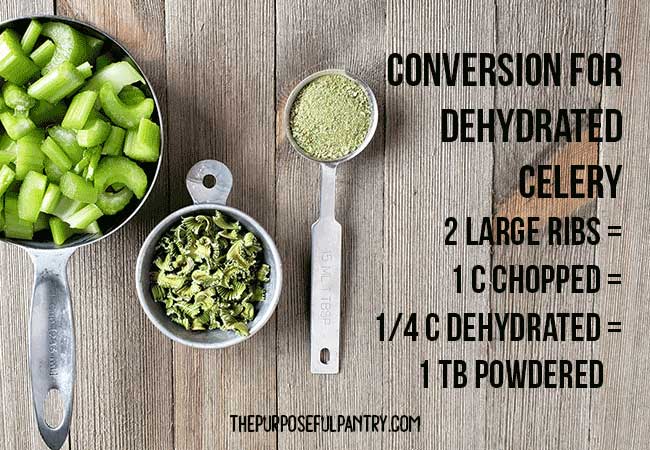 How to Make Celery Salt (alternative)
Use equal parts dehydrated ground celery and/or leaves plus any natural salt of your choice (I don't use iodized salt). Grind in a dedicated coffee grinder to desired consistency. You can adjust as your taste prefers. Because this particular batch was a little heavy on the salt, I adjusted it for our own use before storing it.
More Recipes with Dehydrated Celery
Use these posts to print the recipes for mentioned seasoning bends above.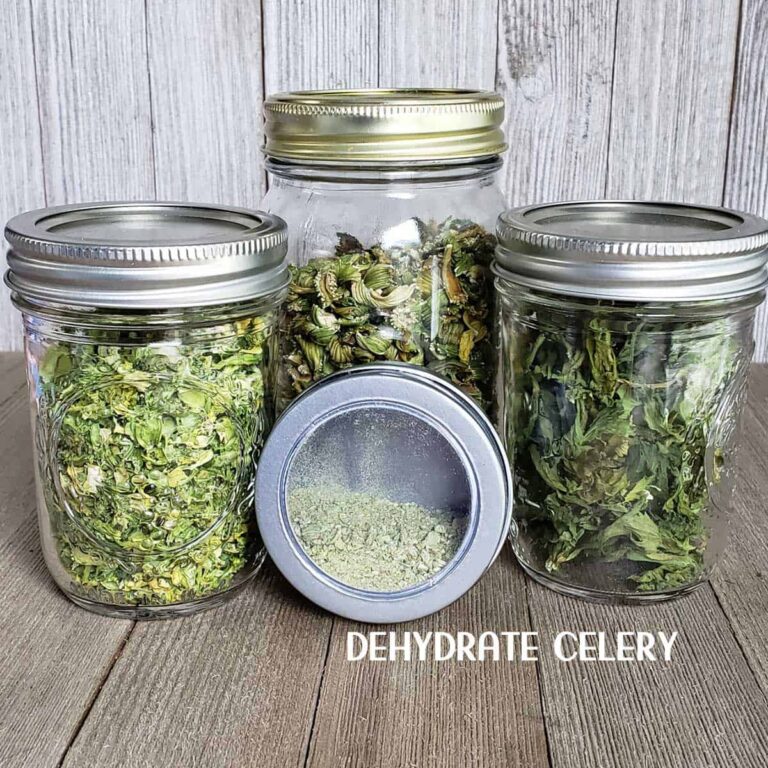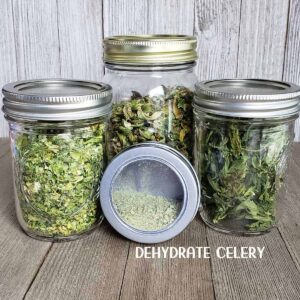 How to Dehydrate Celery
Dehydrating celery stops you from wasting that celery that always languishes in the back of your fridge from good intentions! Perfect for prepping your pantry with essential basics of cooking!
Print
PIN THIS!
Rate
Instructions
Dehydrating Celery
Chop into bite sized pieces or rough chop in a food processor

Blanch for 4 minutes, then dunk into ice bath to stop cooking process. This is an optional step, but will make the texture better and keep color longer.

Dehydrate at 125°F / 52°C for 6-10 hours

Cool to test: Should be hard, not spongy, and darker when dried.

Store in an airtight container for up to two years.
How to Create Celery Powder
Place celery pieces into a coffee grinder or bullet blender

Pulse until celery is in tiny pieces

Grind for 30 second intervals until powdered.

Condition powder by placing on lined cookie sheets in a warmed but off oven for fifteen minutes

Store in an airtight container for 6-9 months.
Video
Darcy's Tips
Blanching is optional in this process. But remember that it will affect the end product, so experiment with it both ways to see which you prefer.
Destringing the celery is a way to help reduce the 'stringiness' of celery once rehydrated. It is an optional step.
Nutrition
Serving:
3
Tablespoons
|
Calories:
6
kcal
|
Carbohydrates:
1
g
|
Protein:
0.3
g
|
Fat:
0.1
g
|
Saturated Fat:
0.02
g
|
Polyunsaturated Fat:
0.03
g
|
Monounsaturated Fat:
0.01
g
|
Sodium:
32
mg
|
Potassium:
104
mg
|
Fiber:
1
g
|
Sugar:
1
g
|
Vitamin A:
180
IU
|
Vitamin C:
1
mg
|
Calcium:
16
mg
|
Iron:
0.1
mg
Nutritional information is an estimation only. Nutrient information for dehydrated foods is based on fresh. Use ¼ of the servicing size for the same nutrient information. Thus 1 Cup of fresh fruit has the same sugars as ¼ dried.
©ThePurposefulPantry. Photographs and content are copyright protected. Sharing of this recipe's link is both encouraged and appreciated. Copying and/or pasting full recipes to any social media is strictly prohibited.