Dehydrate bay leaves at home and have brighter, more flavorful leaves to add to all of your cooking. These are so much better than what you typically get in a store!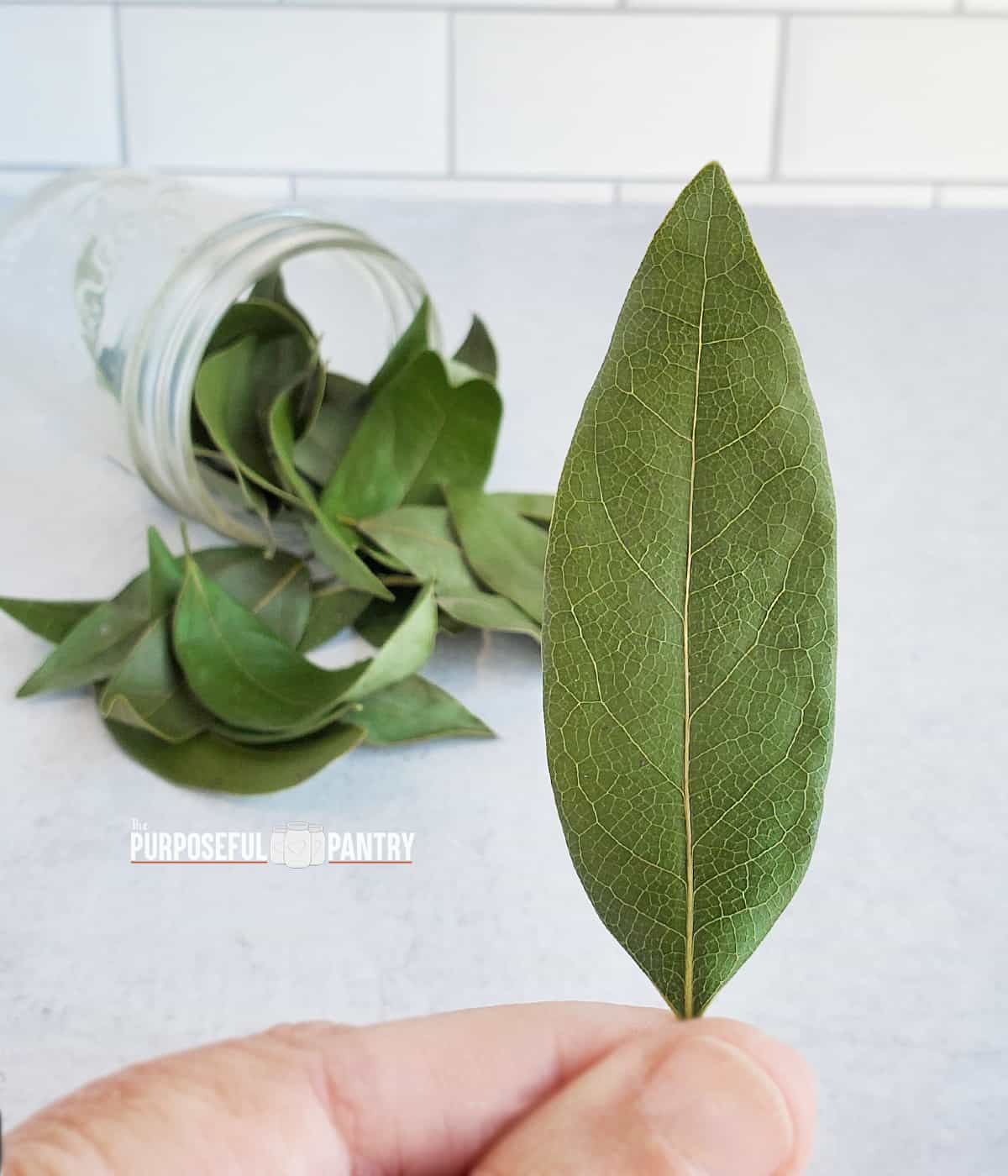 Dried Bay leaves are such an integral component to stews and soups, but most people don't have bay trees in their backyards to use them fresh.
And what you buy in a store look weak and sickly a lot, don't they?
But if you have access to someone who can provide you with fresh leaves, drying them yourself makes a much better option!
Tip: If you check your fresh herb shelf at the store, you might be able to grab some on clearance!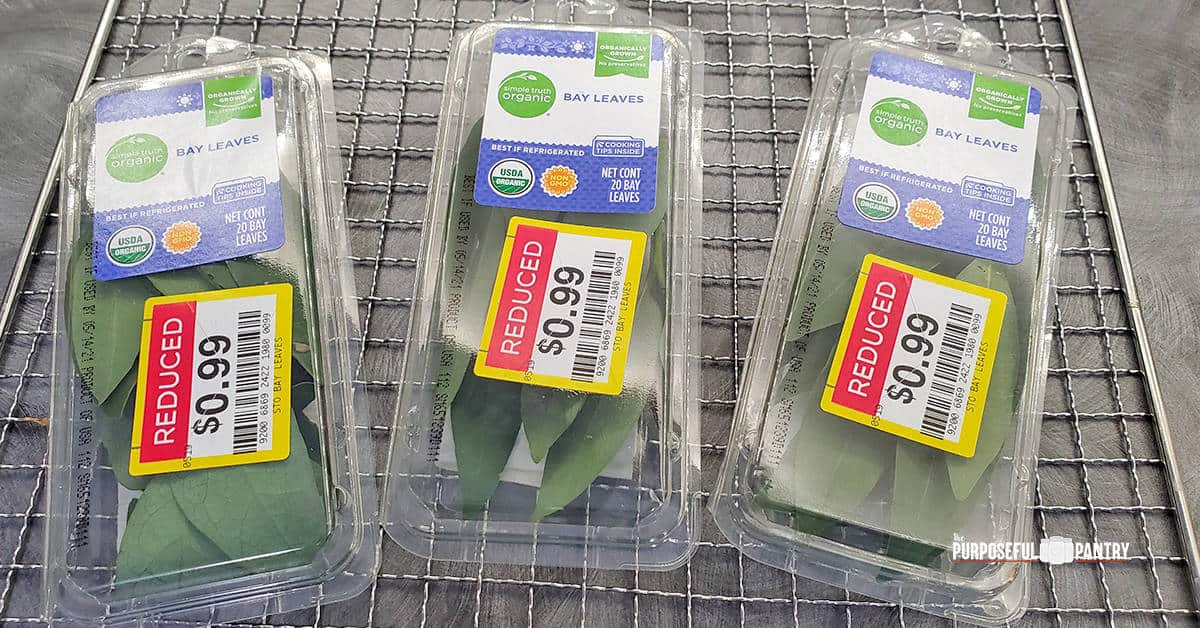 By the way - have you ever smelled a fresh bay leaf? It is amazing!!
How to Dehydrate Bay Leaves
While you can just hang bay leaves to dry, or pick them off the stems and lay them between two towels to air dry, dehydrating just allows me to dry things more effectively in our humid climate.
Step one: Rinse bay leaves and clip off stems
You can dry on the stem if you'd like, but I find that they dry faster without the stem. Not only because they aren't laying on top of each other, but the stem takes a long time to dry.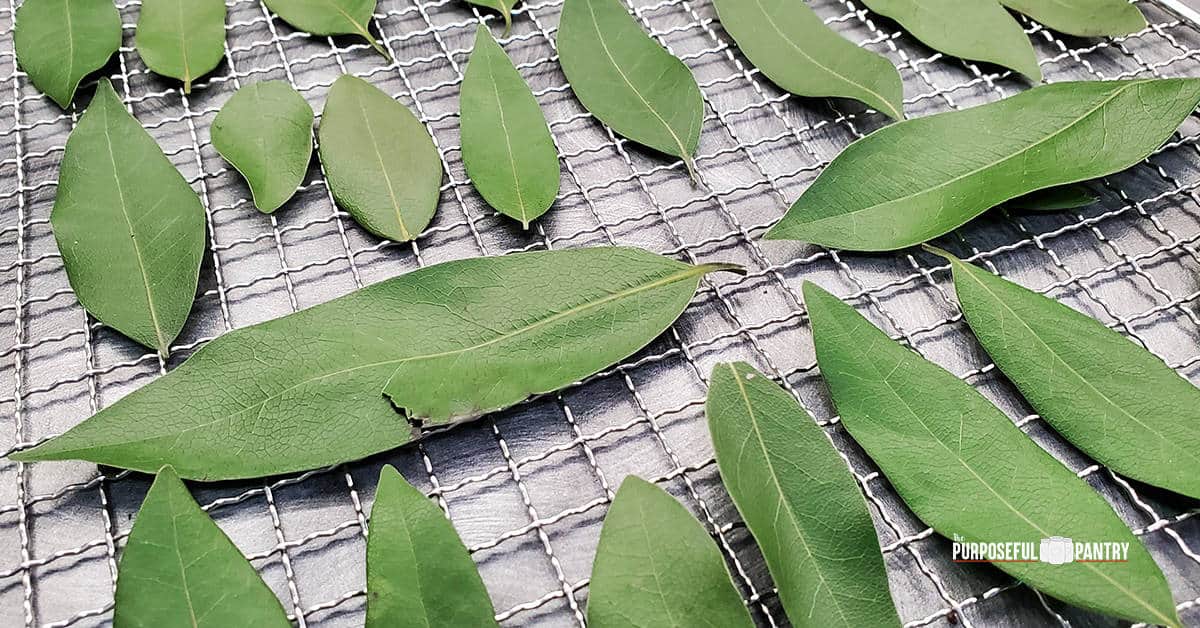 Step Two: Place on dehydrator trays
Just don't be took picky about it. They'll move around a lot during the drying process.
Need a dehydrator suggestion? My favorite for most uses is the Cosori dehydrator, but if you need something different, I have a resource to help you choose the best dehydrator for you.
Step Three: Dry at 95°F / 35°C for 18-48 hours.
The time frame does seem long, but it does take them a while to dry at a low temperature for herbs. They are leathery, thick, and full of fragrant oils. So just give them time to dry.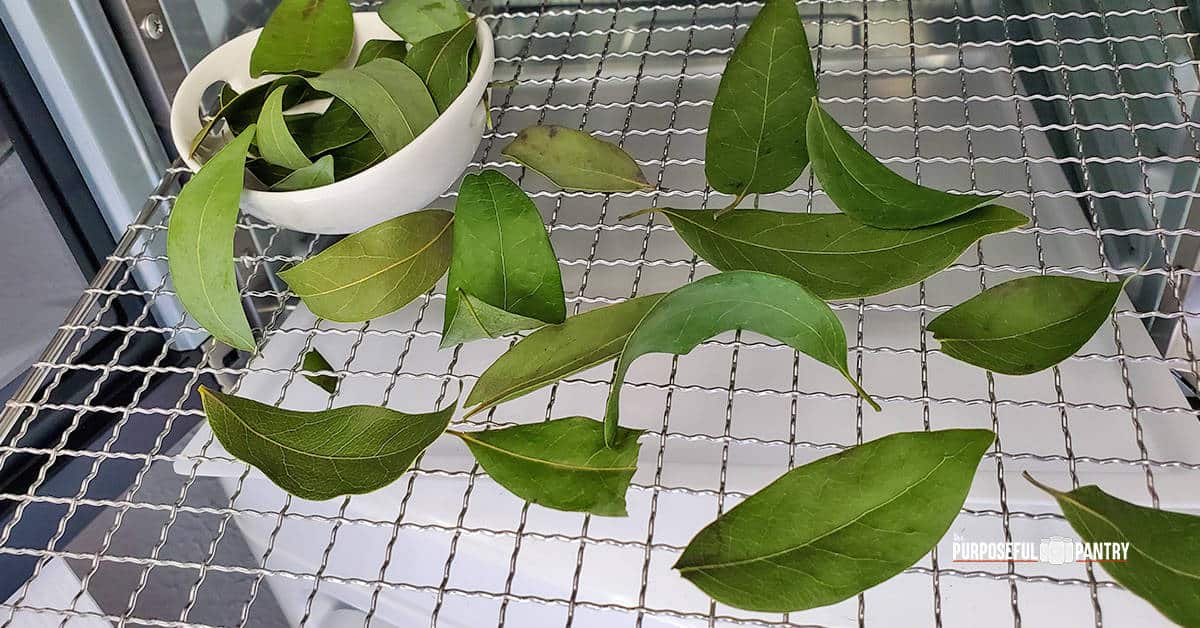 Learn more: Alternative ways to dry herbs
Dryness Check:
Bay leaves are dry when they are crispy and easily break when they are bent. Some may curl, and that's fine.
Storage:
Store in an airtight container for years. But within the first year or so is your best use! Find more herb storage ideas here.
Why home-dried herbs are better!
Look at the difference between these home-dried bay leaves and the ones I recently purchased from the local grocery store.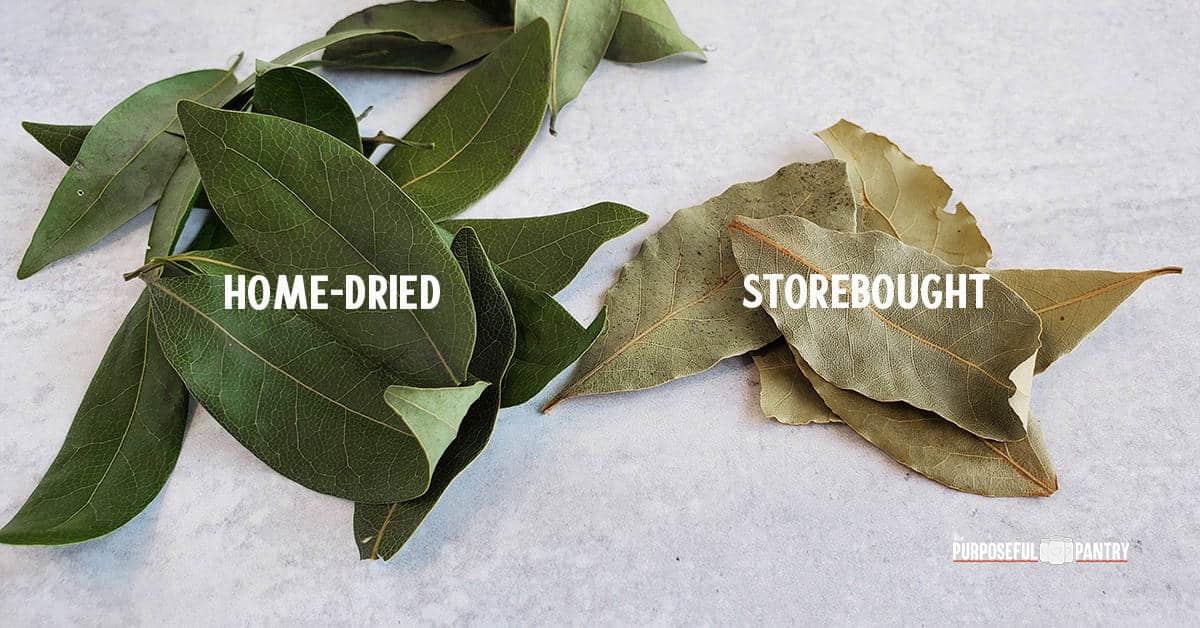 The thing about purchasing dried herbs from a grocery store, big-box store, supplier, etc is that you don't know
What temperature they were dried
How old they actually are
How long they've been sitting in a warehouse waiting to get to you
With those home dried bay leaves being greener, they are retaining more of the oils that make them so flavorful to start with!
Which one from above would you prefer to use in your meals!?
Where do bay leaves come from
While there are many varieties of bay leaves from California to Indonesian to Mediterranian, the bay laurel tree is where most culinary bay leaves are sourced.
Can I powder and use dried bay leaves?
Yes! You can use a small pinch of powdered, dried bay leaves to a dish and not have to spend so much time digging the leaf out before serving a meal! (Have you ever been the one to accidentally get a mouthful of dried bay leaf in a stew? YUCK!)
📖 Recipe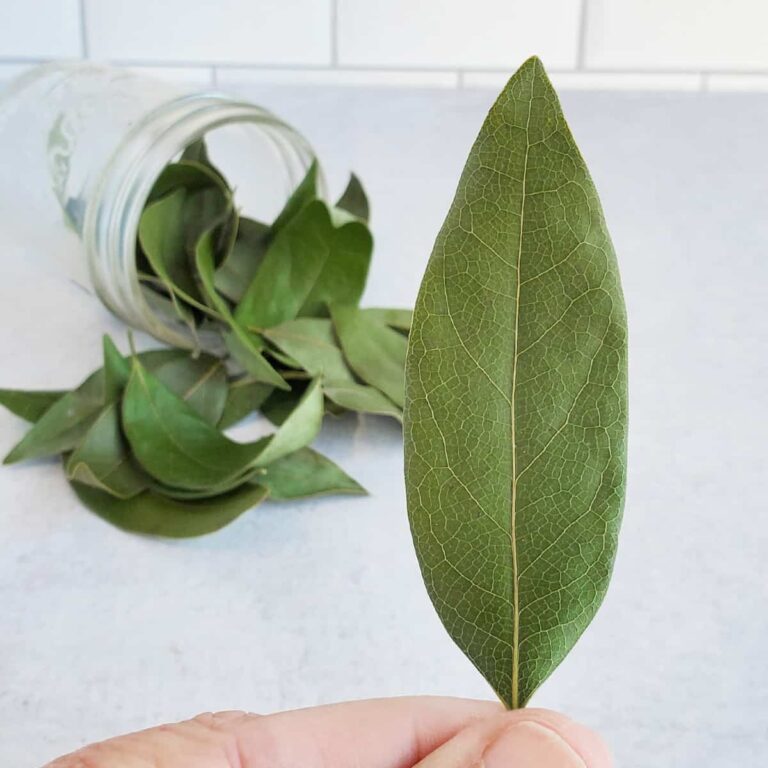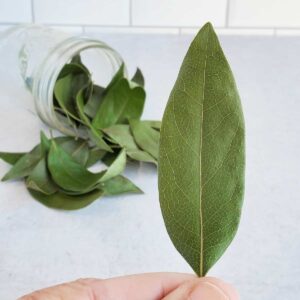 How to Dehydrate Bay Leaves
Dehydrating bay leaves for a more flavorful herb for your dishes!
Print
PIN THIS!
Rate
Instructions
Rinse and separate leaves.

Place on dehydrator trays in single layers.

Dehydrate at 95°F / 35° for 18-48+ hours.

Leaves are dry when easy to tear or crumble.

Store in an airtight container for a year +
Darcy's Tips
Bay leaves can be air dried, as well. Simply place between two paper towels and let them sit for a few days. Check often for any signs of moisture that you need to change out the paper towels.
Store in an airtight container in a dark, cool, dry place for up to 2-3 years. If they begin to fade in color or no longer have a great smell, they need to be replaced.
Nutrition
Calories:
1
kcal
|
Carbohydrates:
0.2
g
|
Protein:
0.02
g
|
Fat:
0.02
g
|
Saturated Fat:
0.01
g
|
Polyunsaturated Fat:
0.01
g
|
Monounsaturated Fat:
0.01
g
|
Sodium:
0.1
mg
|
Potassium:
1
mg
|
Fiber:
0.1
g
|
Vitamin A:
15
IU
|
Vitamin C:
0.1
mg
|
Calcium:
2
mg
|
Iron:
0.1
mg
Nutritional information is an estimation only. Nutrient information for dehydrated foods is based on fresh. Use ¼ of the servicing size for the same nutrient information. Thus 1 Cup of fresh fruit has the same sugars as ¼ dried.
©ThePurposefulPantry. Photographs and content are copyright protected. Sharing of this recipe's link is both encouraged and appreciated. Copying and/or pasting full recipes to any social media is strictly prohibited.