How to Dehydrate Caramelized Onions + Onion Powder
Want a way to make dehydrating onions less smelly? Want a great depth of flavor in the onion powder you create? You can dehydrate caramelized onions and make caramelized onion powder. It tastes great and is so much better than storebought!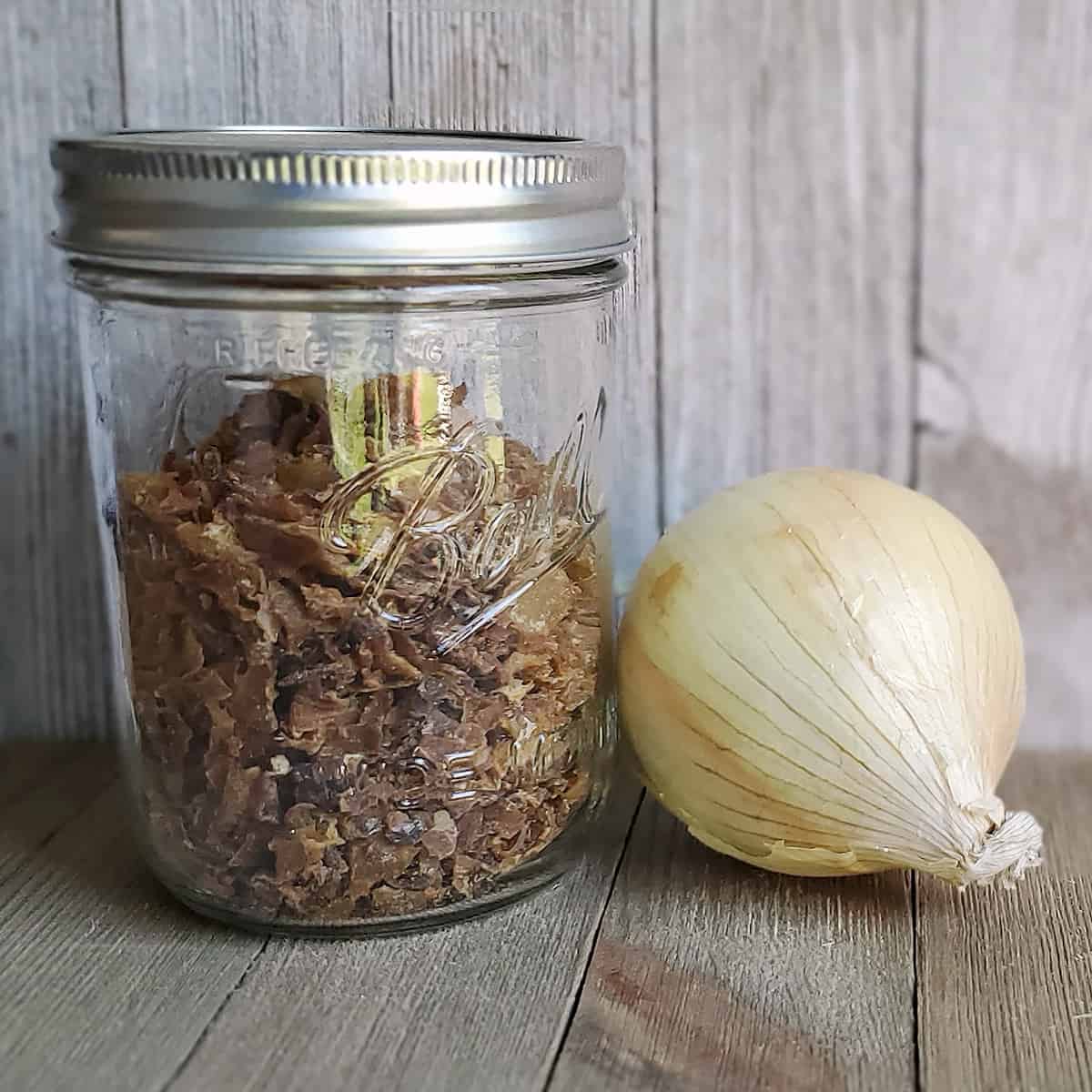 One of the biggest drawbacks of dehydrating onions is the smell. The oils are released into your room, into your upholstery, and into your olfactory system for quite a while … maybe even a day or two.
And while you can put your dehydrator out in your garage or on your back porch, there is another way.
A better way. A more fragrant way that gives you a completely different kind of onion flavor that makes the senses sing!
And these crunchy little morsels are great as a topping on EVERYTHING! Think of those canned fried onion crisps you put on top of your green bean casserole?! This tastes just like those, but not fried.
Best Onions to Use for Caramelizing?
The milder, sweeter onions tend to make better onions for caramelizing because of their natural sugars.
Texas Sweet 1015Y
Vidalia
White
Shallots
But use whatever onion you have.
How to Dehydrate Caramelized Onions
1. Prepare your onions
You can slice, dice or chunk for this process. I prefer dice because these become another version of minced onions for us.
A sliced version or chunked version is fine if you're final outcome is for powder.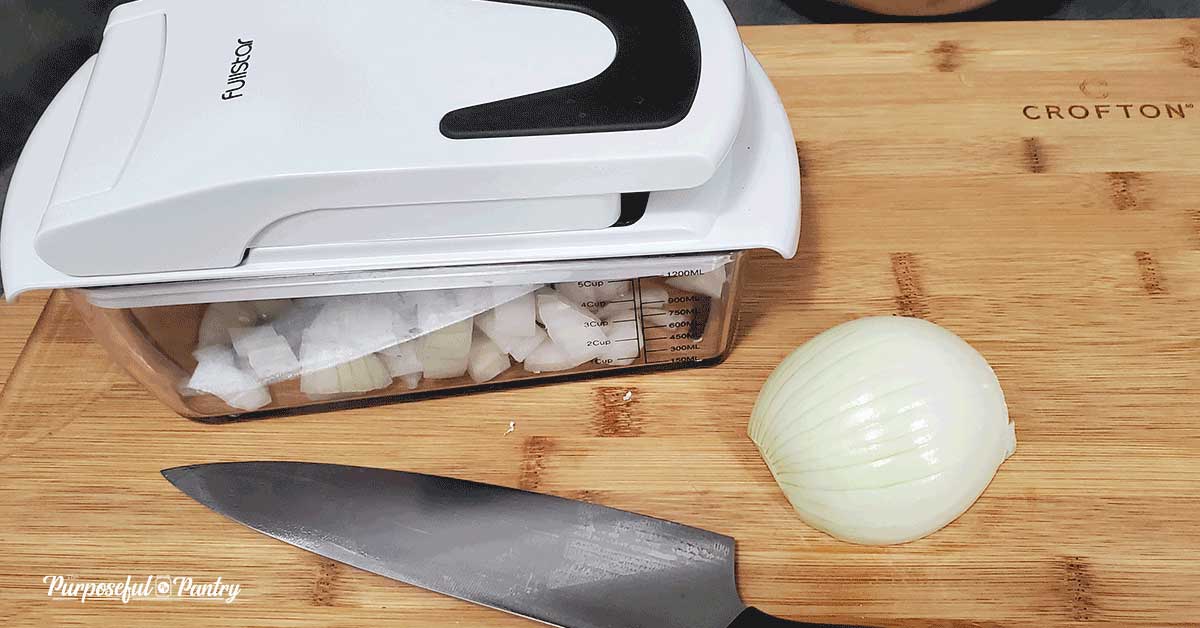 Since I don't have a food processor, I love this Fullstar vegetable chopper for getting things done quickly.
Alternatively, you can slice your onions from end to end to have slivers of caramelized onions instead of bits.
TIP: Don't toss the skins – toss them in the freezer to add to your next batch of vegetable broth or create a yummy onion broth.
ONION BROTH: I throw it in with some more onions and onion skins, and lots of water, and let it go overnight to create a dark, rich, onion broth. Use to cook grains with, to put into other soups, to use as a means of liquid when water is called for in cooking. It's good stuff!
2. Place onions into your slow cooker
You can add about 1/4 Cup of water to your slow cooker to help the onions from sticking to the bottom and browning too quickly. But you'll find that the onions release a lot of water, so stirring often, in the beginning, can help, too.
TIP: At this point, you may want to add about 1/4 C of balsamic vinegar to give this an even deeper flavor. I find that it makes it too sweet to me, and we prefer without it.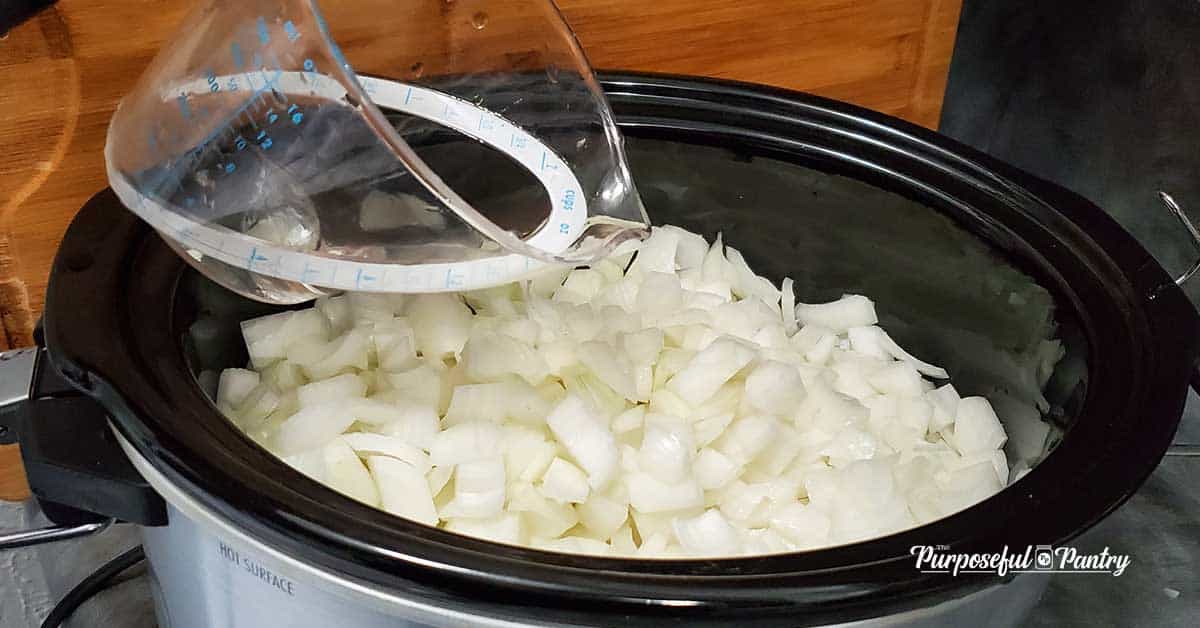 TIP: You can do this on your stovetop in a stockpot or large skillet. Adjust your time.
3. Cook on low for 4-6 hrs.
I prefer to cook on low to really get it going , then on warm throughout the day, stirring every hour or so.
Your onions are going to release a lot of water throughout this process.
But remember, every slow cooker is different, so keep them going as long as you'd like to get the color you'd like.
4. Drain Onions
But don't discard that liquid — it's the perfect base for making your own onion broth!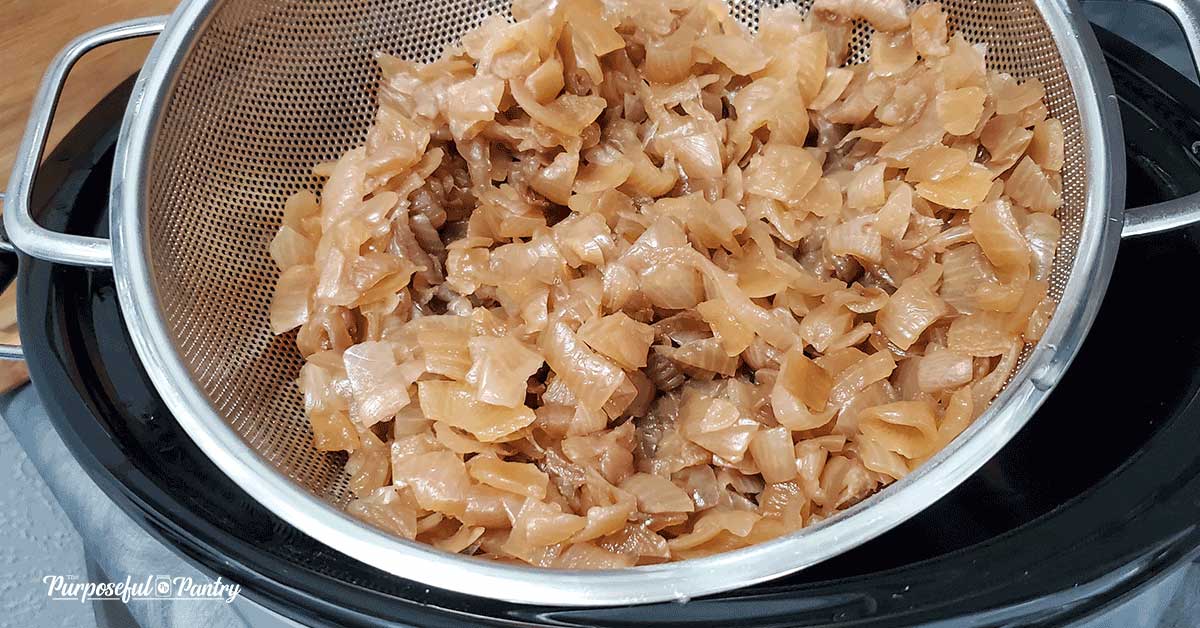 I find it's also helpful to manually push those onions to help them drain as well.
5. Place onions on your dehydrator trays
Don't have a dehydrator or are looking to upgrade? I put together a free handy resource to know what to look for to fit your needs and great machines in all budget ranges.
6. Dry at 125F / 52C for 8-10 hours
Remember, use drying times as a guide. Your times may vary depending on how well you drained your onions, your machine, your home's humidity, etc.
When are Dehydrated Caramelized Onions Done?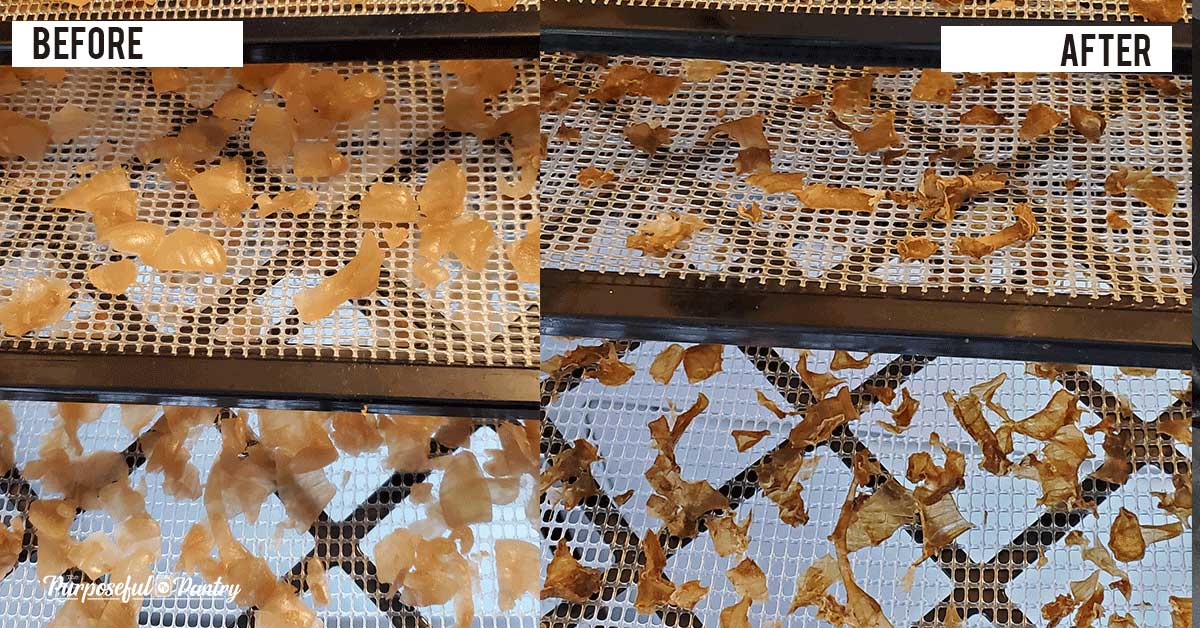 You may find that while warm, your onions are a bit sticky. The natural sugars are warmed and stick. But pull a few pieces up anyway, let them cool, and test to see if they are crunchy.
What if I Don't Have a Slow Cooker?
Skillet – do this in your skillet without oils or fats with low heat.
Electric Pressure Cooker – There are many methods on the internet, but this is the one I use. Fill it full of onions, water to the max line, and choose high pressure for 30 minutes (you can also use the soup/broth setting depending on your cooker.
Roaster – if you have a roaster, they work just as well there, too!
You can even do this in your oven! Just be mindful of slowing roast them and check that they don't burn.
Next Step – Conditioning
Be sure to always condition dehydrated food before putting it away for storage.
How to Store Dried Caramelized Onions
Store dehydrated caramelized onions in an airtight container. You can vacuum seal it for the best results.
Your onions will last at least a year if they are properly dried, conditioned, and stored. You'll likely get much longer than that, though.
How to Use Minced Caramelized Onions
Make a shelf-stable mirepoix or mirepoix powder.
Use to top ramen and other soups or stews as a crunchy topping for texture.
Add to burgers for a crunchy topping to replace raw onion
Use as an alternative to commercially fried onions for your favorite green bean casserole.
Use as you would normal minced onions in recipes.
How to Make Caramelized Onion Powder
Once your onions are dry, and when you are ready – making caramelized onion powder is going to be calling your name. Its a sweeter, deeper variety of onion powder that is perfect for beefy flavors, for rubs and mixes.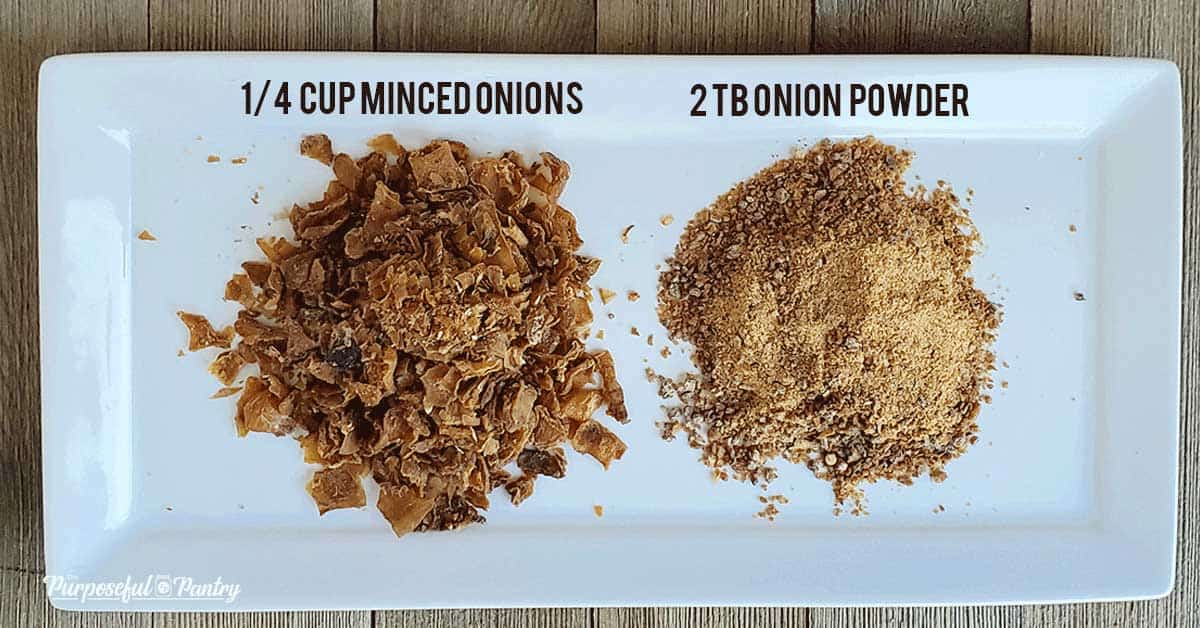 Place your dried caramelized onion pieces into a blender of your choice. I keep a handy list of the tools I use, but my bullet blender is usually my go-to.
Pulse to grind until powdered to your preference.
Store in an airtight container.
Drying Powder Tip: I often recommend drying your powders after you have done a large batch. Heat warms up the oils and sugars, and can create new moisture from the friction of the blades. This (and other tips) help keep your powders from clumping.
DIY Caramelized Onion Soup Mix
This is inspired by my friend, Leisa from Suttons Daze, who does a video on how she makes this mix.
3/4 C Dried Caramelized Minced Onions
1/3 C Beef Bouillon
4 TB Onion Powder (and if you have dried caramelized onion powder – that is great, too!)
1/4 Tsp Celery Seed
1/4 Tsp DIY 'Paprika'
Mix together and use 1.5-2 TB to equal 1 packet of commercial onion soup mix in recipes.
Soup Directions: Use 2 TB with 4 Cups of water and bring to a boil. Reduce heat and simmer for 10-15 min, stirring occasionally.
Also try this fantastic throwback to the 70's DIY French Onion Dip Mix for dipping vegetables or chips!
Uses for Onion Broth
Now, don't toss that sweet, delicious nectar in your slow cooker. That's pure gold!
Onion broth/stock is perfect to use in any way you typically use any broth. It is unseasoned, so if you plan on making it the star of the show, make sure to add salt and pepper and any other of your favorite seasonings:
Cook rice, quinoa, and any other grain.
Start a soup with it.
Make it the liquid in a stovetop casserole.
Use it to simmer your rehydrated foods in for reconstituting
Every other way you'd typically use water in day to day savory cooking.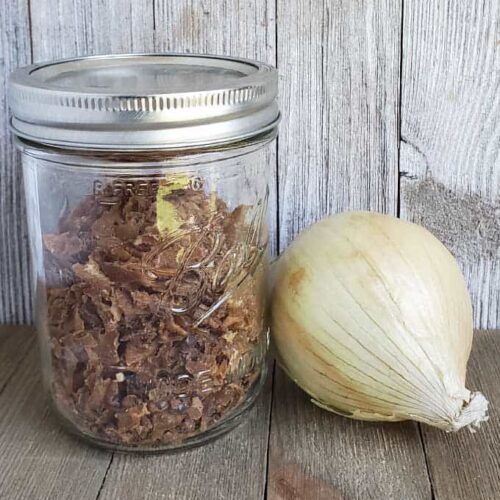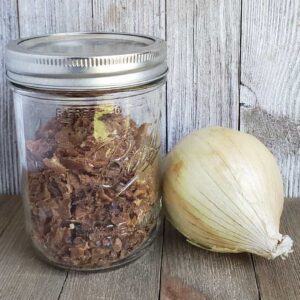 Dehydrate Caramelized Onions & Powder
Take your dehydrated onions and onions powders up a step by caramelizing those onions first! It's a deeper flavor that changes everything!
Print
PIN THIS!
Rate
Instructions
Cook on low for 4-6+ hours

Drain onions (use that for a meal later)

Spread onions on dehydrator trays

Dry at 125°F / 52°C for 8-12 hours

Store in an airtight container
Powdering
Add dehydrated onions to your favorite grinder

Pulse a few times, then blend into a find powder

Store in an airtight container with arrowroot powder to help stop clumping
Darcy's Tips
Additional Ingredients for Caremlizing:
1/4 cup of water to your slow cooker – but it isn't necessary as onions create a good broth on their own. However, to increase the yield of broth, you can add more water.
1/4 C of a good balsamic vinegar to great a deeper, sweet flavor
1/3 C of Worchestershire Sauce to give a little bite and salt flavor
Condition: Place food into a large glass jar, shake once a day for a week to check for any signs of moisture buildup or sticking that isn't released by an easy shake of the jar. If you find signs, put it back into the dehydrator to dry more.
Storage: Store in an airtight container for up to two years in a dark, cool, dry place.
Nutrition
Serving:
1
cup
|
Calories:
64
kcal
|
Carbohydrates:
15
g
|
Protein:
2
g
|
Fat:
0.2
g
|
Saturated Fat:
0.1
g
|
Polyunsaturated Fat:
0.03
g
|
Monounsaturated Fat:
0.02
g
|
Sodium:
6
mg
|
Potassium:
234
mg
|
Fiber:
3
g
|
Sugar:
7
g
|
Vitamin A:
3
IU
|
Vitamin C:
12
mg
|
Calcium:
37
mg
|
Iron:
0.3
mg
Nutritional information is an estimation only. Nutrient information for dehydrated foods is based on fresh. Use 1/4 of the servicing size for the same nutrient information. Thus 1 Cup of fresh fruit has the same sugars as 1/4 dried.
©ThePurposefulPantry. Photographs and content are copyright protected. Sharing of this recipe's link is both encouraged and appreciated. Copying and/or pasting full recipes to any social media is strictly prohibited.