How to Dehydrate Picante Sauce or Salsa
Have you ever had Picante sauce or salsa that you weren't able to finish, but didn't want to freeze? Learn how to dehydrate Picante sauce to extend its usefulness in your kitchen!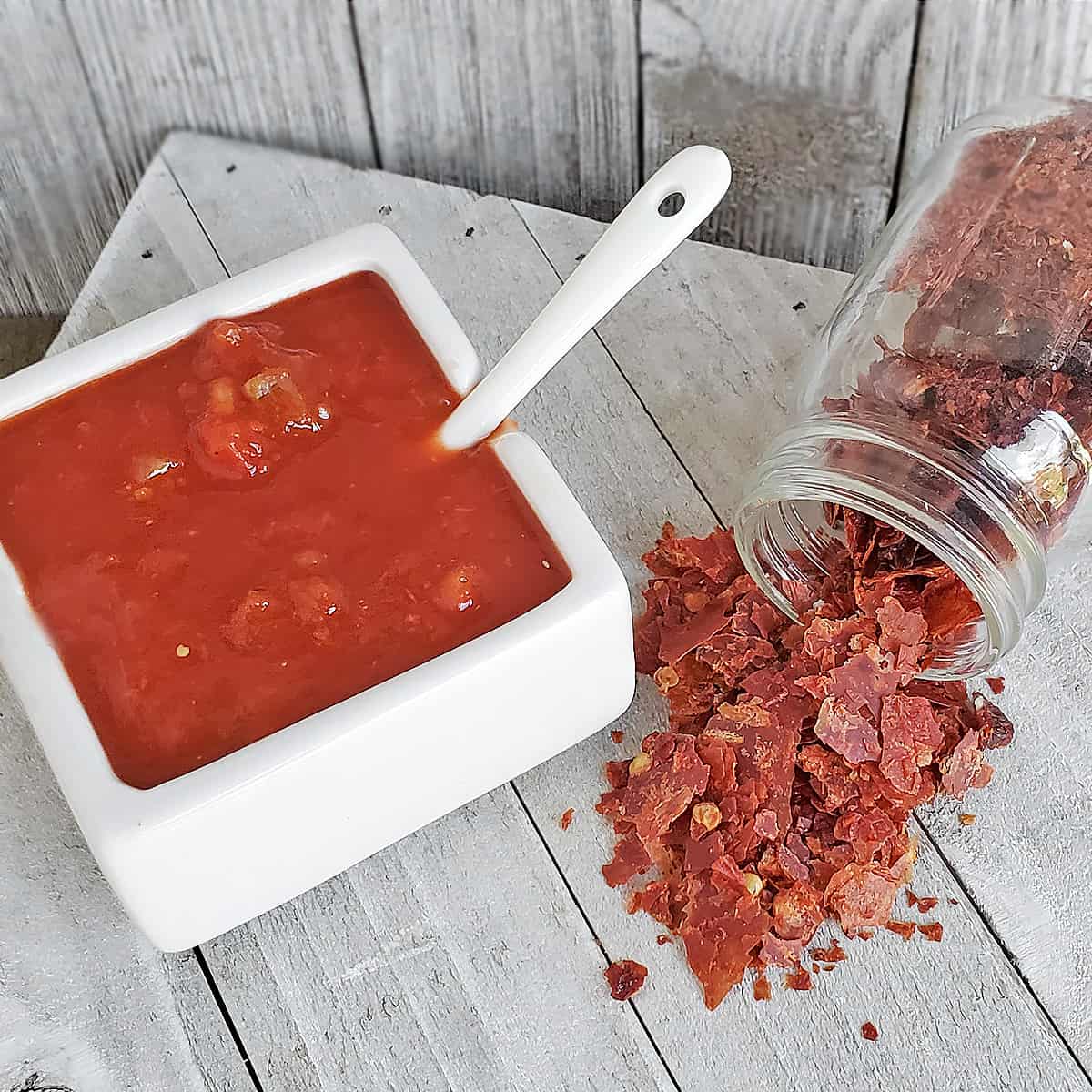 What's a good Texas girl like me doing with leftover picante sauce that's NOT from new York City?
Well, my Daddy would say that a real Texan doesn't eat picante sauce from a jar that wasn't homemade. But a girl has to cut corners somewhere.
Sometimes, we have leftovers that we know we aren't going to use, especially when buying the giant bottles from the local warehouse store. So I set out to find a way to reuse it so it wasn't going to waste, and wasting taking up precious space in my freezer.
What is the difference between Picante sauce and salsa?
Picante means hot and spicy sauce. Salsa is milder and sweeter.
But where salsa tends to be thinner, picante sauce tends to be chunkier and thicker, but less than pico de gallo. Both will work in this application.
How to Dehydrate Picante Sauce
Pour Salsa / Picante sauce onto trays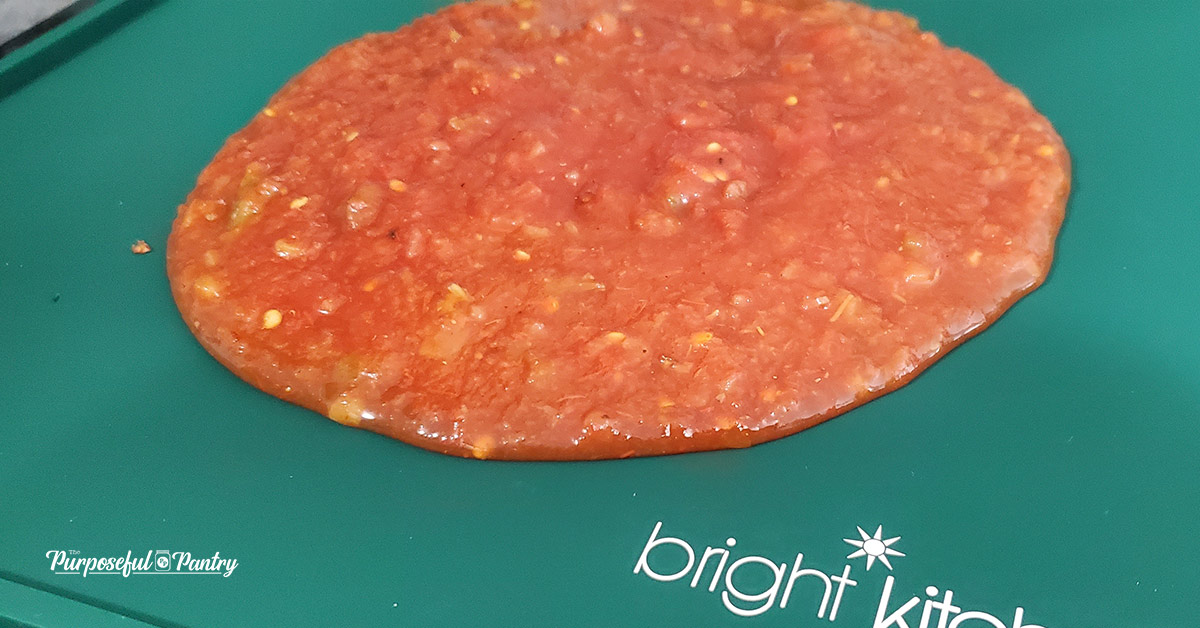 Spread evenly across the tray. This is a lipped silicone tray from Bright Kitchens that lets you use liquids without worrying about them seeping over the edge.
Dehydrating salsa is easy, especially if you have some fruit leather trays. But if you don't, you can easily create your own liquid dehydrating trays using this trick!
This tray will hold about 38 oz of commercial Picante sauce which is what I was using this day.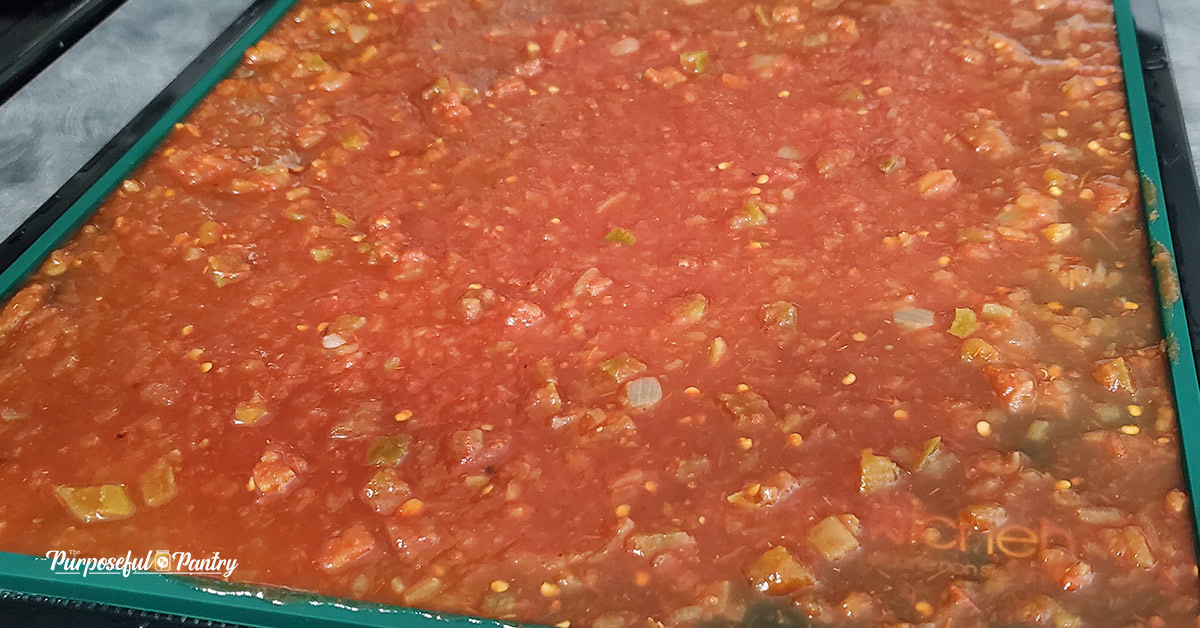 Dry at 125°F / 52°C
Drying time will vary, but 8-12 hours is a good base to see a leather forming. You may need to dry longer if yours is not fully dry, depending on your machine, your home's humidity, etc.
*Note, if you have a particularly liquid salsa, you can simmer it for a little while to remove more of the liquid before putting it onto your trays. Of course, you can just drain it, but why waste that goodness?
Test for a brittle consistency
You want an easily breakable sheet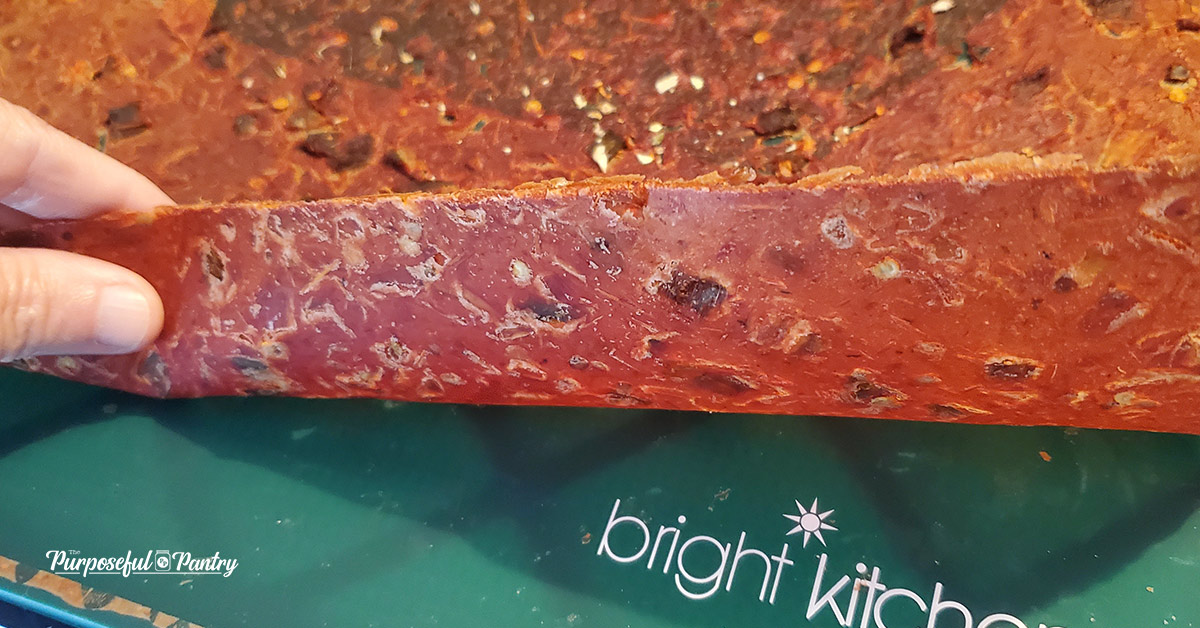 Chip, Powder or Strip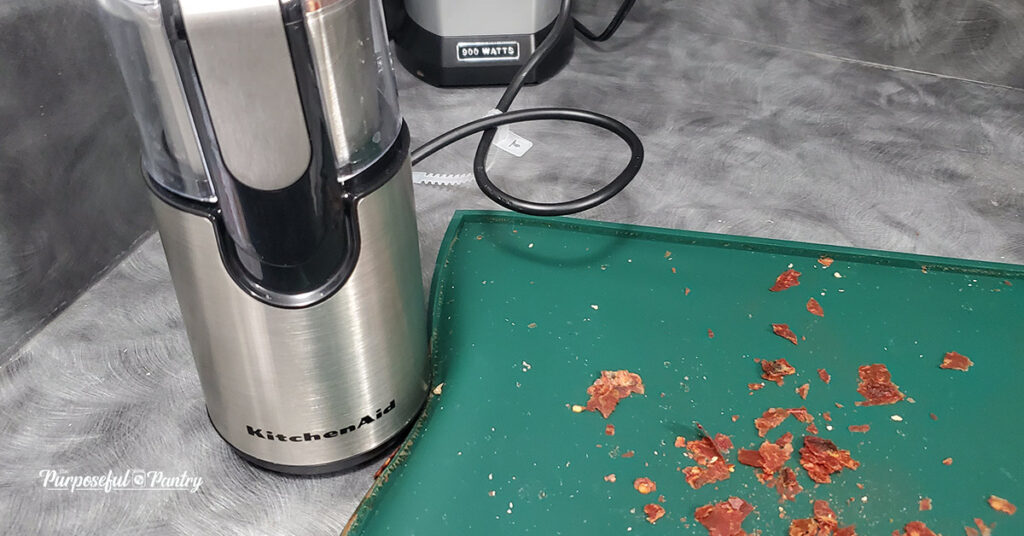 You can make chips by crushing with your hands or doing quick pulses in your grinder of choice (I prefer this KitchenAid coffee grinder or my NutriNinja bullet blender (but any will do)). Or you can just do strips of leather to snack on like my crew loves to do.
Next Step – Conditioning?
Conditioning dehydrated leather is a little harder than conditioning full fruit and vegetables. Instead, I recommend drying the powder/flakes a second time.
How to dry Picante powder?
Put chips or powder back onto your tray
Run at 125°F/52°C.
Turn on your machine for an hour.
Turn off your machine and wait for any fans to gcome to a full stop.
THEN open, give your powder/chips five or ten minutes to cool down and store.
Alternatively, you can just put them on an oven-proof tray in the oven for an hour with the light on.
Store in airtight containers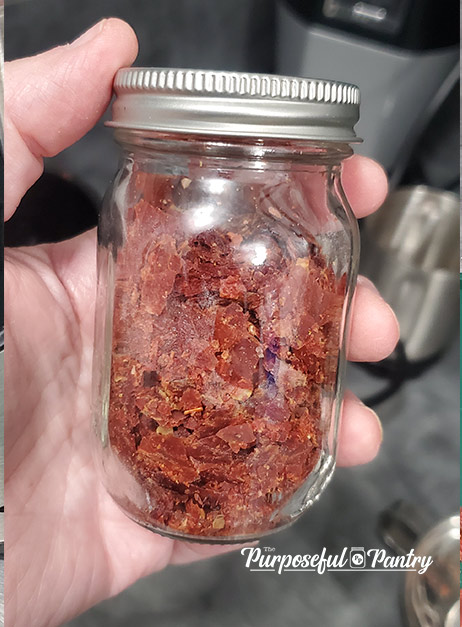 Storage is good for about 6-9 months in an airtight container. You can follow these tips to keep your dehydrated powder dry over time if you find an issue.
How to use Dehydrated Salsa
Make into chips for your favorite spicy, crunchy topping on tacos, potatoes, over ramen, and more!
Powder for a spicy flavor enhancer.
Use the powder to add to marinades.
Spice up sour cream or yogurt for a flavored topping on potatoes, for dipping, etc.
Sprinkle into scrambled eggs
Use powder in meatballs and meatloaves for flavor without adding extra liquids
Add as a spicy ingredient to meals in a jar recipes
Add to hashbrowns for a kick
Conversion: Mix 2 parts water to 1 part Picante chip and allow to soak to form a sauce. You can adjust it to fit your preference.
What Does it Taste Like?
The taste will be dependent on the type of salsa/Picante you use. If using a brand that is heavy in vinegar, that's the first taste you will get and the heat pops through after.
If yours is on a milder/sweeter side, it will lean in that direction).
Now…why would you want to?
Because you can. I love dehydrating things and seeing how they come out and how they can be used. And since I have a son who loves all things spicy, he enjoys these kinds of experiments, too.
Go ahead, resist the temptation to eat ALL of your bulk salsa mix – save some for your dehydrator and see what you think all the fuss is about!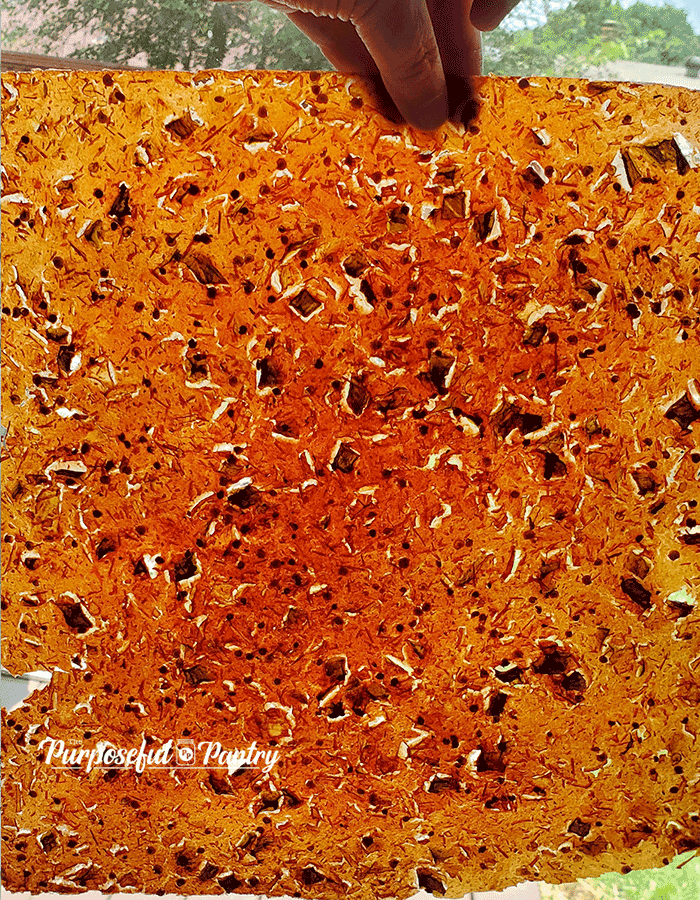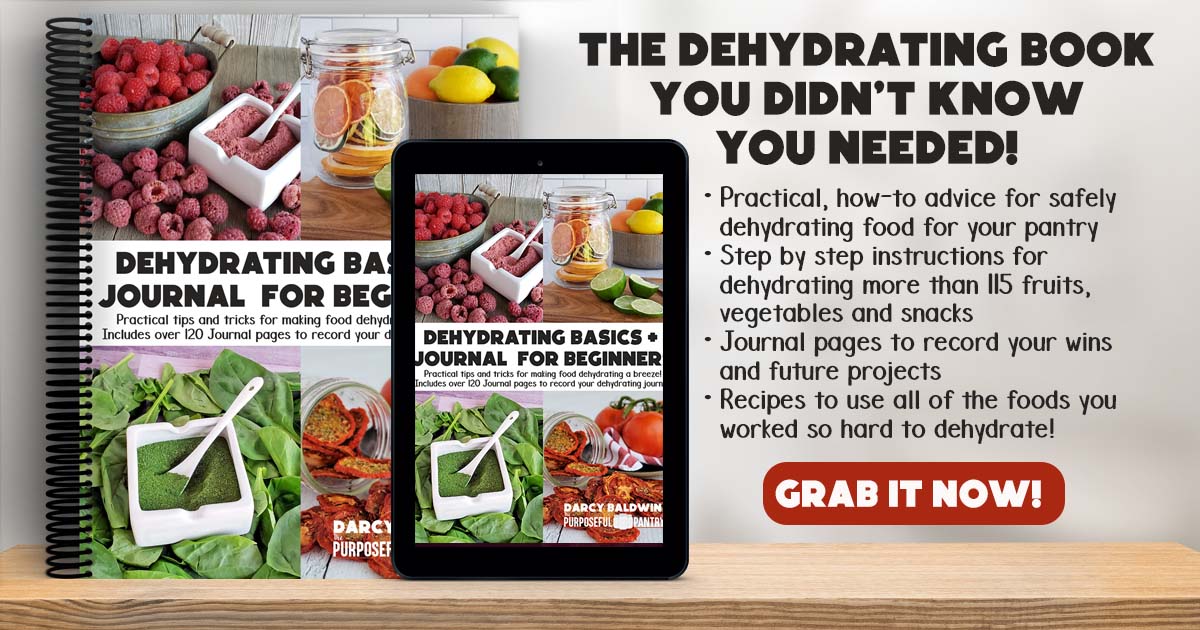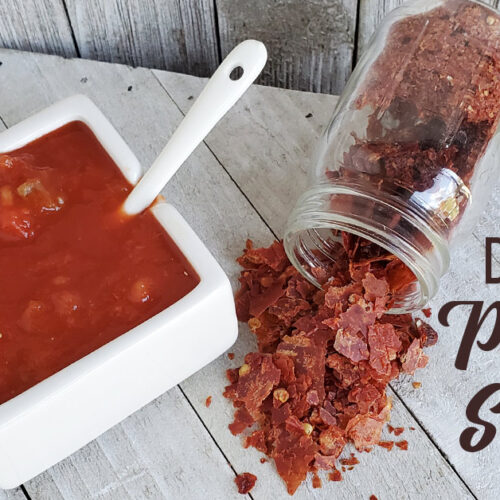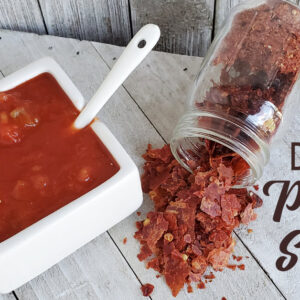 How to Dehydrate Picante Sauce
Take your picante sauce one step further by learning to dehydrate and create picante sauce chips that can be used to flavor soups, salads, tacos, ramen, and more. PLUS, it can be rehydrated to make picante sauce again!
Print
PIN THIS!
Rate
Equipment
Fruit leather sheets (lipped ones are helpful)
Instructions
Pour picante sauce onto fruit leather sheets

Dry at 125F / 52C until crispy when cooled

Store in an airtight container
Darcy's Tips
To use:
Sprinkle shards on meals of your choice like tacos, ramen, salads, etc.
Reconstitute with water to recreate Picante sauce – perfect for hiking/camping meals.
Nutritional information is an estimation only. Nutrient information for dehydrated foods is based on fresh. Use 1/4 of the servicing size for the same nutrient information. Thus 1 Cup of fresh fruit has the same sugars as 1/4 dried.
©ThePurposefulPantry. Photographs and content are copyright protected. Sharing of this recipe's link is both encouraged and appreciated. Copying and/or pasting full recipes to any social media is strictly prohibited.