How to Pretreat Fruit for Dehydrating
Pretreat fruits for dehydrating to prevent browning (oxidation), save nutrition and create beautifully flavored dried fruit. These easy treatments will get you started in no time!
Have you ever tried to dehydrate bananas and they turned dark? Or apples that sit on your counter for 2.0 seconds after you cut them and begin to take on that sickly brown color?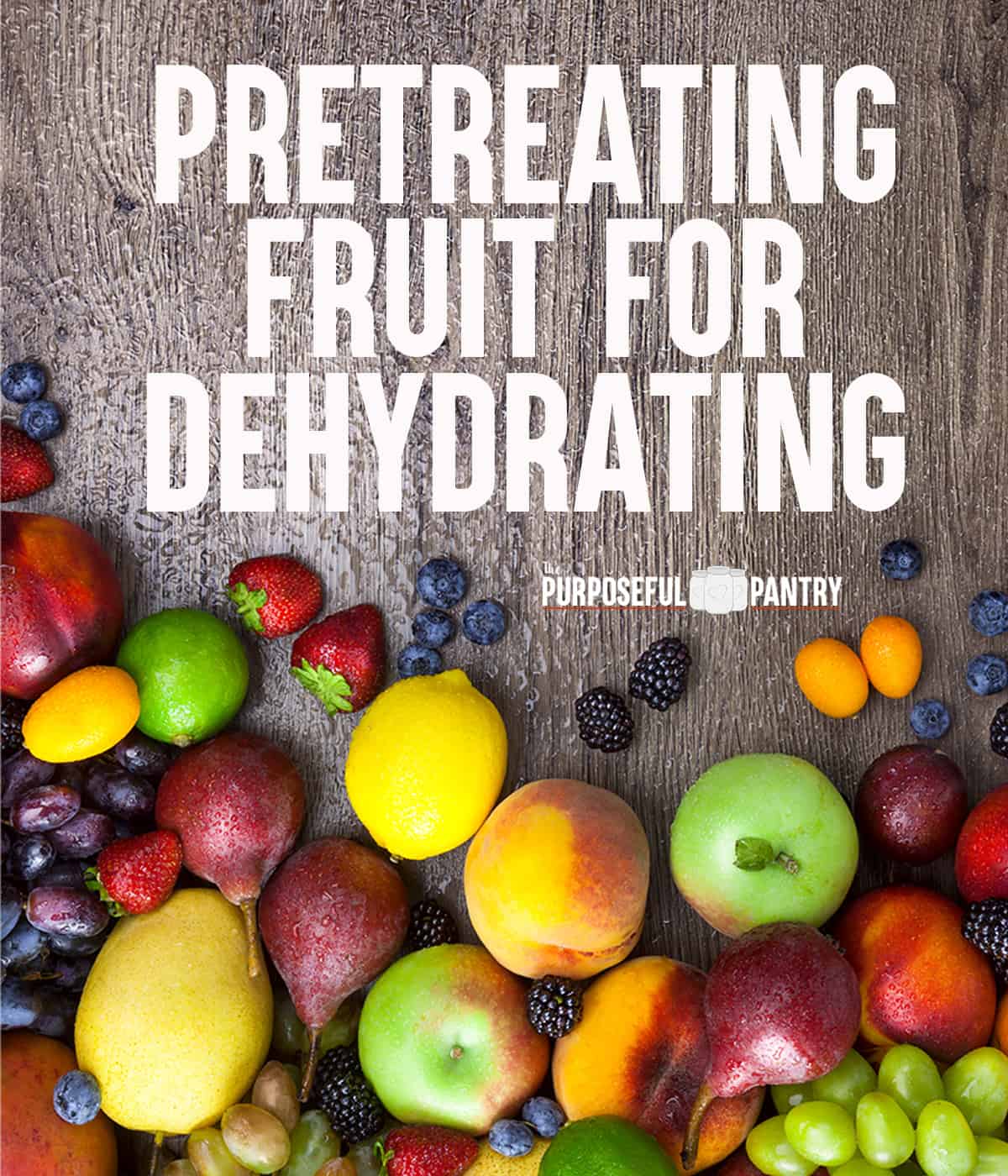 That's oxidation. This is an enzymatic process that is caused when the cell walls of the fruit are broken from cutting or tearing, and the skin darkens.
And while the fruit isn't ruined, it's not as visually appealing. But there are things to do to help prevent it, especially for dehydrating!
Or, have you ever wondered why your dehydrated cranberries never taste like the ones you purchase in the store? Those commercial cranberries have usually been pretreated with a sugar solution to help the final product taste less bitter, and have a softer texture.
What fruits are prone to oxidation?
Apples
Avocados
Bananas
Peaches
Pears
Potatoes, broccoli, and cauliflower are also prone to oxidation, which is when blanching is recommended for those vegetables that need to be protected. However, people
Ways to Pretreat Fruit for Dehydrating
While pretreating fruit is helpful, not all fruit needs to be pretreated for oxidation, but some benefit from pretreatment to make it softer and sweeter, or to help cut dehydrating times (and stop case hardening).
Lemon Juice Pretreatment
This is the most common pretreatment for preventing oxidation in fruits.
However, using any fruit juice that contains a high amount of normally occurring citric acid is a great way to change the flavor profile, as well.
Use 1 Cup of lemon or lime juice to 1 Qt of water.
Or spray straight juice onto fruit with a spray bottle
You can use lemon, lime, pineapple, grapefruit, or oranges (lemons are most popular). If using pineapple or orange, using undiluted is better than a solution.
And yes, you can use the bottled concentrated lemon juice (not lemonade concentrate).
Citric Acid Bath (Ascrobic Acid)
● Citric Acid – 2 tsp to 1 QT water
● Ascorbic Acid – 2 tsp to 1 QT water
● Vitamin C Tablets – 10000mg crushed to 1 QT water
After creating your solution, soak your fruit for up to five minutes, and pat dry with a tea towel or paper towel.
Alternatively, you can use Fruit Fresh sprinkled onto the fruit without the addition of extra liquid.
Using Citrus Sodas
While not as effective as its more natural counterparts, undiluted lemon/lime soda can be used to help pretreat fruit if you are in a pinch. Allow the fruit to soak for five to ten minutes, then pat dry.
Pectin as a Pretreatment for Fruit
This is the same pectin as you would use for making jams and jellies.
1.75 oz (1 box) or 6 tablespoons + 1 C of water in a saucepan
Boil for one minute stirring constantly
Add ½ C sugar, stir until sugar has dissolved
Mix with 1 C water and cool.
Add enough to glaze the fruit
Drain fruit and dry per directions for the fruit.
Honey Dip
½ C honey to 1 Qt lukewarm water
Dip fruit
Drain and dry
Sulfite Dip
I don't recommend a sulfite solution because of the risk of allergic reactions from people which can be extreme. While it only affects about 1% of the population, that 1% can have drastic results. Use this one with caution.
PickYourOwn.org has a great tutorial on using a sulfite dip to try if you choose to go this route.
Simple Syrup
Pretreating methods for simple syrups
1:1 syrup with water to create a simple syrup to simmer in.
This is good for cranberries and other single berries to add additional sweetness, and help break the skins to make drying more efficient.
Additionally – you can use fruit juice to do this simmer as well!
Pretreating Fruit FAQs
Does Fruit Lose Nutrition with Oxidation?
Food loses long-term nutritional benefits with exposure to oxygen, which is why we often store food for the long-term with oxygen absorbers.
However, even in the short-term, Vitamins A, C and E can be lost leaving food exposed to oxygen. Thus it is important that when you are processing your fruit, to do it in a quick method to reduce the loss of nutrition as much as possible.
Do you have to pretreat fruit for dehydrating?
Pretreating is really only necessary for color preservation in most cases. If you don't care about brown bananas or apples (which you can cover with a cinnamon sprinkle), then no, it's not necessary. However, for breaking skins on skinned berries, a simmer until the skin breaks is a great way to prep them for efficient dehydrating (though you can accomplish the same thing with a knife or skewer as I do for dehydrating blueberries.)
Dehydrating Fruit Recipes