How to Dehydrate Blueberries & Make Blueberry Powder
Have you ever wondered how to make your dehydrated blueberries more versatile? Learn how to dehydrate blueberries and make blueberry powder to use it to update yogurt, in dressings, in sauces, and more!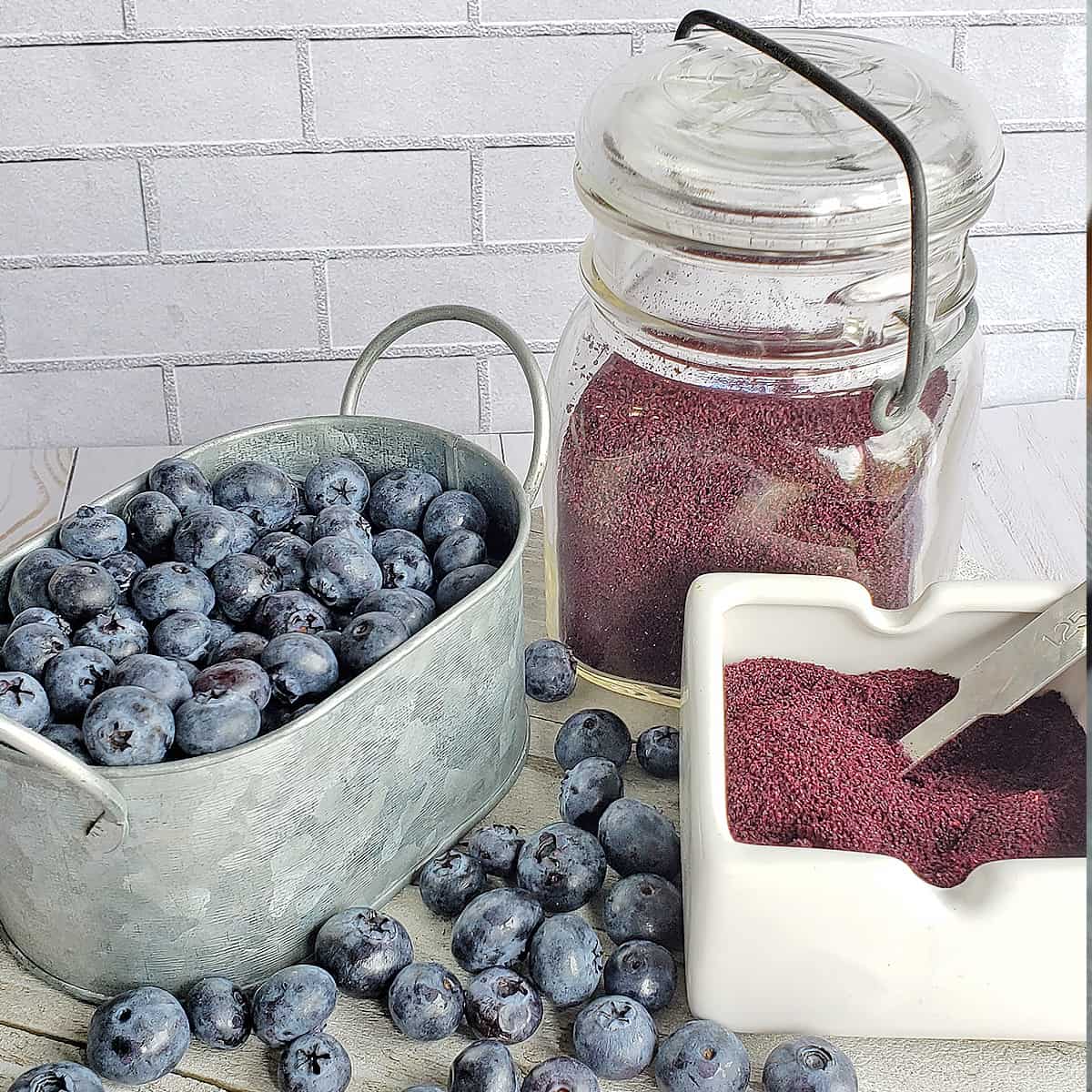 Dehydrated blueberries are a joy, but blueberry powder takes it all up a notch to extend the usefulness of your blueberry harvest. Learn how to make this flavorful combination in these simple steps:
Dehydrated Powders are Beautiful!
How to Dehydrate Blueberries
NOTE ABOUT FROZEN BLUEBERRIES: If you are using frozen blueberries, you can thaw and skip straight to step 3.
The basics steps for dehydrating blueberries are:
1. Wash Blueberries
You don't really need me to show you how to wash blueberries, do you? Rinse under cool water or soak in a vinegar bath for a few minutes and rinse.
2. Break the skin of the blueberry
You'll want to use one of these methods to break the skin of the blueberry so that you'll have a shorter drying time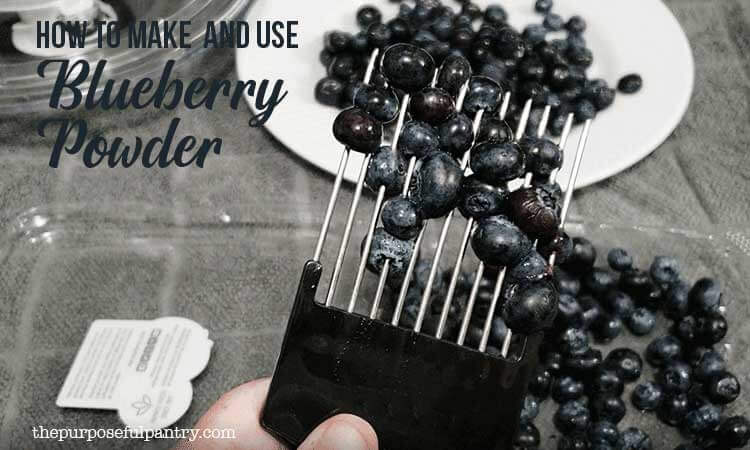 Cut or poke with a knife tip or other skewer. Using something like a metal hair pick makes the job go much more quickly. I demonstrated this in the video below) -or-
Blanch in boiling water for 30-45 seconds -or-
Freeze for 1-2 days -or-
Process in a food processor or blender until in bits or puree for leather.
3. Place on Dehydrator Trays
Be sure to use protection! Parchment (or baking) paper or the fruit leather sheets that come with your machine will keep your mesh from being stained, and the inevitable juice on the bottom of your machine.
You can remove those once the berries have dried halfway as the juice is no longer flowing at that point.
If you don't have fruit leather sheets for your dehydrator, you can purchase these silicone fruit leather sheets and cut them to fit almost any dehydrator tray!
TIP: It helps to press down slightly on each blueberry to help open the skin more.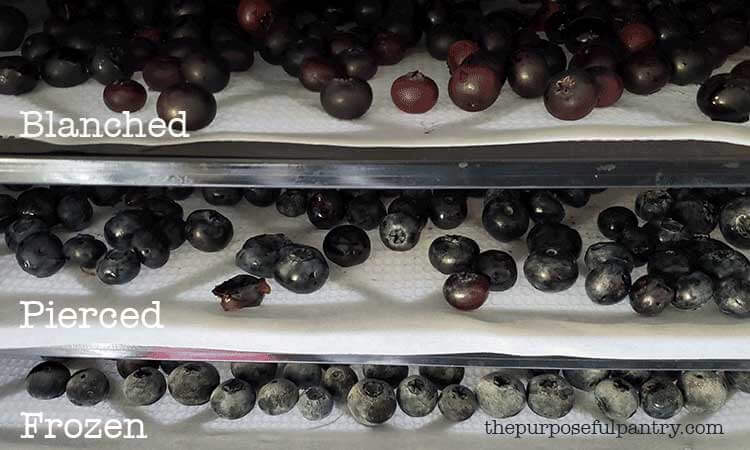 4. Dry at 135F / 57C for 24-48 hours
Keep checking throughout the process. This drying time will depend on which method of breaking the skin you used, the juiciness of your blueberries, your machine's wattage, the general humidity of your home, and the position of the rising sun in the east. Well, not so much the last part, but it can seem that way sometimes.
5. Test for Doneness
Allow to come to room temperature and test for one of two conditions:
Immediate snacking – you want a chewy but not moist bite. These should be stored in the refrigerator and eaten soon.
For storage – when they rattle on the tray when shaken
6. Condition
Condition berries by storing in a too-large container for your berries (or split them between a few). Place on a cool dry shelf and shake once or twice a day for a week. If you begin to see moisture on the berries or jar, put back into the dehydrator to dry more. If you see mold form, throw away.
You'll see most of those steps in the video below, though I skipped the conditioning process since we were far past the need for conditioning. Since we were also going straight to the powder drying process, there was also no need to condition.
► READ MORE: Do you really need to condition dehydrated foods?
7. Store in an airtight container.
Blueberries last for a year or more when properly dried, conditioned, and stored.
Can you Over-Dehydrate Blueberries?
The answer to the question is, no, if you follow the usual guidelines of dehydrating fruits or vegetables and are diligent to check their progress.
But sometimes, life gets in the way as it did when I was working on this project.
Thanks to my utter fail at dehydrating blueberries to create this blog post, I opted to focus more on how to redeem a failed dehydrating project.
You can use this with just about any fruit or vegetable that may not have dried the way you'd hoped. Or, even with those foods that you didn't like the dehydrated version as a snack (as long as you haven't used oil in the process). Or, perhaps, you didn't like the reconstituted version of your dehydrated snack. Many people don't like how mushrooms turn out or things like squash.
How to Make Blueberry Powder
1. Use Fully Dehydrated Blueberries
This important as you don't want to use blueberries that may have mold spores from storing under dehydrated blueberries for too long. This is why conditioning is important when storing dehydrated foods.
2. Pour Dehydrated Blueberries into Blender
You can choose to use a coffee grinder, a bullet-style blender or a full-sized blender.
A helpful hint is to use one for the volume you're trying to powder. If you only have a small job, use a coffee grinder or bullet-style blender instead of a large one. I really do love my Nutri-Ninja from Amazon. It's really changed my powder game!
3. Pulse until Powder Forms
For smaller machines like coffee grinders, pulsing is preferable so that you down overheat the motor. On larger machines, I pulse a few times then move into a slower full mode.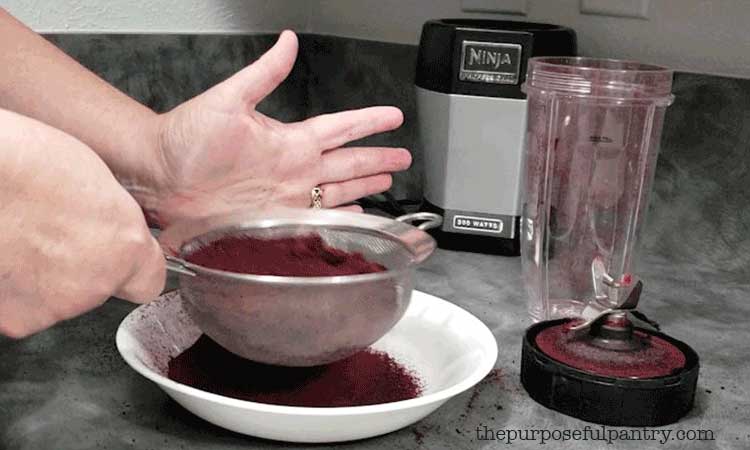 4. Strain to remove any seeds
Running your powder through a fine-mesh strainer helps remove seeds. They don't grind fully unless you have a high-powered blender like a Vitamix. They can also cause bitterness, so I just remove them instead of struggling to try to integrate them into a powder.
If you have gone the route of creating a fruit puree to dry instead of drying the full berries, you can run that puree through a strainer at the beginning of the process and skip this step at the end).
5. Store in an Airtight Container
Store in a mason jar with a tight-fitting lid. You can also place into a paper bag then vacuum seal in a Food-Saver bag (or any brand) for longer-term storage. I might suggest using an anti-caking agent if you are doing this step.
How to Stop Blueberry Powder From Caking
You might find that, over time, your blueberry powder begins to clump and you may think it's because it's wet. Most of the time, it's from compression clumping and can be mitigated by using a few of these anti-clumping tips to help:
Use a desiccant pack in storage — This helps reduce the moisture that may be in any airspace left in your jar, especially if you are in and out of the jar often.
Shake Jar Often — No one really wants to spend a portion of their day doing a dehydrated powder jar shake as part of their daily chores. But shaking a jar can often break up most clumping in a jar before use
Use an Anti-caking agent — Arrowroot powder is a great anti-caking agent. The typical amount to use is 1/4 tsp for a 1-quart jar. You can adjust that to fit your particular needs. Err on the side of a little more than that ratio for something like blueberry powder.
Manually Break Clumps — If shaking isn't getting your clumps broken enough, you can use a canning de-bubbler, a wooden skewer, small silicone spatula, or another non-metallic implement to stir your contents until the clumps are gone. You don't want to use a knife or spoon inside your canning jar because it can lead to micro-cracks which weaken the integrity of your canning jar, especially if you plan on using it for canning projects down the road.
Dry Powders in a Dehydrator — on occasion, if moisture if the obvious cause of the clumping, and you don't want to use a moisture absorber in your jar, put your powder back into your machine to dry again.
Uses
Color icing and frostings
Flavor yogurt
Flavor ice cream
Rice Krispies Treats – YES! It's a thing!
Color play dough
Add to muffins and pancakes for texture-sensitive folks. My kids love the flavor of blueberries but don't like them baked in pancakes and muffins
Color pasta – I don't find blueberry powder to be sweet (unless you just have the perfect blueberries), but know there is sugar that occurs naturally, so test your pasta before making a big batch)
READ: More Ways to Use Fruit Powders
How Long Does Dehydrated Blueberry Powder Last?
Your dehydrated fruit powder is good for about six to twelve months if stored in a dark cool place.
Final Thoughts
Can you over-dry a dehydrating project? For the most part, no. But if life gets in the way, you can make a failed dehydrating project into something more beautiful, and not waste a thing. So don't be scared about trying and failing. In our failing, we learn more and are able to accomplish even more when we try again!
Wow…who knew dehydrating could be so affirming and philosophical!?
Learn More about Drying Fruit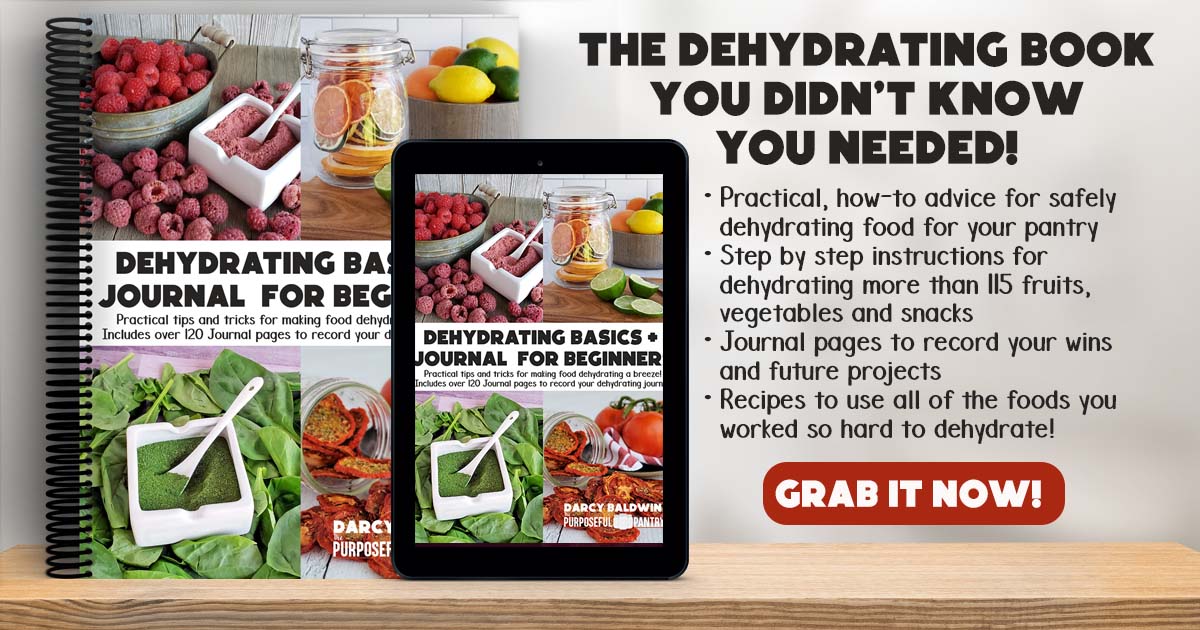 Want more?
If this intrigues you to start more of your own dehydrating projects at home, be sure to check out my Dehydrating Tips and Tricks group on Facebook for more immediate help and ideas!