Dehydrate apples to make yummy cinnamon apple snacks and make apple powder! It's a great first dehydrating project for kids, and a great way to use up your apples for afterschool snacks or treats!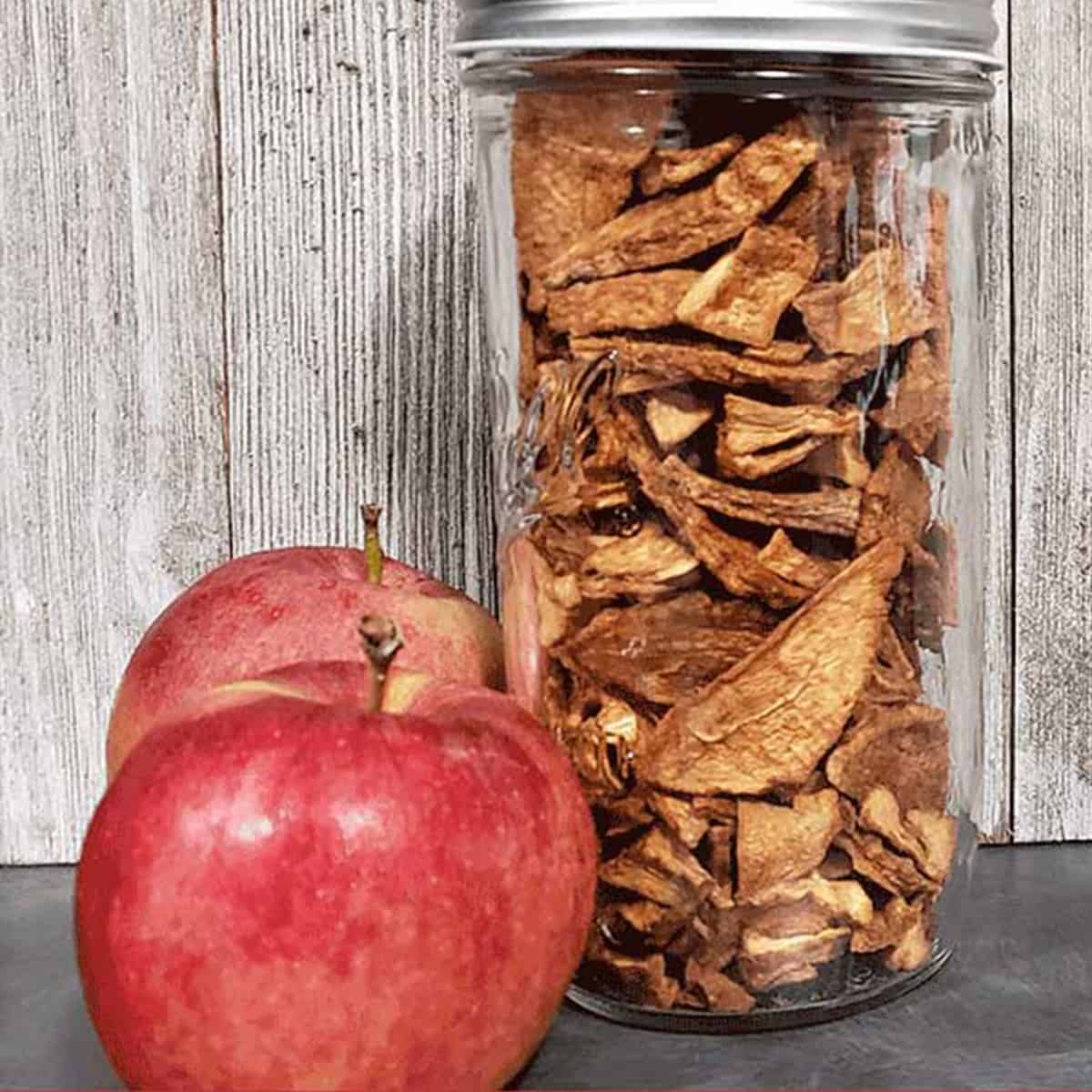 This post may contain affiliate links. As an Amazon Associate, I earn from qualifying purchases. Please read our disclosure policy.
Dehydrated apples are a terrific snack. They're sweet, they're nutritious, they are great for adding to baked goods to give an extra boost of flavor. They are a perfect snack for lunch boxes, too!
But like bananas, their texture when dehydrated is a little different than the freeze-dried variety you may be purchasing in the store already. They are chewier, even when crisp, but I feel that lends itself to a more satisfying bite.
Tools for Dehydrating Apples
Thankfully, there aren't many tools you need to preserve apples.
Sharp paring knife
apple-peeler-corer is extremely helpful when doing larger quantities.
dehydrator or oven
a blender or food processor to make applesauce
How Will You Use Dehydrated Apples?
Snacks? Set aside some of the harvest and then wash and cut them into bite-size pieces with your apple-peeler-corer. These can be dried and kept in a large container or split into individual serving sizes for lunch and after-school snacks.
Baking? Apples that will be rehydrated for pie and cobbler should have a bit more "meat" on them than snacking apples. You might consider cutting these into small wedges so they will retain the appearance of fresh apples in the finished product.
Applesauce later? If applesauce is your goal, the apples should be cleaned, chopped into small pieces, and then cooked down to a sauce. You can then dehydrate them on fruit leather trays until they are crisp and ready for storage.
How to Dehydrate Apples
Wash apples. Yes, even if you are going to peel them, wash them first. They are one of the dirty dozen produce that harbors a lot of pesticides, plus the wax coating. Just wash).
Peel apples if desired.
Core apples.
Cut into rings, slices, or chunks. Rings and slices should be ¼" (6mm) for best results.
Pretreat the apples with a lemon water solution to stop oxidation (the thing that makes apples turn brown). You can soak in 1:1 lemon juice and water or use another of these pretreatment methods if they suit you better).
Dehydrate at 135°F/57°CF for 6-12 hours.
Pick a couple of pieces to test and allow to cool.
Store in an airtight container.
If you are storing for long term, vacuum seal your container.
Why Do Apples Turn Brown?
Browning is a version of oxidizing - the same way that pears, bananas, potatoes, and eggplant can turn dark after cutting. When an apple is injured (or cut into pieces), the plant tissue is exposed to oxygen. This triggers an enzyme known as polyphenol oxidase (PPO) to oxidize polyphenols in the apple's flesh -- thus turning it brown.
While some apple varieties tend to oxidize faster than others (I'm looking at you, Red Delicious), there are a lot of other factors at play - ripeness, temperature, etc.
So the conclusion is - use a pretreatment method you love best, or sprinkle it with some cinnamon - that hides it all!
How to Make Apple Cinnamon Chips
Follow the above directions to the slicing stage.
Dust apples with a little cinnamon dust or cinnamon sugar. I prefer to use a 2:1 cinnamon sugar ratio on apples. TIP: You do not need to pretreat if you are using the cinnamon/sugar as it masks browning.
Mix thoroughly if you do it in a bowl.
Dehydrate as usual.
Oven Directions
Prepare your apples according to the above directions
Place apples on a parchment paper-covered cooling rack. You can then put it on a cookie sheet if you desire, but the cooling rack can go straight into the oven. This allows more airflow and fewer chances of burning
Dry apples at the lowest possible temperature in your oven for one hour
Flip apples and dry for another hour.
Cool to test - apples are done when they are crispy
Condition
Store in an airtight container.
How to Make Apple Powder
Place dehydrated apple pieces into your favorite blender.
Pulse until a powder is formed.
Condition the powder by placing it in a low-temperature, warmed (but turned off) oven for 15 minutes.
Store in an airtight container with a desiccant pack.
NOTE: because of the sugar content, apple powder may clump. Just use a spoon to break up the clumps. It's not the same as moisture clumping, but can be confusing. There are a few other ways to help reduce clumping in apple powders that you might try.
If you'd like to see the full process of dehydrating apples and making apple powder, I've created this video for you!
How to Use Apple Powder
There are just some suggested uses for apple powder, but feel free to experiment on your own!
Dusting on ice cream
Sprinkle on apple-flavored muffins and cakes
Sweeten up plain yogurt (freeze them for yogurt pops!)
Flavor oatmeal without the texture of dried apple pieces
Use to rim an Apple Martini
TIP: I recommend making apple powder in small portions only. As mentioned above, it cakes fairly easily because of the sugar content, so it's best to do it in small doses and store just a bit as opposed to powdering your whole supply.
READ: Even More Ideas on How to Use Dehydrated Fruit Powders
Want to try another apple dehydrator project? Give this easy cinnamon applesauce fruit leather a try!
What are your tips?
Have you ever tried making apple powder? What do you use it for?
Want to learn even more about dehydrating food?
📖 Recipe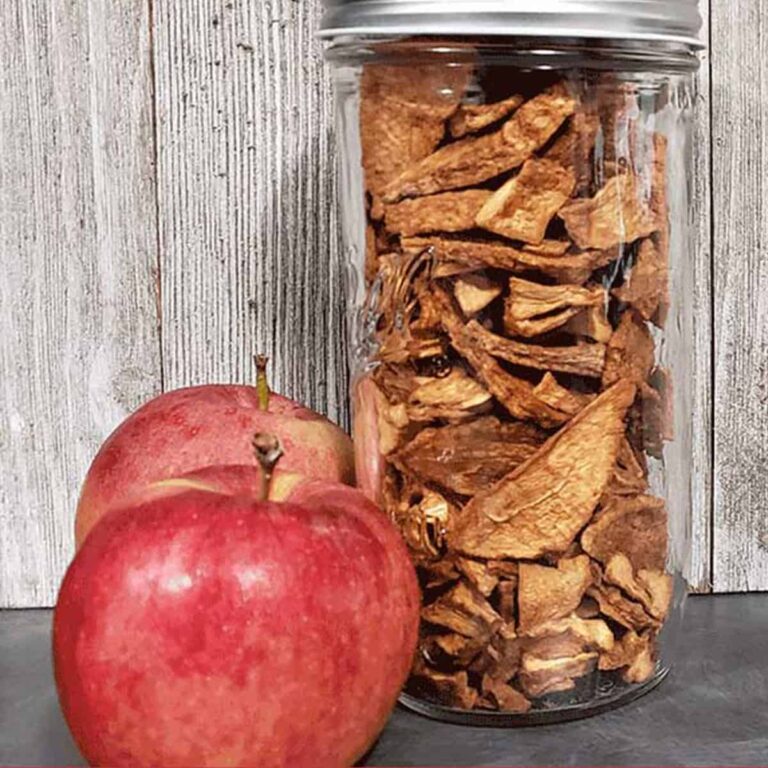 Dehydrate Apples
Dehydrate apples for chips, slices, shreds, etc. for long-term storage or snacking
Print
PIN THIS!
Rate
Instructions
Peel and core apples (if desired)

Cut into slices, dices, or shreds

Dip into lemon water pretreatment to prevent browning

Sprinkle cinnamon if desired

Place on dehydrator trays

Dry at 135F/57C until crispy when cooled
Video
Darcy's Tips
Notes:
If you don't care about the apple turning, there is no need to use any anti-oxidizing agents. 
Or simply use a little cinnamon to cover it all!
Nutrition
Calories:
13
kcal
|
Carbohydrates:
4
g
|
Protein:
0.1
g
|
Fat:
0.02
g
|
Saturated Fat:
0.003
g
|
Polyunsaturated Fat:
0.01
g
|
Sodium:
5
mg
|
Potassium:
24
mg
|
Fiber:
0.5
g
|
Sugar:
3
g
|
Vitamin C:
0.2
mg
|
Calcium:
1
mg
|
Iron:
0.1
mg
Nutritional information is an estimation only. Nutrient information for dehydrated foods is based on fresh. Use ¼ of the servicing size for the same nutrient information. Thus 1 Cup of fresh fruit has the same sugars as ¼ dried.
©ThePurposefulPantry. Photographs and content are copyright protected. Sharing of this recipe's link is both encouraged and appreciated. Copying and/or pasting full recipes to any social media is strictly prohibited.