Have extra apples that you just don't know how to use up? Dehydrate apples to make yummy cinnamon apple snacks and make apple powder!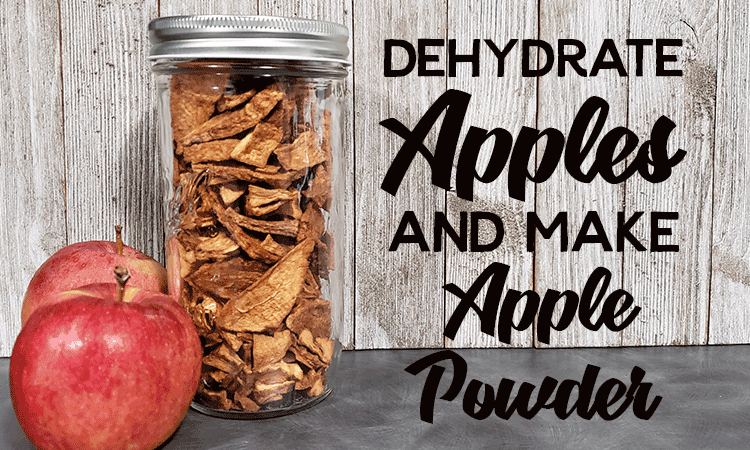 Dehydrated apples are a terrific snack. They're sweet, they're nutritious, they are great for adding to baked goods to give an extra boost of flavor. They are a perfect snack for lunch boxes, too!
But like bananas, their texture when dehydrated is a little different than the freeze-dried variety you may be purchasing in the store already. They are chewier, even when crisp, but I feel that lends itself to a more satisfying bite.
Quick Instructions for Dehydrating Apples
► Dry at 135F for 6-8 hours in thin slices or chunks.
And remember: Always preheat your dehydrator when you begin to prep your produce, and dehydrate at the appropriate temperatures. Running at 160F doesn't make things dehydrate faster, it just promotes case hardening, which you don't want!

Tools for Dehydrating Apples
Thankfully, there aren't many tools you need to preserve apples.
Will you want them for snacks?
Set aside some of the harvest and then wash and cut them into bite-size pieces with your apple-peeler-corer. These can be dried and kept in a large container or split into individual serving sizes for lunch and after school snacks.
Will you use them for baking?
Apples that will be rehydrated for pie and cobbler should have a bit more "meat" on them than snacking apples. You might consider cutting these into small wedges so they will retain the appearance of fresh apples in the finished product.
Will you rehydrate these apples for applesauce?
If applesauce is your goal, the apples should be cleaned, chopped into small pieces, and then cooked down to a sauce. You can then dehydrate them on fruit leather trays until they are crisp and ready for storage.
How to Dehydrate Apples
Wash apples. Yes, even if you are going to peel them, wash them first. They are one of the dirty dozen produce that harbors a lot of pesticides, plus the wax coating. Just wash).
Peel apples.
Core apples.
Cut into rings, slices, or chunks.
Dehydrate at 135°F/57°CF for 6-12 hours.
Pick a couple of pieces to test and allow to cool.
Cool then place in an airtight container.
If you are storing for long-term, vacuum seal your container.
How to Make Apple Cinnamon Chips
Follow the above directions to the slicing stage.
Dust apples with a little cinnamon dust or cinnamon sugar. I prefer to use a 2:1 cinnamon sugar ratio on apples.
Mix thoroughly if you do it in a bowl.
Dehydrate as usual.
How to Make Apple Powder
Place dehydrated apple pieces into your favorite blender.
Pulse until a powder is formed.
Store in an airtight container with a desiccant pack.
NOTE: because of the sugar content, apple powder may clump. Just use a spoon to break up the clumps. It's not the same as moisture clumping, but can be confusing.
If you'd like to see the full process of dehydrating apples and making apple powder, I've created this video for you!
How to Use Apple Powder
There are just some suggested uses for apple powder, but feel free to experiment on your own!
Dusting on ice cream
Sprinkle on apple-flavored muffins and cakes
Sweeten up plain yogurt (freeze them for yogurt pops!)
Flavor oatmeal without the texture of dried apple pieces
Use to rim an Apple Martini
TIP: I recommend making apple powder in small portions only. As mentioned above, it cakes fairly easily because of the sugar content, so it's best to do it in small doses and store just a bit as opposed to powdering your whole supply.
What are your tips?
Have you ever tried making apple powder? What do you use it for?
Want more?
Dehydrate Apples
Dehydrate apples for chips, slices, shreds, etc. for long-term storage or snacking
Instructions
Peel and core apples (if desired)

Cut into slices, dices, or shreds

Dip into lemon water pretreatment to prevent browning

Sprinkle cinnamon if desired

Place on dehydrator trays

Dry at 135F/57C until crispy when cooled