Dehydrate cranberries to make your own Craisins or just cranberry bits for baking needs and snacks! It's an easy and tasty way to preserve cranberries for long-term storage. And the cranberry powder is awesome, too!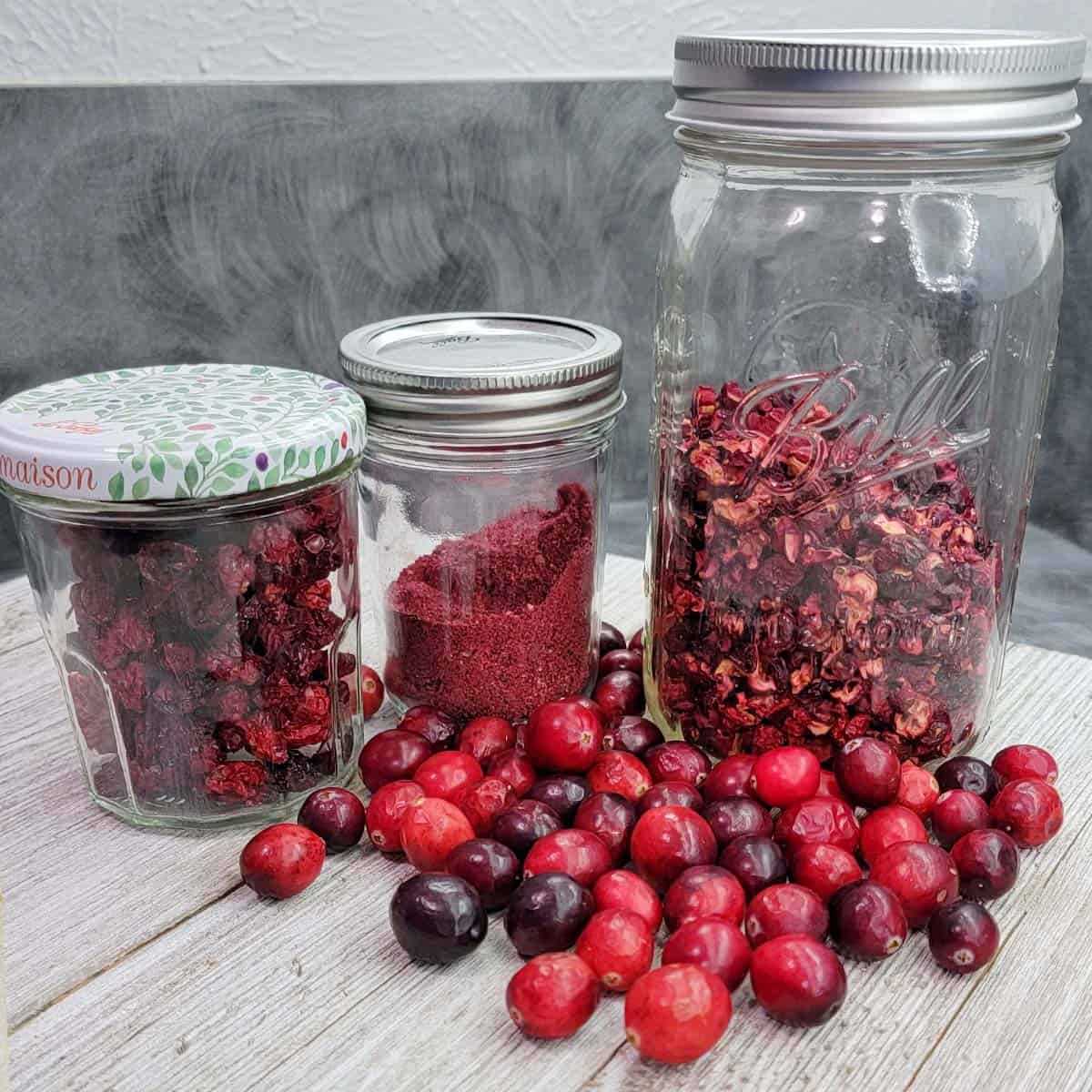 How to Dehydrate Cranberries
Like any other berry, cranberries need to have the skin broken for the most effective drying time. This is for regular cranberries. See below for a Make Your Own Craisins recipe.
Slice with a knife
Poke with a tool
Rough chop with a food processor, vegetable chopper or knife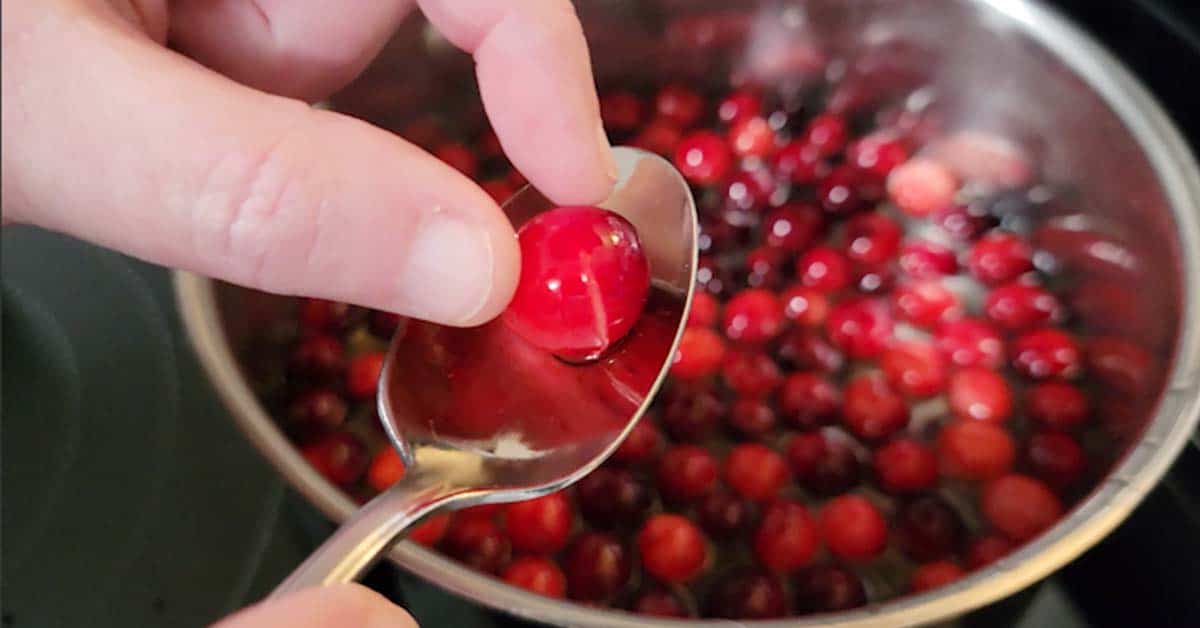 Pro Tip: If you are looking for cranberries to toss into breads, oatmeal, muffins, etc., the rough chop is really the fastest way to do this. A minute or two in the food processor and you have bits of cranberry perfect to add to any project.
Prepare by breaking the skin or chopping the cranberries
Place on dehydrator trays
Dry at 135F / 57C for up to 18 hours for bits, 24+ hours for whole
Condition
Store in airtight containers
DIY Craisins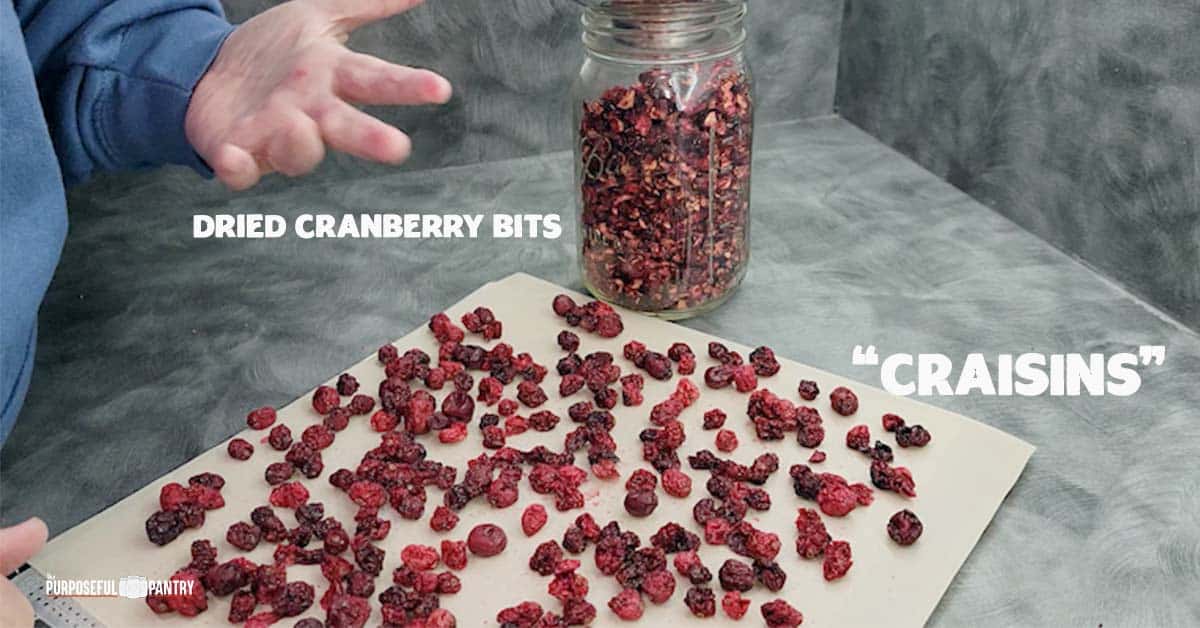 Make Your Own Craisins
Storebought dried cranberries are usually softened with oils and sugars to give those sweet, soft treats we love so much. While we can't completely replicate that at home, we can come close with this treatment.
Blanch whole craisins in a simple syrup solution (1 part water, 1 part sugar) or a juice solution (1 part water:1 part juice - typically orange, but you can use any you'd like). 5 minutes
Drain
Place on dehydrator trays
Dry at 135F / 57C for 24-36 hours
Condition
Store in airtight containers
Tips:
Don't toss that liquid!! A simple syrup that is flavored with cranberry juice is a wonderful way to sweeten tea or other drinks. The juice mix can be simmered down to make a pancake syrup.
Sugar Ratio: you can make this ratio anything you'd like it to be. While a simple syrup is 1:1, you can do 1 Cup Sugar to 1 Cup Water or flip that for less sweet craisins.
Drying time: If you are drying to snack, you don't have to get these to a raisin consistency. They can be softer, though you'll want to store them in the fridge for best results. Dry a little longer to get a storage option.
Storing: Cranberries that are pulled early for a softer texture will need to be stored in the fridge if not eaten in a few days.
Storage:
Dried cranberries, stored in an airtight container, can last a year or more.
Oven Directions
Preheat oven to lowest possible temp (below 200F/93C) is preferred. Even lower is better
Place cranberry pieces onto a silicone sheet (these silicone baking sheets are perfect), or parchment/baking paper. TIP: Place this on a cooling rack on top of your cookie sheet to keep the cranberries from being on a hot solid surface
Dry for 4-8 hours, stirring occasionally, checking often for dryness so as not to burn them.
Condition
Store in an airtight container
How to Make Cranberry Powder
Cranberry powder can be used to flavor teas, muffins, cakes, and more without adding the bulk of the dried fruit.
Use completely dried cranberries that have not had the sugar blanching process done to them.
Place into a bullet blender or a coffee grinder
Pulse often until the bulk has been broken up
Grind for 20-30 second intervals until complete powder is formed
Condition the powder by placing onto lined cookie sheets in a warmed oven that is off, or by placing into coffee filters or covered bowls in your dehydrator at a low temp.
Store in an airtight container with a moisture absorber for best results.
You can find even more uses for cranberry powder here.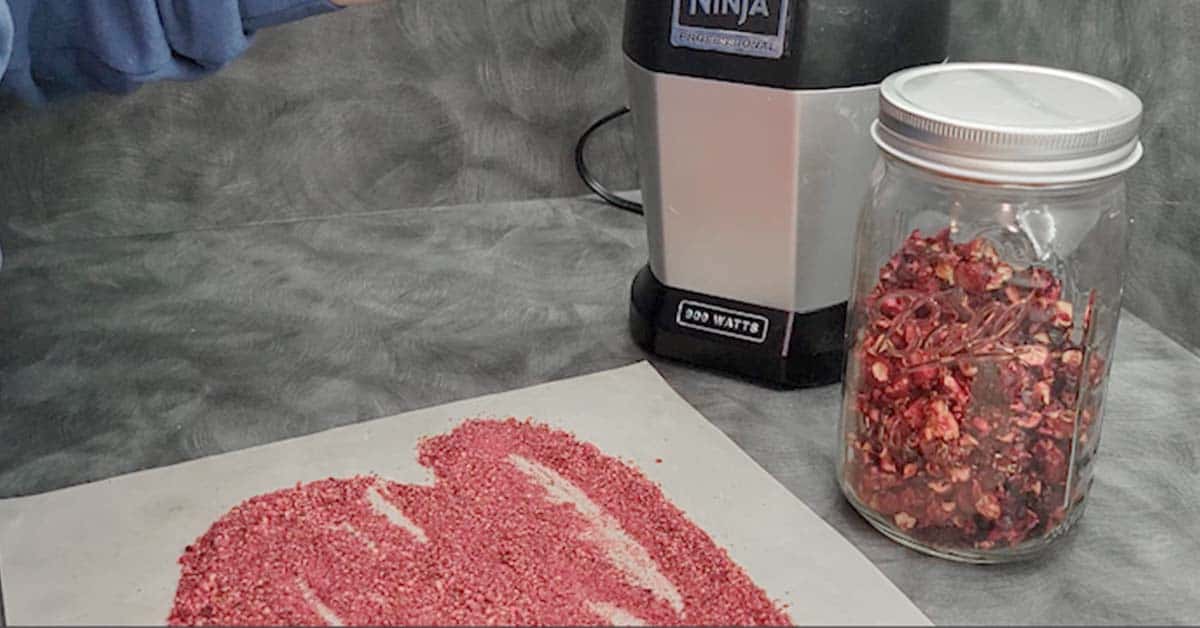 Troubleshooting Tips
Hard cranberries
If your cranberry pieces are very hard, that is a great thing for storage. Dry cranberries reduce the risk of mold formation in long-term storage.
To soften cranberries, you can allow them to sit in a baggie with a damp paper towel to reabsorb some moisture, or simmer them in a little water to reabsorb.
Cranberries are taking too long
If the cranberries weren't broken, they will take much longer to dry. Or give them longer. Dehydrating times are general and are affected by your machine, how you prepped your cranberries, your home's humidity, and so much more. Give them time!
Frequently Asked Questions
Do I have to condition cranberries?
If you plan on snacking on these within a week or two, no. Just store them in the fridge if you like them softer.
How long do dried cranberries last?
Dried cranberries can last from 1-2 years if fully dried and not supplemented with sugars, assuming full dryness and proper storage is practice.

Sugared dried cranberries can last up to a year
Even More Dehydrating Tips
How to Stop Fruit Powders from Clumping
How To Pretreat Fruit for Dehydrating
Dehydrate Cranberries or make DIY Craisins
Learn to dehydrate cranberries to make them shelf-stable and great for baking, or do a DIY Craisin for snacking
Instructions
To Dehydrate Cranberries
Prepare by breaking the skin by slicing, deep freezing, rough chopping, or blanch

Place on dehydrator trays

Dry at 135°F / 57°C for up to 18 hours for bits, 24+ hours for whole

Condition

Store in airtight containers
Notes
DIY Craisins:
Blanch whole craisins in a simple syrup solution (1 part water, 1 part sugar) or a juice solution (1 part water:1 part juice - typically orange, but you can use any you'd like). 5 minutes
Drain
Place on dehydrator trays
Dry at 135F / 57C for 24-36 hours
Condition
Store in airtight containers