How to Dehydrate Cauliflower
Learn to dehydrate cauliflower to add it to your food storage as well as make it more accessible for low-carb and Keto friendly meals.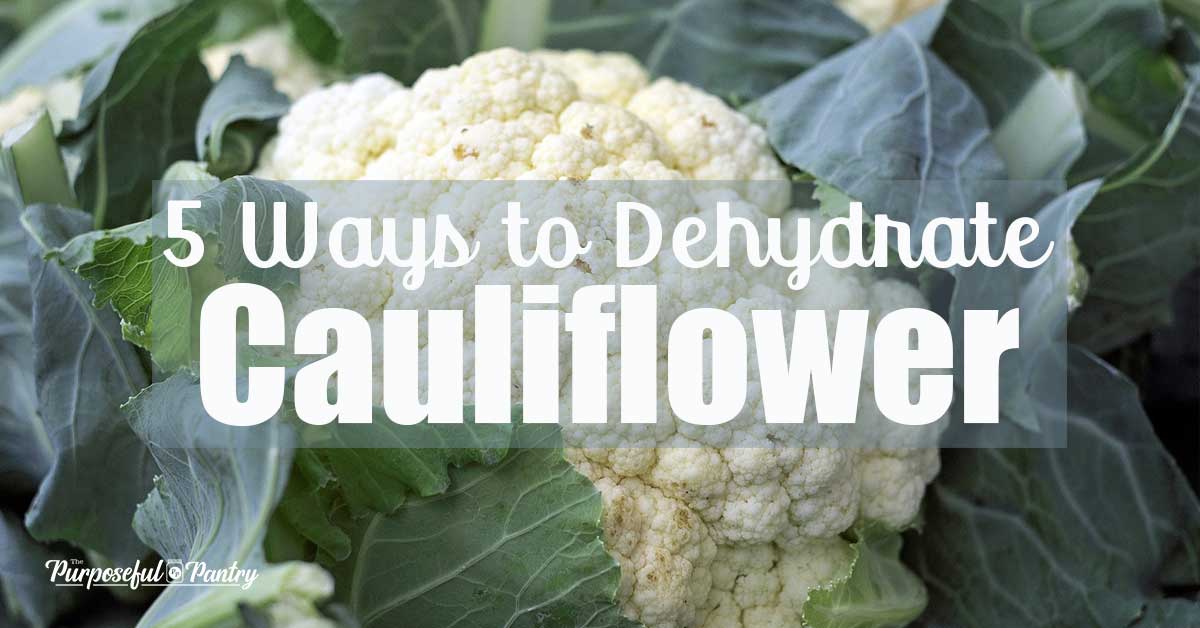 Cauliflower has made an incredible comeback from that vegetable that languished on veggie trays at social gatherings to an integral part of low carb and Keto Diet lifestyles.
But it goes quickly.
So let's learn how to use the whole plant, in a few ways, to use for long-term storage, to preserve for your pantry food storage, and use in later meals.
How to Dehydrate Cauliflower
Begin by cleaning a cauliflower head with warm water and a vegetable scrub brush.
Cut off any spots that may have begun to turn black.
Cut the cauliflower head into equal-size florets for uniform drying time.
Blanch the sections of the cauliflower separately.

The standard blanching time is 3 minutes for a boiling water blanch.
Add 4 teaspoons of lemon juice to the water to help keep it white.
Cool in an ice water bath

Pat cauliflower pieces dry with a tea towel or other lint-free towel or use a salad spinner.
Add them to dehydrator trays, sorting by the size of the pieces. This ensures that all pieces on a tray will dry at the same rate, and keeps you from having to pick out finished pieces. I use an Excalibur dehydrator, but any dehydrator will work.
Dehydrate at 125°C / 52°C for 8 to 12 hours. The drying time will vary depending on the humidity of your house and the moisture on the vegetable.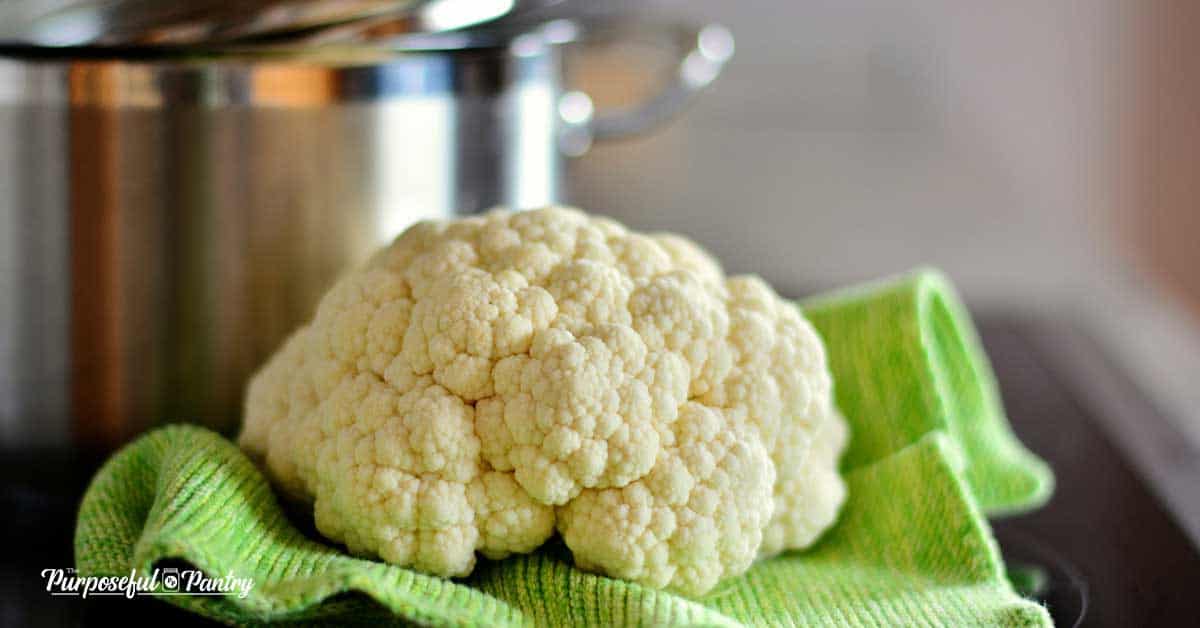 Dehydrating Cauliflower Rice
Clean and separate cauliflower
Use a box grater or your food processor's grating blade and small segments of cauliflower florets.
Steam for 1-2 minutes
Lay on dehydrating sheets covered with parchment/baking paper or fruit leather silicone sheets.
Dry at 125F/52C for 4-6 hours until dry and brittle
Condition for a week ( stored loosely in a jar, shaking a week, looking for moistre)
Dehydrating Frozen Cauliflower
Because commercially frozen foods are already prepped, blanched and ready to go, they make perfect beginning dehydrating projects and save a ton of time in the kitchen. This method words for florets or rice.
Sort by size and lay on dehydrating trays – no need to thaw. However, if you'd like pieces that are all uniformly sized for easier storage and serving later, you can thaw, cut down the larger pieces, and start from there. Make sure to put rice onto parchment/baking paper or non-stick sheets.
Dehydrate at 125°F/52°C
Test
Rehydrating Dehydrated Cauliflower
You have two options:
Rehydrate in a bath of hot to boiling water for 15-20 minutes (longer if they are still not to the desired texture
-or-
Soak in a water bath in the refrigerator overnight. Be sure to drain excess water from the cauliflower rice in a tea towel to remove extra moisture if not called for in your recipe.
Dehydrating Cauliflower Stems
Once you've cleaned, blanched, and segmented your cauliflower, don't throw away those stems. They are good for you, great to eat as soup enhancers, etc.
They also make a great addition to vegetable powder.
If you haven't already, slice the stems into bite-sized pieces
Dry on dehydrator trays at 125°C/52°C for 8-12 hours until dry and hard.
Store
To Powder:
Place dried pieces into the blender of your choice (I have a few recommendations here, but a bullet blender is my favorite tool for grinding)
Pulse until rough powder is formed, then whirl until powder is of the consistency you wish to use.
Place back in your dehydrator in a protected tray or in muffin cups to dry for an additional hour then store in an airtight container. Desiccant packs are helpful at this stage to control moisture, but are not necessary.
Learn more: Keep Dehydrated Powders Dry & Storing Tips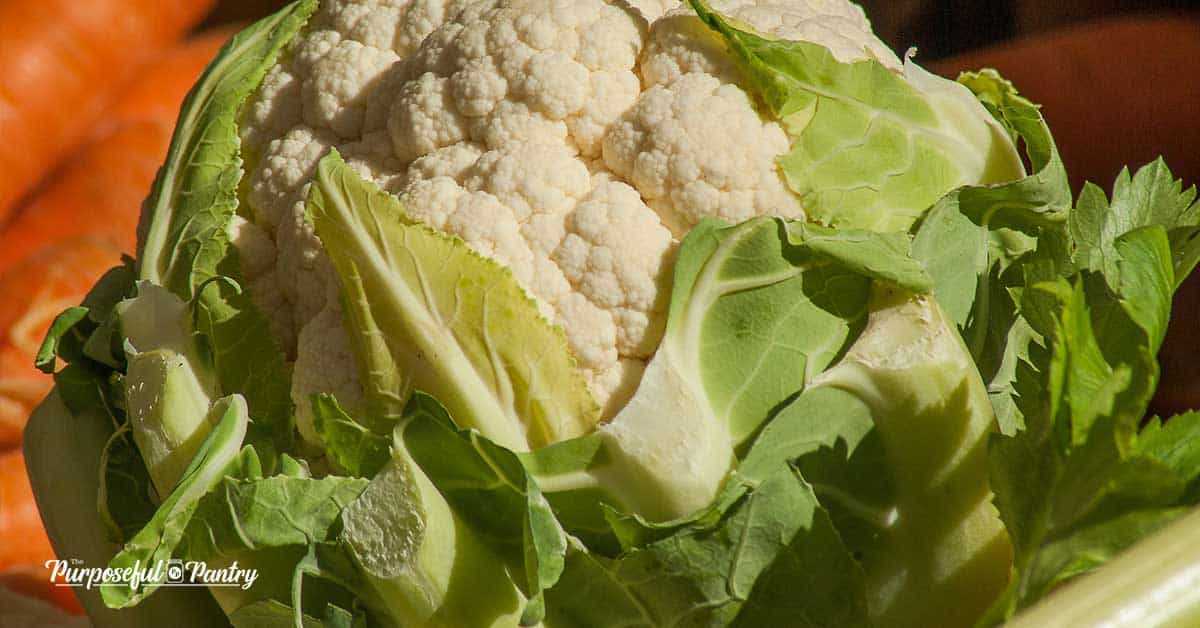 Dehydrating Cauliflower Leaves
YES! they are edible and make a great addition to your super green powder!
Wash leaves thoroughly
Lay on dehydrator trays
Dry at 125F/52C until dry – usually within 8 hours.
Tips: You can blanch the leaves if they feel particularly hard and leather, or cut them into strips to make drying time go a little faster.
To create a powder:
Take dry leaves, run them in a bullet blender or grinder of your choice until a fine powder is formed.
Store for up to twelve months in an airtight container.


Dehydrated Cauliflower FAQ's
What kind of dehydrator do I need?
I happen to use an Excalibur Dehydrator most of the time, but I also use a Cosori Dehydrator – any dehydrator will work for you. Here are tips to deciding what dehydrator may be best for you.
How to store
Airtight containment in canning jars, or mylar bags is preferred. You can learn more about the proper storage of dehydrated foods here.
How long will it last?
Properly dried, conditioned, and stored, dehydrated cauliflower should last at least 1-2 years, you're likely to get more. But remember, texture and quality will begin to degrade over time. Dehydrated foods are best used in that 1-2 year window for best results.
Learn more: Proper storage of dehydrated foods.
What if I disliked dehydrated cauliflower?
As with all dehydrated products, you may not always like the outcome. Most are best IN a dish instead of as a side dish on their own, but we still all have different tastes and texture preferences. NEVER waste your dehydrated foods – powder it! Add it to a nutritious vegetable powder to add to any meal (and you won't even taste it!)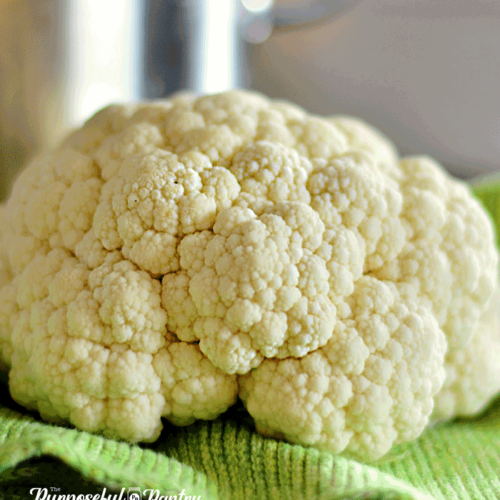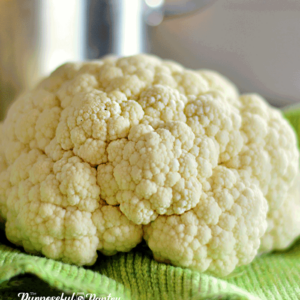 Ingredients
Instructions
Dehydrate Cauliflower florets
Wash and remove bad pieces

Cut the cauliflower head into equal-size florets for uniform drying time

Blanch the sections of the cauliflower separately.

Add Add 4 teaspoons of lemon juice to the water to help keep it white.

Add to dehydrator trays with similar sizing

Dry at125°F / 52°C for 8-12 hours until completely dry

Store in airtight container
Dehdyrate Cauliflower Rice
Steam for 1-2 minutes, add lemon juice

Spread on dehydrating sheets covered with parchment/baking paper or fruit leather silicone sheets.

Dry at 125F/52C for 4-6 hours until dry and brittle.
Darcy's Tips
Cauliflower browning:
To help stop browning of cauliflower rice, add lemon juice to the shreds before steaming.
Condition: Place food into a large glass jar, shake once a day for a week to check for any signs of moisture buildup or sticking that isn't released by an easy shake of the jar. If you find signs, put it back into the dehydrator to dry more.
Storage: Store in an airtight container for up to two years in a dark, cool, dry place.
Nutrition
Serving:
1
cup
|
Calories:
6
kcal
|
Carbohydrates:
1
g
|
Protein:
0.5
g
|
Fat:
0.1
g
|
Saturated Fat:
0.03
g
|
Polyunsaturated Fat:
0.01
g
|
Monounsaturated Fat:
0.01
g
|
Sodium:
8
mg
|
Potassium:
75
mg
|
Fiber:
1
g
|
Sugar:
0.5
g
|
Vitamin C:
12
mg
|
Calcium:
6
mg
|
Iron:
0.1
mg
Nutritional information is an estimation only. Nutrient information for dehydrated foods is based on fresh. Use 1/4 of the servicing size for the same nutrient information. Thus 1 Cup of fresh fruit has the same sugars as 1/4 dried.
©ThePurposefulPantry. Photographs and content are copyright protected. Sharing of this recipe's link is both encouraged and appreciated. Copying and/or pasting full recipes to any social media is strictly prohibited.