7 Ways to Add Extra Nutrition to Pancakes
Get even more ways to add nutrition to your Saturday morning pancakes! They are a carb-loading dream…but feel guilty that they aren't adding any real nutrition to your week? Here are ten great tips to help you add extra nutrition to your pancakes!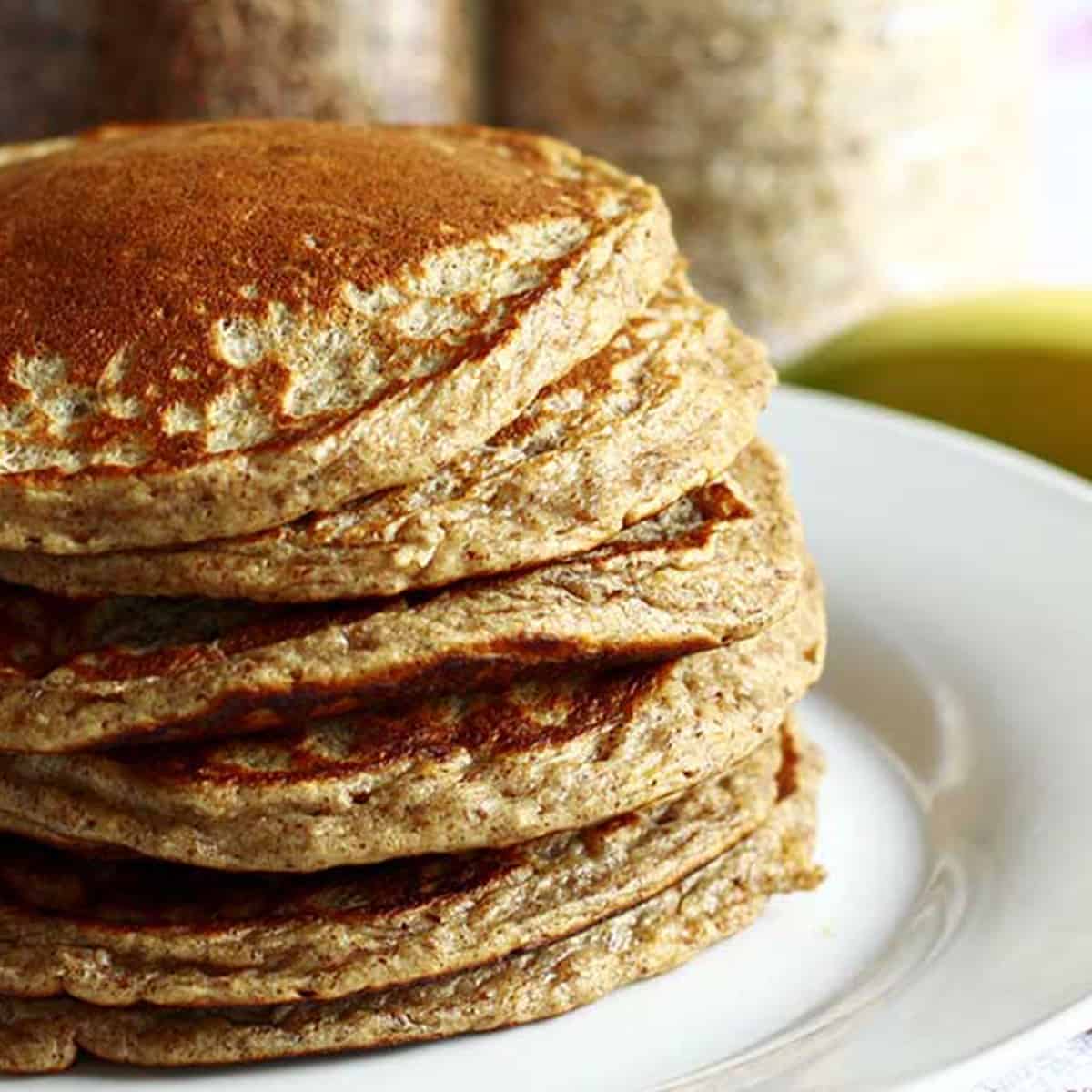 Who doesn't love pancakes? They are a staple of the modern American breakfast, and also when it is brinner, aka "breakfast for dinner", on the menu tonight.
But as much as we all love pancakes (or waffles for that matter), ultimately, pancakes are foods void of much nutrition.
Regardless if you make your own bulk pancake mix or you buy boxes of pre-made pancake mix to store, you can up the nutritional value of your pancakes using any or all of the following tips:
7 Ways to Add Extra Nutrition to Pancakes
Change the Flour
Instead of using highly processed, bleached white flour that we are so used to, you can switch the nutrient and flavor profile of pancakes with other flours
Whole Wheat flour
Almond flour
Oat Flour (this is made super easy by just running your oatmeal in a food processor or blender until it's flour consistency)
Add Seeds
The added protein, fiber, micronutrients and flavors from seeds can add nutrition to your pancakes even without adding a ton of flavor. You can expect to add dietary fiber, B vitamins, Omega 3's, and trace minerals to your pancakes with the addition of seeds. Here are some that work well:
Ground Flax – as a note, flax seed is more readily available to the body ground than whole.
Ground or whole Chia seeds
Poppy Seeds – and yes, if you plan on taking a drug test in the next few days, poppy seeds can affect the results. Go with chia instead if you're worried.
► A tip for buying seeds. Don't buy them already ground. They begin to lose their nutritional benefits faster when ground. Buy them whole, and grind what you need for a few weeks, and store the rest in an airtight container. You can keep them in the freezer for maximum benefit.
Add Nuts
Add chopped nuts to compliment the flavor of your pancake. Make the pieces small for best texture results, or sprinkle larger pieces across the top. You can chop nuts into a meal, not as fine as flour, to make them blend into the batter better.
Add Fruits or Vegetables
Shredded zucchini
Shredded carrots
Applesauce – can replace any oil 1:1, or can be used as part of the liquid component
Whole or chopped fruits
Chopped apples
Banana mash
Avocado mash – yes, avocado pancakes are awesome! Learn how to preserve them to use any time you make pancakes!
Add Powder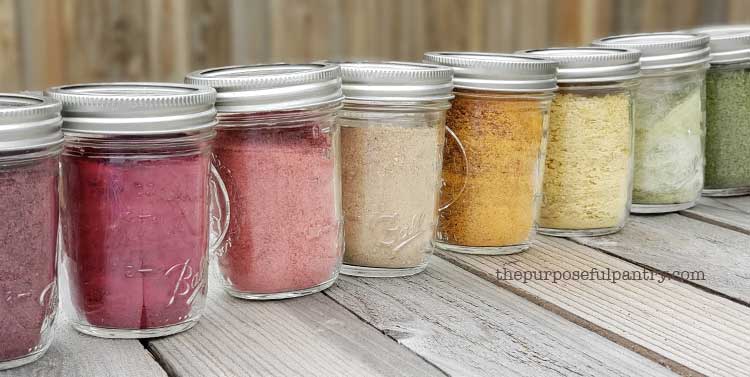 Adding fruit or vegetable or green powders is a great way to add extra nutrition without your kids even knowing it. And a cool feature is that it can help color your pancakes, depending on the powder, and give you fun colors to eat from! Learn more about making and incorporating powders into your family's meals.
Green powder – a powder made from dehydrated greens and lettuces. It is fairly flavorless in small doses, and a tablespoon gives you approximately 1 cup worth of greens
Vegetable powder – a powder made from dehydrated vegetables of all sorts. My all-purpose vegetable powder adds nutrition with a neutral flavor, and hides the vegetables your kids wouldn't necessarily eat voluntarily, especially not for breakfast! One tablespoon of vegetable powder is approximately 1/4 cup of vegetables.
Fruit powder – even more fun than green or vegetable powder, fruit powders can add a touch of sweetness and tart flavor to your pancakes.
Pumpkin powder – I store my pumpkin in powder format to make it easier to add to muffins and pancakes all the time.
Beet powder – adds great red coloring without all the red dye! (A tip on making it. I buy dehydrated beet chips and grind them down. Saves me the mess of dehydrated beets! You can also stock the beetroot powder and save yourself the time and mess!
Spices — believe it or not, spices do contain nutrients of their own. Plus, having extra spices in your pancakes may help you cut back on the number of sugary toppings you put on them. (Another hint…we put syrup IN our batter and they don't need it after the fact! It helps to use less, which cuts down on the empty carbs, and still gives us a feeling of a sweet without the excess sugar. Plus it's less messy with littles around).
Add Protein
There are many ways to add a little extra protein to your pancake.
Add an extra egg – this gives you a little more 'cake' to your pancake texture
Use a Protein Powder – add a good quality protein powder. You can even try some flavored powders if you want to boost the flavor, too!
Try Peanut Butter powder – peanut butter powder offers a lot of protein and very little added fats. Peanut butter powder is versatile for more than just pancakes, too! And while you can't make it yourself, you can find many other uses for it besides elevating pancakes.
Use milk powder
Add bean powder, or mashed beans. Lentils are great for this.
Replace water with whole milk or almond milk.
Change your topping
Traditional pancake syrup is nothing more than sugar and water (even if it says maple-flavored, there's no real maple syrup in it). While it's all sugar in the end, using raw, local honey or pure maple syrup gives you more beneficial nutrients, antioxidants, and phytochemicals. Plus raw local honey helps build your immune system against allergies!
Here are some other topping ideas to change things up by adding extra nutrition to your pancakes!
Yogurt – thick greek yogurt, especially if you flavor it with fruit powder, gives a nice tangy additional flavor as well as added protein, etc.
Peanut butter syrup – equal parts maple syrup and peanut butter heated just enough to allow the two ingredients to emulsify – makes a tasty topping for pancakes.
Applesauce with cinnamon – gives you a taste of an apple pie without the sugar load of apple pie filling.
Fruit preserves- yes, there is the sugar load, but at least you have some actual fruit pieces in it!
Ricotta (can be used inside the pancake, as well)
Don't Stop Eating Pancakes!
Whatever you do, unless you have dietary restrictions on empty carbs, don't stop eating your pancakes just because they aren't really healthy! Enjoy them occasionally, and just add extra nutrition to pancakes with any of the above tips and tricks! Saturday morning breakfast wouldn't be the same without them!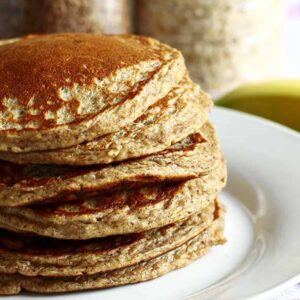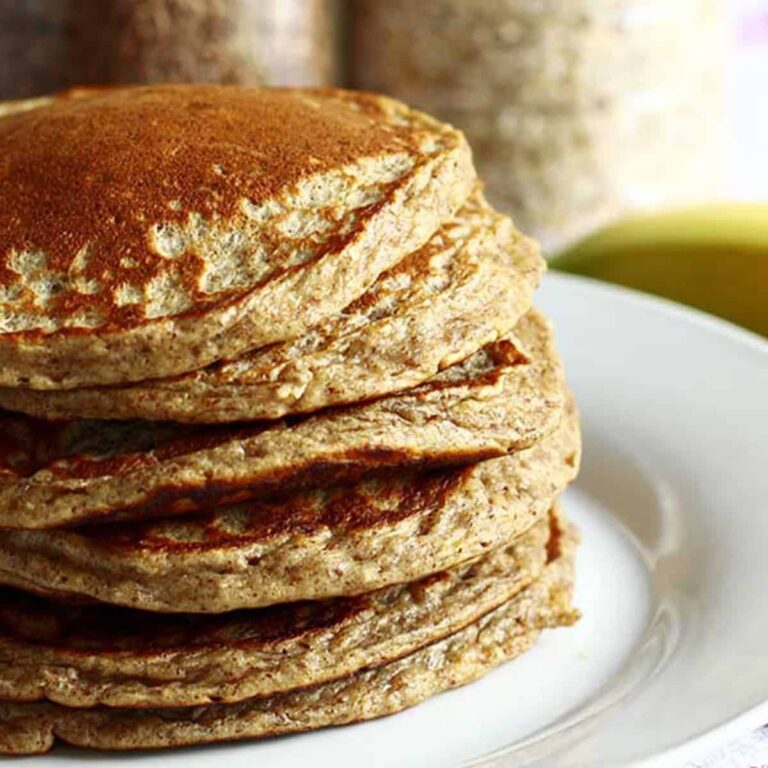 Instructions
Slowly stir peanut butter and maple syrup on low heat until melted

Serve over pancakes or waffles or as a dip for french toast
Nutritional information is an estimation only. Nutrient information for dehydrated foods is based on fresh. Use 1/4 of the servicing size for the same nutrient information. Thus 1 Cup of fresh fruit has the same sugars as 1/4 dried.
©ThePurposefulPantry. Photographs and content are copyright protected. Sharing of this recipe's link is both encouraged and appreciated. Copying and/or pasting full recipes to any social media is strictly prohibited.