How to dehydrate and preserve tarragon - whether you grow it in your backyard herb garden or buy it fresh from the produce section, tarragon is easy to preserve, and makes a tasty addition to your food storage!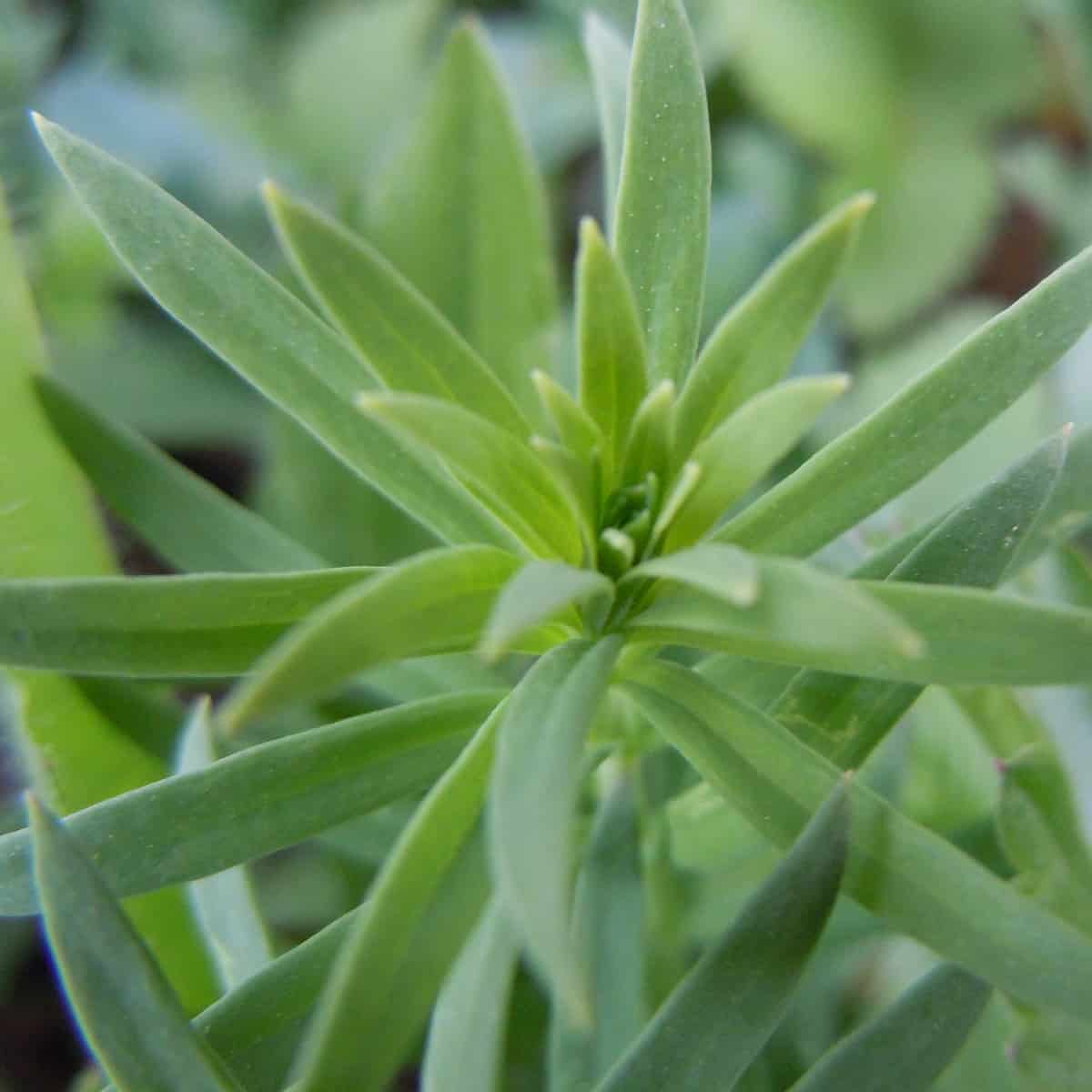 Tarragon is one of those herbs people don't pay much attention to when starting an herb garden, but miss out on a wonderful flavor! Tarragon is incredibly easy to grow, and preserves really well! We'll walk through how to use different preservation methods to keep Tarragon in your stock all year long!
As you all know, I'm always on the hunt for a great bargain, and when I ran into a clearance on packaged fresh tarragon, I was happy!! Because we weren't able to expand our garden this year, my herb beds were functionary (basil, thyme, oregano), and I was running out of many of the dried herbs I keep on hand. So I stocked up!
While I prefer to use fresh herbs as much as possible, dried herbs bring more intense flavors for long-cooking dishes, and store better for long-term.
A Tip: The rule of thumb is to always use 3 x the amount of fresh herbs when a recipe calls for dried. You can use dried herbs in the middle of the cooking process, but fresh herbs should be used towards the end for a more flavorful dish, if possible.
HOW TO PRESERVE TARRAGON
There are various ways you can preserve Tarragon and other fresh herbs.
Before you begin any process of preservation, be sure to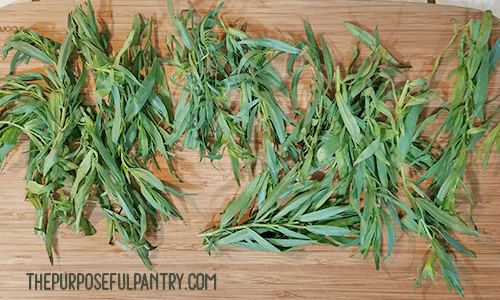 Inspect your leaves and stems and remove any that are not optimum for saving;
Wash your tarragon in water to remove any chemicals, sprays or dirt from leaves and stems. While I often use a heavy vinegar soak on vegetables and non-protected fruits, I do a general rinse for herbs.
Lay leaves and stems out to dry.
HOW TO DEHYDRATE TARRAGON
►Quick Instructions: Dehydrate at 95F | 35C for 3-8 hrs.
Always preheat your dehydrator when you begin to prep your produce, and dehydrate at the appropriate temperatures. Running at 160F doesn't make things dehydrate faster, it just promotes case hardening, which you don't want!
1. Wash Tarragon stems
2. Lay out the stems:
Lay out your stems on your dehydrator trays. They can touch as they do shrink a bit, but don't mound them up.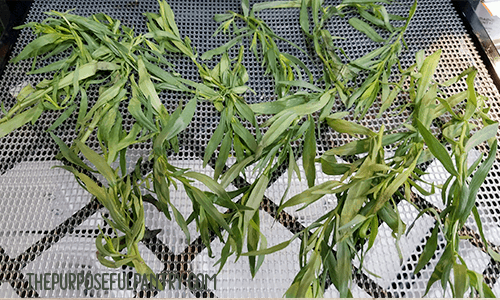 Temp & Time: Dry at 95F for 4-6 hours, depending on your humidity level.
Check for Doneness: If they are brittle, they are done. I recommend pulling a stem out and allowing it to cool down, then testing for doneness. If you get a great crackle when you crush leaves between your fingers, you are good to go.
• Learn more: How to Dehydrate Herbs without a Dehydrator
3. Remove Leaves From Stems
Once done, remove the leaves from the stems. Chop dried leaves into smaller pieces to use to make herb blends or to store for use on its own. You can simply rub between your palms, or you can use a knife, it's up to you.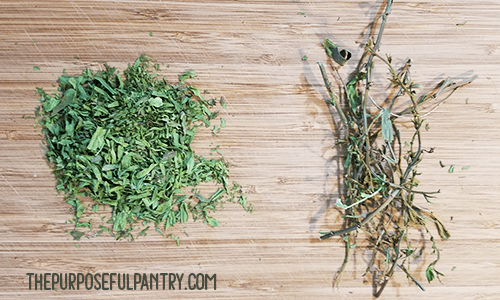 How to Store Dried Tarragon
Store in an airtight container and in a cool, dry, dark place if possible. I do happen to store my daily use herbs in magnetic canisters on the side of my fridge, but I store the bulk dried herbs in my pantry where it's dark.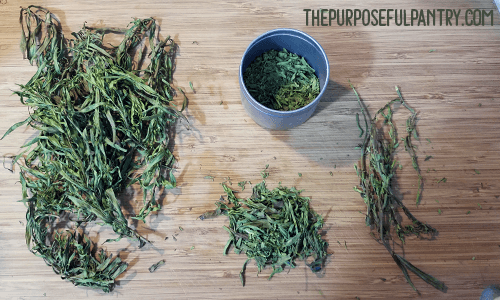 I put my excess dried herbs into a small vacuum-sealed bag to help keep it fresh for the coming year.
How to use Dried Tarragon
Other than adding to any dish as you normally would, here is a nice herb blend that I love:
Fines Herbes Blend
1 TB tarragon
1 TB chervil
1 TB chives
1 TB parsley
This herb blend is wonderful on chicken, in alfredo pasta, in salads and more. You can multiply it out as much as you need, and adjust flavors a bit if you'd like. You can purchase it already made here if sourcing chervil is a problem.
How to Freeze Tarragon
1. Always wash your herbs
Wash in water to remove any debris. Layout out flat on a tea towel to dry.
2. Strip the leaves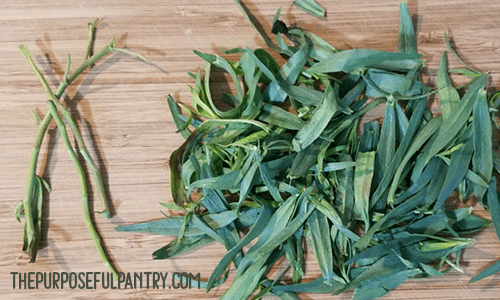 3. Prepare
Place 2 TB in each compartment and cover completely with oil or water.
4. Store
Store your cubes in airtight containers or in baggies with all of the air removed to prolong freezer-life.
5. Toss
Toss your tarragon nuggets into stews and soups and they will thaw and flavor your food.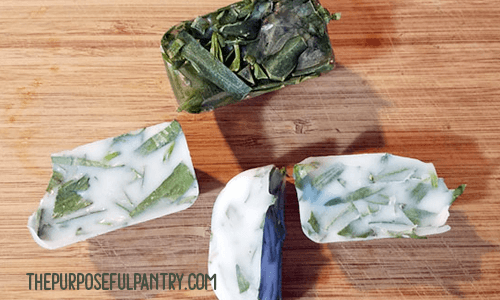 ►► TIP>> Budget-friendly Dehydrator Tools
Creamy Tarragon Chicken Salad
Only a pesto chicken salad can rival this chicken salad for me. I love ones that let the chicken flavor stand out - not the mayo flavor of so many. You can skip the sour cream and add a little more yogurt plus some lemon juice if you prefer.
2 cans canned chicken (or use freshly roasted chicken chunks). I really like Kirkland's canned chicken that I keep stocked in my pantry.
1 cup plain yogurt (make from powdered milk)
½ cup sour cream
½ cup walnut halves
2 TB fresh tarragon, chopped - less if you are using dried
1 TB fresh mint leaves (less if you are using dried)
1 finely chopped apple
Salt and freshly ground pepper to taste.
Directions - Mix all ingredients and store in refrigerator - serve with crackers, on homemade bread, etc.
Whether you buy it from the store or grow it in your herb garden, tarragon is a great herb to preserve for use throughout the year, in many different ways. These step-by-step instructions make it easy for you to do so. And be sure to apply these preservation methods to other herbs.
How To Dry Herbs Master List
If you have a favorite way to preserve tarragon that I didn't mention - let me know! I'd love to try it out, too!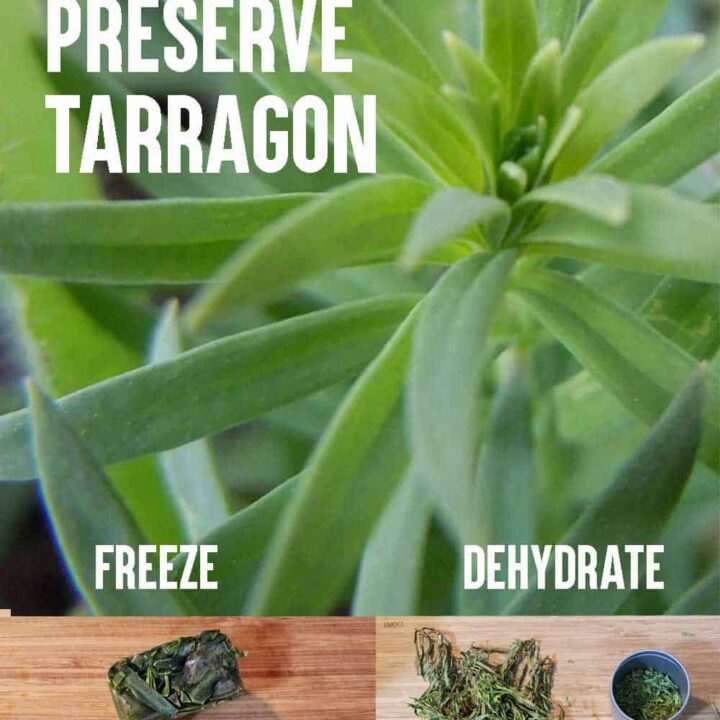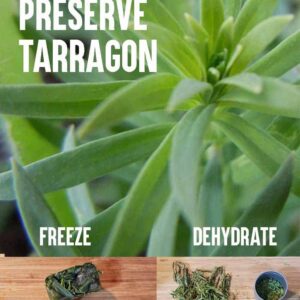 Instructions
HOW TO DEHYDRATE TARRAGON
Wash tarragon stems well

2.Place stems on trays (or if you airdry, tie in bundles and place in protected area to dry)

Dry at 95F for 4-6 hours (or the absolute lowest your machine will go.

Tarragon s done when it is dry and brittle and crumbles to the touch when cooled.

Strip leaves from stem.

Store in an airtight container for up to a year.
HOW TO FREEXE TARRAGON
Place 2 TB in an ice cube tray

Store in freeze-friendly packaging.

Toss a cube into a soup or stew!
Nutritional information is an estimation only. Nutrient information for dehydrated foods is based on fresh. Use ¼ of the servicing size for the same nutrient information. Thus 1 Cup of fresh fruit has the same sugars as ¼ dried.
©ThePurposefulPantry. Photographs and content are copyright protected. Sharing of this recipe's link is both encouraged and appreciated. Copying and/or pasting full recipes to any social media is strictly prohibited.