Tired of taking out the trash? Here are 10 easy, actionable ways to get rid of your disposable kitchen, replace your impact on the landfill, and save money in the long run. Which step can you take today?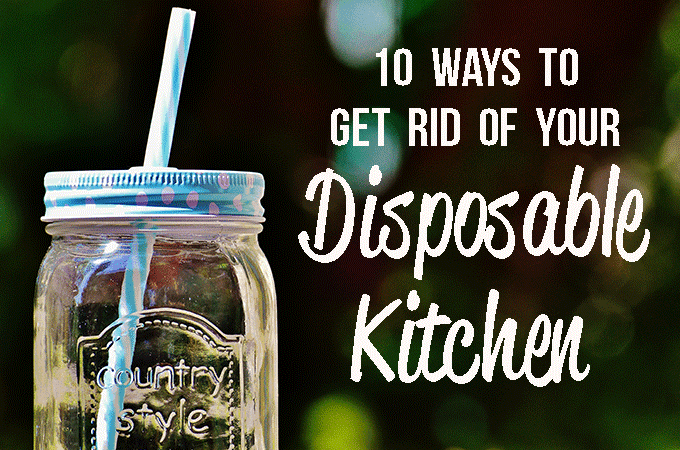 When I opened our city utility bill one month, I was shocked by how much we pay for someone to take away our garbage. Then looking at the full trash cans at the end of our kitchen island, I thought...why am I paying someone to do that?! This is a ridiculous waste of money each month. And to top it off, we were using two of those big garbage bins a week. There was just no real reason that we should be tossing out that much.
So I began to investigate all the ways I bring things into our home, only to turn around and place them right in the trash. There was a purpose to my madness of making our disposable kitchen into a non-disposable one.
Of course, we all know not to use paper plates and plastic forks. We all know to use paper napkins. However, I still stock paper plates, plastic utensils and paper napkins for those just-in-case times.
Just in case we all have the flu and no one is in a position to wash dishes;
Just in case we have a party that we don't have enough dishes for
Just in case we need to live without power for a few days after a storm wipes out the electrical grid in our area.
This is a No Green-Shaming Zone!
I promise I am not going to green-shame anyone. I still use plastic in my home. I'm selective about it, but I still use it, nor do I think a paper towel is a tool of Satan.
I also do stock things like disposable cleaning cloths for when we are sick, or water bottles as part of my long-term storage because you should never be without water. I've also been known to purchase individual gelatin or pudding cups someone is sick because it helps soothe the soul.
This post is to help you find ways you can easily manage a change in thought and lifestyle to reduce the sheer bulk of waste we put out every week into the landfills and reduce the reliance on a disposable kitchen These things that would be easily replaced if we just changed our habits ... just a little.
A quick note about getting started:
Before you rush into your kitchen and toss all of the plastic and the disposable items -- use them. Don't just toss them out. Unless you feel there is a safety issue, don't waste it. Use it. Use it responsibly (if you can wash and reuse it, do so!). Make do with what you have, and as you need to replace something, begin using some of these ideas to think and do differently!
10 Ways to Replace Your Disposable Kitchen
1. Stop buying take out
Not only are you doing yourself a disservice by eating fast food all the time, it creates an incredible amount of trash for you to deal with. Drink containers, boxes for hamburgers, big plastic dishes for other things.
I'm going to share some truth here -- this pile is from a long period of take-out in our family. We began to realize how much trash we were simply bringing in just to carry drinks. We realized that they would work as fuel in our fireplace and firepit. They were safe to burn, so we started to save them, reduce reuse and recycle - that's how we were taught. However, it was a real eye-opener to us how quickly that tower grew - and how much we were wasting just to pick up drinks. WAY too much waste there!
I know it's a hard thing to shift from if you're used to grabbing take out on the way home from church, or you're late getting to evening activities. Meal planning is great, but it doesn't always help when you're in a rush. Try to be selective about what you purchase, how they package, and think about alternatives you can use, instead.
•► Quick Tip: Keep a beverage container in your car to reuse. Even if you need to be in and out of a drive-thru, you can just reuse a drink carrier instead of creating more trash.
2. Stop buying cheap junk
We all love a bargain. But bargains that are cheap just to be cheap are often not bargains in the long run. We use them and find they don't work. We keep them because we feel like we have to since we invested in it, which causes clutter that we have to maintain, wasting our time. Then, we toss them because they were junk, causing landfill clutter because we just wanted to save some money instead of investing in quality.
This has become a disposable culture. Our electronics are no longer meant to be repaired, but replaced. We shop too much at where we can find everything for a dollar, instead of spending three dollars on something that will last more than four uses.
Don't feel like you have to buy the most expensive thing on the market. Research diligently the pros and cons and invest wisely - saving until the thing you want is on a really great deal. I love using Ibotta and Ebates to save pennies now that add up to bigger purchases for me later.
•► Quick Tip: Use a site like Woot.com to wait for big sales of your dream items.
3. Switch to Reusable Produce Bags
Produce bags really aren't a big trash suck in our house. However, I did notice that I was bringing home lots of these little clingy bags, only to turn around and take my produce out of said clingy bag and put it into something else in the fridge, many times mesh bags to let things breath.
Then the thought struck me -- why not just put them in the mesh bags from the start! My original set came with a carrying case, but you can always just use one of the mesh bags to carry them all if your set doesn't come with a case. Then attach it to your shopping bags with a carabiner clip for easy removal.
If you can figure out a way to reuse mesh fruit bags into bags for yourself (you can always make them into scrubbies (check here for great instructions from Commonsense Home), that would be a great way to reuse them. You can lace ribbon through them to tie them off.
Of course, if you'd like to make your own bags. You can make them in a smaller size for produce, or a larger size for grocery bags.
4. Switch to Reusable Grocery Bags
Many cities in the country are beginning to ban the use of single-use plastic grocery bags, and California banned them in 2016. The sheer number of these plastic bags has created an epidemic of trash in our country, along with disposable water bottles and straws.
We do re-use plastic grocery bags them to line our small garbage cans so that I don't have to wash them so often. We use them to collect kitty litter out of the boxes every day to walk them directly to the big trash cans. Honestly, that will probably happen as long as we can make it happen, but lining trash cans in the rest of the house that rarely pick up dirt is silly. It makes it a tad bit easier to collect the garbage once a week - but we're working on reducing that, aren't we? And trash cans can be rinsed in the shower quickly when I'm about to get in any way. So, I'm definitely speaking to myself, here -- find ways to reduce the use!
Options for reusable bags:
canvas totes
DIY bags (see link in #3)
cute, foldable, lightweight bags - my best friend uses these and keeps a few rolled up in her purse to whip out if shopping happens.
bags from your local grocers. Sometimes you can get these for free or very inexpensively. I really like the Target bags for how sturdy they are, but my bags are a melting pot of bags from all over!
There is a big debate on the environmental impact of the single-use grocery bags and creating the reusable ones. I can't argue that. But what I can do is suggest that the end game means we aren't putting as much trash in the landfill.
•►Keep your bags by the front door, and make a conscious effort, every time you go to the car, to load your bags back into the car. I employ my kids to be the handler of the bags, too.
5. Reusable water bottles
I know, I know. That should be as plain as the paper plates and napkins earlier, shouldn't it? I never suggest never having water bottles. I have 2 or 3 cases stashed for those 'just-in-case' moments when we need water badly - like when there's no water coming out of our taps for a few days while the city repairs the water main.
Our biggest issue, as a disposable consumer culture, is that we've been so inclined to just buy single-use plastic water bottles without taking a few moments to plan out a day or our time. It's one of the cheapest plastics there is now just so that it will degrade more quickly in our landfills. It's noisy, it clogs up the streets when people toss them, and there are some easier ways.
Glass bottles - we keep a pack of glass water bottles in our car's emergency kit, as it allows for better tasting water. I do not use them in my home, however, because I drop things. I drop a lot of things. And so do my kids. There are glass bottles with silicone sleeves, that we will try if I find one on clearance at Target ....
Plastic Water Bottles - yes, there are plastic, reusable water bottles that you can stock in your home and store in your fridge to grab a cold one all the time. Make sure you're picking better plastic to keep your family safer, but it's okay to use it. The bottles with infusing columns for fruit can make drinking water a little more interesting.
Stainless Steel - I slow-push my cart down the backsides of aisles in both Target and Walmart, looking for those clearance items. Stainless steel water bottles are always there. I pay no more than $4, ever.
•► Instead of using disposable coffee cups, get a reusable one and take it with you to fill up at your favorite coffee shops
6. Find alternatives to zip-top bags
Now, I'm not saying get rid of your freezer bags. I use them too much in my short-term freezer food storage to get rid of them. I do, however, wash them and reuse them if they've not had raw meats stored in them.
Something I've learned, though, is that packing things in alternative ways has been a good way to stop using so many of these little plastic bags that just get tossed.
7. Don't throw out your jars
Even if they are recyclable, don't do it! Reuse those jars to store smaller quantities of items in your fridge or pantry.
Use them to:
send food home with others;
save leftovers for yourself
pack your lunch
use them for your short-term pantry storage
This also saves money by not having to purchase organizational things to keep in our pantry. You've already got it if you're buying products in glass jars.
•►A little orange oil or Goo Gone (but you can use olive oil, too) and some muscle will remove most sticky residue from labels. Sometimes I soak ahead of time to get them really soft, and use a little dish soap at the end to get rid of the oil residue.
8. Use non-disposable food storage
I love having switched to glass food containers for my meal prep and fridge storage/leftovers, plus my short-term food storage.
I do, however, use good plastic food storage containers for heavy or awkward short-term food storage (I get most of them from IKEA ). My dream containers are these stackable containers from OXO or the similar ones from the Container Store, but I make do 😀
Using cheap, plastic throwaway food storage is unnecessary. They aren't good for you as they're cheap plastic, they don't hold up, and just get tossed into the landfill more quickly than better stuff.
9. Reduce throwaway cleaning products
Before you ask --- yes, I use paper towels to clean up really gross messes, to clean out a really grimy cast iron pan,
But my go-to is never a paper towel.
Replace throwaway dusters with microfiber towels. I use ones from Dollar Tree to do my dusting with, and these to do my cleaning with. I also purchased a good microfiber dusting mop that has a washable head that I can dust with OR mop with.
Get a cute little box to go on your countertop that is full of washable rags you've made from t-shirts, old towels, flannel cribbing material or even old baby blankets. They can be used and tossed into the wash, and ready for grabbing quickly, just like a paper towel.
You won't be doing more wash because of the reusable rags because you're simply throwing them into a load you're already doing. I rarely do a load that is simply microfiber cleaning cloths. I usually toss them in with our sheets since they produce little lint.
•► Replace your paper towels with reusable cloths that clean surfaces without chemicals like these E-cloths that I use.
10. Purchase in bulk / make from scratch
I don't advocate not purchasing boxed oatmeal simply to save purchasing single-use items. You're just trading trash for trash in that instance. However, you are purchasing and creating individual meals to use better ingredients, that's awesome.
Here are some ideas to do instead of:
Other Ways To Switch from a Disposable Kitchen
Parchment Paper === Silpat Sheets
Plastic Wrap === Beeswax wrap
Disinfecting cleaning cloths === rags + homemade cleaning spray
Straws === Silicone, glass or stainless steel straws
Toilet paper === family cloth. I know - that's a stretch for many, we'll address that one down the road!
In the end...
Don't feel you have to tackle all of this at once. This is a lifestyle change that we've been working towards for a few years now, and we're still not there.
If you could see our trashcan right now, you'd know. Actually, I just glanced at it and it's empty (hallelujah - it's a miracle!). The recycle bin is full of 2-3 drink carriers, boxes of cereal, and an individual yogurt cup cardboard sleeve. While these things CAN recycle, what if we'd never used that resource, to begin with? A move towards a non-disposable kitchen is our goal.
PUTTING IT ALL TO USE
Can you think of one disposable item that you could replace with something reusable this week? If you're already a veteran at this - what is something you'd add to the list?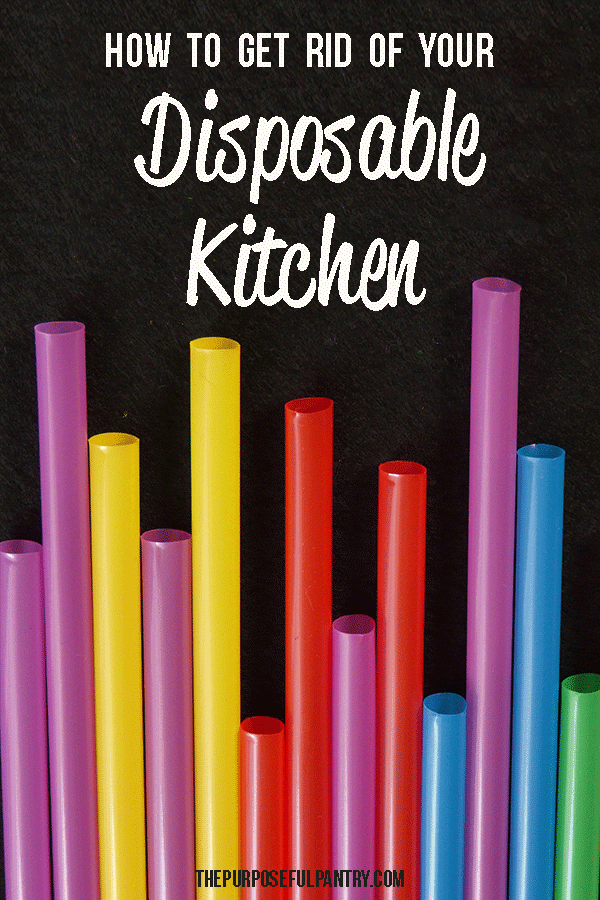 FREE PRINTABLE WORKSHEET:
[mailerlite_form form_id=1]
If you are already a member of The Purposeful Pantry Library, grab your worksheet here.