Learn how easy it is to dehydrate broccoli, and make it useful for your long-term storage, green powder, and everyday meals. And yes, we're talking the whole plant!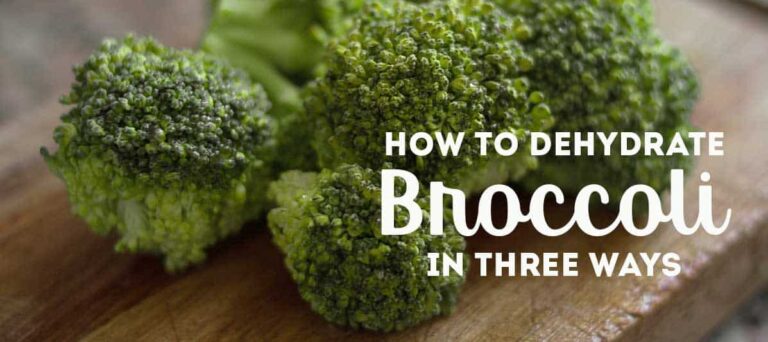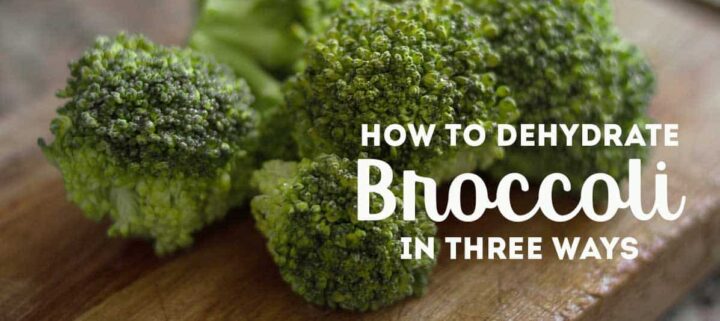 Broccoli has been maligned for years as the stinky stuff mom made you eat at dinner or the little tree good for nothing more than dipping in ranch dressing on party platters.
Broccoli, one of the Cruciferous vegetables, is a good source of fiber and protein, and contains iron, potassium, calcium, selenium, and magnesium as well as the vitamins A, C, E, K, and a good array of B vitamins including folic acid. (Source)
But who have thought you could actually use the stalks as more than the handle to get a good scoop of ranch dressing to make eating the plant palatable!
And you can preserve broccoli more than just freezing it for next week's chicken broccoli casserole.
But have I got some news for you! (Yes, Veggie Tales ripoff !)
How to Dehydrate Broccoli
Begin by cleaning a broccoli head with warm water.
Cut the broccoli head into equal-size florets for uniform drying time.
Blanch the sections of the broccoli separately.

The standard blanching time is 3 minutes for a boiling water blanch.

Cool in an ice water bath
Allow the broccoli to airdry on a lint-free towel as you prepare the rest of your dehydrating.
Slice broccoli stems or rough chop them in a food processor or with a knife depending on what your end product wish is (slices vs powder).
Add them to dehydrator trays, sorting by the size of the pieces. This ensures that all pieces on a tray will dry at the same rate, and keeps you from having to pick out finished pieces. I use an Excalibur dehydrator, but any dehydrator will work.
Dehydrate at 125°C / 52°C for 8 to 12 hours. The drying time will vary depending on the humidity of your house and the moisture on the vegetable.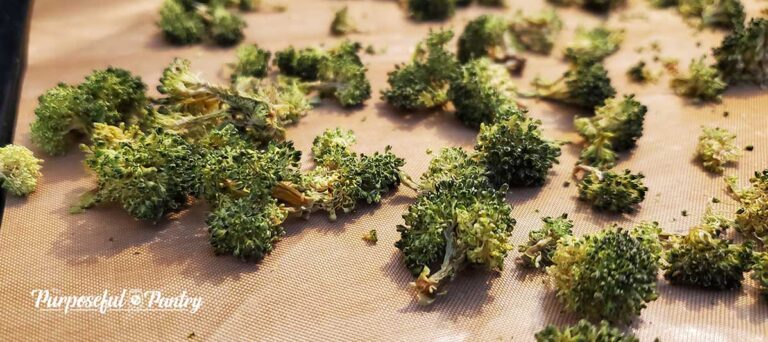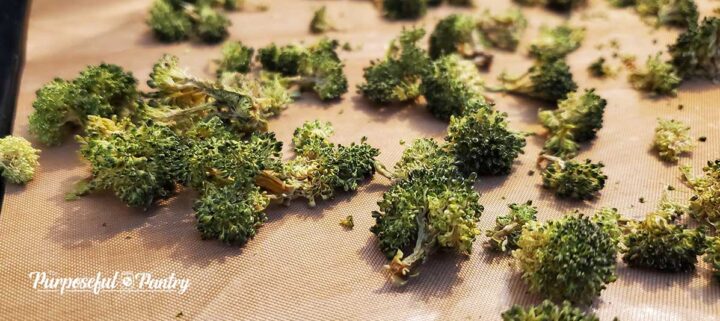 And a tip - those tiny flowers that have fallen off can easily be tossed into your vegetable powder without any processing!
Dehydrating Frozen Broccoli
Because commercially frozen foods are already prepped, blanched and ready to go, they make perfect beginning dehydrating projects and save a ton of time in the kitchen. This method words for florets or rice.
Sort by size and lay on dehydrating trays - no need to thaw. However, if you'd like pieces that are all uniformly sized for easier storage and serving later, you can thaw, cut down the larger pieces, and start from there. Parchment paper on your lowest tray can collect the small pieces that will inevitably fall through.
Dehydrate at 125°F/52°C for 6-8 hrs
Test for dryness after allowing to cool
Rehydrating Dried Broccoli
You have two options:
Rehydrate in a bath of hot to boiling water for 15-20 minutes (longer if they are still not to the desired texture
-or-
Soak in a water bath in the refrigerator overnight.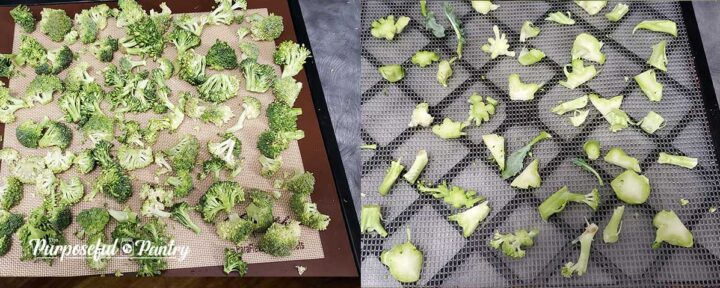 Dehydrating Broccoli Stems
Once you've cleaned, blanched, and segmented your broccoli, don't throw away those stems. You can slice them into small pieces for soups, stews or casseroles.
Rough chopping them make them easier to integrate for those who are a little pickier about taste and texture!
They also make a great addition to vegetable powder.
If you haven't already, slice the stems into bite-sized pieces
Dry on dehydrator trays at 125°C/52°C for 8-12 hours until dry and hard.
Store
To Powder:
Place dried pieces into the blender of your choice (I have a few recommendations here, but a bullet blender is my favorite tool for grinding)
Pulse until rough powder is formed, then whirl until powder is of the consistency you wish to use.
Place back in your dehydrator in a protected tray or in muffin cups to dry for an additional hour then store in an airtight container. Desiccant packs are helpful at this stage to control moisture, but are not necessary.
Learn more: Keep Dehydrated Powders Dry & Storing Tips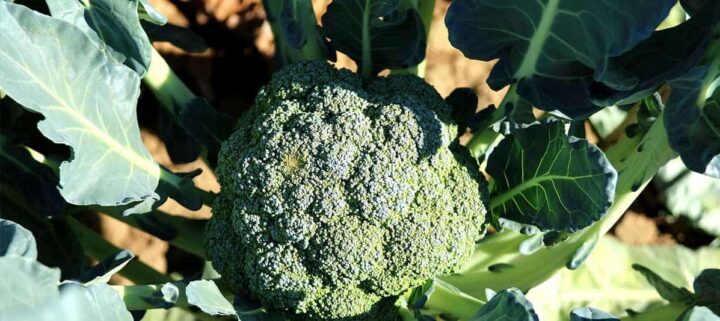 Dehydrate Broccoli Leaves
YES! they are edible and make a great addition to your super green powder!
Wash leaves thoroughly
Lay on dehydrator trays
Dry at 125F/52C until dry - usually within 8 hours.
Tips: You can blanch the leaves if they feel particularly hard and leather, or cut them into strips to make drying time go a little faster.
To create a powder:
Take dry leaves, run them in a bullet blender or grinder of your choice until a fine powder is formed.
Store for up to twelve months in an airtight container.
Dehydrated Broccoli FAQ's
What kind of dehydrator do I need?
I happen to use an Excalibur Dehydrator most of the time, but I also use a Nesco FD-75 - any dehydrator will work for you. Here are tips to deciding what dehydrator may be best for you.
Do I really need to blanch broccoli?
Because blanching preserves color, and can make rehydrating a better texture, it is recommended to blanch broccoli for best results.
However, if it is going directly into a powder, I don't. I also will not blanch broccoli florets that I know will be used in the next month. However, if used for long-term storage or meals in jars, I do.
There is a good rule of thumb: "If you eat it raw, you don't have to dehydrate it". It doesn't always work out perfectly, and you should only use it on things you plan on doing for short-term storage, but it can help with things like broccoli.
How to store dehydrated broccoli
Airtight containment in canning jars, or mylar bags is preferred. You can learn more about the proper storage of dehydrated foods here.
How long will it last?
Properly dried, conditioned, and stored, dehydrated broccoli should last at least 1-2 years, you're likely to get more. But remember, texture and quality will begin to degrade over time. Dehydrated foods are best used in that 1-2 year window for best results.
Learn more: Proper storage of dehydrated foods.
What if I disliked dehydrated broccoli?
If you find that you just don't like the taste or texture of dehydrated broccoli, don't waste it by throwing it away! Powder it to include in your vegetable or green powder to add extra nutrients to any meal!
As long as you don't have a blend that is heavy in one particular green or vegetable, it tends to come away with a very neutral "green" flavor or just 'veg' flavor.
Dehydrating other members of the Brassica family: