Chicken Bacon Ranch Stew Slowcooker Recipe - the perfect 'stoup' to elevate the simple chicken noodle soup! And it can all be made from your food storage!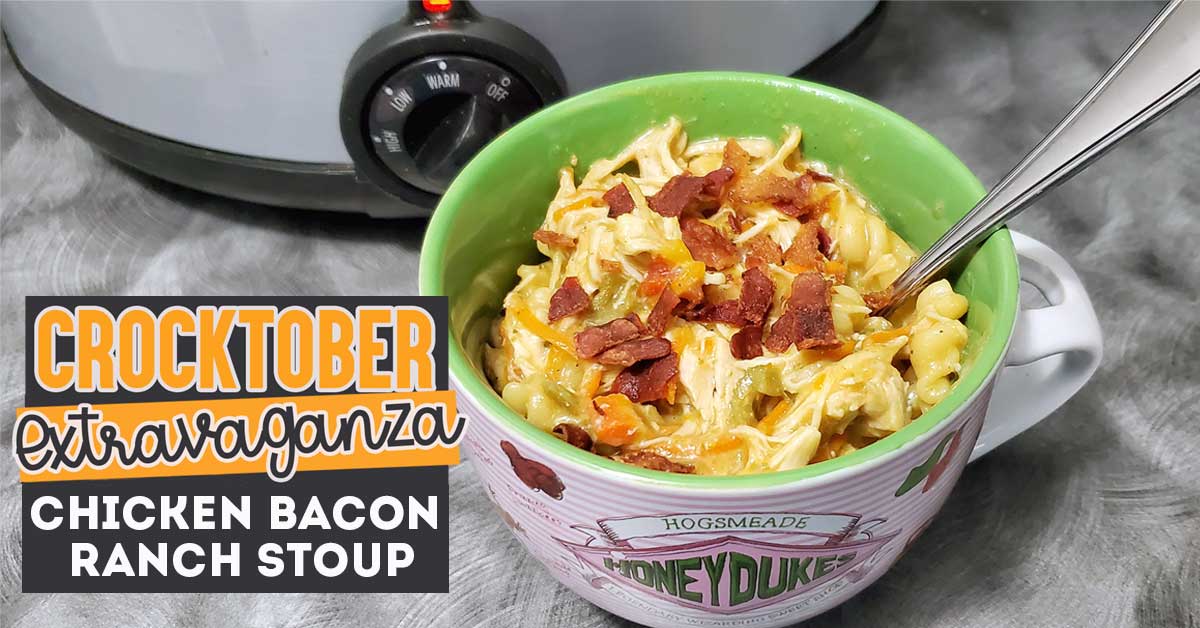 Sometimes, you want a simple chicken noodle soup. It's fresh. It's classic. It's comforting.
But sometimes, you really want something a little heartier. Especially in the winter when you want a little more!
This simple, easy, and inexpensive recipe is perfect for winter nights when you just want to curl up with a book, or binge some Netflix, and have a comforting meal in a cup.
It's also great to have ready for when you get home from a night of school activities and need something that is ready with no fuss!
This recipe can use all fresh foods as in this inspirational recipe from Simple Joy. But I wanted to show how you can take a recipe and convert it to food storage foods, particularly dehydrated foods.
Chicken Bacon Ranch Stew Recipe
Ingredients:
Step One
Mix all ingredients into a slow cooker like this one. This will work in your multi-cooker on the slow cooker setting, as well.
Step Two
Cook for 4 hours on high, 6 hours on low.
Step Three
Remove chicken to shred, return to slow cooker.
Step Four
Add noodles and allow to cook for 20-30 minutes, until done to your desired texture. Hearty noodles work better than thin noodles.
Step Five
Make bacon, crumble, then add as garnish when serving.
Recipe Notes:
Yield is about 8 servings
You can make this completely shelf-stable by using freeze-dried chicken , like this from Augason Farms, instead of fresh, and have it cooked in as much time as the noodles cook and the chicken rehydrates. No need for a slow cooker at that point.
Want to take this up a notch with a spicy twist? Use Fiesta Ranch Seasoning Mix -- or make your own in bulk from my friend Leisa Sutton's recipe!
Instead of using Cream of Chicken soup, you can make your own "Cream of Something" soup using this recipe.
DIY Bacon Bits: You can make your own bacon bits ahead of time by cooking them in the oven until crisp, dabbing as much fat off as possible, crumbling, flash freezing, and storing in the freezer.
Learn to dehydrate the vegetables in this recipe:
A conversion chart to help with fresh to dehydrated.
Watch the Youtube Video for Chicken Bacon Ranch Stoup here.
Chicken Bacon Ranch Stew Slow Cooker Recipe
Make this easy and quick slow cooker chicken soup recipe for the perfect easy dinner from your Crockpot - and all from your food storage!
Ingredients
1

lb

Chicken

2

can

Cream of Chicken soup

2

Can

Water

1

Can

Chicken Broth

14 oz

1

Cup

Dehydated Carrots

3 regular fresh carrots

½

Cup

Celery

3 fresh ribs diced

1

Cup

Dehydrated Vegetables

or use ¼ Cup Vegetable Powder

¼

Cup

Dehydrated Bell Pepper

½ Fresh Bell Pepper

2

oz

Ranch Powder

2

Cup

Pasta of your choice

Use hearty pasta

½

lb

Bacon (crisped)
Instructions
Place all ingredients into slow cooker EXCEPT noodles and bacon

Cook on high 4 hrs, low 6 hrs until chicken is done

Remove chicken to shred, add it back in

Add noodles and cook an additional 20-30 min

Serve and top with crisped, crumbled bacon